Healthcare Payer Automation: How Can Our RPA Engineers Help You Achieve 10X Efficiency and Productivity?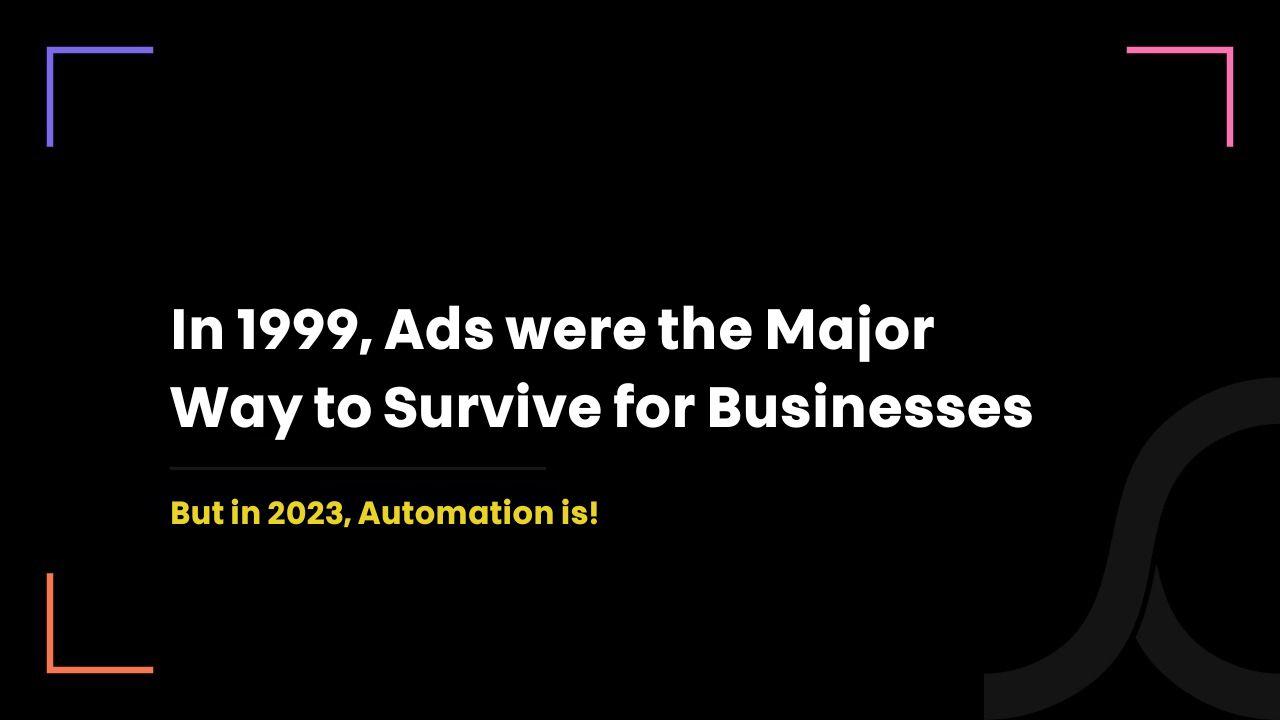 1 day ago
We always experience an adrenaline rush when we say or type automation or RPA! Do you face the same?
It is the best example of how technology can be helpful to industries in achieving productivity, saving costs, and attaining the highest level of efficiency.
Talking specifically about the healthcare insurance industry, automation facilitates healthcare payers to offer self-service, eliminate the scope of errors, speed up operations and utilize all possible data.
As per UiPath, the most prominent automation tool, a manual claim process costs insurers at least $28 per claim, whereas an automated claim process costs them only $3 per claim! 
So, sensing its urgency and profitability for healthcare insurers, let's discuss top use cases of healthcare payer automation, top challenges, cost, and how our RPA engineers can help you. 
Healthcare Payer Automation: Understand the Basics of RPA
While healthcare insurance provides the ultimate peace of mind to patients, the same level of peace of mind can never be possible at the payer's front as payers need to process claims in addition to several other back-office processes as soon as possible while avoiding any blunder. 
Payers every day deal with the paperwork and rely on data gathered from several different sources.
They also spend most of their time collaborating and communicating with providers and patients.  
All such activities demand a large team and days to complete a healthcare reimbursement lifecycle successfully.
But with automation, healthcare payers can bring down days-long processes to hours-long while not relying hugely on the manual efforts of teams.
To automate healthcare payers' processes, RPA (Robotic Process Automation) is used.
Using RPA technology and RPA tools such as UiPath & Automation Anywhere, RPA engineers write the code and create a .exe software (bot) that gets installed on computers and automates tasks it is supposed to automate.
There are major two types of automation bots, attended and unattended bots. 
An attended bot gets activated only after receiving commands from humans.
Whereas, an unattended bot works completely automatically, without any human intervention. 
These bots can gather data from multiple sources, extract data from PDFs, send automatic custom emails, and generate, send, & download reports. 
However, there is one major limitation.
Using RPA, you can only automate processes that have fixed input and fixed output. 
To automate variable processes, you must utilize AI and machine learning technologies.
Such a type of automation that uses machine learning and AI technologies is called cognitive automation.
Power of Healthcare Payer Automation at Scale: A Case Study 
The most assured impact of healthcare insurance automation is observable in,
Operation costs
Service delivery speed
Flexibility
Claim processing
Data entry
Data extraction from PDFs
Improved quality of work
Customer onboarding
Distinctive insights
Data handling
Customer support
To further understand its impact, let us share an interesting case study published by McKinsey.
Case Study:
A Germany-based statutory health insurer (SHI) wanted to increase operational efficiency and reduce overall costs. 
They were also looking for an alternative to a costly workforce that usually does not deliver any value to the company by delivering some real work.
During the initial assessment phase, they found that their most time-consuming process was patient onboarding as 90% of their new customers' forms were paper-based and needed to be processed manually.
So, to automate the customer onboarding process, they built a web-based front end and deployed RPA.
Because of RPA, they were able to fully automate the entire process (patient onboarding through digital forms and automated form processing) without making major changes to their existing IT infrastructure and processes.
RPA also replaced their time-intensive manual data transfer process between different IT systems with an automated data transfer process performed by a bot.
Most importantly, the RPA bot itself performed checks on every form on behalf of employees and sent only complex cases for manual employee review after spotting such cases. 
What Can You Automate in the Healthcare Insurance Industry?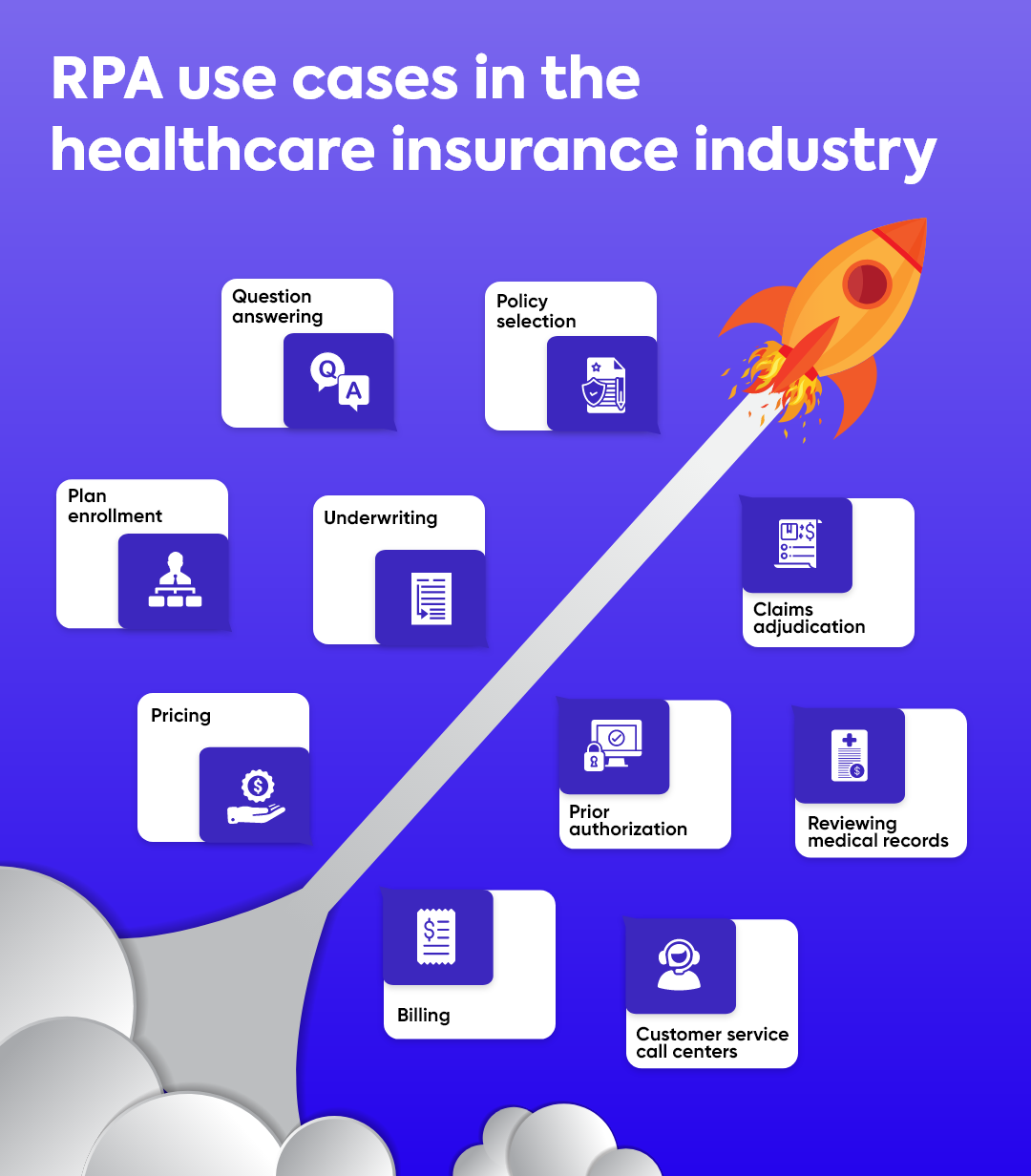 Top Challenges in Adopting Healthcare Insurance Automation
Yes, there are challenges, because the more profitable benefits technology offers, the more complex that technology is for implementation and maintenance.
The following are the top RPA challenges. 
You need to make sure that software bots are managing the healthcare and personal data of patients securely and privately. 
The software bot must address all rules and regulations of applicable data privacy laws. 
When an already automated process gets some change, you must also update the configuration of the bot, responsible for automating that process.
You are liable for managing licenses of bots with vendors.  
If there are several bots, it creates an additional layer in the IT infrastructure. This requires a dedicated team to keep an eye on its performance and compliance. 
Identifying the right process to implement automation is also crucial. If you end up choosing the wrong process, automation might fail to deliver you ROI. 
Creating a collaborative work environment between software bots and human teams is also a challenging task. But it is key to success! 
How Much Does It Cost to Automate Healthcare Payer Processes? 
Well, let us be very clear here.
The cost to automate a healthcare payer process depends on several factors such as,
Complexity of process 
Type of bot (unattended or attended bot)
Automation vendor/tool you prefer (UiPath, Automation Anywhere, etc.) 
Region from where you hire RPA engineers 
Hourly charges of RPA engineers 
Out of all these factors, the type of bot and hourly charges of RPA engineers influence the most.
Let's understand it with an example.
Suppose, you hire an RPA engineer who charges $40 per hour.
And you want to automate a process with an attended bot. 
For an attended bot, UiPath (vendor/tool) charges around $1300 per year.
So, in this way, if it takes him 100 hours to automate a single process, the overall cost would be (hourly charges * hours) + ($1300 for an attended bot).
Our RPA Engineers are Healthcare-Specific with 8+ Years of Experience in American & Canadian Healthcare Industry  
We're an Ontario-based healthcare-focused IT company. Meaning, we only entertain healthcare IT projects.
Because of the niche-specific services, we mastered everything it needs to level up the healthcare industry with technology.
Our dedicated RPA developers have been working on healthcare projects since the first day of their professional careers.
So far, we have worked with several healthcare providers, hospitals, LTC homes, pharmacies, and insurers to save their 10000+ crucial clinical and operational hours. 
We work with the only vision to empower every healthcare stakeholder with automation for the sake of productivity, efficiency, and cost-saving. 
And please don't get us wrong.
We don't want to replace humans.
We just want to free them from repetitive and tedious work that bots can easily manage. 
Be it cognitive RPA, AI, machine learning, chatbot, or OCR, we have an exceptional level of mastership working with it. 
So, with our experience, expertise, and experts, we can help you achieve 10X more productivity and efficiency!