Why PIA in Healthcare Very Important in 2022 and Beyond?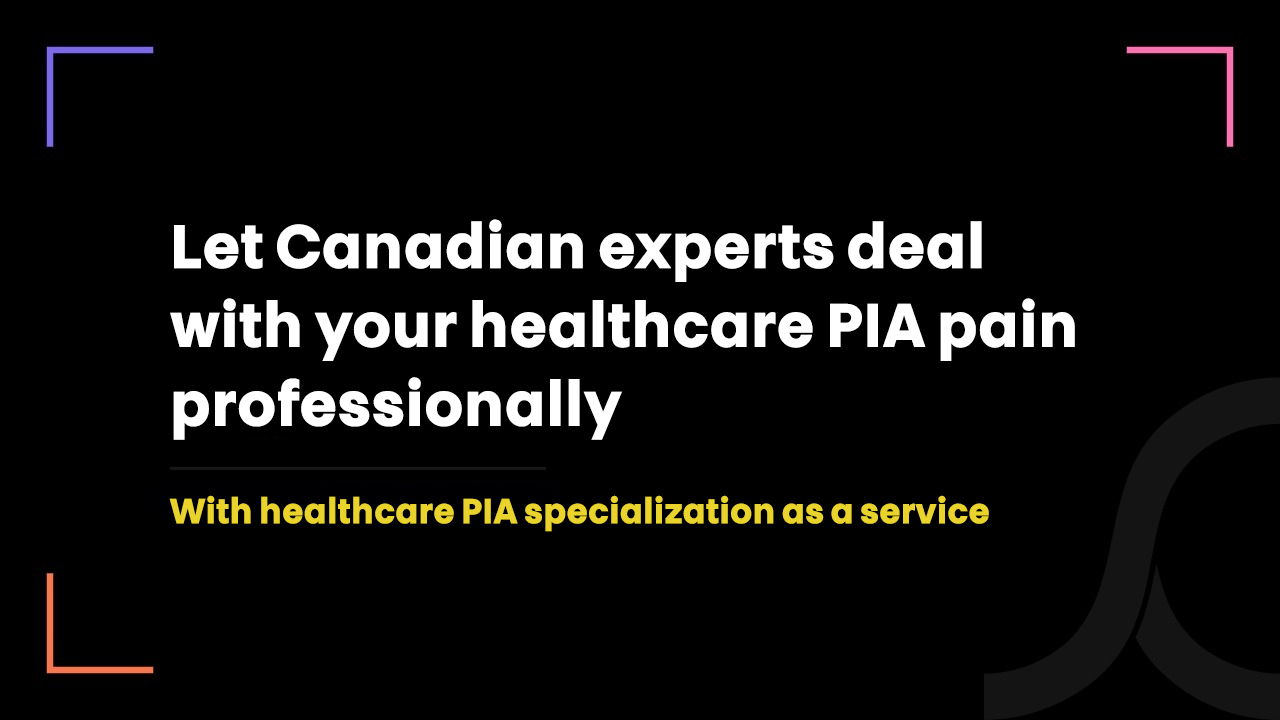 2 years ago
In the last year, we received more than 50 inquiries for healthcare PIA. And the first question almost all of them have asked was is it mandatory to carry out PIA.
You must also have the same question as everyone believes PIA is a total waste of time - until they waste more time, effort and even money by not trying PIA!
Anyway, we being Canada's top PIA consultants understand the gravity of PIA. Thus, we'll not leave any stone unturned to clear all of your doubts related to PIA.
Let's start with the basics.
What is PIA in healthcare?
PIA (Privacy Impact Assessment) is an assessment process where you assess your entire healthcare organization including software, apps, systems, policies, business relationships and business processes with an aim to discover the privacy vulnerability your organization has.
You have to carry out PIA as per the guidelines provided by local authorities. For instance, the Office of Information and Privacy Commissioner of Alberta provides the PIA document with several questions regarding your privacy policies and privacy measures.
You have to answer every question in a very descriptive manner with lots of workflow attachments and submit the PIA document to the privacy commissioner to get approval.
If PIA is not mandatory in any region (unlike Alberta under section 64 of the Health Information Act), you can carry out PIA and keep a PIA document with you.
Why should I carry out PIA if it is not mandatory in my region?
Well, PIA should be carried out not because of any legal obligation, but because of how it protects data you have and avoid a data breach.
When you carry out PIA, you come to know the different unattended and hidden privacy vulnerabilities your organization has.
And once you know the privacy vulnerabilities your organization has, you attempt to eliminate those vulnerabilities to make your organization and its data secure.
Thus, you must carry out PIA for the sake of patients' private information and overall data confidentiality and privacy.
How do PIA consultants help you carry out PIA?
Carrying out PIA and documenting everything as per the suggested format is a tedious and time-consuming task.
It is also crucial for you to know the most efficient way to solve a privacy issue once you discover it with PIA.
Thus, to save your time and avoid reword, it is advisable to hire PIA consultants or experts.
The following are the top roles and responsibilities of PIA consultants.
Deep-dive analysis of your organization's IT infrastructure, administrative policies, workflows, business policies etc.

Find out applicable data privacy laws

Decode each law's requirements around PIA

Carry out PIA

List out different ways to eliminate each privacy issue

Select the most efficient way to eliminate each privacy issue

Prepare PIA report as per suggested format

Coordinate with local authorities including privacy commissioners

Answer counter questions of the privacy commissioner

Manage PIA document and keep it updated
How to complete PIA?
Ontario Privacy Commissioner has suggested a simple process to complete PIA seamlessly and accurately.
Step #1: Preliminary Analysis
PIA consultants determine if your healthcare organization or healthcare project involves the collection, usage and disclosure of patients' personal information.
Step #2: Project Analysis
PIA consultants later collect important information about the healthcare project such as key players, stakeholders and how and under which circumstances their personal information is being collected, used and shared. For better understanding, PIA consultants study business process diagrams and personal information flow.
Step #3: Privacy Analysis
PIA consultants identify the potential privacy risks and how it affects the overall privacy with the help of data gathered in the last step. They also find out the different ways to eliminate each privacy risk and which is the most efficient way among all.
Step #4: PIA Report
PIA consultants prepare the PIA report by documenting all found privacy risks and suggested solutions as per the official PIA report format.
Why is healthcare PIA more important than ever in 2022 and beyond?   
PIA in the healthcare industry has always been vitally important for the privacy of ePHI. But due to the pandemic, the healthcare industry got a sudden makeover and prioritized data privacy and security over anything else.
In other words, the unprecedented challenges and incidents our healthcare industry has gone through in 2020 put PIA in the spotlight and made it more urgent than ever!
The following are the top reasons why you should put extra emphasis on PIA.
Increasing user awareness around data privacy
Users are now equipped with the highest state of awareness around data privacy as they don't want their data to be released as a result of human negligence.
Thus, they now select the service provider and even product based on the privacy record of the organization and the privacy mechanism an organization has in place to protect users' private data.
An increasing number of cyberattacks on healthcare organizations
Healthcare has always been the soft target for hackers as healthcare entities are notorious for storing very valuable data without any adequate safeguards.
As per several reports, the healthcare industry witnessed more cyberattacks in 2020 than the total healthcare cyberattacks reported in the last 5 years.
With PIA, you can't completely kill the scope of cyberattacks on your healthcare organization as hackers have the key to every lock. But it surely eliminates all easy entry points and turns a paradise into hell for hackers!
Government seems more interested in PIA
In section 64 of Alberta's HIA, it is clearly mentioned that custodians must conduct PIA.
Meaning, to be compliant with HIA, a healthcare entity must execute PIA!
Under PHIPA in Ontario, PIA isn't mandatory. But it is mentioned as per this
"They (healthcare entities) are required to take steps that are reasonable to ensure that personal health information in their custody or control is protected against theft, loss and unauthorized use or disclosure and to ensure that records containing personal health information are protected against unauthorized copying, modification or disposal."
Interestingly, healthcare entities can only address this requirement of PHIPA with PIA!
Considering market development, we are anticipating that the Canadian government will make PIA legally mandatory in the wake of rising cyberattacks on healthcare organizations!
What is the cost of carrying out PIA?
We can't tell you the precise cost as it largely depends on your project. But we can surely tell you that PIA consultants charge you in any one of these two ways. They will either charge you on an hourly basis or charge you a fixed amount for the entire project.
We're local Canadian healthcare PIA experts. Let's have a productive discussion
We have been dealing with Healthcare PIA/TRA and compliance for more than 7 years and earned ultimate expertise which benefits our healthcare clients in terms of time, cost and efforts.
Our dedicated local PIA consultants are well-aware of the Canadian healthcare market, compliance requirements of different provinces, PIA/TRA requirements and other best practices.
We always believe to serve peace of mind to our clients by shouldering all their challenges.
And the major reason we are able to help our healthcare clients with their technical, business and compliance pain is our healthcare-specific knowledge and 7 years of experience only in the Canadian and US healthcare industry.
You can check out our most recent and most epic case study on PIA to understand our action plan and the values we guarantee to deliver.