Healthcare Productivity is What This FinTech Startup Can Teach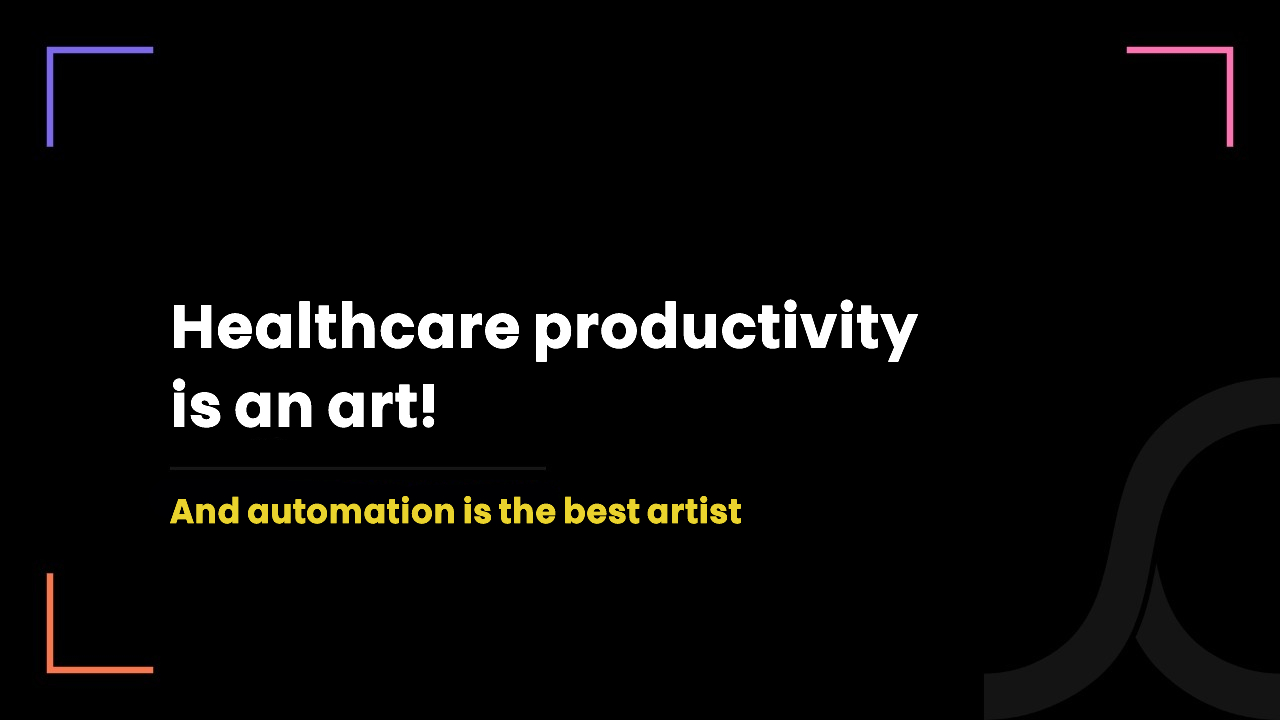 2 years ago
Simplifying process workflow management with automation can save a lot of time in any business and result in the highest-ever productivity. Innovations in process management and AI are empowering organizations to deliver excellence.
We have a reason why we are saying this …
One such example is Hubly- a Vancouver-based startup that has raised $1.7 million CAD ($1.3 million USD) in seed financing to fuel the growth of its software solution for financial advisors. Its product helps financial advisors and their teams to build custom workflows, collaborate, and automate repetitive tasks.
But what about healthcare?
Well, in the case of healthcare organizations, automating healthcare workflows can't seem to be realistic due to the data privacy law and changing regulatory compliance. However, manually managing these workflows can be overwhelming.
Therefore it became critical to find a better solution for healthcare workflow management to streamline the healthcare process for better efficiency, healthcare productivity, and profitability.
What they can automate?
These processes can be patient scheduling, human resource onboarding, prescribing medications, billing, logistics, inventory, compliance issues, and more.
What is the outcome?
Automating these processes successfully can help us to reduce lots of manual work, a number of human errors, and work pressure on staff.
Moreover, it will significantly improve patient satisfaction and clinical outcome.
What's further in this article?
This article will help you to understand the importance of healthcare workflow management and automation, and the major challenges it can solve.
Importance of healthcare workflow management and automation to achieve healthcare productivity
The healthcare system is data-driven, and the requirement of accurate and efficient workflows became the prime concern to reduce human errors, process complexity, and resource cost.
Advancement in AI, ML, and computer vision has extended workflow automation capabilities beyond robotic process automation. Now, it is possible to automate complex workflows in the healthcare industry while keeping the highest possible level of data security and privacy.
Let's find out why it's important to manage and automate healthcare workflows.
1. Poorly designed healthcare workflow fails to perform during rush hours
Informal workflows may work well in normal situations, but there are higher chances of breaking down in the movement of stress. Such a situation can negatively affect healthcare staff, patients, and in turn organization.
2. Workflows are interdependent; a small change in one process may affect the remaining processes.
Changes in the workflow are common and can affect interdependent processes. Thus, workflow management is important to see how each process impacts the other and to ensure its correctness.
3. Automating workflow reduces human error and improves work efficiency.
Automating repetitive tasks in the workflow improves workflow management and efficiency. Further, it eliminates the occurrence of human error and allows healthcare staff to focus on important tasks.
4. Improve patient satisfaction and treatment outcome
Having the correct information about the patient is critical for the right treatment. Any chances of mistakes can be life-threatening and can hamper the hospital's reputation.
Having a formal way of information transfer between the patient, hospital staff, and doctors can help a lot as it helps to eliminate the chance of miscommunication.
Major challenges the healthcare workflow automation can solve
Workflow technology has evolved substantially into the healthcare industry over the last few years. But still, there are some challenges that need to be addressed with healthcare workflow automation.
1. Big data analysis and security
Big data analytics and security are turning out to be the toughest challenge in the healthcare industry. The industry generates big data from electronic health records, wearable devices, sensors, and other means. Such a wealth of information can be utilized to generate actionable insights.
Implementing this insight into clinical research, and operational processes can be highly rewarding. But the increasing regulatory requirement for tighter security of personal health information limits the capability of processing and analyzing Big data.
Solution:
Workflow automation can help to optimize the EHR and can deliver the right information to the right person with actionable insights for quick decision making.
Another secure way to access, read, process and analyze patient information is through intelligent RPA that works in the background 24*7. Such bots can securely deliver information with speed, and accuracy.
2. Massive healthcare regulatory compliance
In many countries, the government has enforced new laws for value-based care delivery, better transparency in drug prices, and individual privacy.
The Patient Protection and Affordable Care Act (PPACA) went into effect in 2014 (in the USA) mandating healthcare organizations to convert paper records into electronic medical records (EMR or EHR), but most organizations still don't have full control over the data, and who is accessing them.
The Medicare Access and CHIP Reauthorization Act of 2015 has been reformed in 2020 to adjust payments and reflect the value, prioritizing the standardization and monitoring of processes that support MACRA's new quality payment program.
The HIPAA privacy and Accountability Act 1996, requires health care providers, organizations, business associates to develop and follow procedures that ensure confidentiality and security of personal health information.
There are multiple regulatory compliance and laws in the healthcare sector that every industry needs to follow, managing all of these can consume countless hours.
Solution:
Implementing automated compliance processes through the managed workflow with the integrated EHR is the only cure for the organization whose mission is to deliver value-based care at a low cost.
The other challenges workflow automation can solve are consumerism, streamlining healthcare administrative processes, manual reporting, interoperability, and increased cost of healthcare services.
Healthcare needs more productivity than ever before and we are ready to make it happen!
We can't keep a close eye on increasing global healthcare demand. The only solution to meet this growing demand with limited resources and healthcare professionals is workflow automation.
And we have been practising this solution for 7+ years. We're an Ontario-based healthcare-focused IT company.
In addition to design, development and QA, we also have expertise in workflow automation using RPA, AI, ML and OCR technologies.
Our RPA engineers and R&D team have already automated several workflows of hospitals, LTC homes and pharmacies which result in 10000+ clinical hours saving annually.
No, we don't want to prove what we have achieved. We are more focused on letting you know the outcome you can derive from our expertise and experience in workflows automation.
If you still can't get it, let's have a call, we will show you some of the automated healthcare processes live!