Build Heart Monitoring App like Hello Heart Which Recently Raised $70M: Can it Save Lives?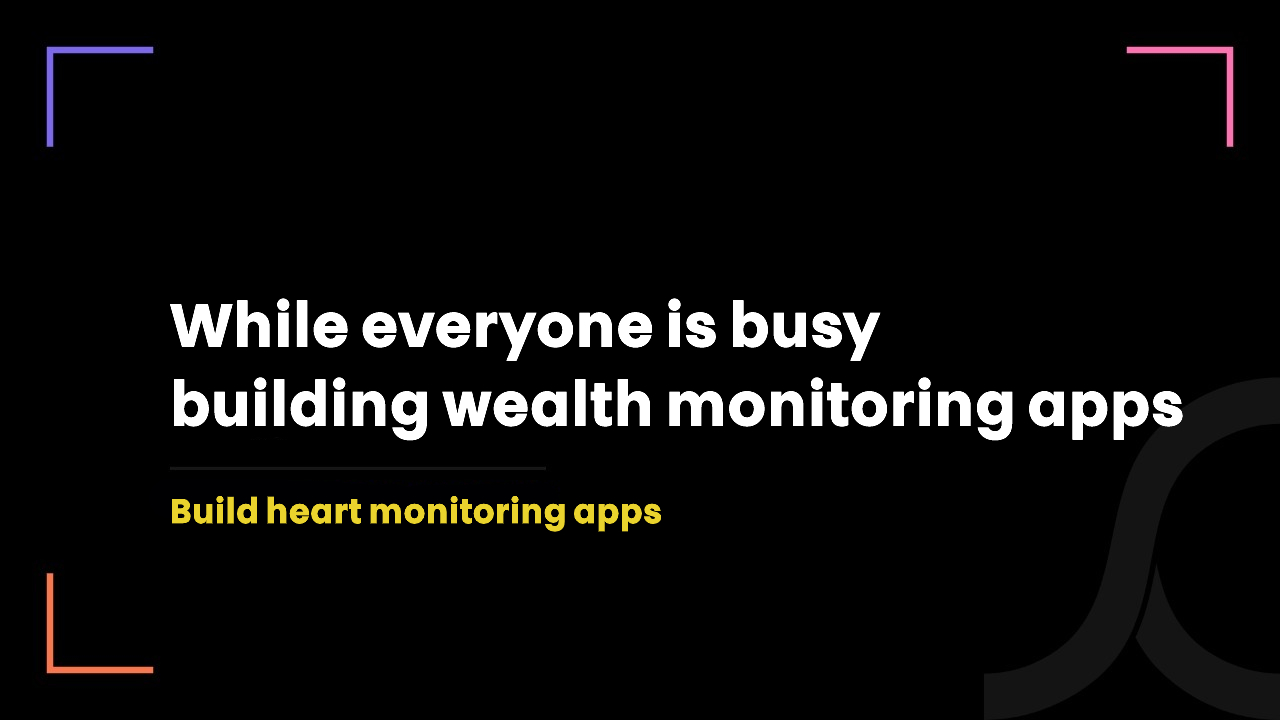 2 years ago
Let's skip the intro and talk about something useful which makes sense.
Can a heart monitoring app save lives or what is its clinical value?
All heart diseases follow a pattern. Nothing happens overnight.
The problem currently our healthcare system has is that there is not a single highly accessible and affordable solution for patients to monitor their heart, its overall function and know how well their heart is working - all from the comfort of their home.
The only solution they have is to visit the cardiologist. But people usually visit a cardiologist only after they feel some level of pain around their heart. Such practice in some cases is considered 'too late' as even minor heart pain can cause a heart attack and rapidly turn into a life-threatening situation.
Here is where heart monitoring apps come into the picture. Though apps can't save lives actively, this beautiful piece of technology can surely save lives, passively.
Heart apps saving lives of patients having no found heart disease:
People having no underlying heart disease can track their heart rate, stress level, blood pressure to detect potential heart disease in its very early stage.
Heart apps saving lives of patients having chronic diseases:
Patients diagnosed with heart-related chronic disease must look after their daily activities, medication, exercise, diet, heart function, and symptoms very accurately to live a normal life.
And an app helps them in each and every part of their life, they want to live normally even while having chronic heart disease.
So, by helping patients live a life full of consistency, the heart app reduces the possibilities of life-threatening medical conditions for patients diagnosed with heart disease.
Know how Hello Heart raised $70M for the heart health monitoring app
Hello Heart is a California-based heart health monitoring solution provider.
As a leading heart monitoring solution provider, Hello Heart knows cardiac disease is one of the primary health concerns across the USA.
For that reason, Hello Heart lets people or patients to monitor, track, and manage their blood pressure at any time from anywhere.
In addition to this, it analyzes the patients' blood pressure and provides an ideal solution to maintain their heart health with personalized food and exercise tips.
Using the Hello Heart, patients can explore the services such as,
Blood pressure tracking
Healthier food advice
24/7 digital coaching
Medication advise and support
Easily accessible and sharable BP records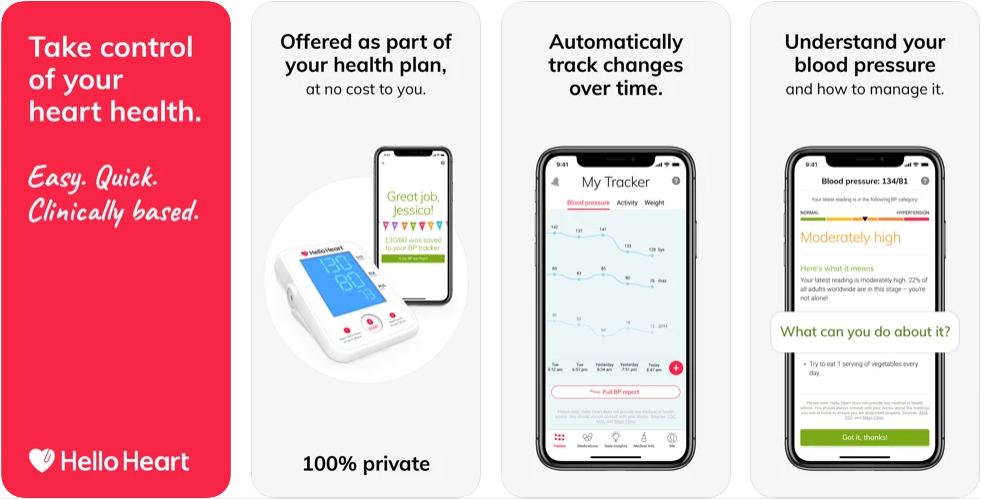 Recently, Hello Heart scored a whopping $70M in its series D round.
With that funding, Hello Heart wants to expand its services from blood pressure to overall heart health disease with the help of advanced cholesterol tracking and medication tracker features.
What about the business potential of heart monitoring apps?
There are millions of heart patients in North America. If you plan everything very precisely, you can easily grab 10 to 30% of the market share as there are no big players in this healthcare market segment.
Here are a few tactics to grab a higher percentage of market share:
Don't just focus on the heart and its function. Help patients ‌ improve their heart health by being consistent with exercise, diet, medication etc.
During the initial months, let users use your app for free.
Make sure your app is secure and private to earn users' trust.
Make sure you carry cardiologists and other providers on your mission. They will add clinical value to your app.
Work on accuracy. Meaning, your app must show accurate heart health and other parameters. Thus, don't rely on a smartphone's camera and flashlight. Use IoT technology and IoT devices.
Work on generating multiple revenue streams and don't rely on only one.
Talking about revenue streams, here is how you can make money with your heart monitoring app:
Introduce a freemium model under which users can use certain features for free and have to pay a fee for using premium features.
Roll out telemedicine services from your app. Users have to pay a fee and can have a direct chat or video call with a cardiologist.
Start an eCommerce store to let patients diagnosed with heart disease purchase their wellness and healthcare products easily.
Introduce a subscription plan for remote heart monitoring devices linked to your app.
Tie up with employers to give free access to a digital heart care platform to their employees.
Types of heart monitoring apps you can consider building
When it comes to building heart monitoring apps, you have three major choices.
1. Manual heart monitoring app:
In such a type of app, a patient needs to measure his vital body signs related to the heart manually and then record each data in the app for long-term monitoring and tracking purposes.
In addition to things related to the heart, patients can also manually record and track their diet, workout, medication and watch useful resources to gain knowledge.
2. IoT-enabled smart heart monitoring app:
Such a type of app is connected with ‌ heart monitoring devices which measure the vital body signs of patients and share that collected data automatically with the mobile app.
This way, it enables patients to skip the tedious manual data entry part and automatically keep a tr‌ack of their heart health.
The most useful use case of IoT-enabled heart apps is that caregivers can remotely have an eye on patients' heart health.
3. AI and ML-based digital heart care platform:
Such a type of heart care app eases the diagnosis part. It in fact, using recorded data, predicts the worsening heart condition and alerts the care team so that they can act quickly and avoid complications.
Building a heart monitoring app as a cardiologist
If you're a healthcare provider or cardiologist and planning to build a heart monitoring app, you must have a challenge in mind that you want to solve.
Here, we must tell you that an app can surely solve ‌healthcare challenges.
In case you're planning to build that app for your own clinic, you can go for the MVP model, add only useful features and provide your patients with a wow experience.
But if you're planning to build it for the real market, we suggest you add multiple healthcare app modules such as telemedicine, pharmacy and eCommerce to seize the larger market and untouched opportunities.
Last but not least, if you have doubts, you will surely be successful with your app idea. Why? Well, being a healthcare provider, you can easily add clinical value into it, share it in your network, get good funds and earn the trust of users.
(The same happened with Canada's most popular virtual care app, Maple, launched by a physician!)
Know us as your healthcare technology and compliance partner
We're an Ontario-based healthcare-focused IT company and this is just a glimpse of our team working on your project.
We will be utilizing our 7+ years of healthcare IT expertise on your project.
Our team of healthcare developers, UI/UX designers, business analysts, compliance specialists and QA engineers will be working parallel to deliver your project within the deadline.
Our compliance specialists will ensure that your app is fully compliant with applicable data privacy laws such as HIPAA, PHIPA, PIPEDA etc.
Our QA engineers will be carrying out automatic testing to save project hours and so does the project cost.
Our client success manager will be keeping you updated with everything and helping you solve your business challenges.
We will be leveraging cutting-edge technology such as AI, ML, IoT to make your app future-ready.
We will deliver clinical value and peace of mind even after project delivery!