Hire AWS Developers for Your Healthcare Project: Roles, Skills, Hiring Models Explained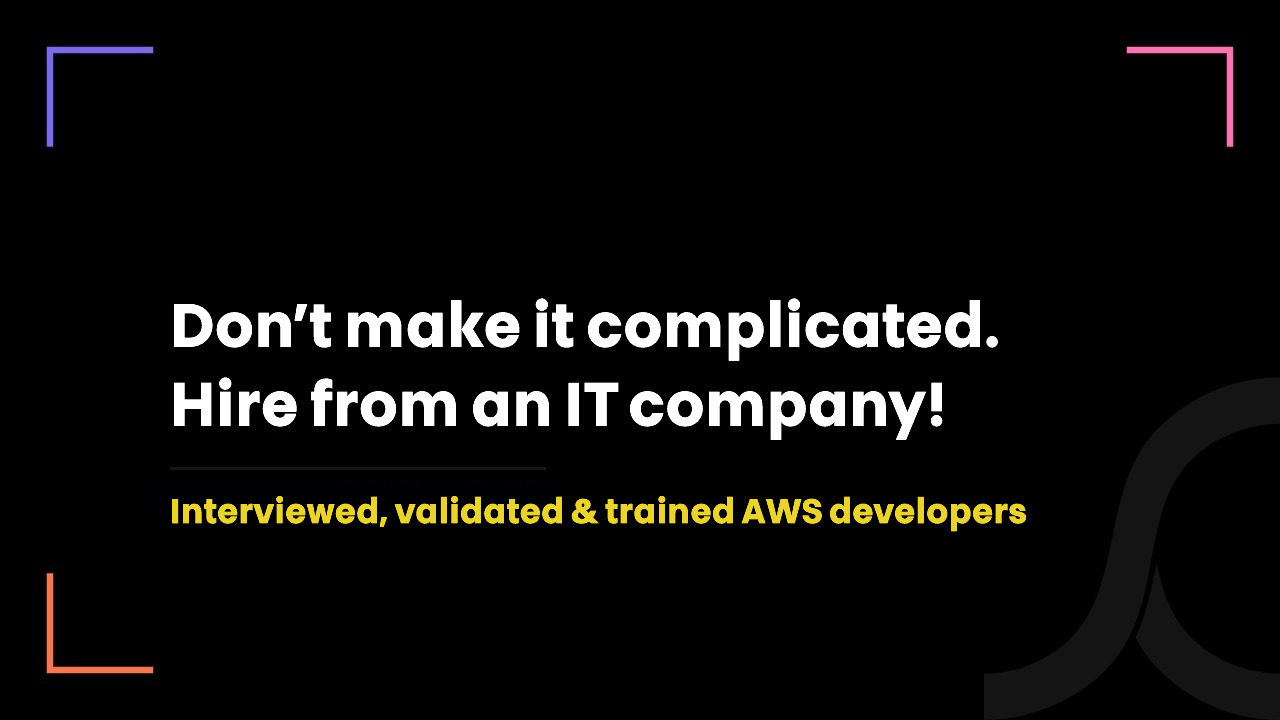 1 year ago
One thing is sure. You cannot think of game-changing healthcare digital solutions without the adoption of the cloud. And when it comes to the cloud, the only absolute answer is AWS! 
However, companies lacking native cloud expertise do not take long to feel overwhelmed by the complexity of cloud technologies.
What makes their approach toward the cloud more fragile is new complex tools and concepts associated with cloud deployments such as Docker, containerization, Kubernetes, serverless and infrastructure as a code.  
One most practical way to win over the cloud complexities is to fill your internal knowledge gap by hiring AWS developers or AWS experts from an IT company. 
So to help you hire AWS developers for your healthcare project from 1% of the talent, let us represent our healthcare AWS developers as part of your project rescue plan.
Hire AWS developers for your healthcare project: How to first prepare yourself?
The crucial element is not hiring, but getting ready for hiring. So, to get ready to hire talented AWS developers, you must do an internal assessment and prepare a short-term and long-term plan. 
Do an internal assessment and be clear with your requirements
Be clear with your budget
Be specific about the skillset you are looking for in AWS developers
List out your short-term and long-term goals you are planning to achieve with AWS developers
Know where new resources will fit into your project and overall culture
Set KPIs
List out interview questions
Be clear with NDA
So, once you are clear from your side, you can move on to the next step.
How to hire our healthcare AWS experts for your mHealth project?
We don't build castles in the air. We follow the process - which makes things straightforward for our AWS experts and you too. 
Step #1: Discovery call
We'll have virtual calls with you to know your requirements and the scope of the project. This call is very crucial as it helps us to understand your vision.
Step #2: Internal assessment
We do an internal assessment to find out the best possible available AWS developers who can easily align with your vision and healthcare project scope.
Step #3: Interview
We then will share resumes and past work samples of selected resources for you to screen, filter out and select for one-on-one interviews.
Step #4: Sign NDA
Once you select the resource to work with, we sign an NDA at the company level. We will also sign an NDA at the resource level to ensure the highest level of confidentiality.
Step #5: Knowledge transfer
We organize one or multiple sessions to help our resources understand the project technologies, deliverables and other cloud concepts you have been working with for your project.
Step #6: Onboarding
You can now onboard the hired resource for your project. Now onwards, the resource is completely managed by you. However, we regularly assess his/her performance based on your reviews and set KPIs.
Where do our healthcare AWS developers add value to your project?
You can consider these as their roles and responsibilities. 
Optimizing how AWS is being used in your organization
Writing code to data storage
Building and configuring the mobile hub
Overseeing the configuration of several features
Using CloudFormation to write Infrastructure as a Code
Migrating the cloud infrastructure
Deploying the application using tools such as Puppet, Ansible
Implementing the DevOps lifecycle
Applying the concept of containerization using Docker
Implementing serverless
Setting up the monitoring infrastructure
Skills of our AWS developers that you will be most proud of
Apart from their technical knowledge, they are healthcare masterminds. Their additional healthcare-specific IT and non-IT knowledge bring unimaginable benefits to your project. 
Our AWS developers are healthcare-specific.
They know the ins and outs of healthcare.
They have experience in the North American health tech market.
They are well aware of clinical protocols and clinical workflows.
They acknowledge the gravity of compliance.
Dealing with HL7, HIPAA is a piece of cake for them.
They have worked on complex health tech projects.
They work with North American standards and innovation.
The cherry on the cake: Our AWS developers have worked in a DevOps culture and they love it!
DevOps is the first choice of all project managers as it facilitates faster code development and deployment. Chances are you might also be executing your healthcare project in a DevOps culture. 
If so, you will not regret hiring our AWS developers as they have vast experience in working in DevOps environments for its Deploy, Operate and Monitor phases.
As discussed, our AWS developers have on-hand experience in working with DevOps tools that are used to deploy, operate and monitor applications on the cloud. 
These tools include Docker, Kubernetes, Puppet, etc.
Hiring models explained to hire our AWS experts in North America
This matters the most. Because hiring an AWS developer on the wrong hiring model with not work for either of us. It would waste your money and our resources. Thus, let us help you hire AWS developers on the most suitable hiring model. 
Hiring model #1: Project-scope based
Here, you will be charged fixed money for the entire project. If you are not sure of the project timeline, you must go for this model.
Hiring model #2: Hourly-based
Under this model, you will need to pay a fixed hourly rate for the number of hours you utilize the resource on your project. The important thing here is the tracking of hours.
Hiring model #3: Fixed monthly fee
This is the most simplified hiring model. You will need to pay a fixed monthly fee for a resource. The best part is, you can utilize the resource as per your needs without worrying about hours.
To know it in more detail - Healthcare IT staff augmentation models explained
Let us leave you with a thought that we most believe in
"You don't have to hire candidates. You have to hire a mindset, approach, skills, thought process and most importantly a character!"