Hire Our Best Healthcare IT Consultants And Experience Peace of Mind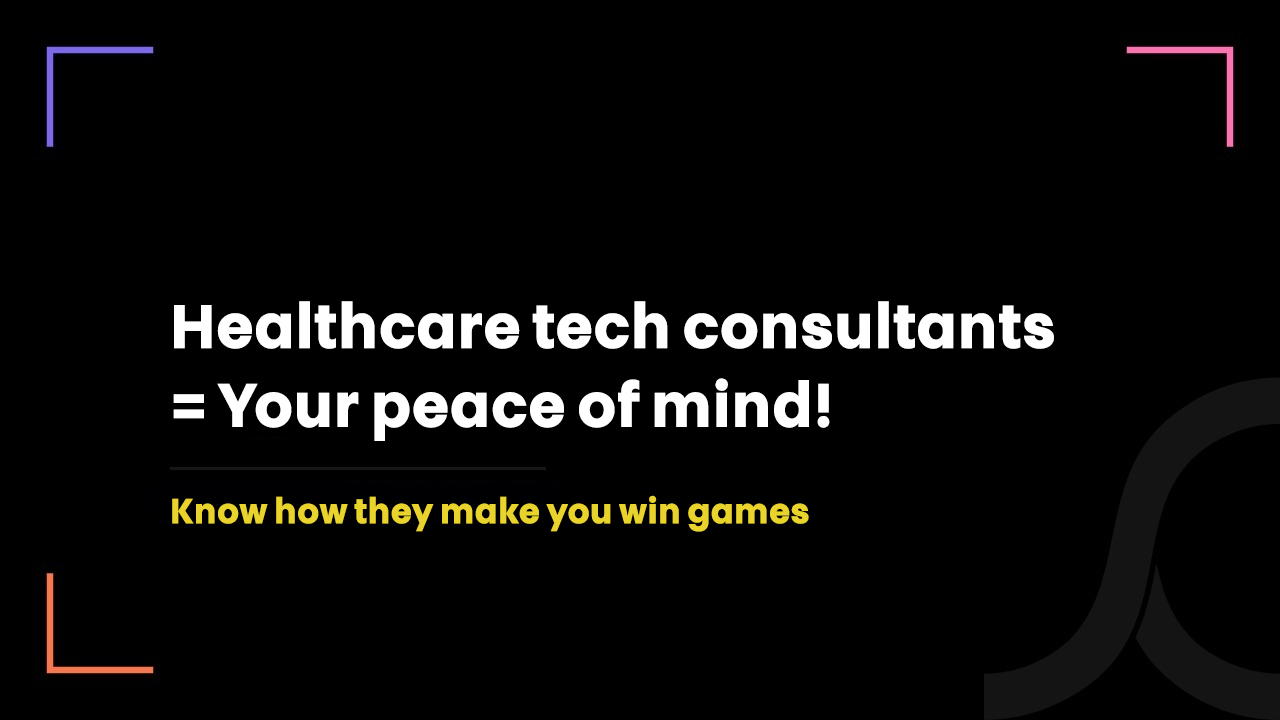 2 years ago
Healthcare IT or healthcare tech is a puzzle - especially for healthcare providers and healthcare entrepreneurs.
The fact which worsens the situation is that there is no scope for error in healthcare.
Unlike other industries, a technical blunder in the healthcare industry not only costs financially but many times costs lives too.
Thus, it is advisable for healthcare providers and entrepreneurs to keep healthcare IT challenges on the shoulders of healthcare IT consultants and adopt technology in the form of app/software, automation, cloud, security with the highest level of validation and professionalism.
What are the benefits of hiring healthcare IT consultants from best healthcare consulting firm?
The way you are an expert in what you are doing, we are experts in what we are doing - healthcare IT. Our healthcare consultants are armed with years of healthcare-specific experience and know how to address each clinical and administrative challenge with healthcare technology.
For instance, we can guide you on saving clinical time with automation, making patient onboarding faster with virtual waiting rooms, easing data challenges with the cloud etc.
Following are some of the different ways healthcare IT consulting firms can help you.
When you hire healthcare IT consultants, you don't have to worry about anything. They take care of all your technical challenges and other business & compliance challenges associated with your healthcare IT goals.
Most efficient solution for each problem
Best healthcare consulting firms do not suggest only a single solution for your requirements. They instead list out all possible solutions and suggest the most efficient solution as per your budget and needs. This way, you can be able to explore what you can never be able to explore by yourself.
Almost zero financial risk
Keeping financial risk zero is the top-most priority for healthcare tech consultants. Whatever solution they consider for your needs, they assess it thoroughly to understand financial risks. If those risks are manageable, they prepare a risk mitigation strategy and give you assurance for no financial loss.
Keeping compliance readiness is what healthcare tech consulting firms are always ready to go the extra mile for. They always make sure that you won't face any legal challenges due to non-compliance with data privacy laws after adopting any new technology. With the help of their in-house healthcare compliance specialists, they keep an eagle eye on compliance and never let it go against the law.
What does our healthcare consultants do?
For your better understanding, we will give you an example of what our digital healthcare consultants do.
1. Idea validation
If you have an app or software idea for the healthcare industry or for your own practice, healthcare IT consultants validate your idea by putting in their knowledge, experience and evaluating its market, business, legal and technical feasibility.
2. Budget planning
If you are building any product or adopting new technologies such as cloud or IoT, healthcare IT consulting firms suggest workable solutions to achieve your goals within your budget. They can even prepare the short-term and long-term budget plans with ROI and break-even strategies to quickly cover the capital cost and start making a profit.
3. Problem assessment
You just need to tell them your challenge. They will assess it and list out all possible solutions along with the solution execution plan or a complete roadmap.
4. Workflows of mobile app and software
Our healthcare consultants define workflows for each feature of your healthcare mobile app and software. These workflows make it easy for the UI/UX team to design the app and developers to build the app. Most importantly, these workflows ensure that users are receiving the ultimate user experience.
For instance, if you are building a telemedicine app, our consultants can define workflows for online patient intake, managing patient follow-ups, reduce chances for no-shows, online referral system etc.
(To define such workflows, consultants must have knowledge of clinical workflows and protocols healthcare providers are following while treating patients.)
5. UI/UX design of mobile app or software
Healthcare IT consulting companies do not only provide consulting services. They also offer designing and development services. Their consultants work with the UI/UX team to design the app while considering user journeys and user persona.
6. Tech stack for app and software
Based on your use cases, our healthcare tech consultants figure out the best tech stack for your healthcare app and software that assures reliability, security at the same time of affordability.
Tech stack includes programming languages, frameworks, a database, front-end tools, back-end tools, and applications connected via APIs.
7. Healthcare compliance consulting
Our dedicated healthcare compliance consultants help you address all administrative and technical regulations of applicable data privacy laws along with PIA & TRA. We also carry out compliance audits and prepare privacy policies as well as other documentation required by a specific law.
8. Cloud deployment or migration
Our cloud engineers shoulder all of your technical challenges while you adopt your first cloud or migrate one cloud from another cloud. They suggest the best cloud solution as per your needs, acquire & manage all licences, deploy data on the cloud or migrate data, validate security, and provide you training & support.
9. Healthcare automation
To help you save your time, efforts and money, we help you automate your time-consuming and tedious back-office processes with healthcare automation consulting and solutions. Our RPA engineers and consultants guide you through your processes which you can automate, best automation tools, licenses, support, can even automate those processes and validate the performance of automated processes.
You must read: Our guide on RPA in healthcare
10. Advanced technologies (AI, ML, IoT) deployment
To solve challenges with data, to monitor patients remotely, to get actionable insights from large piles of data and to offer a personalized experience to patients, we help you with the most remarkable technologies such as AI, ML and IoT. We help you identify areas where you can utilize these technologies, how you can implement them, and how to keep costs low while meeting compliance requirements.
How do healthcare consulting companies charge?
They charge in any of these two different ways.
They charge you on an hourly basis.
They charge you a fixed fee for your entire project.
If your requirements are limited, we would suggest you choose option 1. And if your requirements are too many which increases the scale of your project, we would suggest you choose option 2.
Our healthcare consultants have to say something to you …
We're local Canadians, thus, we know roots of the Canadian and US healthcare market. In fact, we only serve the healthcare IT industry.
Yes, this does affect our company revenue. But being industry-specific is what makes us deliver services and solutions to our healthcare clients as no other company can.
We are not exaggerating. But we know healthcare as much as doctors know. And we know healthcare IT the way Elon knows batteries and Jeff knows eCommerce!
Anyway, we would like to give you a few promises -
We will only give you quality-based & outcome-based healthcare services.
We will streamline your processes by cutting costs and improving efficiency.
We will optimize your patient outcome.
We will help you from ashes to your glory.
We will keep compliance, budget and timeline as our top-most priorities.
We will help you beyond consulting with our in-house designers, developers, business analysts, RPA engineers and compliance specialists.
We will give you a free trial for a week with a money-back guarantee.
We will do wonders for you!
We will contact you back within 6 to 12 hours!