How to Find and Hire Healthcare Software Developers? [A Guide]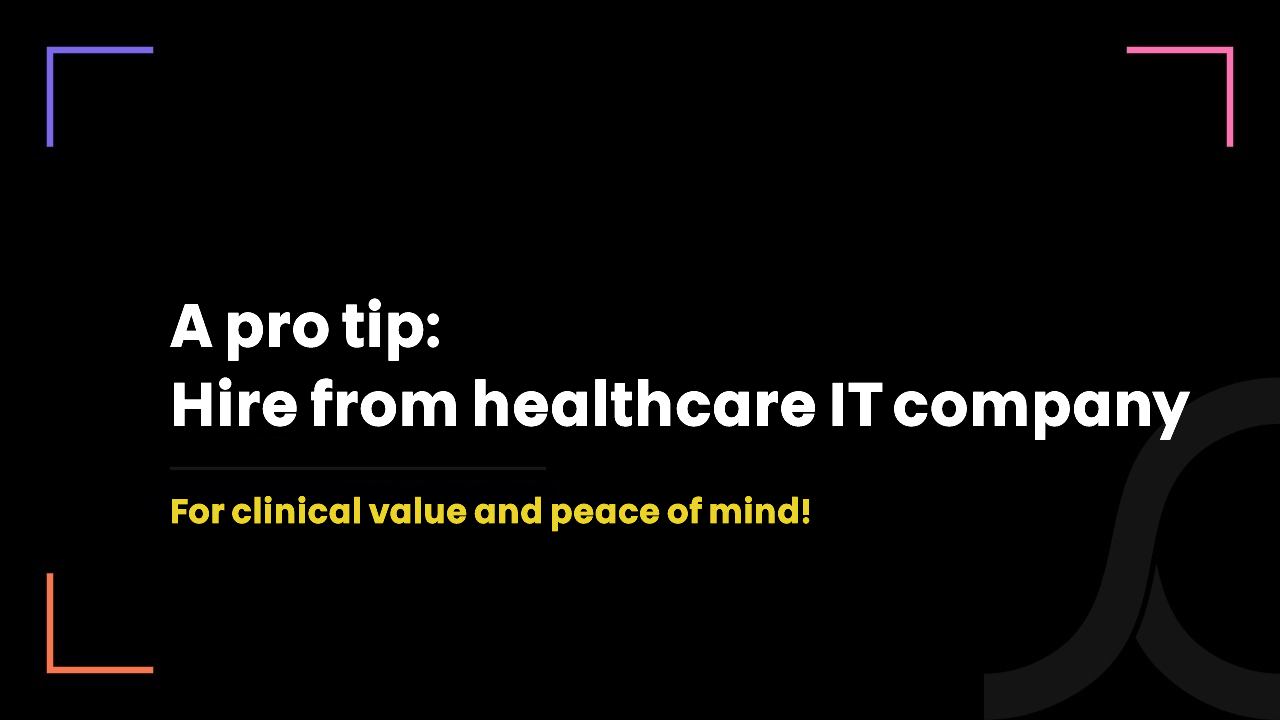 1 year ago
The majority of restaurant owners don't know how to cook. 
The majority of theatre owners don't know how to act. 
And the majority of healthcare app/software owners don't know how to code! 
So, like restaurant owners hire world-class chefs, theatre owners hire world-class artists, healthcare app/software owners must hire world-class developers. 
But the only condition is that you must hire healthcare-specific developers for your mHealth app/software vision. 
Because, the way a chef expert in Mexican cuisine can't properly cook delicious Indian food, developers expert in other industries can't properly build successful healthcare apps or software.
Key factors to consider when hiring healthcare software developers in North America
You must understand the gravity of developers and their skillset. Their knowledge is so powerful that it can define the fate of your healthcare app or software. Thus, we advise you to be more vigilant while hiring healthcare software developers. 
The following are the top 4 factors you must consider when hiring healthcare software developers.
Factor #1: Hiring from a healthcare IT company vs hiring freelance developers 
This is where most entrepreneurs and business owners are confused. They could not figure out the perfect balance between their expectations, deliverables, ROI and budget.
Thus, we have prepared a detailed comparison.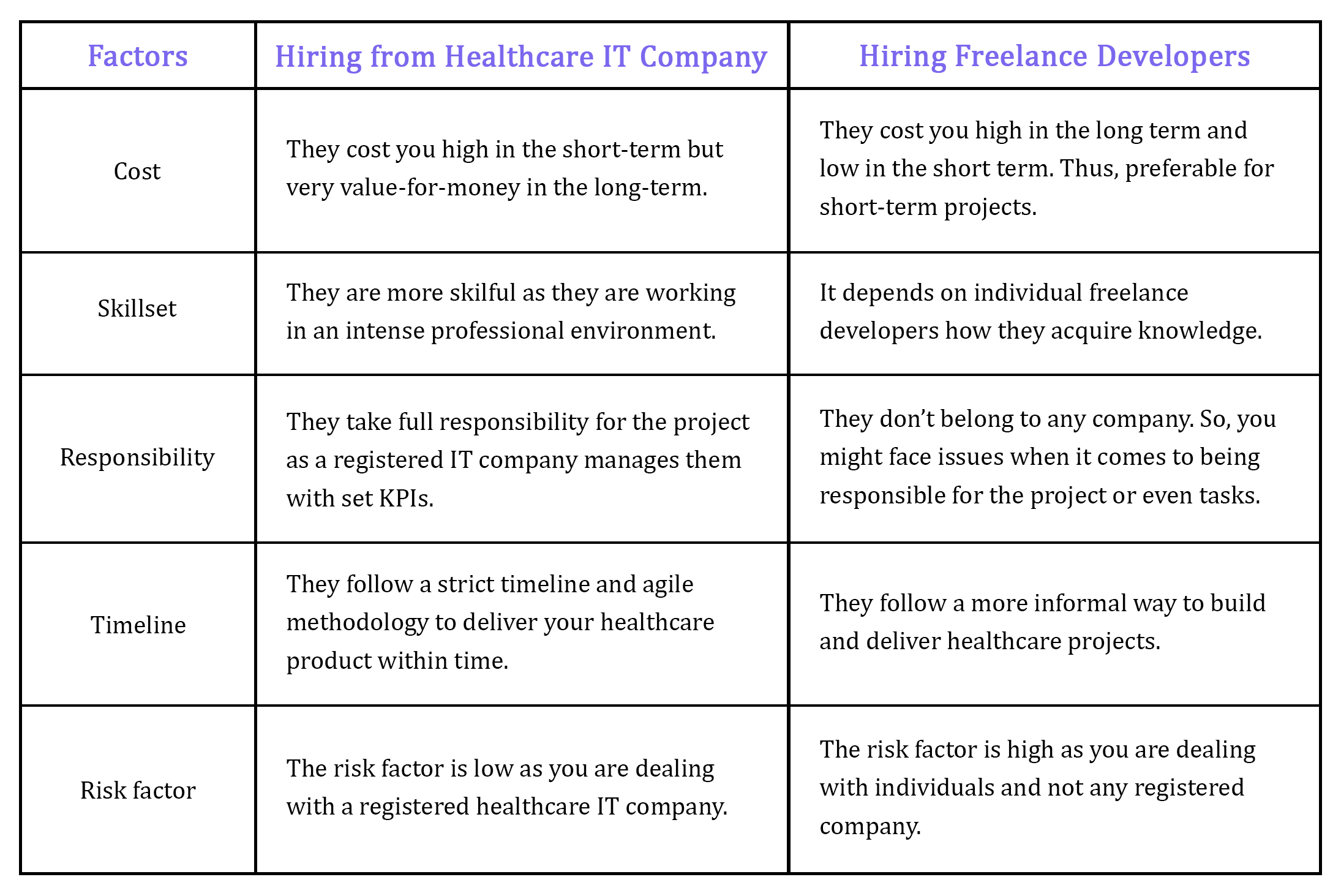 Factor #2: Region from where you are going to hire healthcare software developers

  
Healthcare developers belonging to different regions charge differently. For instance, you can find the cheapest healthcare developers in Asian countries. Whereas, North American healthcare developers charge the most.
The top factors influencing the hourly cost of developers are their subject understanding, code quality, technology expertise and per capita income of their country.
The following is a quick comparison of where healthcare software developers charge the highest and lowest.
However, if we see the whole picture from different perspectives, your focus must not be on hiring the most affordable developers but on hiring developers who understand the North American healthcare market and infuse American standards of innovation and Canadian quality of work into the development.
Thus, we encourage you to hire local American or Canadian healthcare developers as they have on-ground experience and understanding of how healthcare works in North America and North American healthcare compliance laws.
Factor #3: Healthcare skills, knowledge and experience

 
Healthcare is a unique industry. Developers lacking healthcare-specific knowledge might find healthcare software development very overwhelming. And if they still try, there are high possibilities that they might end up messing it up.
Hence, it is essential for healthcare app/software owners to look into healthcare-specific skills, knowledge and experience before hiring healthcare software developers.
If you are not sure what you have to look into before hiring developers, well, let us help you out. Here is the quick list.
Clinical workflow knowledge
Healthcare-specific use cases of AI/ML
Healthcare compliance knowledge
Patient engagement workflow knowledge
Interoperability standards knowledge (HL7, FHIR)
Healthcare marketplace knowledge
EMR/EHR knowledge
Factor #4: Their healthcare passion and vision

 
Imagine the quality and efforts a healthcare app developer would infuse into your project if he feels sparked working on a healthcare project due to his personal interest in the healthcare industry.
When passion meets knowledge, miracles happen. Thus, always validate how passionate developers are toward the healthcare industry and what their vision for working in such a purpose-driven market.
Remember, you don't have to hire people, you have to hire minds, approach, dedication, efforts, and most importantly character!
How to find healthcare software developers?
Fortunately, there are plenty of platforms out there that aid you in finding world-class healthcare software developers with ease. 
However, each platform has its advantages and disadvantages. Thus, you need to align your needs with whatever platform you are using to find healthcare software developers that match your expectations. 
1. Upwork and other freelance platforms: 
If your project scope is limited to a short-term vision, you must opt-in for freelance developers. And there are multiple freelance platforms on which you can spend time with the purpose of finding healthcare software developers.
Upwork is the most popular and trustworthy platform to find and hire freelance professionals. Using it, you can find talented freelancers across the globe and even filter them out based on their hourly fees, ratings and other factors.
2. Clutch:
Clutch is the independent B2B rating and research site where businesses review the service provided by IT companies. All reviews published on the Clutch website are legit as it is verified manually by the Clutch team.
The best part of Clutch is its comprehensive profile feature. From the single website, you can find all details of any listed IT company and can even directly contact them. One such other site is GoodFirms.
You can access the Clutch profile of SyS Creations from here 
3. Google: 
The easiest way to find healthcare software developers is through Google. You simply have to search keywords related to healthcare IT companies, healthcare software development and healthcare software developers.
Google will show you thousands of region-specific results of healthcare software development companies. After visiting their websites and studying their healthcare IT expertise, you can raise an inquiry and can talk with their sales team.
However, the major drawback here is that you have to manually validate the healthcare IT expertise of every company website you visit. (One easy way to validate their healthcare IT expertise is by exploring their case studies.)
How to hire healthcare software developers?
Hiring healthcare software developers and leveraging their knowledge and skills are two different things. To leverage their knowledge, you must work both internally and externally.
Step #1: Be clear with your project goals and requirements

 
You must make sure that you have a plan ready for utilizing the strengths of hired developers in the best possible way. And this plan must include project goals, your requirements and how you would add your vision to your hired developers.
Step #2: Be ready with your screening and interview questions

 
The best way to validate whether the healthcare software developer best fits your needs is to ask questions and know their mindset, prior experience and healthcare knowledge. You must prepare interview questions around their soft skills, tech knowledge, mindset and character.
Step #3: Select the pricing/hiring model

 
You can hire healthcare software developers on different pricing models such as hourly-based, project scope-based and fixed monthly-based. After considering your short-term and long-term requirements, you have to fix a plan - while also keeping uncertainties & risks in mind.
You must read: Top 3 healthcare developer hiring models explained
Step #4: Sign an NDA

 
This step is very crucial. By signing an NDA, you ensure that your project idea, data and other confidential things are secure and private. Because the NDA prohibits everyone to disclose any important detail regarding the project. You can sign a company-level and even employee-level NDA.
Step #5: Onboard the developers

 
It is time to finally onboard the hired developers while making sure of a smooth onboarding process. Since developers don't know much about your project, arrange knowledge transfer sessions and share your reporting pattern and make them aware of the project management tools you are using.
We are a Canadian healthcare IT company and you can hire our healthcare software developers
Our healthcare software developers got hired for 5 different projects in the last 3 months because of these top qualities:  
Deep understanding of North American healthcare IT company
On-hand experience in building HIPAA-compliant healthcare digital solutions
Pros in handling healthcare data
Mastered how to achieve healthcare interoperability with HL7, FHIR
Have healthcare passion and vision as strong as healthcare founders