Shopify Development Toronto: An Insight Into How Shopify Experts vs. Amateurs Work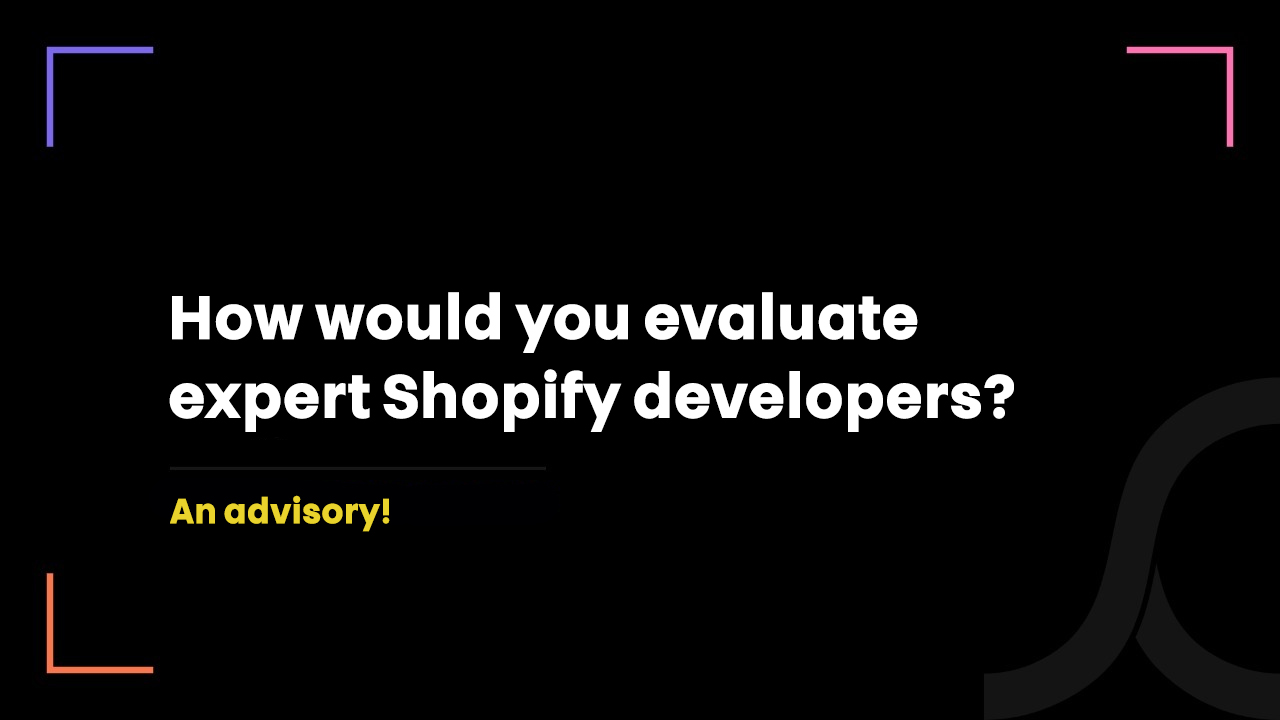 3 months ago
Every Shopify development company calls itself a Shopify expert company. 
But in the business world, not everyone claiming them professionals are professionals!
There are many ways you can identify real Shopify experts out of 1000 Shopify amateurs who call them experts.
One best way to distinguish between real and fake is the way they work or develop your Shopify website or app. 
Today, we're going to discuss the same.
How Fake vs. Real Shopify Experts Work? An Exclusive View
Before you hire Shopify experts in Toronto or anywhere in Canada, you should evaluate them based on the following criteria.
1)
Shopify Amateurs: Shopify development is all about the code! 
Shopify Experts: Code only builds the app/website, not the business! 
We had already known it, but to just make you aware, we again searched it on Google.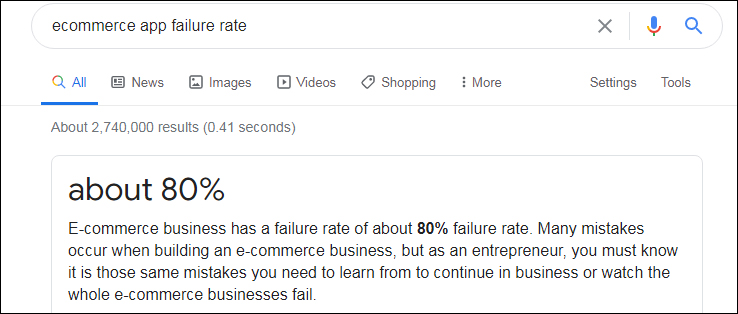 One of the reasons eCommerce apps fail dramatically is the wrong priorities of store owners and developers. 
They strongly believe that if they only code the app or website nicely, they can very easily attract millions of visitors and customers.
But this belief was working wonderfully in the year 2015. 
In 2023, a Shopify app or website is not all about the code.
It is all about the link between the code, market, user expectations, UI, workflows, and your business model.
A real Shopify expert would never blindly code the website or the app.
He/She would always follow the entire 13-step lifecycle which covers the market, business, and technical aspects of the Shopify store.
Finding target audience
Understanding their requirements
Drafting business model
Creating feature sets
Carrying out the technical feasibility study
Defining the user journey
Drafting the app/website workflows
Designing wireframes
Coding the app/website  ---- Fake Shopify 'Experts' jump directly here!
Testing the app/website
Launching the app/website
Taking user feedback
Updating the app/website
Imagine the outcome if Shopify developers directly code the app vs. follow the entire 13-step process!
2)
Shopify Amateurs: There are UI design templates available - free to use.
Shopify Experts: We need to design the app/website based on the user journey.
The app/website UI represents the brand.
It makes customers feel worth spending time on your online store.
Most importantly, it drives the user journey forward and makes sure customers end the user journey or cross the last page or screen with minimum effort and the highest satisfaction.
Shopify and other many 3rd party companies provide free-to-use design templates which are of course very convenient. 
But it is created for general purpose with the 'one-fits-all' approach.
There are higher chances that it does not fit your brand and user journeys of your customers.
This is why you need to have a custom UI design that is created only for your brand, based on the user journeys of your customers.
The following is one such example.
This is the custom UI of the app which has been developed using the Shopify platform.
The following app sells shoes mostly for millennials.
So, to engage millennials, they preferred to have elegant & easy-to-navigate UI with the entire screen for its VR feature.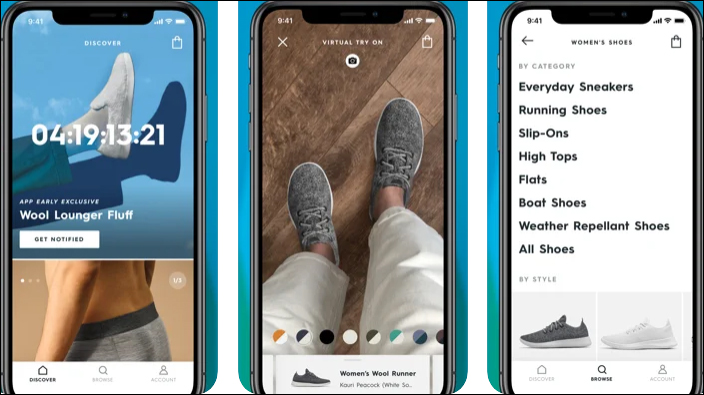 The following is the Shopify design template provided by a 3rd party company.
This is indeed a great design.
However, this one is the general-purpose design.
You can't address any of your specific user journeys with this.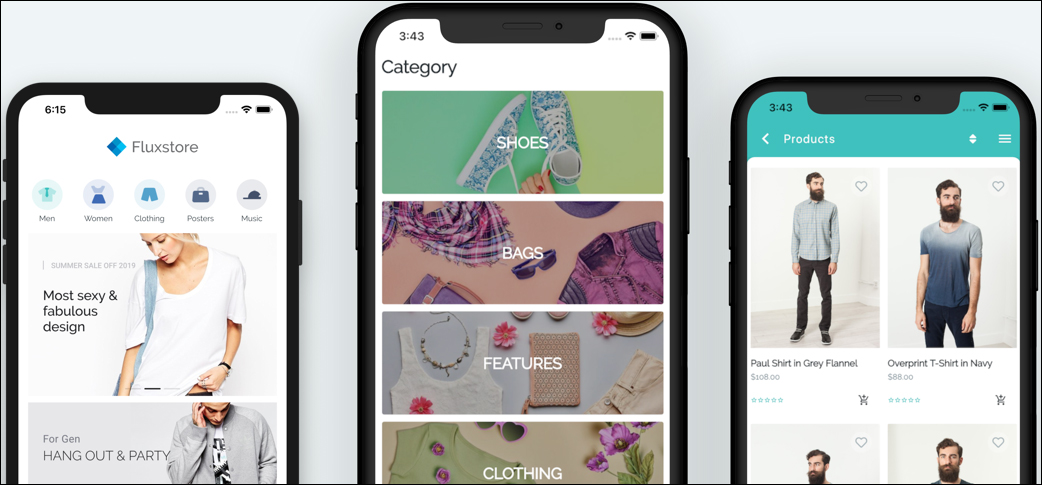 3)
Shopify Amateurs: We help you only with technical things. Not beyond that! 
Shopify Experts: We help you with technical, business and compliance challenges. 
With only an app or website, you can't leverage it to its full potential.
You always need a business strategy.
You also need to terminate all compliance-related challenges and make sure you're doing your business practice according to the laws.
This requires you to have a strategic partner, not only a technical partner, who guides you through all technical, business, and compliance-related challenges.
For instance,
He suggests and helps you integrate 'Afterpay - Buy Now, Pay Later' or Klarna - to increase your sales.
He suggests and helps you prepare a single-window checkout page to reduce the cart abandonment rate.
He suggests and helps you to automate your business processes to reduce administrative work.
He suggests and helps you to be compliant with all government regulations.
He suggests and helps you to generate multiple revenue streams.
He suggests and helps you to claim high ROI.
Overall, he helps you build the business, not just build the app or website. 
(This is how a Shopify expert works!)
4)
Shopify Amateurs: We integrate these 5 payment gateways.  
Shopify Experts: We integrate payment gateways of your choice. 
A payment gateway is the most vital element of any Shopify store.
Shopify supports more than 100 payment gateways. 
However, many Shopify development companies do not have the expertise to integrate these all payment gateways.
Thus, they ask you to integrate a payment gateway that they have expertise in. 
Until now, there is nothing wrong here.
But the fact that accelerates this entire scenario is that all payment gateways charge differently and offer different features. 
There are high possibilities that the payment gateway your technical partner asks you to consider might cost you more or you don't have use of its advanced features.
Here, your technical partner leaves you with no choice but to integrate the costly payment gateway just because he lacks the capabilities to integrate a payment gateway of your choice. 
An expert company never does something similar to you.
It in fact guides you on which payment gateway is suitable for you and leaves the final decision to you. 
They brilliantly integrate any payment gateway you ask for! 
5)
Shopify Amateurs: Shopify support team is there to help you.  
Shopify Experts: Our own support team is always with you to help.
You buy cookies from the grocery store.
If now you have any queries, whom do you ask first?
The grocery store or the company that bakes the cookies? 
Of course the grocery store!
Similarly, you hire a Shopify development team.
After deployment, if you need support, you are going to ask directly your hired team, not the Shopify support team. 
But unfortunately, that's not what all Shopify agencies believe. 
Once they deliver you the app, you are on your own.
Even if you ask Shopify's support team to help, they can't help you effectively as they're not aware of the working mechanism of your Shopify app or website.
Whereas, the real expert team always stands beside you.
They in fact assign a dedicated support team for you.  
So, in future, if you'll face any technical, business, and compliance-related challenges, you can get instant expert help. 
We Know What It Takes To Be Shopify Experts. Thus, We Are! (And We've Shared an Entire Blog on It!) 
We're an Ontario, Canada-based Shopify app development company that has been developing great eCommerce solutions and apps for Canadian businesses. 
The fact which makes us unique is that we don't just develop the app/website.
But we help businesses with all technical, business, and compliance-related requirements. 
We follow the agile development approach and always aim to keep the risk minimum by identifying the realistic scope. 
You can share your requirements and one of our executives (not any salesperson) will get back to you with a free consultation. 
We work with vision and don't waste anyone's time!