How to care for seniors in Ontario long-term care homes during COVID-19?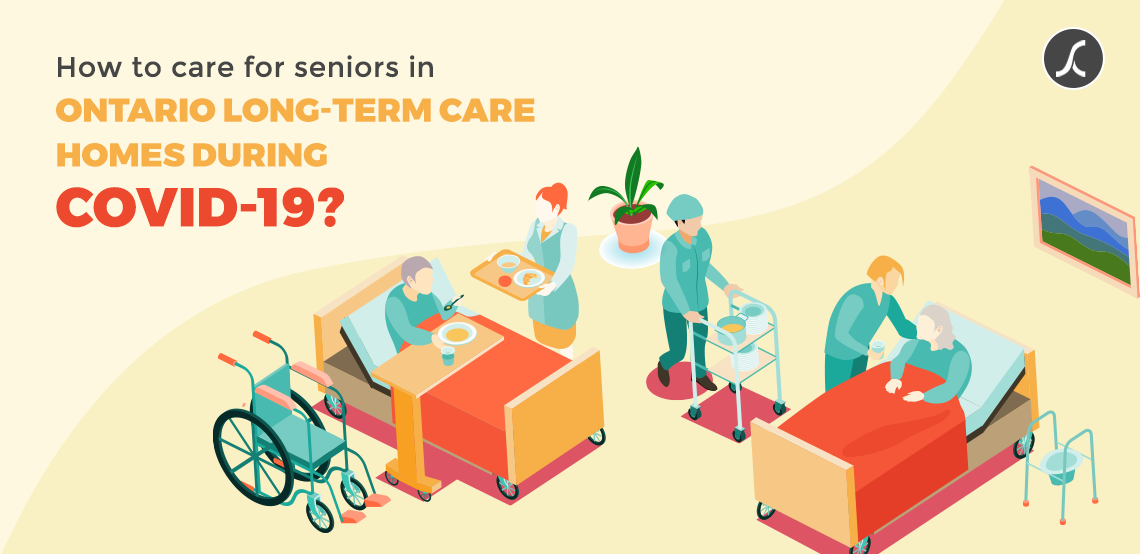 4 years ago
We should no more count coronavirus deaths. We should now count coronavirus deaths in LTC homes! 
According to government sources, Canada has multiple cases and fatalities in long-term care homes - 29 resident deaths in Pinecrest Nursing Home Bobcaygeon (Ontario), Lynn Valley Care Centre (British Columbia) with 20 fatalities, Laflèche long-term care centre (Quebec) with 12 deaths. 
After waking up late, the coronavirus strategy of the government and LTC homes is now centralized to senior care. 
How are LTC homes protecting seniors from coronavirus?
According to the report published in CBC, Hamilton hospitals recently launched a virtual care program with LTC homes during the coronavirus outbreak. CEO of the local LTC home said that this is the game-changing program for seniors as they now have rapid access to healthcare services without stepping out of their rooms.
Up until April 6 when the virtual care program has been launched, residents who got injured or fell sick were transported to hospitals where chances of getting COVID-19 infection are very high. 
But now, all thanks to virtual care tools and uninterrupted Internet, nurses in LTC homes can schedule a virtual meeting between sick residents and physicians who can provide expert assessment remotely. 
However, the question arises here is: 
Is virtual care the best practice to care for seniors in Ontario long-term care homes? 
To get an answer to this question, I would like to draw your attention to problems LTC homes are facing to effectively carry out senior care during a coronavirus outbreak. 
It is both risky and time-consuming to transfer sick and non-COVID-19 residents to the hospital where they become more vulnerable to coronavirus.

Amid rising concern over COVID-19, physicians working in LTC homes are reducing their number of visits which results in delayed access to care.  

While regular in-person health checkups, if a physician carries a virus even on his PPE, it can easily transmit to residents. 
Since a virtual care tool solves all of these challenges, virtual care is undoubtedly the best practice to care for seniors in Ontario long-term care homes during COVID-19.
How does virtual care solve challenges of senior care during a pandemic?
Virtual care through a virtual care tool provides the same effective treatment to residents without causing them transportation and hospitalization pain. 

Without being physically present at an LTC home, physicians can diagnose residents and prescribe them. 

All medical and personal data of the residents can be stored and accessed anytime from the virtual care tool. 

A virtual care tool significantly increases the time to access healthcare services. 

If an LTC home deploys a remote patient monitoring system and integrates it with a virtual care tool, physicians can know the real-time biometric information of residents on mobile devices automatically. 

Through a virtual care tool, residents can virtually talk to their family members and gather mental strength. 
Here, it is worth mentioning that before deploying a virtual care tool to care for seniors during COVID-19, an LTC home should build the foundation to run technology. 
Virtual care tool implementation requirements 
Now, it is needless to say that a virtual care tool is the best solution to care for seniors in Ontario long-term care homes during coronavirus outbreak. However, LTC staff cannot derive maximum benefit from virtual care tool without basic requirements such as, 
⮞ Requirement 1: Uninterrupted Internet 
A virtual care tool doesn't work offline. It requires uninterrupted high-speed internet. Meaning, LTC homes should deploy or upgrade the network infrastructure. 
⮞ Requirement 2: Network support team 
Network errors are common. But when a network shows the error, it matters how fast LTC home can solve it! 
A network support team keeps evaluating networking hardware to ensure high availability. And if a network error pops up, the network support team solves it remotely to save LTC home's time, efforts and cost. 
⮞ Requirement 3: Staff training
To derive maximum and instant benefits from the virtual care tool, LTC staff should know basic practice to get everything out of technology. On-site or virtual staff training is very crucial to prepare staff to leverage technology. 
Let's connect to strengthen #OntarioSpirit 
 With coronavirus deaths in Ontario LTC homes continue to rise, it is a need of the hour to strengthen the #OntarioSpirit by saving our seniors. 
Being one of the top Ontario-based IT management and consulting firms,  we understand the pain of LTC homes. It is a waste of time and money to satisfy IT needs from different sources. 
Along with my teams of network engineers, hardware and software specialists, security experts, and developers, I am addressing LTC homes' all IT requirements - virtual care tool deployment, network setup, network monitoring, and staff training - as the single source. 
With the Ontario Government's $243 million funds for LTC homes, we will save seniors and strengthen #OntarioSpirit.  
Let's schedule a virtual meeting to discuss the tech-enabled COVID-19 senior care strategy and implement it.