How Should Healthcare Providers Select the Partnered Telemedicine Company?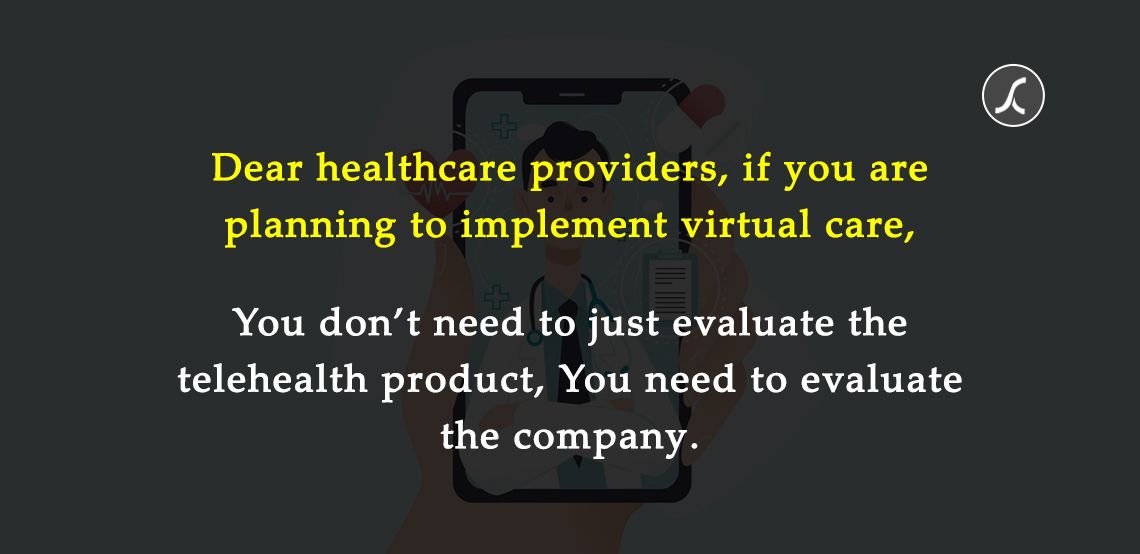 3 years ago
Because of many obvious reasons, people are nowadays avoiding hospital visits for primary care or regular health checkup.
One factor fueling their choice to not visit a hospital or clinic is the instant availability of doctors through virtual care solutions or telemedicine apps.
According to the survey carried out in Canada, more than 67% of patients agreed to the fact that the use of telemedicine apps dramatically increases their satisfaction with medical care.
To satisfy their demand and align your clinic or hospital with a new trend, you should adopt the telemedicine solution.
There are many telemedicine companies with whom you can tie up to set up the complete infrastructure to provide virtual care.
However, many crucial factors are there which you need to take into consideration before fixing a telemedicine company as your technology partner.
Questions to ask telemedicine companies before purchasing or using their products
You must evaluate any medical equipment very carefully before purchasing it. You should treat the telemedicine app in the same way.
1. What is the primary use case of your product?
A telemedicine app serves many use cases. But it always has a primary use case.
For instance, if you're looking for a telemedicine solution for dietitians, you might need custom features in your specific solution than an all-purpose telemedicine solution.
That's why, rather than selecting an all-purpose solution and customize it according to your need, go for the specific solution - telemedicine for dietitians.
2. Can we offer a health card -covered televisits?
In provinces, where the televisits are covered by health card, you must provide health card -covered televisits. Otherwise, you will miss out on a very large percentage of the population.
3. Is your product compliant with all privacy laws at the federal and provincial levels?
A telemedicine solution collects, stores, and shares crucial information of the patients.
Thus, PIPEDA at the federal level and different privacy acts at the provincial level i.e., PHIPA in Ontario apply to you.
If you find guilty for not being compliant with the law, you can also be liable for the penalty along with the telemedicine company.
4. What are the paid APIs you have integrated into the telemedicine app?
A telemedicine app has integration with multiple APIs to accomplish several functionalities such as video calling, chat, payment, and faxing.
For each API, a monthly processing fee needs to be paid and that fee is on your shoulder.
The most costly API is the video calling API because it generally charges you per minute of call.
5. Do you provide telemedicine hardware support?
A telemedicine app alone cannot help you provide virtual care. You also need tablets, uninterrupted internet connection, tablet arms, and styluses.
You also need to verify whether the partnered company will provide on-site hardware and software support after the installation.
6. Have you executed a threat and risk assessment on your product?
Every software or app has multiple hidden vulnerabilities that promote threat and risk. It can only be eliminated if we identify those vulnerabilities.
And to identify them, we need to carry out threat and risk assessment.
In other words, an app that undergoes threat and risk assessment can be considered a secure app.
7. Do you provide the white-label telemedicine solution?
The more wise choice here is to have your own telemedicine solution rather than installing a solution that lacks your ownership and makes you liable for the monthly fee.
With a white-label solution, you can easily explore more use cases and utilize them in your own way.
Most importantly, it saves thousands of dollars as you need to pay a single time fee.
Your own HIPAA/PIPEDA/PHIPA compliant telemedicine solution + compliance audit + custom on-site onboarding = complete peace of mind
We have not only developed a telemedicine app that provides virtual care, but we have developed a telemedicine solution that offers you peace of mind.
From compliance to telemedicine hardware and software, we deliver, setup, and manage everything.
Our vision is to make healthcare accessible to everyone from everywhere. Thus, our telehealth solution costs just under $25000.
It is also highly customizable so that you don't have to bury your own ideas.
We don't ask for any commitment to start the first conversation with our CEO and get the live demo of the app.