Integrate Health Report Manager to Your Hospital Information System For Sharing Patient Data Directly With Clinicians' EMRs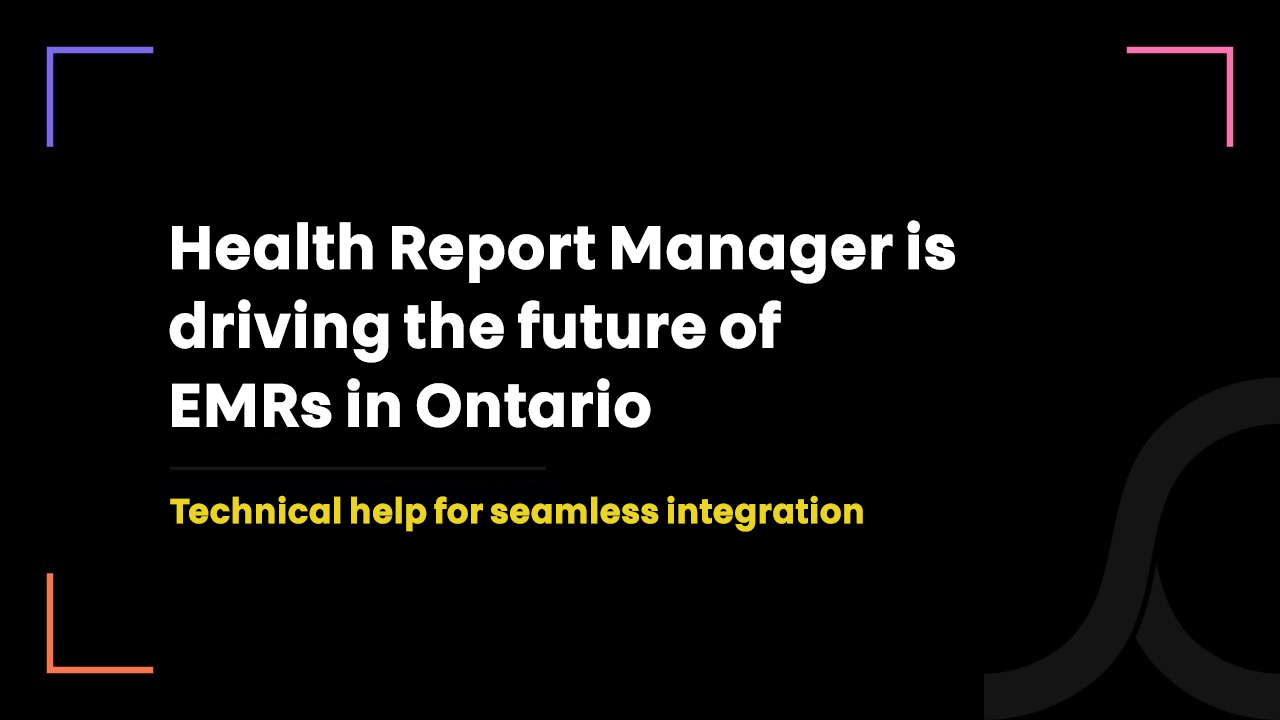 7 months ago
EMR use in Canada continues to grow.
Around 85% of Canadian primary care physicians are using EMR.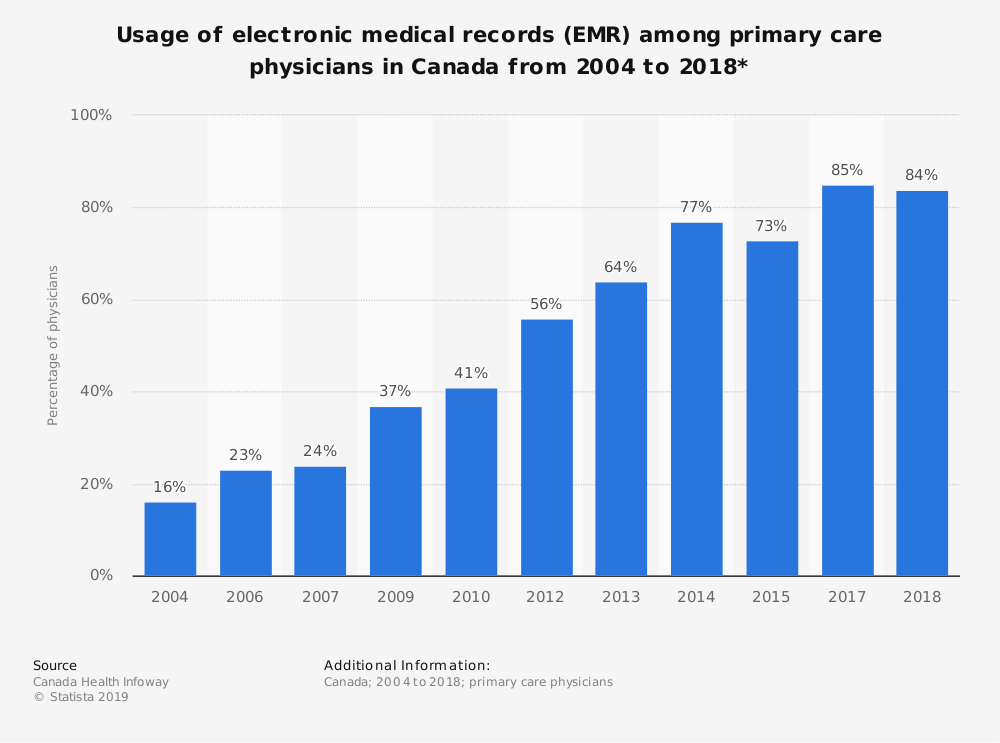 However, there is a major drawback of the EMR which claims many hours of clinical time.
To eliminate the most significant limitation of EMRs, OntarioMD has already launched a solution known as Health Record Manager.
What is a Health Record Manager (HRM)? Which Major EMR Problems Does it Solve? 
EMRs are unable to receive the data shared by any other healthcare providers.
Due to such a lacking feature, EMRs can only be used internally - within a clinic or hospital.
If a patient of a clinic undergoes blood testing in a hospital, the hospital should share the patient's report via email or fax with the clinicians.
Once the clinic receives the report, it must download it and upload it on EMR under a specific patient profile - all manually. 
The entire process is done manually.
This seems a very time-consuming and tedious process that eats up crucial hours of sending facility (hospital) and receiver (clinic using EMR). 
So, what if there is a solution that enables hospitals to send patient data and clinicians using EMR to securely and electronically receive it directly into EMR?
Well, Health Report Manager is one that solution. It is sometimes called Hospital Report Manager too.
It gives superpowers to EMRs and healthcare providers!
Clinicians using EMR can now receive patient reports directly into the patients' charts within their EMR.
And hospitals and specialty clinics can send patient reports electronically to EMRs.

Source: OntarioMD
Does HRM Make It Possible for All EMRs to Receive Patient Data Electronically?
The Health Record Manager provided by OntarioMD has a negligible limitation.
OntarioMD's Health Record Manager only supports OntarioMD-certified EMRs.
However, OntarioMD supports more than 90% of the most useful and popular EMRs in Canada.
This way, HRM makes it possible for almost all EMRs to receive patient data electronically.
Following is the list of OntarioMD-certified EMRs.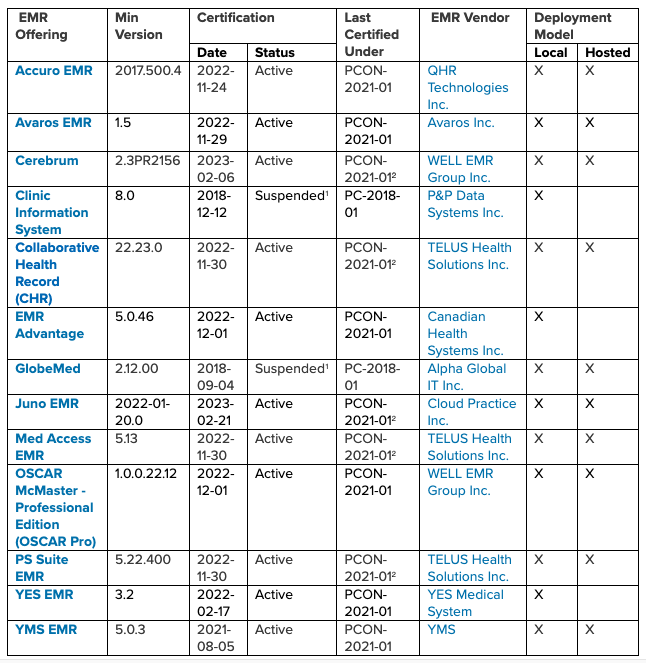 Source: OntarioMD
Which Reports Can You Send with HRM?
Collaborative Health Records (CHR) are integrated with the Health Report Manager in Ontario.
It helps in securely receiving electronic patient reports from specialty clinics and hospitals.
For a complete medical history, these reports can be integrated into the patient charts.
All these HRM reports are received in the form of PDF documents. These reports include:
1. Medical reports (MR) (such as discharge, consultation, oncology, and surgery).
2. Diagnostic imaging reports (DI) (such as mammograms, X-rays, CTs, ultrasounds, MRIs, and echocardiograms)
How Can You Send Patient Reports to EMRs by Using HRM? 
Needless to say that you must require a Health Report Manager for sharing patient data with clinicians using EMRs.
But for that, you need to get access to HRM and integrate it into your hospital information system while addressing FHIR standards.
Because of the FHIR standards, this integration is very crucial and it requires a technical skillset.
What is FHIR (Fast Healthcare Interoperability Resources)?
FHIR is the data-exchange standard developed by HL7.
It is based on logical and theoretical models that provide a consistent, easy-to-implement, and rigorous mechanism for exchanging crucial data between healthcare applications.
FHIR ensures that any exchangeable data must have,
A common definition
Method of representation
A common set of metadata
A human-readable part
The major benefit of FHIR is that it standardizes the exchange of healthcare data which enables two healthcare providers to easily share data even if they are using a different system.
HRM Deployment Models:
HRM can be deployed in 2 configurations - the single facility model and the hub & spoke model.
However, in both models, there will be a single connection from your system to HRM.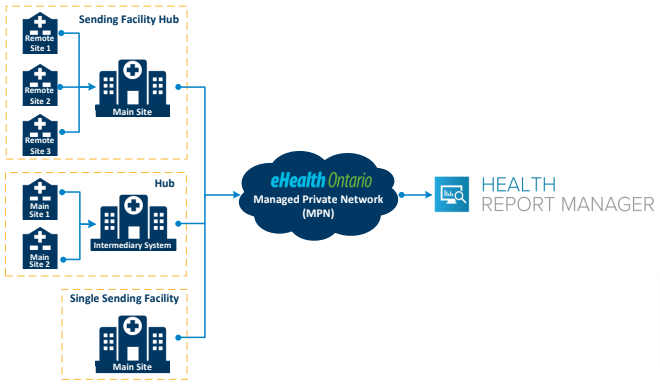 Here, it is worth noting that any patient data you share reaches securely to the health report manager through a managed private network of eHealth Ontario.
How Does a Health Report Manager Work?
You as the sending facility or contributor prepare the report, add the report recipient, and send a report using your Health Information System (HIS) where you've integrated HRM or built the sharing interface.
The HRM then converts the report into the standard format of the EMR.
It later encrypts the report and stores it under its secure folder.
The clinician's EMR fetches this stored report and posts it into patients' records.
Lastly, the clinician receives the message in their inbox to check the report. 
Which Types of Patient Information You Can Send to EMRs Thanks to HRM Ontario Integration?
The HRM solution can enable you to send text-based Medical Record (MR) and Diagnostic Imaging (text only) reports such as,
Ambulatory Note
Diagnostic Imaging (text only)
BMD Transcription
CT Transcription
Mammogram
Radiology Transcription
Cardiovascular Reports
Emergency Department Reports
Discharge Summary
Consultation Note
Is HRM secure?
Yes, HRM transmits patient reports very securely.
When a sending facility sends the patient report, the report reaches the clinician's EMR using Ontario Health's Digital Services' (formerly eHealth Ontario's) secure managed private network.
The HRM also encrypts the report so that only authorized entities can be able to read it.
And it is needless to say that HRM provided by OntarioMD addresses all provincial and federal data privacy laws.
Get Instant and Local Technical Help + Expertise to Integrate Health Report Manager into Your System
We're an Ontario-based healthcare-specific technology company.
We have been working with many startups and local healthcare providers including long-term care homes to eliminate their IT pains by working as the dedicated IT department for them.
We are a team of software developers, designers, healthcare compliance specialists, and security experts.
We have extensive experience working with the Health Report Manager and with PS Suite EMR integration, Oscar EMR integration, etc.
From the first conversation, you will be having discussions with our CEO himself. He will also lead the team working on your project.
So, you don't have to worry about quality, delivery, interoperability, and compliance.