3 Essential Tips for Improving Efficiency in Your Independent Pharmacy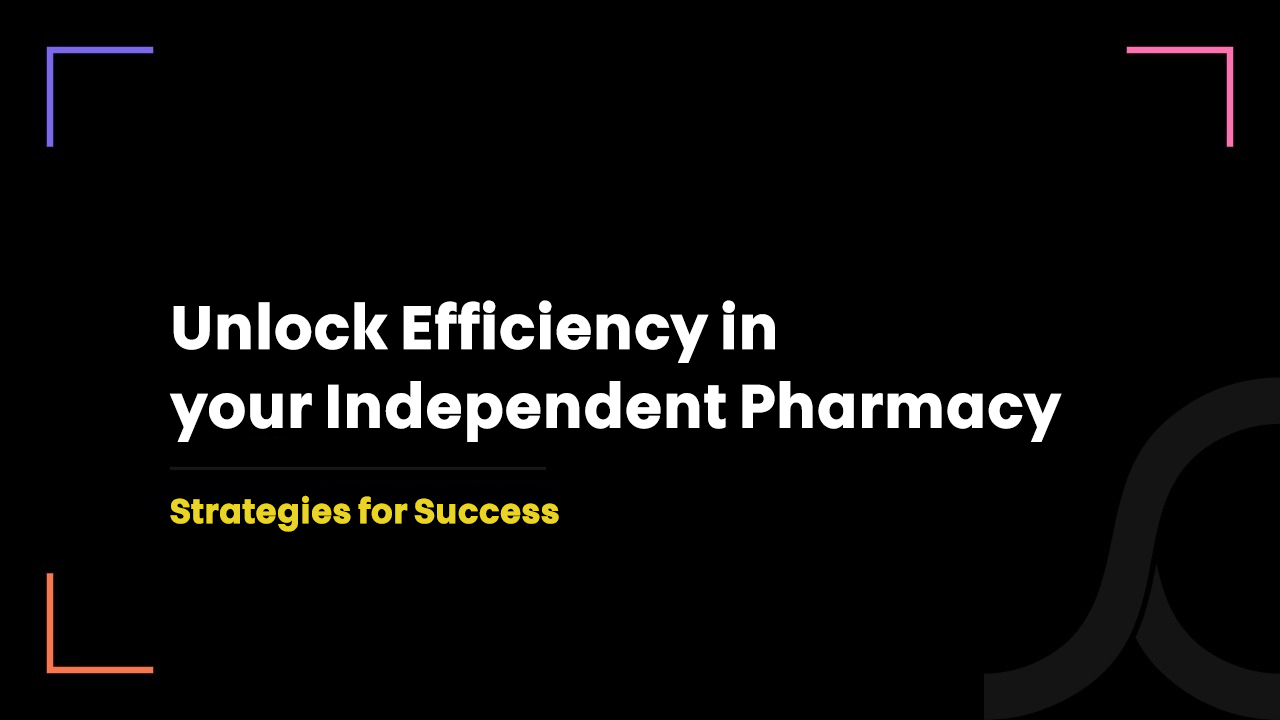 4 months ago
Managing an independent pharmacy can be overwhelming, with numerous tasks and a constant need to balance operations effectively.
However, by implementing strategies to maximize efficiency, you can streamline processes, enhance performance, and provide better care to your patients.
Switching to Medication Sync Program
Switching to a medication synchronization (med sync) program can significantly improve efficiency in your independent pharmacy.
Med sync eliminates the need for patients to visit the pharmacy multiple times a month to pick up different prescriptions.
Instead, they can conveniently collect all their medications once a month at a scheduled time.
Let's delve into the benefits of implementing med sync:
a) Improved Schedule Predictability
With med sync, you can create scheduled appointments for patients to collect their medications, allowing you to better predict and manage the pharmacy's daily workload.
This knowledge helps you allocate staff resources efficiently, ensuring that you have enough personnel available during busy periods.
b) More Time for Patient Counseling
By synchronizing medication pick-ups, you can allocate dedicated time to counsel patients effectively.
Patients can discuss concerns about medication side effects, ask health-related questions, or seek advice during their monthly visit.
This consolidation of interactions saves time for both patients and pharmacy staff, as all queries and discussions can be addressed in a single visit.
c) Enhanced Medication Adherence
Med sync promotes better adherence to prescribed medications among your patients.
By tracking monthly pick-ups, you can confirm that patients are regularly collecting their medications.
This visibility simplifies the monitoring of patient outcomes and reduces the time spent wondering if patients are taking their prescribed medications.
Implementing med sync not only streamlines prescription pick-up and counseling processes but also enhances convenience for your patients, resulting in increased satisfaction and improved clinical and financial outcomes.
Use Your Staff Wisely
Efficiency in an independent pharmacy extends beyond optimizing programs and services — it also involves maximizing the productivity of your staff.
Here are three ways to make the most of your staff's time:
a) Standardize Work Processes
Establish clear roles and responsibilities for all staff members and ensure they follow standardized processes consistently.
This reduces wasted time and effort by eliminating confusion and ambiguity, allowing your team to work efficiently and harmoniously.
b) Task Delegation
Identify tasks that can be delegated to pharmacy technicians instead of pharmacists.
For instance, filling prescriptions is a task well-suited for technicians. By delegating such responsibilities, you can free up your pharmacists' time, enabling them to focus more on patient care and one-on-one interactions.
c) Utilize Your Pharmacy Management System (PMS)
Make full use of the functionalities offered by your PMS.
Often, pharmacies underutilize their systems, missing out on opportunities to automate routine tasks.
By automating these tasks, your staff can redirect their efforts towards more critical activities, such as personalized patient care.
When your staff members have clearly defined roles and responsibilities and time-consuming tasks are delegated or automated, your pharmacy's daily operations run smoothly, and your team can dedicate more time to patient care.
Automate Claims Management Functions
Manual claims management can consume a significant amount of your pharmacists' time and disrupt their workflow.
However, technology offers solutions to automate claims management processes, improving efficiency and speed.
Consider the following areas where automation can be beneficial:
a) Pricing
Utilize your technology platform to compare the average wholesale price (AWP) submitted by your pharmacy for a drug with the up-to-date AWP. Automated systems can adjust the submitted AWP to ensure appropriate reimbursement.
b) Dispensing
Technology can confirm dispense-as-written (DAW) codes, which indicate whether a specific brand-name drug was requested by the prescriber or patient. By setting DAW codes as default, your pharmacy can avoid being paid a lower generic drug rate for a dispensed brand-name drug.
c) Managing Inventory
Automate the validation of national drug codes (NDC) assigned to drugs for which claims were submitted. Outdated NDCs can impact reimbursement, so using technology can promptly notify you of obsolete codes, enabling you to update them and potentially increase reimbursement.
d) Dosing and Packaging
Automatically verify that the dosage and packaging of a dispensed drug align with the maximum allowable daily dose (MADD) and recommended packaging. Claims meeting these criteria will receive appropriate reimbursement.
e) Prior Authorization
Automate portions of the prior authorization process to minimize wait times for patients. This helps prevent treatment delays, improves customer satisfaction, and reduces the administrative burden on your staff.
By leveraging technology to automate claims management functions, you can enhance the speed, accuracy, and profitability of these processes while improving overall pharmacy efficiency.
We've developed a pharmacy supply chain management software that can cater to all your pharmacy needs.
The best part?
It can be customized as per your requirements and workflow.
With our healthcare-exclusive experience of 8+ years, you can be assured about the regulations.
We'll take care of all the business, tech, and compliance needs for your pharmacy.
So, you won't have to worry about the regulations.
Fill up the below to get a demo of our solution.