A Detailed Guide to Intelligent Process Automation [Use Cases, Pros & Cons, Implementation Guide, and Best Practices]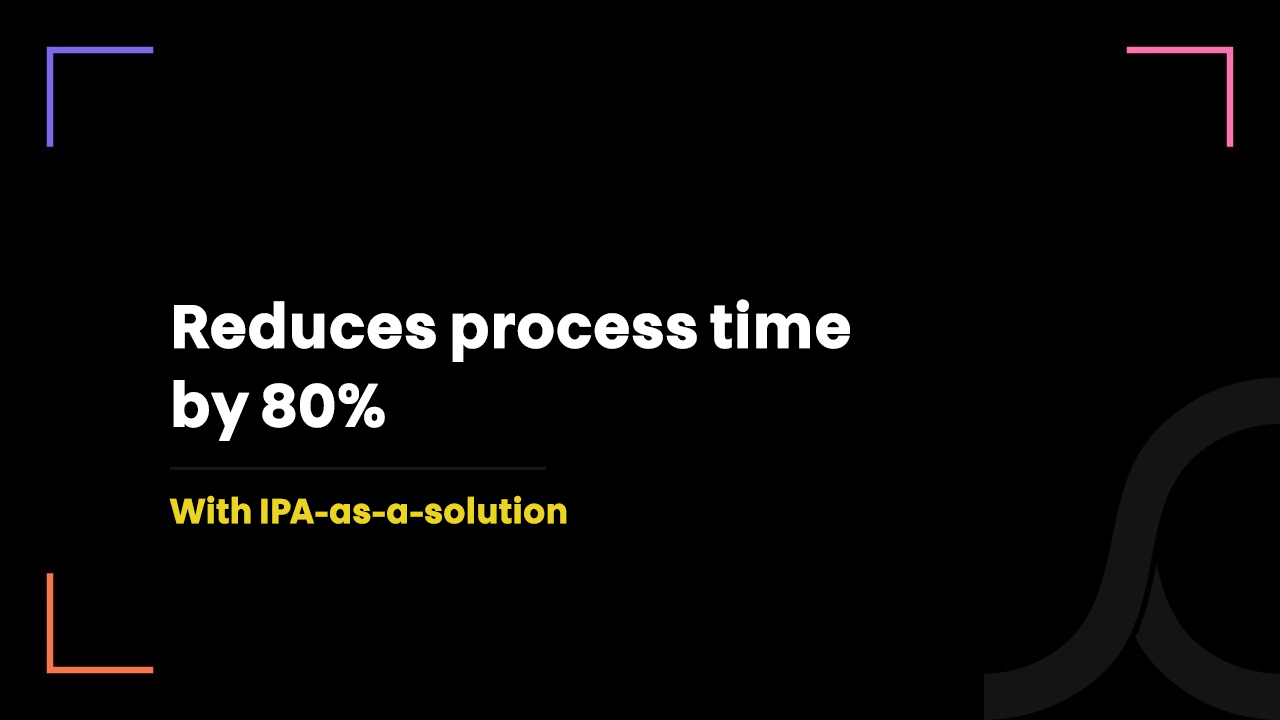 7 months ago
Intelligent process automation is more than just a process and approach!
What is the ultimate goal of the enterprises?
'Achieve high productivity with minimum resources!'
At ground level, this goal can never be achieved without automating the tasks.
When an enterprise automates a simple 'parts ordering' task,
It reduces more than 80% of workforce dependency
It increases more than 90% of task accuracy
It speeds up the process by 3X
Meaning, that the enterprise achieves high productivity with minimum resources!
However, automating a task requires a hand-picked approach, powerful technologies as well as expertise in the same.
And things get more complicated when you wish to automate a whole process.
But don't worry, in this blog, we have shared everything about it – especially, intelligent process automation.
Get to know major terminologies of automation solutions
There are major 3 terminologies of automation.
Business process automation
Robotic process automation
Intelligent process automation
Each of them has a different goal, complexity, and ROI.
So, to understand what actually intelligent process automation is – you first have to understand the other two terminologies.
A quick guide to business process automation vs robotic process automation
| | | |
| --- | --- | --- |
| | Business Process Automation | Robotic Process Automation |
| Technology | It is holistic technology. It aims to use components of software technology such as business analytics and workflow engines to streamline the business processes for maximum outcome and accuracy. | It is software technology. It uses software bots to automate a task or process. |
| Automation Goal | It completely re-engineers the workflows by eliminating the bottlenecks to achieve organization-wide automation goals. | It automates rule-based tasks that have fixed input and output. |
| Complexity | It requires a longer-term effort of dedicated technical resources and business experts. | Software bots can be created and deployed with minimal effort. It still depends on the process or task you choose to automate. |
| ROI | It takes more time to achieve your productivity and efficiency goals at the organization-level. | You will get quick ROI as a single automated task or process impacts your productivity and efficiency goals at the task level rapidly. |
What is Intelligent Process Automation?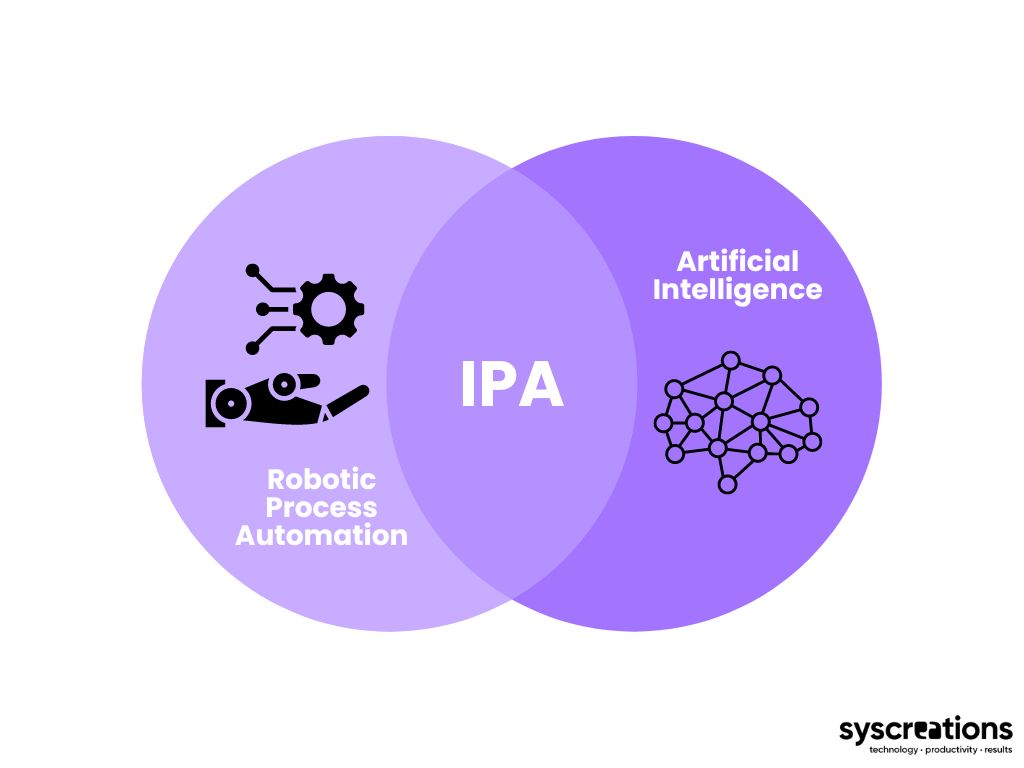 Intelligent process automation (IPA) is taking both RPA and business process automation to the next level with the help of cutting-edge technologies such as cloud, AI, ML, and computer vision. 
IPA builds a dynamic technology environment to automate the process with variable input and output.
In other words, intelligent process automation leverages the technologies and utilizes greater intelligence to make decisions by itself.
For instance, if a user gives the wrong command, IPA corrects it – unlike RPA which shows the error.
Which technologies does intelligent process automation utilize?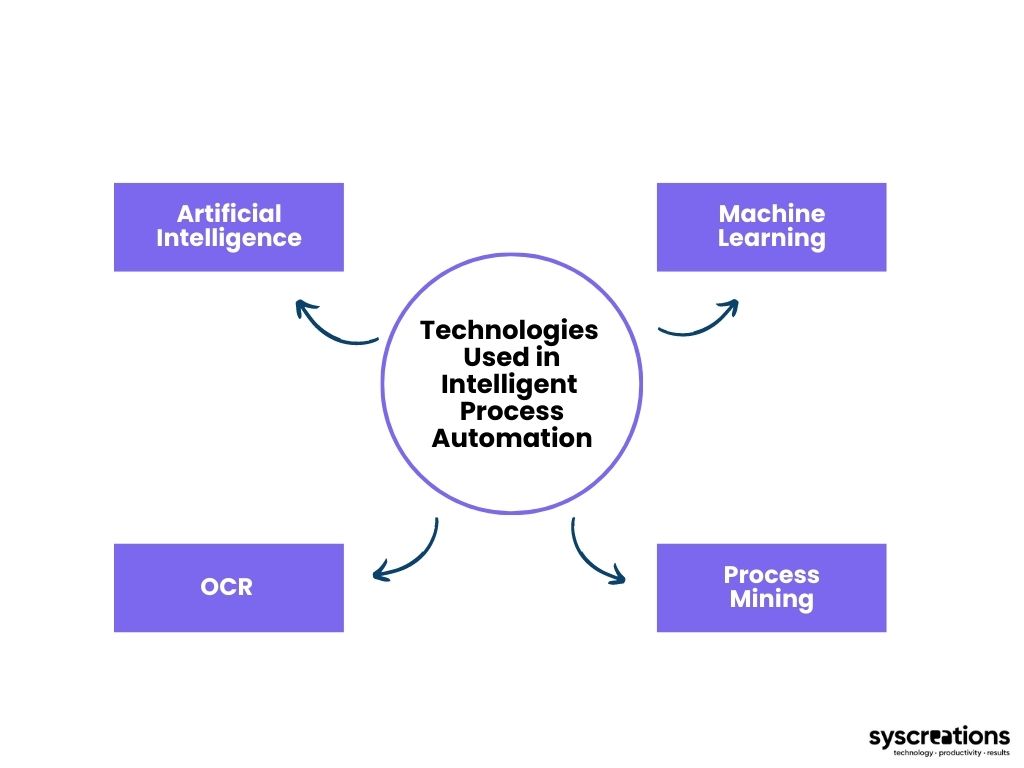 Intelligent process automation is a combination of many powerful technologies.
All these technologies play different roles for different needs.
The following are the common technologies used in intelligent automation solutions.
1. Artificial intelligence:
It is the most powerful technology at this moment.
Because it has the capability to think and perform just like humans (even more so).
AI uses maths and logic to learn from past data and make problem-solving decisions.
2. Machine learning:
It is the subset of AI.
ML utilizes powerful algorithms to identify patterns in large-scale data to make precise decisions on automation outcomes.
3. Process mining
It is the analytical approach.
It helps in discovering, monitoring, and enhancing business operations using data.
4. OCR (Optical Character Recognition)
It is the combination of – AI, pattern recognition, and computer vision.
OCR lets you extract the data from PDF files, images, printed or written text and converts it into a machine-readable format.
What is the difference between IPA and RPA?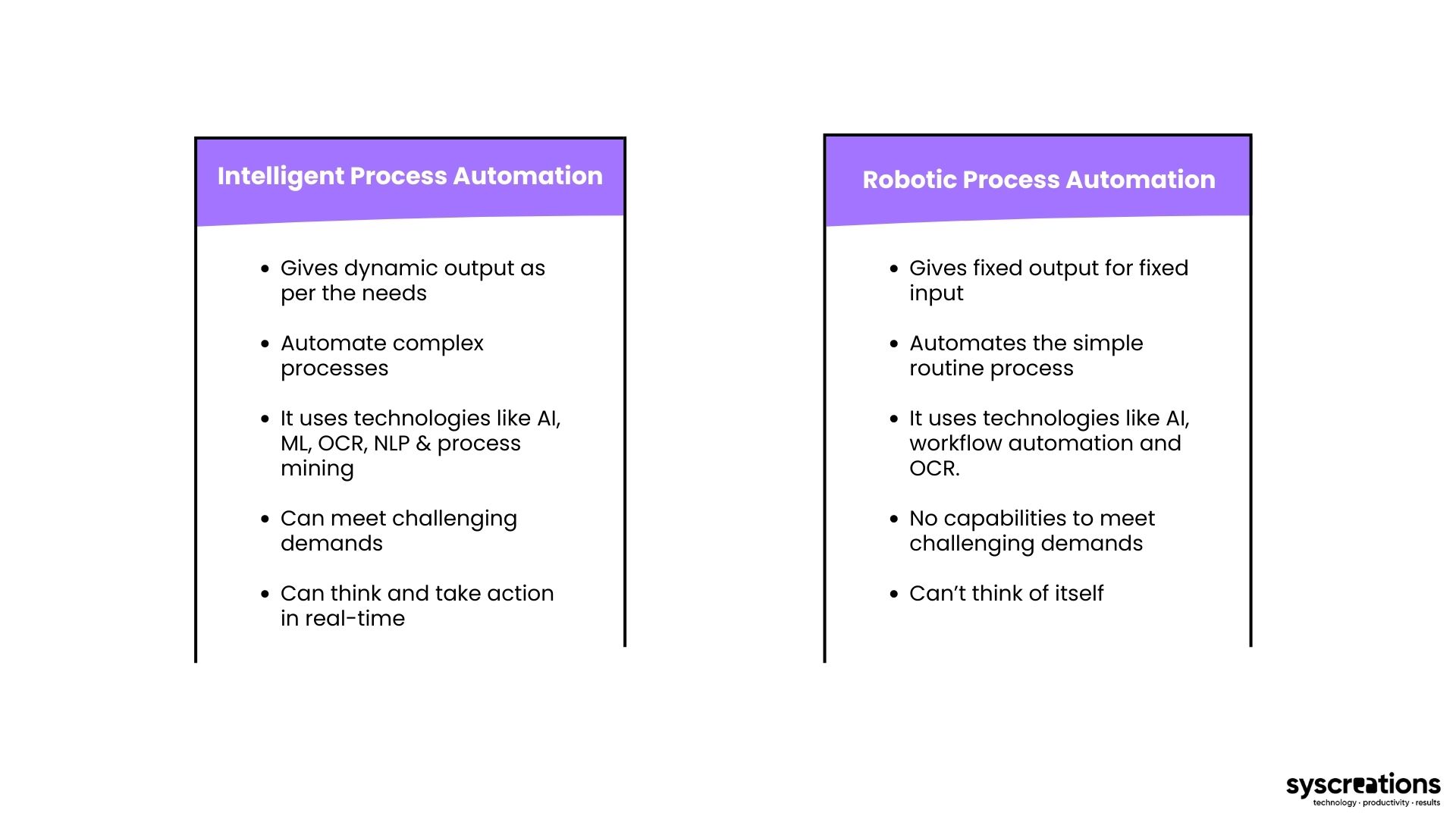 What are the benefits of intelligent process automation?
According to the McKinsey report, companies that have automated 50-70% of tasks experienced 20 – 35% annual run-rate cost efficiencies.
Meaning, it not just saves time but also reduces operational costs.
The following are other benefits of IPA.
Collaborative work environment of humans and robots
Unlike RPA which only performs fixed tasks with fixed input and output, IPA creates a collaborative work environment of humans and robots at the enterprise level.
With IPA – robots, humans, and systems coordinate to achieve much higher productivity with fewer errors.
Intelligent process automation supports the business process automation goals on a large scale.
Meaning, it helps enterprises eliminate the bottlenecks of major complex processes and streamline workflows at the organizational level.
This ultimately frees up the staff from repeating work.
With intelligent automation solutions, you can achieve the highest-ever accuracy.
Because IPA is designed and developed in such a way that it can decide on several factors by itself and improve over time which reduces the scope of errors.
This is why all self-driving cars are working on IPA technology!
IPA does not only speed up the business process but gives you the ultimate freedom to make agile changes to the process without affecting the automation solution you have deployed.
This is indeed the great benefit of IPA in a very fragile market scenario and trend.
How to automate a manual process?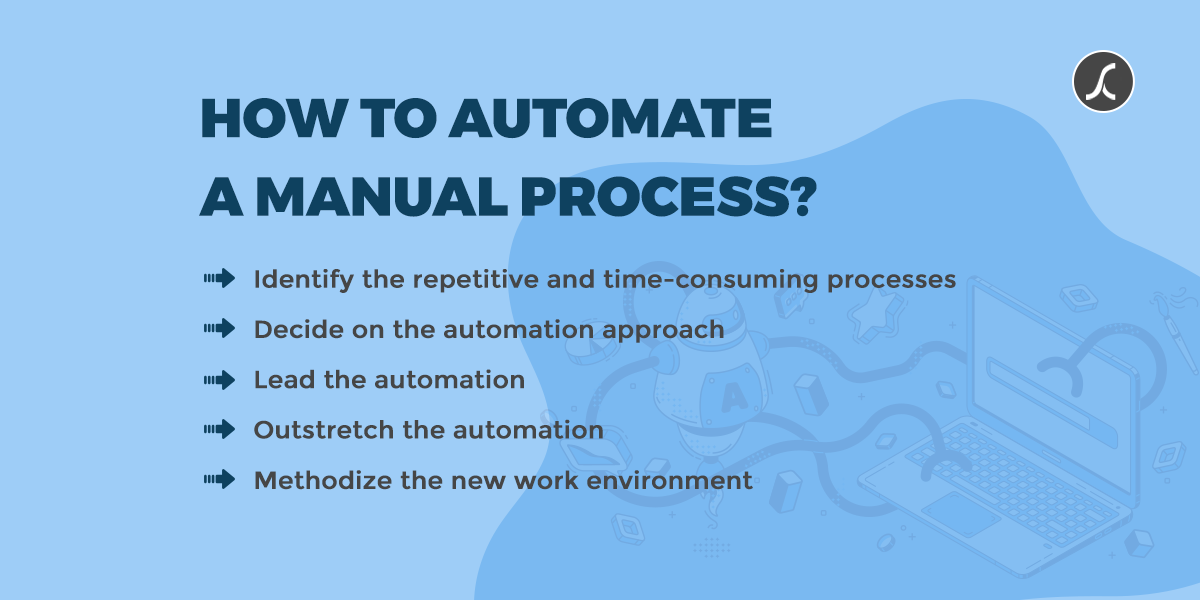 Step 1: Identify the repetitive and time-consuming processes 
The first step to automate a process is nothing but the identification of manual processes!
Using parameters such as – resources it requires, the time it takes, and your desired output, you need to discover the repetitive manual processes which are eating up most of your resources.
Step 2: Decide on the automation approach
Once you identify the repetitive processes, you need to decide on the automation approach.
There are mainly two automation approaches – non-intelligent automation and intelligent automation.
If the process has fixed input and output, you need to choose non-intelligent automation. For instance, the invoicing process has fixed input and output.
If the process has variable input and output, you need to choose intelligent automation. For instance, the medical diagnosis process has variable input and output.
Step 3: Lead the automation
According to the automation approach you select, hire an automation partner, apply automation to the process, and run it for the first time.
Remember, before you run it for the first time, define requirements, goals, and proper solution design. 
It is also important to monitor and record the performance and the outcome of it.
Last but not least, you also need to ask for feedback from stakeholders.
Step 4: Outstretch the automation
This is called the step-up phase.
In this phase, you need to optimize the newly deployed software robot and keep monitoring its performance and outcome.
Meanwhile, it is also important to identify other repetitive processes and automate them using the same way you automate the first process.
However, the success of the step-up phase largely depends on the success of the first automated process.
Step 5: Methodize the new work environment
Remember, you are no longer running your business with the same manual processes.
This means that you need to methodize your new automated work environment to capitalize on it.
By focusing more on these 3 major requirements of the new automated work environment, you can convert a manual process into an automated process in a rewarding way.
Creating a disaster recovery plan
Creating a business continuity plan
Promoting process improvement with six sigma

Best practices of intelligent process automation
After reading so far, you must have understood that implementing intelligent process automation isn't as easy as it looks.
There are a few best practices you should keep in mind to set up the automation properly and get everything out of automated tasks.
Before implementation:
Choose processes to be automated wisely
Choose an automation approach accurately
Keep current and future business goals in mind
Clear your expectation with automation
Select an intelligent technology partner
Leverage the AI and machine learning technology
Focus on collaboration
During implementation:
Test each automated task individually
Monitor performance and outcome of each task
Redeploy the automation solution until you meet standards
Prepare the disaster recovery plan
Ask for stakeholders' feedback
After implementation
Keep evaluating the performance
Keep evaluating disaster recovery plan
Keep identifying processes that can be automated
Keep asking for feedback
Keep increasing the standards
Which business processes you can automate using intelligent process automation solutions?
Our UiPath developers have identified and even automated many processes in top industries such as healthcare, real estate, and manufacturing.
Let's look at the processes you can automate in all these industries.
The processes you can automate in the healthcare industry with IPA
Intelligent process automation has the potential to bring peace of mind into the intense healthcare environment.
Because it lets healthcare staff focus on the most crucial thing – the patient care experience.
Following are its use cases in the healthcare industry.
Who Can Automate?

What Can Be Automated?

Hospitals Clinics

Appointment scheduling

Appointment reminder

Patient monitoring

Patient monitoring after discharge from hospitals

Insurance management

Revenue cycle management

Claim management

Pharmacy Stores

Prescription ordering

Prescription processing

Prescription delivery

Inventory management

Invoice processing

Reporting

Sales & purchase order management

LTC Homes Retirement Homes

Resident data management

Prescription management

Invoice management

Sales & purchase order management

Concerns management of residents' family members

LTC Pharmacy

Invoice management

Medication incident reporting management

Payroll management

Prescription management

Inventory management

Prescription delivery management
The processes you can automate in the real estate industry with IPA
What Can Automate?

What to Automate?

Marketing

Lead generation via website forms

Open house lead generation

Sync leads from all channels

Sync your leads to your phone

Automate lead routing

Customer/Team Engagement

SMS/email reminders

Automate voicemail messages

Management

Property inspection

Agent availability

Analytics engagement and performance

Financing

Transaction management

Notifications

Contracts
The processes you can automate in the manufacturing industry with IPA
What can automate?

Which Tasks to Automate?

Research & Development

Design options evaluating

Fast prototyping

Procurement

Raw material availability

Fast deliveries

Sales documentation

Logistics and Distribution

Goods movement tracking

Inventory management

Customer service

Customer needs prediction

Automatic update notifications

SMS/email reminders

Production

Jobs assignment

Automatic system failure alert and response

Human-robot collaboration

Operation

Basic paperwork operations

Invoicing

Reporting

Payroll

3 key considerations when building a healthcare automation system
1. Patient autonomy and informed consent
Automation doesn't mean compromising the decision-making rights of patients.
The patients should be informed about automation use, benefits, and risks associated with it.
2. Bias and fairness
Automation technologies (like, ML algorithms) need to be trained and designed properly to get accurate results.
To ensure equity and fairness in the process, healthcare providers and organizations should carefully choose their technology partners.
3. Transparency and accountability
Healthcare providers and organizations need to ensure the transparency and accountability of automated systems.
They should be able to explain and understand the decisions made by automated systems.
A few things about automation you should be aware of 
Needless to say that intelligent process automation or business process automation or robotic process automation is a very purposeful technology to get more outcomes in less time with a limited workforce.
However, there are a few disadvantages of automation that you should be aware of.
The initial deployment cost is high!
Though IPA or RPA automates manual tasks, it requires 'manual' work to automate the tasks to deploy IPA or RPA.
The team which can deploy such complex automation technologies is equipped with ultimate expertise and so they charge more.
The time it requires to deploy automation is also doubling the size of the initial deployment cost.
Meaning, if you have short-term goals, do not prefer to try automation! 
Making automation future-proof is the biggest challenge!
You are automating the process which you are currently performing.
With new technology, market trends, or competitors, you may need to change the process in the future.
Thus, it is vitally important to have an automation solution that lets you make changes in the process and the automation solution adapts to a new process quickly.
This is the only way to keep the total cost of ownership low for automation.
We recently converted a 5-Day long invoicing process to an hour-long process 
Based in Ontario, we are a healthcare-focused IT company.
In the past 8+ years, we have helped more than 20 startups, organizations, enterprises, and individuals with their automation needs.
Recently, we performed intelligent process automation for an Ontario-based pharmacy.
And here is how we successfully executed their unique automation needs.
Before automation:
A pharmacy requires almost 9 people and 5 days for invoicing at the end of every month. 
Multiple teams performing the same repetitive tasks.
To process all monthly invoices, teams run monthly statements in the Kroll PMS Pharmacy system and print them out.
They reconcile each invoice manually and scan back invoices that need to be sent to customers via email.
The team repeats the same process for 1000+ customers.
After automation:
The RPA bot opens Kroll PMS and runs all reports automatically.
Using OCR, the RPA bot extracts the master PDF and creates individual invoice PDFs for each customer.
RPA bot saves individual invoice PDFs in a dedicated folder.
RPA bot fetches the contact details of each customer from their individual PDFs and sends them invoice emails with the attachment of their invoice PDF.
The impact we created:
95% of reduction in workforce needed to process invoices
Highest-ever productivity
Reduces process time up to 80%