How Custom Medical Software Enhances Interdisciplinary Collaboration in Multi-Disciplinary Hospitals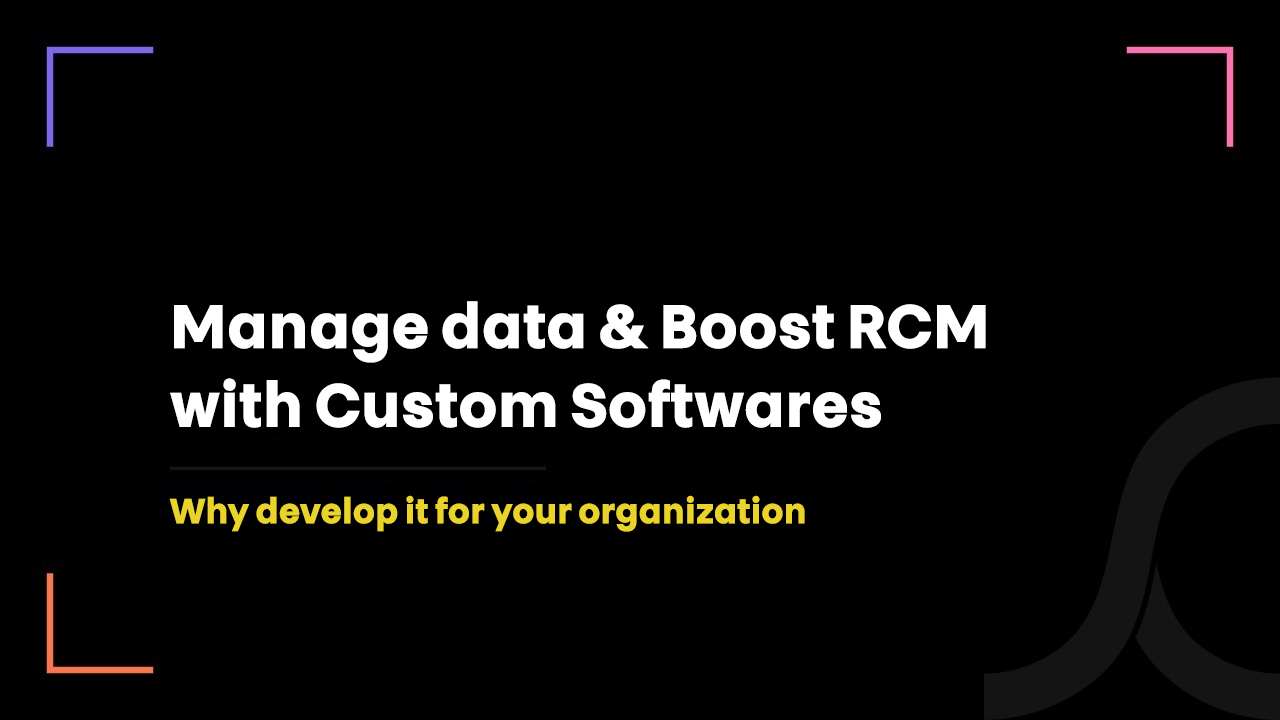 6 months ago
The healthcare industry is a dynamic and ever-evolving field with a noble mission: to provide top-quality medical care to patients in need.
From doctors to nurses, therapists to technicians, diverse healthcare professionals work tirelessly to ensure the best possible outcomes for their patients. 
However, providing top-notch care is more than just a one-person job; it requires a collaborative effort, with providers working alongside specialists from different fields and disciplines. By pooling their skills, knowledge, and resources, interdisciplinary teams can address the multifaceted needs of their patients and deliver more comprehensive care.
Unlocking the Power of Interdisciplinary Collaboration: Why Specialists in Multi-disciplinary Hospitals Must Work Together
Interdisciplinary collaboration brings healthcare providers and specialists of different domains together to provide patients with the best healthcare facilities. It is a vital part of the healthcare industry due to the following reasons:
1. Improved Patient Outcomes
By working together, the providers can make personalized treatment plans for their patients, considering all the aspects of the patient. It will lead to better patient outcomes.
2. Improved Efficiency
When a physician and a specialist collaborate, a process will be streamlined, and patients will not have to wait for a longer duration of time. It will lead to the patients getting medical care more efficiently and rapidly.
3. Enhanced Communication
Collaboration leads to frequent communication among the providers. Patients will get the best medical care as it will reduce the risk of miscommunication. It will ensure that everyone is on the same page.
4. Better Resource Utilization
Interdisciplinary collaboration ensures that the resources are being utilized efficiently along with waste reduction leading to the improvement in the overall quality of healthcare.
5. Improved Satisfaction
By working together and providing more coordinated care, patients are more likely to feel satisfied with the services leading to better patient experiences.
3 Ways Medical Software can support Interdisciplinary Collaboration
The importance of interdisciplinary collaboration is recognized widely in the healthcare industry.
Hence, it has different types of software for communication and collaboration between healthcare providers across various disciplines. 
Here are some types of medical facilities that can support interdisciplinary collaboration.
1. Electronic Health Records (EHRs): 
EHRs store the patients' data and enable the practitioners to share the required data with the specialists. The data is usually turned into a code to prevent a HIPAA breach.
The EHRs can add patient data in the document section when referring them to specialists. The practitioner can even easily share the patient's previous diagnostic reports with the referred providers.
The sharing option of the patient's digital records in the EHRs ensures that the interdisciplinary providers are on the same page, leading to the patient's quality care.
2. Care Coordination Tools:
The software tool is mainly used for a smooth process in the healthcare industry. The admin can assign tasks, check the task status, set deadlines for particular tasks, and even communicate with staff members or other healthcare professionals.
In some medical software, these features are fed into the system for the providers to manage everything from a single software. It helps the hospital administration keep track of the tasks assigned to the employees.
In some complex cases, the admin can assign several interdisciplinary providers to work together on the case.
3. Telemedicine:
Telemedicine helps people living in rural areas get easy and accessible medical care. They can get the treatment plan, medicines, and reports at home.
Telemedicine has overcome the location limitation where people must visit the hospital for routine checkups. It allows the physician to contact a specialist from the application and check the request status.
Revenue Cycle Management (RCM) plays a huge role in the management of patients and payors. With medical software, you can speed up the process and boost your RCM.
But how?
Let us dive deep into it to get the answers.
How can Custom Medical Software Boost your RCM?
The reimbursement process is time-consuming and lengthy. There can be potential losses due to premature charge capture, inefficient claims, or denial management. Revenue cycle management strategies are essential to overcome these challenges. With a practical approach, all parts of the RCM cycle can be easily managed.
You can implement a custom RCM software that works for you and your organization. It will include engagement features, data-driven automation, and efficiency tools that assist in streamlining financial operations, increasing profit, and making the patient payment experiences smooth. 
With the custom interfaces, you can optimize analysis & reporting, enhance efficiency and engage better with the patients in their journey. Practices level their game by implementing custom software to improve healthcare revenue cycle management.
Using an integrated software interface and manipulating clinical data was a challenge back then, but it's the new normal.
1. Automated Patient Scheduling and Patient Reminders
All the front desk tasks are done faster and better with an automated process. Patients will find and book their preferred appointment slot online by entering their details. Earlier, many claims used to get rejected due to minor errors in them. As the data is directly fed to the system, there are fewer chances for these types of errors.
Automated patient reminders can be set to ensure that the patient reaches the clinic on the scheduled time and date, making it easier for your staff. Follow-ups and rescheduling appointments are also better managed with advanced technology.
2. Card on File Technique
One of the most effective methods for the best revenue cycle management is to store the patient's credit card information at the time of registration. This card can be given as an option to complete the payment when there are unpaid liabilities post-insurance payments. This technique eliminates the need for repeated patient visits for payment completion.
3. Cloud-based Data Management System
An advanced cloud-based documentation system ensures the ease of integration of the front-end and back-end processes. The details entered are accountable and easily manipulated to fit other documents like claims and billing invoices under the revenue cycle. This helps in fetching the data for different documents and saves time.
4. Automatic Claim Generators
Billing software makes claim processing simpler. It can analyze the diagnostic and treatment codes to generate electronic claims. The process has become smooth and hassle-free as payers welcome electronic claims submissions. Custom software solutions can choose the processes you want to automate.
Healthcare is a big customer service industry that prefers a patient-centric approach to patient healthcare processes. Post-COVID-19 pandemic, virtual consultations, and telemedicine practices have significantly increased, increasing the demand for personalized treatment plans.
Custom-made medical software caught the eye of the providers at that time. This software is used to streamline the internal work processes, enhance the end-user experience and improve the relationships between the partners (or interdisciplinary providers).
The Role of Custom Medical Software in Improving Healthcare Services
With the help of custom medical software, the healthcare industry can serve primary business purposes like accounting software, patient portal, appointment scheduling, cloud backups, invoicing software, project management software, websites, or mobile applications.
Custom-made software focuses on providing enhanced customer service. 
Every healthcare facility tries its best to provide better services to its users.
Let us discover how custom software can help in providing better healthcare services.
1. Scheduling Appointments
Every patient is vital in healthcare. As per the changing needs of the patients, you should upgrade your systems (and software) for better patient experiences. With a custom software application (web & mobile), you can do the same by
Improving scheduling experience
Reducing wait time
Send reminders via email or text
Confirm appointments
2. Service Delivery Experience
Providers need an updated patient history to examine and analyze things better. With custom software, they'll access the previous account faster, along with all the diagnosis systems and tools. The software allows them to record and interact with the patient.
Diagnosis notes
Treatment notes
Queries
Patient recommendations
With this feature, the providers can serve the patients with tailor-made plans and improved services.
3. Post Appointment Follow-Up
Feedback forms are one of the best ways to help practitioners know about the patient's experience. Practitioners can learn about the patient's preference and their responses to their customer service. These forms not only showcase customer satisfaction but also play a vital role in building engagement with the patient, which often leads to long-term patient relations.
4. Analytics and Reporting
Analytics and Reporting are vital for an organization, its practitioners, and independent practitioners. The medical software has an inbuilt feature for analytics and reporting. It helps the practitioners track the patient data and the number of appointments taken during a specific period. Some software has the feature of getting the report weekly/monthly/quarterly. You can set it as per your requirement.
If a healthcare organization needs to assess the work of their providers, then all they'll have to do is to use this feature from the medical software. They will be able to see the patient flow of every practitioner associated with them, along with tracking the appointments and the number of returning patients.
5. Integration with other systems
Integration among different software is crucial, especially when collaborating with different specialists. The specialist might be using a different software than the practitioner. The feature of integration comes to aid during such situations.
This feature is vital for connecting pharmacies, laboratories, diagnostic centers, patients, and hospitals. It ensures everyone has the same access to patient information and demographics. If there are any changes, the patient must change it only on one software, and the data will also be updated on the other portals.
Common Types of Custom Medical Software
Custom software and applications are developed and designed to solve complex challenges and cater to the changing needs of medical organizations, providers, patients, and stakeholders. The healthcare sector can benefit from integrating its software with other systems according to its needs. The evolving technology is shaping a new way for healthcare professionals. Professional software development companies can help develop custom-made software systems for hospitals, imaging centers, laboratories, home care, assisted living facilities, medical device manufacturers, pharmaceutical companies, and patients. Some of the most common types of custom medical software are listed below.
1. Administrative Software for Hospitals, Practices, and Medical Facilities
Digital workplaces
EHR/EMR
Hospital asset tracking
Practice management
Revenue cycle management
Hospital inventory management
Medical staff management
Medical education and training
2. Care-Related Software for Hospitals, Practices, and Medical Facilities
Patient tracking
Healthcare data analysis
Medication administration
Medical AR and VR solutions
Care coordination
Drug prescription assistance
Healthcare information system (HIS)
3. Software for Medical Practice, Laboratories
Lab management
Practice management
Medical image management
Chronic disease management
Digital therapeutics (DTx)
Healthcare AI chatbots
Patient apps
Inpatient care
Outpatient care
Provider portals
Patient portals
Telemedicine
Remote patient monitoring
Simplify the process of getting the right medical software that supports interdisciplinary collaboration for your organization. Let us help you get a customized solution for all your healthcare needs.
Save your time and energy by getting custom-made software that fulfills all your needs.
This software works as a web application, so you will not have to worry about getting any additional hardware.
Interdisciplinary collaboration leads to better provider and specialist communication, improving patient experience and simplifying claims processing. Custom software is crucial in a healthcare organization as it handles everything from appointment scheduling to payment processing, referrals to denial management, and reporting to accounts receivable.
If you are willing to use the latest technologies in healthcare to provide better care and experience to your patients, connect with us today to discuss your medical needs and how we can help you achieve them.