What is IoT in Healthcare? A Complete Guide to IoT-Connected Healthcare Applications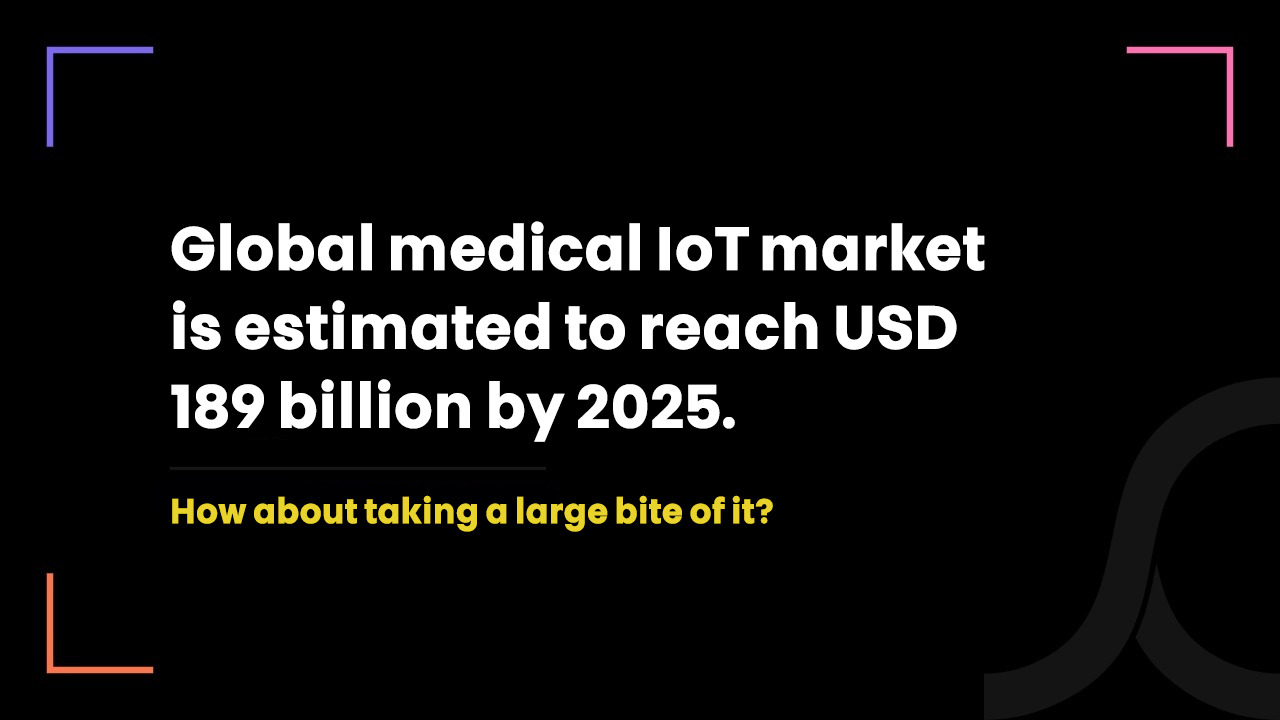 3 years ago
Round-the-clock patient monitoring is more exhausting than treating patients.
And at some point, it becomes impossible to keep a close eye on vital body signs of patients.
Among the limitless number of tasks, healthcare providers get busier with recording and managing vital body signs of patients while being in close contact with them which puts patient safety at risk.
To free healthcare providers from spending time and efforts on patient monitoring and data management tasks, all we need to do is make use of several use cases of IoT technology in healthcare. 
What is IoT in healthcare?
You must have used or heard of a Ring security camera or smart bulb which you can control using your smartphone from anywhere in the world. 
These devices are working on IoT technology.
Basically, any hardware device which shares data with you and you can control it with an internet connection and smartphone from anywhere in the world is working on IoT technology. 
You can turn any hardware device into a smart IoT device with a set of sensors and an IoT controller which is responsible for processing commands and sharing data. 
But to receive data and give commands, you require a user interface in form of a mobile app or computer software. 
A real-life example of IoT in healthcare
You connect a speed sensor and IoT controller with a wheelchair of a patient and build a basic mobile app to receive data collected by a sensor.
So, now after a fixed interval or after exceeding a fixed speed, IoT controller sends an alert with the recorded speed of a wheelchair to a mobile app. 
IoT controller can send you any data you have customized it for.
Same happens with heart monitoring devices. It shares accurate heart rate data on a mobile app or software in real-time which you can access from anywhere.
It can even send you an alert if it finds heart rate is too high or too low.
And most importantly, it saves every past data of heart rate which healthcare providers can analyze to diagnose patients in an early stage. 
These all benefits - remote patient monitoring, advanced alert, data management and data-driven diagnosis - are within bounds of possibilities due to IoT and IoT-connected mobile apps. 
How does IoT in healthcare work?
Working of an IoT technology is very straightforward.
But communication and compatibility issues between different IoT sensors, controllers, databases and front end of mobile apps are what make IoT a complex technology. 
Any IoT-connected healthcare application works in four stages.
Patients wear IoT medical devices which are built on IoT sensors and IoT controllers.
Data acquisition and pre-processing

 
These IoT devices record vital body signs of a patient such as blood pressure, heart rate, glucose level, oxygen level etc.
Data collected by IoT medical devices are now stored on a secure server or database which authorized users can access from a mobile app or software in a graphical format.
Sophisticated algorithms analyze this data and give actionable recommendations and insights to healthcare providers.
For instance, it can share early signs of heart diseases with healthcare providers or alert the provider for a stroke attack.
With such an advanced alert system, providers can save lives by giving early care.
Here, it is worth mentioning that the MQTT protocol is used to share data between IoT devices and a mobile app or software in a reliable and secure manner. 
Areas in which IoT can be used in healthcare
In an era of remote healthcare, IoT is enabling new forms of medical treatment, and patient monitoring.
Many healthcare providers are leveraging IoT-enabled remote patient monitoring to enhance patient outcomes by providing care before the situation worsens. 
Following is how different healthcare entities can utilize IoT.
Hospitals or clinics can collect and store a large amount of vital body signs data for analytics and research purposes. 
While recording vital body signs of each patient is a time-consuming process, IoT-enabled remote patient monitoring can record and store vital body signs of patients without human intervention which saves crucial clinical hours. 
IoT can also be very useful in large hospitals and clinics to track the real-time location of medical equipment like wheelchairs, defibrillators, nebulizers, oxygen pumps and other monitoring equipment.  
Easy discovery of such important medical devices can draw a line between life and death in an emergency situation. 
Many residents living in long-term care homes require round-the-clock clinical monitoring.
IoT-enabled healthcare monitoring devices not only keep an eye on it but also send alert messages to RN, RPN if any vital body sign of a resident drops below a certain threshold. 
Physicians providing remote care to residents to avoid direct contact during the pandemic can also get easy access to all real-time and historic vital body signs data of residents. This helps them create effective care plans accordingly.
Such use cases significantly increase the quality of senior care while ensuring all COVID-19 measures related to contactless care delivery are fully implemented. 
Telemedicine has been a mainstream care delivery model since the pandemic.
However, a major limitation of telemedicine is that either caretakers or patients themselves have to record vital body signs and share that data with physicians providing virtual care. 
So, with the integration of an IoT-enabled patient monitoring system into a telemedicine platform, healthcare providers can have easy access to all vital body signs from their telemedicine dashboard itself. 
However, such an approach does not work with individual patients as telemedicine startups cannot provide personal health monitoring devices to them. 
But this surely works if telemedicine startups are running virtual care programs with employers, hospitals, rehabilitation centers, nursing homes, long-term care homes and clinics.
If a patient is receiving in-home care, any family member or caretaker can keep an eye on a patient's health in real-time from their smartphone.
Family members or caretakers can set geo boundaries that alert them if a patient leaves a fixed area of a neighbourhood. 
This works best for patients having dementia. 
Major challenge you'll most likely face while building IoT-connected healthcare applications
As discussed, building a mobile application is crucial to receive data collected by IoT sensors and interact with IoT devices.
A mobile app or software is the only medium you can communicate with IoT medical devices.  
However, building IoT-connected healthcare applications that can easily receive data from IoT sensors and give commands to IoT controllers is very complex.
And it is only because of compatibility issues. 
So, what is compatibility?
Well, when you 'technically' connect hardware (IoT devices) with software (IoT-connected mobile apps), they by default cannot work in a reliable and secure manner as they aren't made for each other. 
This is called a compatibility issue.
If there is a compatibility issue, IoT devices either send the wrong data or cannot share any data with mobile apps.
Similarly, commands given by a mobile app cannot reach the IoT controller of an IoT medical device.
To eliminate such compatibility issues, a most basic requirement is the use of genius IoT hardware only. 
And another crucial requirement is a technical skill set to code a mobile app by following MQTT protocol and all other medical data sharing standards to facilitate seamless and secure data sharing between IoT hardware and software! 
Thus, it is important for you to hire only experienced technical teams to build IoT-connected healthcare applications.
How do we play our role to make you achieve medical IoT project successfully?
We are an Ontario-based healthcare-focused IT company. We have been solving healthcare challenges for 7 years with affordable yet game-changing technologies. 
In addition to AI and machine learning, we also have mastered medical IoT.
With our dedicated IoT research and development team, we develop IoT-enabled healthcare mobile apps and software without any compatibility bugs. 
We do not only help you with development. Our business experts and compliance specialists guide you through all market and legal complexities for easy product launch and growth.
We successfully led several medical IoT projects for hospitals, clinics, long-term care homes, startups and even individual providers with our 3E approach - experts, expertise and experience. 
Being a Canadian company, we are well-aware of all on-ground healthcare challenges, clinical workflows, clinical protocols & compliance requirements.  
This healthcare-specific knowledge is what makes us local healthcare IT experts. 
Let's have a productive discussion around your IoT project and how we can help you solve all technical, business and legal challenges!