How top companies are setting up the IT infrastructure to support remote work in Canada amid the Coronavirus outbreak?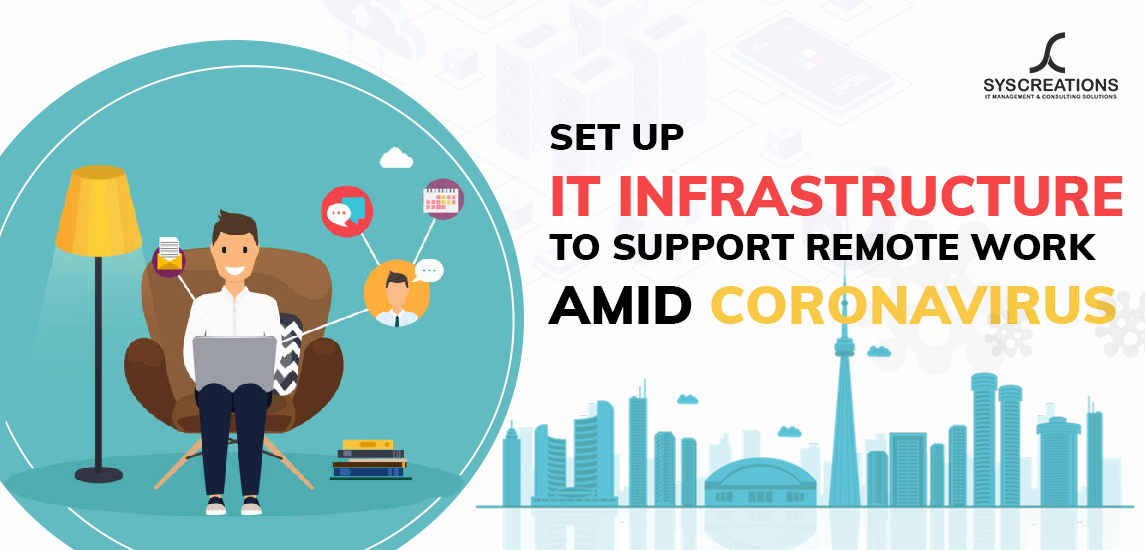 4 years ago
It is pandemic, and not less than apocalypse!
Following an outbreak in the Chinese city of Wuhan, the World Health Organization (WHO) first declared the global health emergency over the coronavirus and later declared it the pandemic. Meaning, the whole world is at risk now. While writing this blog on 14 March 2020, coronavirus has killed more than 5400 people and infected 145,857 people across 114 countries.
To break its circuit, both developing and developed countries are pulling out all stops. Authorities are imposing many rules including travel ban and forcing citizens to avoid mass gatherings. Not only authorities, but citizens and different private organizations are also taking all precautions to not get infected by the coronavirus.
Large enterprises and even some SMEs in countries that are more vulnerable to coronavirus are implementing the work-from-home policy. By taking such measures, they aim to minimize the risk as coronavirus can spread quickly through the air. They ensure that all of their employees remain safe and their day-to-day operations do not come to a standstill.
Companies which are implementing work-from-home policy amid coronavirus outbreak:
Talking about Canada, a total of 176 coronavirus cases and one death have been reported as of 13 March 2020. (53 in British Columbia, 23 in Alberta, 1 in Manitoba, 79 in Ontario, 17 in Quebec, 1 in New Brunswick, and 2 Repatriated travellers.)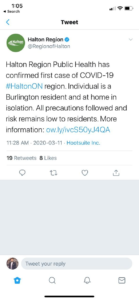 Canadian Prime Minister, Justin Trudeau's wife Sophie Trudeau has also tested positive for the coronavirus. According to the official statement, the first lady of Canada developed mild flu-like symptoms after returning back from a speaking engagement in Britain. However, the Prime Minister is in good health with no symptoms. But still, he decided to keep himself in self-isolation and run the nation from his home office.
So, if you also want to deploy work-from-home policy in your organization but lack the basic knowledge and resources like tech giants own to support remote work, this blog will clear all of your doubts. We will discuss how to set up IT infrastructure which supports remote work and enables you to keep running your business at the same pace even during pandemic.
How to set up the IT infrastructure of the business to support remote work in Canada?
If you are facing a shortfall in IT infrastructure that can support remote work, letting employees work from home can influence the productivity and delivery speed severely. It also affects the data accessibility and data storage. And if you are a service provider, it even negatively modifies the customer satisfaction rate which results in customer loss and less revenue. Most importantly, the remote working environment fuels the security challenges as remote workers send and receive all crucial data through the 'exposed' Internet.
Companies that are promoting work-from-home policy do not face such challenges as they are equipped with IT infrastructure which supports remote work very efficiently. By simply following their approach, you can also achieve the same. After all, you should not let coronavirus to affect your productivity hours and workforce!
The following are the top software, hardware components, and technologies IT infrastructure of top companies consists of and how these software and hardware components are solving the challenges associated with remote work.
1.) Cloud storage
⇢ What is cloud storage?
Cloud storage is the cloud computing model that facilitates businesses to store data on the Internet through cloud storage service providers such as Google, Microsoft, Amazon. By delivering it on-demand with just-in-time capacity and costs, they eliminate the requirements to buy and manage own data storage infrastructure.
⇢ How does it solve challenges associated with remote work?
Whether employees are working from office or from home, they generate, interact, share, and save a lot of data. Considering the fact that business data is very crucial and it needs to be shared and stored securely, businesses are opting more for cloud storage as it provides security, reliability, and high availability.
If enterprises put cloud storage to good use, workers working remotely can easily upload all data to one place from where all authorized stakeholders can interact with that data. The cloud storage can drastically increase the file or data discovery speed of the employees.
The cloud storage also ensures the high availability of the data. If some goof-up results in data loss, enterprises can easily retrieve that lost data. Additionally, cloud storage is armed with ransomware and malware protection. Meaning, your data is very secure.
2.) Remote-access VPN
⇢ What is a remote-access VPN?
A remote-access VPN allows individual users or employees to create a secure connection over the Internet with a remote computer network. Through remote-access VPN, employees can remotely access the resources of the network as if they are directly plugged into the network!
⇢ How does it solve challenges associated with remote work?
If you own multiple offices with many employees in different locations, remote-access VPN is very serviceable. It establishes a secure connection between your employees and a centralized computer network or network of different offices. It prevents hackers and malicious content. This enables employees working from home to communicate and share data with other employees very securely.
3.) VoIP (Voice over IP)
⇢ What is VoIP?
VoIP is the technology that converts voice calls into digital signals and allows anyone to make calls from a computer, VoIP phone, and smartphones. Businesses can also manually or automatically route the incoming calls to the concerned person sitting anywhere on the earth.
⇢ How does it solve challenges associated with remote work?
Communication is the major challenge remote workers are facing. Though they have many third-party tools available to communicate, they are not using those tools as they are less secure and time-consuming. Also, those tools do not support the call routing feature which is very essential in the medium or big organization to quickly connect the person who has called to the concerned person.
Whereas the VoIP system makes business communication effortless with its extensive feature set. Your employees working from anywhere can call any stakeholder from their computers or even mobile phones. Moreover, the system can manually or automatically route the incoming calls which leads each individual to accomplish high productivity even while working from the home.
4.) Microsoft Cloud PBX
⇢ What is Microsoft Cloud PBX?
Microsoft Cloud PBX is an affordable alternative to VoIP. A PBX (Private Branch Exchange) is a company's private telephone system, used within a company. Cloud PBX is nothing but your phone system in the Cloud. Whereas, Microsoft Cloud PBX is the service from Microsoft which enables call control and PBX capabilities in the Office 365 cloud via Microsoft Teams.
⇢ How does it solve challenges associated with remote work?
The major advantage of Microsoft Cloud PBX is that it enables employees to place and receive calls from the Microsoft Teams itself. Call recording, Virtual Attendance, Call groups, Voicemail transcription, reporting, and analytics are other top features of the Microsoft Cloud PBX.
In the nutshell:
It is a challenging time and looking at the pace the coronavirus is bringing countries on knees, we should not live with the hope that everything will be fine tomorrow.
Instead, we need to prepare ourselves as well as our businesses to face the worst time. Letting our employees work from home and offering them enough IT resources to carry out our daily operations is the first step to prepare our businesses to remain stable during the economical and healthcare crisis caused by coronavirus.
The solutions we have discussed in this blog that can build IT infrastructure to support remote work are sustainable and they can continue letting you derive many profitable business benefits even after the current unsettled situation.
Feel free to schedule a one-on-one meeting to know more.