Jack Nathan Health Acquires a Purpose-Built Virtual Care Platform – Writi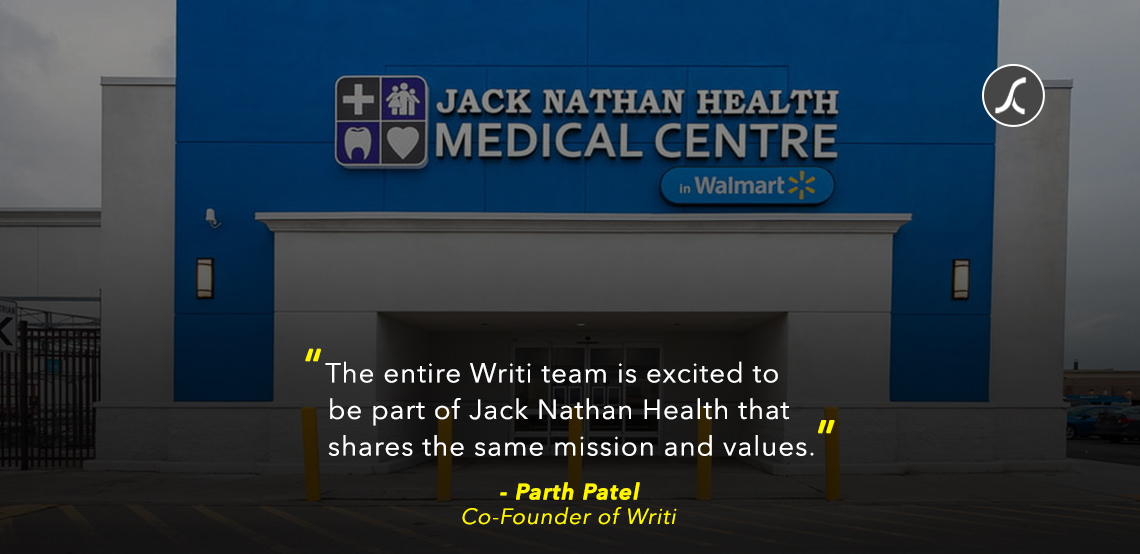 3 years ago
Indeed 2020 was a challenging year - but not for the startups striving to solve age-old healthcare challenges with new-age and affordable healthcare technologies.
According to BusinessWire, one such startup known as Writi is now being acquired by Jack Nathan Health (TSXV: JNH) - a leading integrated primary care provider in Canada and around the world. 
Like our business experts, many of you must be wondering why a 15 years old company would put a 2 years old startup on its acquisition radar!
To find the reasons, you first need to understand what is Writi and what are the problems it is solving.
About Writi, Its Purpose and Its Response to COVID-19
Writi is a cloud-based virtual care web and mobile platform for long-term care homes that takes the capabilities of telemedicine to the next level.
Unlike traditional telemedicine solutions, Writi aims to optimize the entire clinical workflows with its unique features such as medication management, record management, ePrescription, workflow management of resident-related orders & documents, automatic entries of a medication history of residents in digital bundles and concern management of residents' family members.
In other words, Writi brings residents, their family members, physicians, RNs, RPNs, and pharmacies under one virtual roof where they can put combined efforts 'effortlessly' to deliver senior care in record-breaking time without prompting any medication incident.
Seamless integration of PointClickCare, Telus Health (Kroll™ Pharmacy Management Solution) and MED e-care with Writi saves crucial time for physicians, RNs, RPNs and pharmacists from resident data management, medication management and billing.
One of the most significant achievements of Writi is its compliance-readiness.
Writi is compliant with Canada's most strict privacy and security regulations imposed under PHIPA law.
According to the Co-Founder of Writi and Founder of SyS Creations - Parth Patel, healthcare should be easy, rapid and affordable to access for everyone from anywhere.
He further strongly believes that healthcare professionals are meant to deliver care.
They should not have a compulsion to invest their valuable time in data management, data entry and time-wasting communication with nurses, residents' family members, and pharmacies.
Canadian long-term care homes are running out of resources with over 6 million people aged over 65. That's around 17% of the Canadian population!
As a result, seniors need to wait many months to get admission to long-term care facilities. This creates emotional strain and triggers health complications for people waiting.
Writi is solving these challenges by creating time for long-term care home staff that will eventually eliminate the acute staff shortage, double the resident admission rate and - after the admission - provide quality & timely care.
Writi's Response to COVID-19
Long-term care homes hit very badly with COVID-19. Almost half of Canada's COVID-19 deaths have been reported in long-term care facilities.
Operating at its full capacity, many LTC homes remained overwhelmed for a long period of time. (The situation hasn't changed yet!)
Writi is cutting their efforts out. With Writi, long-term care homes are reducing prescribing time by 20% and nursing order-processing time by 43%.
Writi with its telemedicine capabilities facilitates physicians to treat residents without being physically present at the residents.
This ultimately reduces the chances of virus transmission to residents from long-term care staff.
Around 15 long-term care homes are putting Writi to good use for their more than 1500 residents.
I hope you now get the answer to your question.
Jack Nathan Health is acquiring Writi because it is solving some solid problems of the Canadian healthcare sector with powerful yet affordable technology.
What Does Writi Acquisition Mean to Jack Nathan Health (JNH)?
JNH is not another healthcare company. It works in a very unique way.
With patient-centric physicians, several medical services, technologies and programs, it aims to offer the finest quality of care through in-clinic physicians and telemedicine.
(JNH Clinic in Walmart)
Established in 2006, Jack Nathan Health actively delivers outstanding, state-of-the-art, turn-key medical centres in 76 Walmart locations across several Canadian provinces including British Columbia, Alberta, Saskatchewan, Manitoba, Ontario and Quebec.
It also operates in six locations in Mexico and 50 new locations scheduled to be constructed and opened in 2021.
According to the CEO of Jack Nathan Health - George Barakat, "With Writi and JNH in sync, we will be able to leverage our physician network and pharmacy partners to offer better care for seniors."
"In addition to helping Writi add more LTC homes, we plan to integrate Writi across all Jack Nathan Health platforms, providing at home health care."
"This technology roadmap includes monitored home patient care, connected health care devices, delivery of RX prescriptions, physician scheduling in our clinics and via telemedicine, delivery and recommendations for our practitioners' products and dietary needs including grocery."
The Co-Founder of Writi - Parth Patel - stated that the entire Writi team is excited to be part of Jack Nathan Health that shares the same mission and values.
He is sure that partnering with JNH will surely enhance the way all senior care homes execute their daily operations and this will leave an unprecedented impact on seniors' life during and beyond the pandemic.
Conclusion: Learning For You All
It's not about how large your team is. It's not about how advanced technologies you are using. It's not about how old your company is. It's not about how much funding you raised.
It is always about the challenges you're solving!