Residents can now spend time away from their long-term care homes – minister Merrilee Fullerton declared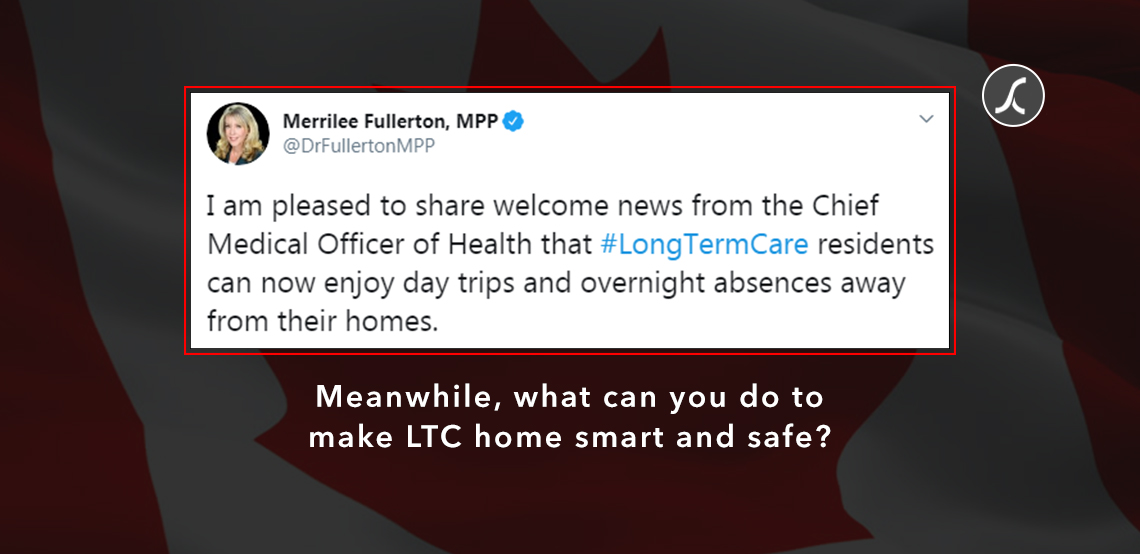 3 years ago
In a news release, the Ontario Long-Term Care Minister Merrilee Fullerton announced that residents are now allowed to leave their homes for short-stay and temporary absences! 
She further said that this will improve the quality of life of residents while ensuring the safety of them. She considered it a welcome change. 
Before leaving homes, residents will get masks from LTC homes and upon arrival, LTC homes must screen the residents.
For residents' convenience, there isn't any requirement for self-isolation.  
The decision to allow residents to leave homes comes after many reported cases regarding the awful mental health of residents because of the pandemic panic and family visit ban. 
However, this is a totally passive solution. 
What can long-term care homes Toronto do to have smarter and safer homes for residents that increases their quality of life in a direct way? 
The answer lies within senior care technologies! 
3 Revolutionary Senior Care Technologies For Long-Term Care Home Toronto

 
Disclaimer: the following senior care technologies might seem very futuristic and costly. But we've already implemented it in many long-term care homes within their budget. 
1. Long Term Care Automation 
An RN, RPN, Physician and DOC spend their productive time on managing data, prescriptions and invoices. 
What if you let them only focus on resident care and automate all labour-intensive tasks? 
Residents can receive the ultimate care! Right? 
And let me tell you, automation isn't that futuristic and costly. 
To automate a task such as invoicing, all you need to do - install a software bot on the computer and keep this computer running. 
The bot automatically extracts invoice data and emails those invoices to relevant recipients. 
Similarly, you can automate many other senior care operations. 
Resident Data Management 

Prescription Ordering & Management 

Medication Management

Sales & Purchase Order Management

Concern Management of Residents' Family Members 

Compliance Management
Talking about cost, a software bot that runs operations 24/7 costs you much lower than the salary you are paying your staff for performing the same tasks.
In case you want to know the exact cost, here is the detailed blog on automation cost. 
 2. Virtual Care Solution for Long-Term Care Homes
Let's peek into the work-life of a physician working in an LTC home. 
He goes from one resident to another.  
He checks multiple sources to get the medical history of a resident. 
He searches for nurses throughout the facility to assign tasks. 
He makes DOC aware of each resident's health status. 
At the end of the day, he wastes 50% of his time in coordination and collaboration. 
What if he can perform all his tasks from his mobile phone, even from his home? 
It is possible with a virtual care solution. 
With a virtual care solution for long-term care homes, 
A physician can treat residents remotely using encrypted video calls. 

A physician can assign tasks to nurses with a single click. 

A physician can know the medical history of all residents from one source - the virtual care solution installed on his mobile. 

A DOC can check the health status of all residents on a single dashboard. 

A physician can write e-prescription and the virtual care solution sends it automatically to the pharmacy.  
In essence, the physician can treat more residents in a given time with high effectiveness without being in close contact with residents! 
One such virtual care solution, I would suggest is Writi. 
It has helped an LTC home to reduce administrative burdens and paperwork by 63%?
[ Read the Full Case Study ] 
3. Wireless Health Monitoring 
To get biometric data i.e., heart rate and glucose level of a resident, nurses or physicians need to manually record it. 
Such practice requires close contact with residents which is not advisable. 
A wireless health monitoring system is made out of a group of IoT-enabled health monitoring devices such as a smart band and smart oximeter. 
These devices regularly monitor the health condition of residents and store data. 
The caregiver can anytime read this data very easily on a mobile device. 
The major advantage of wireless monitoring is that it alerts the caregiver in an emergency - if the heart rate drops below a set limit. 
This could save a life! 

That was just the tip of the iceberg. Technologies can do wonders and save lives! 
You can contact us to make your long-term care home smart and safer. 
Our team accommodates best healthcare-focused IT experts who have been proactive in the LTC industry before the pandemic hit our most vulnerable! 
We're proud of helping our seniors using technologies!