How to Improve Working Conditions in Canadian Long-Term Care Homes?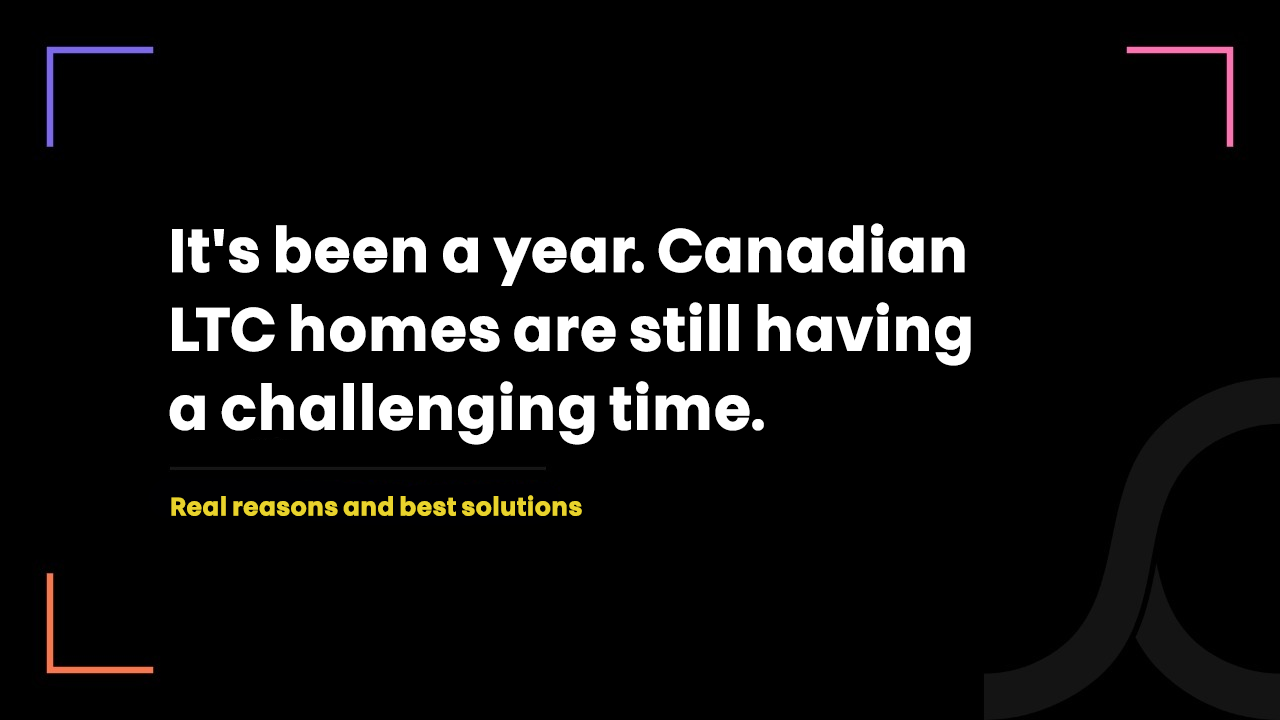 3 years ago
Fear is becoming reality.
…… It already became!
Just a few hours before writing this blog, news flashed in and it was devastating and concerning.
122 out of 130 residents in an Ontario-based long-term care home have been tested positive for coronavirus. 
The most worrying part here is 6 samples tested positive for the new more contagious coronavirus variant.   
The spread was so rapid that 55 residents got the infection within just 48 hours.
With the government declaring a fresh outbreak in LTC homes every day, the struggle LTC staff members and residents are having is clearly visible now.
Many wondering - why Canadian long-term care homes have been unsuccessful to contain the virus since the first day of the pandemic. 
Well, the Ontario Advisory Group has an answer to your question.
"Improve working conditions in long-term care homes." - Ontario Advisory Group
The province has appointed the Ontario Advisory Group of healthcare experts to guide the state government on the pandemic.
The group recently said long-term care homes must improve working conditions and eliminate the scope of temporary staffing to save our seniors.
In the report, the group highlighted the rapid spread of the virus and high mortality rate in almost all long-term care facilities.
They further stated that there is a clear link between the community outbreaks and long-term care outbreaks.
This led them to the conclusion that staff members get the virus from the community and transmit it to residents. 
That's why they concluded that temporary staffing is the risk factor.
They further suggested extending a prohibition on three and four bedrooms beyond the end of this month.
How to improve the working conditions in long-term care homes?
A few challenges LTC homes are facing are already known. Such as,
Staff carrying virus, transmitting it to residents
Staff are overwhelmed, administrative work makes the situation worse
LTC industry facing labour shortage crisis
However, there are a few significant yet hidden challenges that are actually causing more damage. 
The impact of isolation on residents' mental health is terrifying.
Residents in their most vulnerable age are experiencing intense loneliness and deteriorating mental health.
One factor causing awful mental health is the environment within the long-term care homes.
Authorities separate the facility into different zones or sections.
They close the entire facility.
And all have to isolate themselves for at least 8 weeks.
Residents can't even meet their family members.
They see their helpless friends dying.
Imagine how it would feel like to live in such an environment! This obviously triggers several mental health issues in people of any age!
(It is not right to blame anyone here. Government, LTC homes, and healthcare workers are making strict decisions to only save lives.) 
COVID-19 has affected the mental health of many Ontarians, including so many of our seniors.

To help, our government is investing over $12M to expand & create additional #MentalHealth programs that support the mental health and well-being of Ontario's seniors. pic.twitter.com/1lZHbwEPON

— Doug Ford (@fordnation) January 21, 2021
However, long-term care homes need to fight the entire alarming situation on two fronts - solving staff-related challenges and resident-related challenges.
The following are some of the ways or tech solutions that can make LTC homes win this battle easily.
Virtual Care or Telemedicine App for Long-Term Care Homes
This is a very useful solution that solves many challenges in a single shot. Let's first discuss what actually is virtual care or telemedicine.
It is nothing but the delivery of senior care services using secure and healthcare compliant chat, video calls or voice calls.
Using a virtual care or telemedicine app, the physicians can treat residents or patients remotely without being physically present at the residents. 
But it is not just limited to communication. It is beyond what you think.
First of all, it adheres to all healthcare compliance regulations implemented by the government.
And secondly, it supports record maintenance and workflow of resident-related orders and documentation.
Additionally, it eases reporting and billing tasks by bringing physicians, RNs, RPNs, DOC, residents, their family members and pharmacies under one single virtual roof.
Benefits of Having Virtual Care Solution in LTC Homes:
You might have already guessed it.
Having a virtual care solution means no direct contact of medical staff to residents, thus no risk of transmission! 
Physicians get the ultimate ability to talk to residents remotely even from their homes.
With a virtual care solution, staff can also perform administrative tasks easily as a virtual care solution performs many of their tasks automatically.
For instance, it shares the prescription written by a physician automatically with the pharmacy.
This eventually results in less-burdened staff and a less-burdened staff can treat more residents in a given time. 
It also improves the mental health of the residents by actualizing easy and secure online meetings between residents and their family members.
You can get one such solution on a subscription basis or develop your own.
Read this case study to know how a virtual care solution reduces administrative burdens in an Ontario-based LTC home by 63%.
Geo Alert Mobile App For Residents Having Dementia
LTC staff are struggling to isolate residents with dementia. [GlobalNews]
Residents suffering from dementia have the tendency to wander and enter other residents' rooms. They also need social connection and physical touch.
A geo alert app is a solution here that alerts the authorities if a resident gets out of a fixed zone. 
The app also reminds residents of several daily tasks and activities.
And through the app, they can talk to their family members or LTC staff anytime they want.
However, residents not using smartphones cannot leverage the geo alert mobile app.
One alternative here is a wristband with a GPS tracker or placing a GPS tracker in footwear. However, this isn't as practical and feasible as the mobile app.
Robotic Process Automation (RPA)
Well, this is the future.
Robotic process automation is technology developers use to develop a software program.
This software program gets installed on your computer or laptop and performs a task on that computer similar to humans - but all automatically, within seconds, and with 100% accuracy.
Imagine installing one such program on computers at LTC homes!
Staff only need to keep computers running. All reporting, documentation, data entry & billing tasks are done by the RPA program - automatically, within seconds. 
Read this dedicated blog to know more about this very useful technology.
Conclusion
Be it the first wave or the second wave of the pandemic in Canada, long-term care homes have emerged as the deadliest hotspot.
And unfortunately, it seems neither the government nor healthcare experts have a proven solution yet. (We should appreciate efforts they're putting in saving lives.)
With experts warning to brace for more deaths, the mental strength of LTC staff, residents and their family members is on the brink of collapse.
Adopting technology is the only way to quickly reclaim a winning spot in this ongoing battle with the invisible enemy.
There may not be an overnight success with technology.
But yes, things will heal quickly and we'll have a fortune to proudly say, "A great nation spending around $260 billion on healthcare has saved its most vulnerable people!"