Long-Term Care Homes Ontario: COVID-19 Hit vs Safe LTC Homes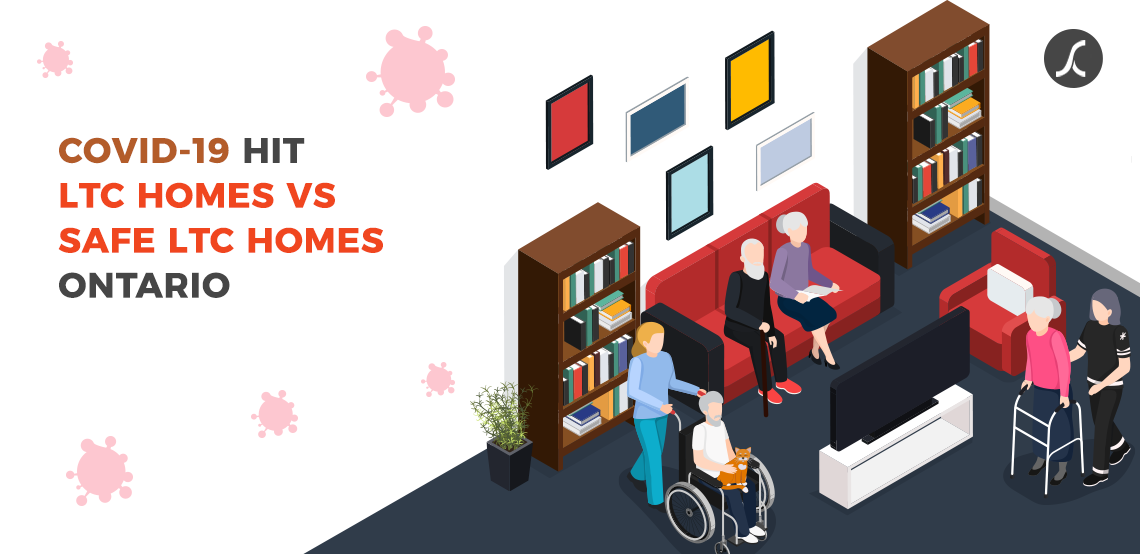 3 years ago
This blog revealing why some long-term care homes in Ontario are COVID-19 hit while others are safe, has been uniquely written for LTC homes, healthcare professionals, and entrepreneurs.  The output of this blog would be a clear understanding of what it takes to save residents and prevent a second wave of coronavirus outbreak in LTC homes. 
Last week, the Chief Public Health Officer of Canada - Dr. Theresa Tam - stated that more than half of Canada's COVID-19 deaths are linked to long-term care homes and it is not expected to take a nosedive anytime soon. 
In fact, in one of his tweets, Doug Ford admitted that protecting the LTC homes is one of the greatest challenges. He also asked support from the federal government.
Long-term care homes Ontario total casualties 
WHO and China's approach to tackle the pandemic already alerted other nations including Canada that seniors are most vulnerable to coronavirus and protecting seniors should be a priority of authorities.  
But the number of fatalities in Ontario long-term care homes clearly depicts that our authorities woke up late. 
According to the CBC report, Ontario has reported 223 outbreaks in long-term care homes since the crisis began. 
While the rate of hospitalization and new cases are stabilizing, the Ontario long-term care homes and residents living in it are experiencing a rapidly worsening situation. 
On Wednesday itself, Ontario recorded 68 new coronavirus deaths, 44 of which took place only in LTC homes.  In total, more than 1000 residents or seniors died in the past few weeks due to COVID-19 in Ontario long-term care homes. This number is heartbreaking! 
The following two graphs (Source: CBC) contain the worst affected Ontario long-term care homes and fairly safe long-term care homes. 
Worst affected long-term care homes in GTA: 
Fairly safe long-term care homes in GTA:
Looking at this disparity between long-term care homes, the question surely arises why there are fewer casualties in some LTC homes while others are breaking records. Let's analyze and find the magic behind keeping the death toll low in LTC homes. 
COVID-19 hit Ontario long-term care homes VS safe Ontario LTC homes - Expert analysis 
➣ What is this analysis all about? 
We will find out the reasons for the high fatality rate in some LTC homes compared to other LTC homes with a low fatality rate. 
➣ Why is this analysis important?
After this analysis, we will be able to draft a strategy to avoid the second wave of the outbreak in COVID-19 hit LTC homes and to avoid the spread of the virus in safe LTC homes. 
➣ What is the analysis technique?
We will list down top LTC home-specific COVID-19 challenges and how COVID-19 hit LTC homes and safe LTC homes tackled the challenges. Of course, safe LTC homes had tackled it more brilliantly. But how? Let's find out. 
Here is the complete analysis:
Challenges

 

How did COVID-19 hit LTC homes tackle it? 
How did safe LTC homes tackle it?
Staff carries virus

COVID-19 hit LTC homes continued senior care operations with a full capacity of staff. 

Safe LTC homes empowered staff to look after residents remotely with the virtual care tool and uninterrupted internet. 

Lack of social distancing between physicians and residents

Physicians continued treating non-COVID-19 residents in-person and transmitted the virus to residents. 

Physicians virtually treated non-COVID-19 residents to avoid direct contact with them. 

Delayed care because of overburdened staff

LTC staff failed to provide timely healthcare access to residents as the staff was overwhelmed. 

Online tools eliminated the paperwork and freed up staff. Thus, they provided rapid care to sick residents and saved them. 

The awful mental health of residents 

The mental health of residents became awful due to loneliness and their dying friends. 

They arranged virtual visits of residents with their family members and physicians. Residents collected mental strength and remained strong to fight the pandemic. 
What is the outcome of the analysis?
A virtual care tool and uninterrupted Internet can save many lives. The fusion of the virtual care tool and uninterrupted Internet can eliminate paper-work, free up staff, strengthen the mental health of residents and provide rapid care remotely. 
Let's connect - We are building safe long-term care homes with technology! 
For Ontario long-term care homes, it is a waste of time and money to satisfy IT needs through different sources. Collaboration and communication with different sources cause administrative pain and increase the chances of costly mistakes. 
Here is where we play our role. We are a team of network engineers, hardware experts, developers, security experts, and software engineers, working specifically for LTC homes. 
My versatile team is able to satisfy all of your multi-vendor IT needs – from virtual care tool deployment to staff training, Internet setup, network support, and hardware support.  
Here I would like to share a case study showcasing how we set up the network in an LTC home remotely within 3 days. 
Please feel free to contact us to build a safe long-term care home with affordable technology.