Managed Azure Services + Azure Automation = 57% of Cost-Saving on Cloud Operations & Management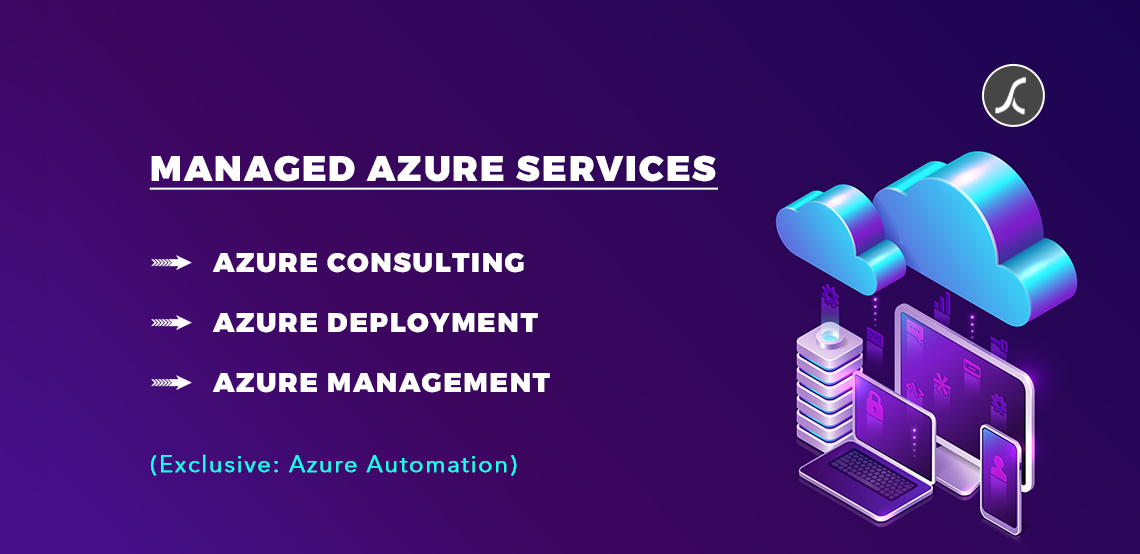 3 years ago
Cost-effective

Greater accessibility

Improved security and backup

No hardware setup required
are the advantages of cloud over on-premise servers.
According to the Gartner report, the worldwide public cloud market is anticipated to grow to a total of $266.4 billion before 2021, up from $227.8 billion in 2019.
Microsoft is one of the most prominent cloud service providers.
In the last 2 months, almost 70% of businesses we helped with cloud solutions selected Microsoft's cloud platform - Microsoft Azure - to better manage cost, governance and risks.
We help both startups and enterprises to adopt Microsoft Azure and sustain it with our managed Azure services.
Our Managed Azure Services Include:
• Azure Consulting
Based on your financial and operational requirements, our Azure consultants prepare a comprehensive report.
The report includes,
❖ Specific Azure services that satisfy your needs in terms of workloads and budget
❖ Capital cost and monthly/weekly running costs
❖ High ROI strategy
❖ Implementation strategy
❖Risks associated with implementation & operation
❖ Risk mitigation tactics
❖ Security practice
We also keep your future demands in mind so that you don't have to invest again in the future with a change in your business needs or position.
• Azure Deployment And Configuration
We deploy and configure Azure cloud for your single or multiple purposes such as,
❖ AI & Machine Learning
❖ Serverless Bot
❖ Analytics
❖ Windows and Linux Virtual Machine
❖ Databases
❖ Azure Active Directory
❖ API Management
❖ Azure IoT
❖ Migration
❖ Virtual Network
❖ Content Delivery Network
We practice all 3 cloud delivery models - IaaS, PaaS and SaaS.
• Azure Management Services
We assign a dedicated support team of cloud experts and security experts to always keep your Azure infrastructure optimized for high performance and minimum downtime.
In addition to manual experience-driven monitoring, we install automatic alerting tools to find out errors very quickly.
Our aggressive response within 15 minutes of an error avoids any downtime that affects your business operations severely.
Later, we find the cause of the error and educate your team to never get the same error again.
Furthermore, our support team helps you address everyday queries of your team members to work with Azure infrastructure in the most rewarding way.
Our that one expertise that makes your cloud operations accurate and teams productive
In a business journey with cloud, nothing can help you with ultimate resource optimization and cost-saving, except automation!
We've already mastered Windows and web-based automation. And now, we're also very proficient in cloud automation.
With Azure Automation, we automate any time consuming cloud-based process to enable employees to focus more on core work and add value with reduced errors and boosted efficiency.
One example of Azure automation is database management - the system automatically performs scheduled exports and backups.
This way, it eliminates the need for an employee to invest daily 1 hour for exports and backups.
Imagine how easily you can optimize your resources and save costs by automating many such repetitive tasks on the cloud!
You can select the full suite of our managed Azure services or select any individual one. Consultation from our cloud experts is absolutely free.

A few interesting questions asked by our clients:
As a top Microsoft Azure managed service provider in Canada, we always aim to keep our clients aware of the cloud solution we provide.
1. How do AWS, Microsoft Azure, and Google Cloud compare to one another?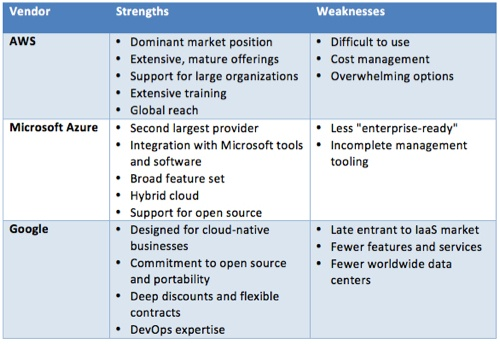 2. What is the future of Microsoft Azure?
Microsoft Azure is the 'revenue-magnet' for Microsoft. Thus, Microsoft is actively making it better with a significant focus on automation, big data, IoT, blockchain and virtual machines.
Call it a strategy or coincident, but these are the top technologies every company is investing or planning to invest in the near future.
So, Microsoft is basically getting prepared for future market trends while satisfying the current market needs.
Based on this crucial factor, we strongly believe that the future of Microsoft Azure is bright.
3. What are the publicly known biggest customers of Microsoft Azure, AWS and Google Cloud?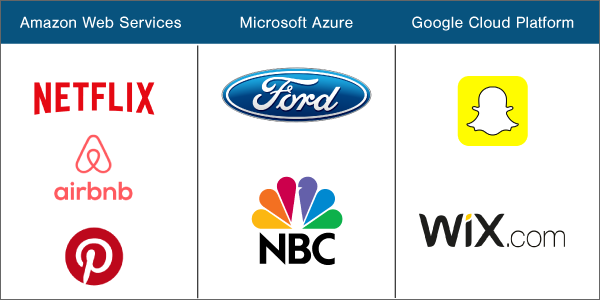 4. What is Microsoft Azure Active Directory?
Microsoft Azure Active Directory is the identity management solution. It is basically a database that saves all details of users, computers, files and permissions. With Azure Active Directory, you can keep track of computers, users, groups and files on a network.
5. How is the transition process to Microsoft Azure?
If you're already storing data on other devices or platforms, it is very straightforward to migrate those databases to Microsoft Azure.
Migrating with Azure Database Migration Wizard - a tool designed to migrate your on-premise SQL server data to Azure SQL Database - is the most data-loss risk-free transition process.