Managed IT services for the long-term care home, healthcare IT support service, and best telehealth app in Canada to actualize connected and rapid senior care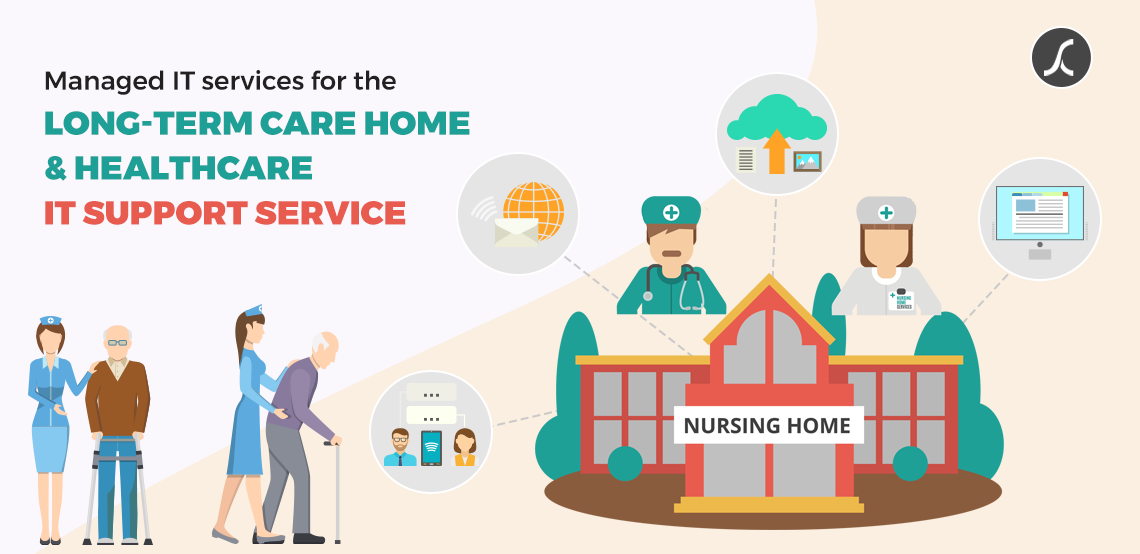 3 years ago
The healthcare crisis caused by coronavirus is eye-opening. It proves that our healthcare system is exhausted to tackle pandemic. It is calling for quick adoption of the right technology.
Coronavirus outbreak is affecting elderly people who are living in LTC homes more severely. It affects them mentally, physically, and emotionally.
In such an unsettled situation, LTC homes should ramp up their efforts to provide connected and rapid care to residents. LTC homes should store their daily medical report to study their condition and enable them to talk to physicians anytime remotely. LTC homes should also facilitate physicians and nurses to look after seniors with higher effectiveness in less time.
To achieve so, all you need to do is modernize your long-term care facility and sustain the modernized long-term care facility!
If you believe the same and have been hunting for a source that takes care of all IT requirements you have at your long-term care home and IT support service you require to avoid downtime,  your hunt ends here! 
Who are we and how we help LTC homes to ease the senior care operations?
SyS Creations is the single source for all your multi-vendor IT needs. We set up the complete IT infrastructure for long-term care homes and allocate a dedicated support team to manage and maintain it. We also provide a telehealth app solution to let healthcare professionals working in your LTC home arrange virtual visits, save & access residents' medical history, and write e-prescription. 
To know more about our telehealth solution and our managed IT services for long-term care homes, keep reading this blog. For your convenience, we will divide the blog in 3 sections.
Managed IT services for long-term care home 

Round-the-clock IT support service for long-term care home

Telehealth solution for long-term care home 
1. Managed IT services for long-term care home 
Our managed IT services address the challenges you are facing to share the files, to save the data, to send the fax, to route the call, to access the Internet, and to safeguard the crucial information. 
Cloud set up:
We set up a cloud for you so that you can host healthcare applications and crucial data on the cloud for improved data availability and app response time. 

We monitor and maintain the cloud infrastructure to let you experience the uninterrupted service. 

With cloud, healthcare professionals can collaborate with other healthcare entities securely. They can retrieve residents' data and send it to anywhere safely within seconds. 

Cloud enables you to provide exceptional customer service. 

If you store data on the cloud, it is painless to restore lost data. 

The cloud makes many of your time-consuming business processes automatic event-based processes. 
Network Engineering:
Under our network engineering service, we set up the network for the long-term care home. We also connect different hardware such as security cameras with the network. With it, every stakeholder of a long-term care home can access the Internet and connect to other branches of long-term care homes securely to share data or to communicate.
Routers

Desktop style server 

Phone system 

PA system 

Security camera 

Wiring 

Firewall with content filtering 

WiFi 

WiFi Guest Access 

Site-to-site VPN or Remote Access VPN
Security as a service:
Isolate crucial resident data and bring data-loss risk to bottleneck with an around-the-clock managed and monitored security service.
Confirm vulnerabilities in network

Healthcare software's configuration assessment

IPS (Intrusion Prevention System)

Endpoint security

Network admission control

Incident response
VoIP system
With VoIP, you can route the call to the room of any resident. 

You can even route the call to any staff member including healthcare professionals.

You can make calls to anyone anywhere in the world.
FoIP system
With FoIP, send any kind of documents and images as eFax over the Internet from mobile phones, tablets, and computers.

The FoIP system automatically saves the incoming faxes into the folder of the concerned person. This feature saves time! 
2. Round-the-clock IT support service for long-term care home
After deploying the IT infrastructure, you should monitor and maintain it. But it requires expertise and it is a time-consuming task too. Thus, we keep this on our shoulders. 
We form a dedicated support team.

A team accommodates many specialists.

A support team is just a call away.

The support team is well-aware of your business operations.

The support team is well-equipped with support tools.

The support team is authorized to fly to your location to provide on-premises support. 
3. Top telehealth solution in Canada for long-term care homes 
SyS Creations has developed a feature-packed telehealth solution for long-term care homes to decode and solve challenges clinicians are facing. Our telehealth solution named Writi bridges the gap between DOC, physicians, RN, RPN, and even pharmacies to ease the senior care operations.
Writi is a PHIPA and PIPEDA compliant telehealth solution. Meaning, it stores residents' data while obeying all government regulations. It is also equipped with many other remarkable security features such as encryption and two-way authentication to ensure the security of data.
75+ physicians and 700+ users have already been registered on Writi. It has also processed 10K+ prescriptions. Top Canada-based pharmacies and other healthcare organizations have been using Writi.
We have engineered the top telehealth app solution in Canada - Writi - by keeping requirements of long-term care home owners, residents, and clinicians working in LTC homes in mind. Thus, our solution has many game-changing features for all of them.
Features for Registered Practical Nurse and Registered Nurse:
Nurses can access the list of residents.

Nurses can also access every resident's medical history. 

Nurses can add resident details manually. 

Nurses can view all past and current prescriptions of each resident. 

Nurses can arrange virtual visits of residents with the physicians.
Features for physicians: 
Physicians can access the list of residents and their medical history. 

Physicians can write prescriptions. (The telehealth app automatically sends a prescription to the pharmacy.) 

Physicians can talk to patients remotely through built-in video call features. 

Physicians can make notes during the virtual visit. 
Features for DOC (Director of Care): 
From the single dashboard, the Director of Care can view all tasks or to-do performed by nurses and physicians.

The Director of Care can also contact nurses or physicians to get more information on ongoing or completed long-term care operations.
Impressive output you will experience with our combined managed IT services, IT support service, and telehealth app solution 
We don't build castles in the air. We make you familiar with the output even before implementation. Our managed IT services for long-term care homes, IT support service, and the top telehealth app solution in Canada actualize connected care and rapid care. Here is how:
1. Connected care 
Resident data can be stored at one place from where it is very easy to access it. 

All clinicians working in the LTC home can view the residents' data including their medical history. 

Clinicians can collaborate with other healthcare entities online. 

Staff members can easily route the call to the resident. 

Before writing a prescription, physicians can know the historic medical condition of the resident. 
2. Rapid care 
Thanks to the virtual visit feature, physicians can treat residents remotely with the same effectiveness. 

Through virtual visits, physicians can look after more residents in less time.

In case of emergency, nurses can easily schedule a quick call with the physician and provide rapid care to residents. 

Automatic processes such as e-delivery of prescriptions to pharmacies save a lot of time. (Automatic processes also eliminate the human errors.) 
In the nutshell: Schedule a one-on-one meeting with the expert
In this blog, we have put forth everything we have in terms of IT expertise and the software solution which help long-term care homes to save time and enrich senior care. Our managed IT services, IT support service, and the telehealth app solution are truly purposeful and game-changing.
We provide long-term care homes in Canada with our expertise and software solution individually or even combined.
To validate our credibility, you can read a dedicated blog where we have described how we have modernized a coronavirus testing and care unit deployed by the authorities in Canada.
If you have any questions or you just want to share your requirements, please feel free to schedule a one-on-one meeting with our expert.