Security Management Services: Why Should You Consider Managed Security Services in Ontario, Canada?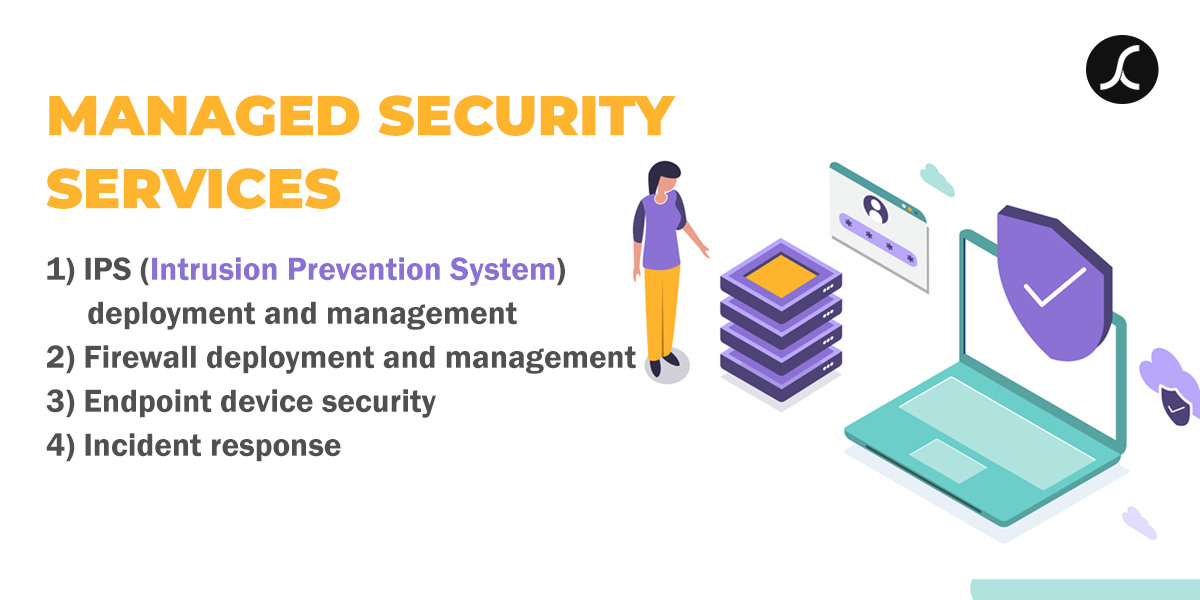 3 years ago
There is one group of people who successfully manage to live their life and satisfy their goals at the same pace even when the whole world is trying to adopt a new lifestyle and save businesses. They are notoriously known as hackers or cyber criminals!
According to a trusted online resource, cyber-attacks have increased by 150% during the COVID-19. Brno University Hospital in the Czech Republic, the nation's second-largest hospital, has recently witnessed a cyberattack, causing it to shut down its IT network.
Not only the healthcare sector but businesses serving in any sector are on the radar of the cybercriminals. This is because of the many loopholes in the company's network and employees or team members not following all cyber hygiene standards.
Sensing the urgency, in this blog, we will discuss cybersecurity challenges businesses are facing and how with our managed security services businesses can ensure the cybersecurity during the post-COVID-19 era.
Biggest cybersecurity blunders companies made during COVID-19 which will cost them high in the near future
Building 'poor' digital infrastructure to support remote work
As soon as the coronavirus cases started soaring in Canada, many companies implemented a work-from-home policy on immediate bases.
Companies that were lacking the digital infrastructure to support remote work has set it up in a hurry and surely kept many online doors open for hackers.
Other companies which already had sufficient digital infrastructure, poorly customized it to support newly developed needs.
Panicked users favoured cybercriminals, unknowingly
Cybercriminals leverage human mistakes to penetrate systemic defence. In a crisis situation, users tend to make more mistakes which help cybercriminals to get access to your network. The most common mistake panicked users made during COVID-19 was clicking on untrusted links.
Users developed riskier behaviour by spending more time online
Almost all employees working from home have been working more hours a day than ever. In other words, they remain online more time than ever. As an upshot, they have been developing a riskier online behaviour.
For instance, they can easily come across 'free' 'insecure' site, or pirated shows and cannot resist themselves from clicking on it!
Step up cyber hygiene with our managed security services in Ontario, Canada
Cybercrime is going to damage $6 trillion by 2021, and we work with the goal to not let you contribute a single cent here! Our managed security services cover network, endpoints, vulnerability management, monitoring and analysis.
We make your network hacker-proof in three steps.
Step 1:

Confirm vulnerabilities in your network

Step 2:

Shield the network with security solutions

Step 3:

Sustain network with round-the-clock monitoring
Let's briefly discuss each success-step of our managed security services in Ontario, Canada.
Step 1: Confirm vulnerabilities in your network
We carry out security assessments to find out vulnerabilities in your network. We also identify whether your system is compliant with PCI-DSS and HIPAA/PHIPA or not.
Our vulnerability assessment is a technical assessment designed to yield vulnerabilities in the network. It also aims to quantify and prioritize the vulnerabilities.
Once we find out the vulnerabilities in your network, we draft an impactful security strategy.
Step 2: Shield the network with security services
To shield the network, we deploy a very serviceable security mechanism that strengthens the security defence of the network.
The following is our best practice to shield the network.
IPS (Intrusion Prevention System) deployment:
An AI-enabled IPS defines rules based on the latest dataset and compares every incoming package over the network with those defined rules to predict the attack.
With the IPS system, we identify suspicious activities, log security events, and attempt to block the intruder.
Firewall deployment and management:
We do not only deploy customized and robust firewalls but follow the best deployment practices which result in flawless firewall deployment. After deployment, we keep an eagle eye on its performance and update it regularly.
Endpoint device security:
Network connection with mobile devices - laptops, tablets, mobile phones - creates easy attack paths. Thus, we safeguard every mobile device team members are using with an endpoint device security solution.
In the case of security attack alert, our Incident Response team quickly takes control over your IT infrastructure and employs many manual and automatic security tactics to stop security attacks on its track.
Step 3: Sustain network with round-the-clock monitoring
We form a dedicated team of network specialists who keep an eagle eye on network and deployed security solutions. This team is responsible for keeping security solutions up-to-date, maintaining security solutions proactively and monitoring its real-time performance.
The remarkable outcome of our security management services or managed security services in Ontario, Canada
Our security management services or managed security services in Ontario, Canada are result-oriented. Because of rapid deployment and ongoing remote or on-site support, you can derive benefits instantly.
Know connected networks and data usage of each network
Know user activity on each network as every single network activity is logged
Automatic email alerts of potential network and security issues
Know from where the cybercriminals are targeting your network
You can easily identify the most affected network.
Easily impose content filtering to restrict users or guests from opening inappropriate or harmful content
Let's connect to define and implement a security strategy
We are an Ontario-based top managed IT service provider, working closely with many healthcare organizations, real estate companies, and manufacturers.
We accommodate network experts, security specialists, hardware experts, app developers, and software engineers who all work together to address the security challenges of SMEs and even large enterprises.
We deploy premium security solutions from Cisco and even deploy affordable yet impactful security solutions from Palo Alto and Fortinet, according to your requirements and budget.
Let's schedule a virtual meeting to discuss your requirements and define a workable future-proof security strategy.