Why Should You Hire an IT Managed Services Provider in Ontario, Canada?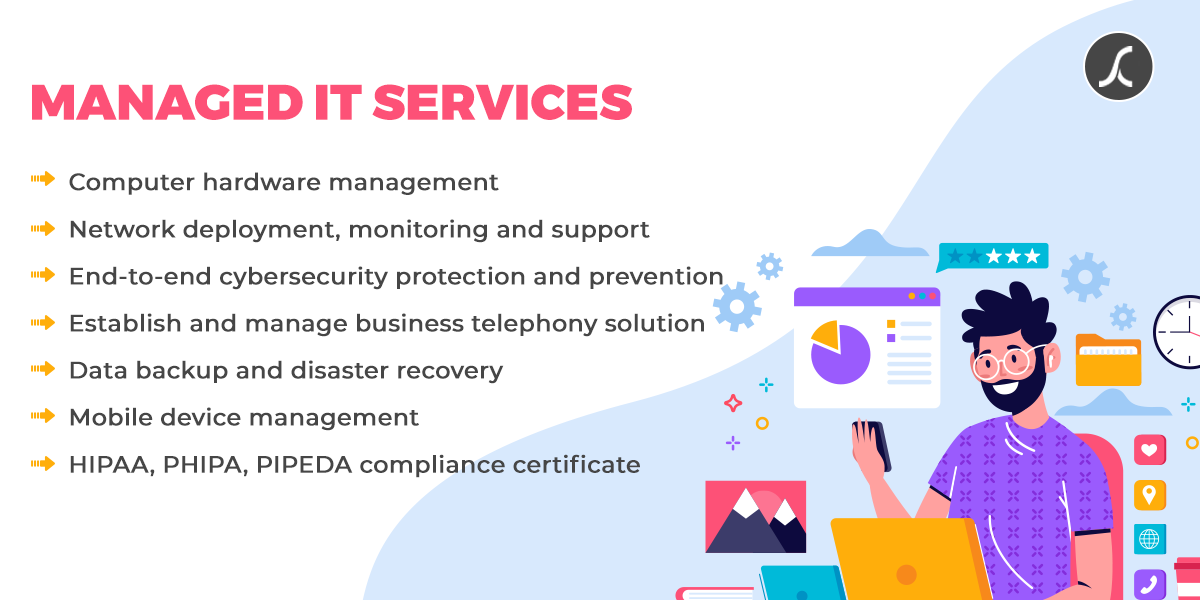 4 years ago
Managed IT services allow businesses to outsource their IT operations including IT monitoring, maintenance, and support to third-party organizations that masters handling these responsibilities.
Such a third-party organization is known as a managed service provider.
Hiring a managed service provider who provides managed IT services is the best choice for enterprises that do not want to hire, train and manage their own team for IT monitoring, maintenance, and support.
Outsourcing time-consuming and resource-sensitive IT operations to experts is common practice in all business sectors.
The global managed services market was valued at USD 174.98 billion in 2018 and North America has been one of the top contributors.
How does a managed service provider work to ease your IT pain?
All managed service providers follow different working and delivery methods.
However, the most workable and satisfying working and delivery method is a result-oriented method that we are following at SyS Creations.
In a result-oriented method, managed service providers do not only aim to manage the IT resources of clients but also aim to get groundbreaking results out of their efforts.
Results could be anything from operating costs reduction to achieving high productivity and ensuring customer delight.
To achieve the desired results, managed service providers follow the 5-step process.
Step 1:

Assess the client's requirements, study the client's existing IT infrastructure and define the goals

Step 2:

Allocate dedicated teams for the client (network team, security team, hardware team, software team)

Step3:

Connect client's IT infrastructure with their dashboard to keep an eye on each IT component

Step 4:

Act quickly on error or client queries. Provide on-site or remote support

Step 5:

Reassess the requirements and goals after a fixed interval
Which are the managed IT services a managed service provider provides?
A managed service provider always addresses the IT challenges or limitations of an enterprise.
Managed IT services address the following IT challenges:
Data security

Server, computer, and network deployment and management

Business calling and faxing deployment and maintenance

Mobile device management

Disaster recovery and data backup challenges
To address these many IT challenges, a managed service provider provides following managed IT services:
Computer hardware management
A managed service provider configures, installs, monitors and manages all computer hardware including printers and fax machines.
In case of error or damage, they coordinate with the computer hardware vendor and either repair or replace the failed computer hardware.
Network deployment, monitoring and support
A managed service provider deploys the network, monitors every networking component and solves the network error within minutes to avoid downtime.
The networking component includes routers, switches, servers, firewalls, controllers, access points.
End-to-end cybersecurity protection and prevention
A managed service provider employs security software and hardware solutions to restrict the entry of unauthorized users, track the attacks and prepare an extensive security strategy.
They also impose content filtering to prevent team members from opening irrelevant sites or harmful sites.
Establish and manage business telephony solution
A managed service provider establishes and manages the VoIP (Voice over IP) and FoIP (Fax over IP) to streamline business communication.
VoIP enables you to make, receive, and transfer calls to any of your business locations. Whereas, FoIP lets you send and receive faxes very securely over the Internet.
Case Study: How a pharmacy handled growing VOIP demand without growing budget?
Data backup and disaster recovery
A managed service provider restores the lost data. They take data backup and store it on another server or cloud strategically to restore the original after the data loss event.
In case of complete system failure, they employ policies, tools and procedures to enable recovery of the system - the disaster recovery.
By using a mobile device management solution or customized IT solution, a managed service provider manages, monitors and safeguards the mobile devices team members of an organization are using.
HIPAA, PHIPA, PIPEDA consulting (for healthcare providers)
A managed service provider helps healthcare organizations to address HIPAA, PHIPA, PIPEDA requirements to avoid a fine of up to $500,000!
Case Study: How we helped the development firm build HIPAA compliant healthcare app?
Which are the top benefits of managed IT services in Ontario, Canada?
Managed service providers free up a staff which results in

increased service delivery speed

.

Managed service providers safeguard the network which results in

stress-free secure collaboration and data storage

.

Managed service providers keep the system up-to-date which results in

high customer delight

.

Managed service providers solve software/hardware issues which result in

minimum downtime and high productivity

.

Managed service providers charge you a flat fee and do not utilize your resources which results in

IT operating costs saving

.
How to hire IT managed services provider in Ontario, Canada?
The enterprise (client) ties up with a managed service provider by signing a service-level agreement.
The service-level agreement is the commitment between a managed service provider and an enterprise. It includes the different aspects of the services - quality, availability and responsibilities.
We are Ontario-based top managed IT service provider.
We provide both on-site support and remote support with AR-based remote assistance technology.
We even leverage the IT technologies and deploy the customized IT solutions to get everything out of it.
We accommodate network experts, hardware experts, software engineers, app developers, and security experts who all work in a team to manage your IT infrastructure professionally.
To share your requirements and get a personalized quote, feel free to contact us.
One of our senior team members will contact you back and give you a free consultation.