Maple is All Set to Expand its Virtual Healthcare Service for Employees with the Acquisition of Wello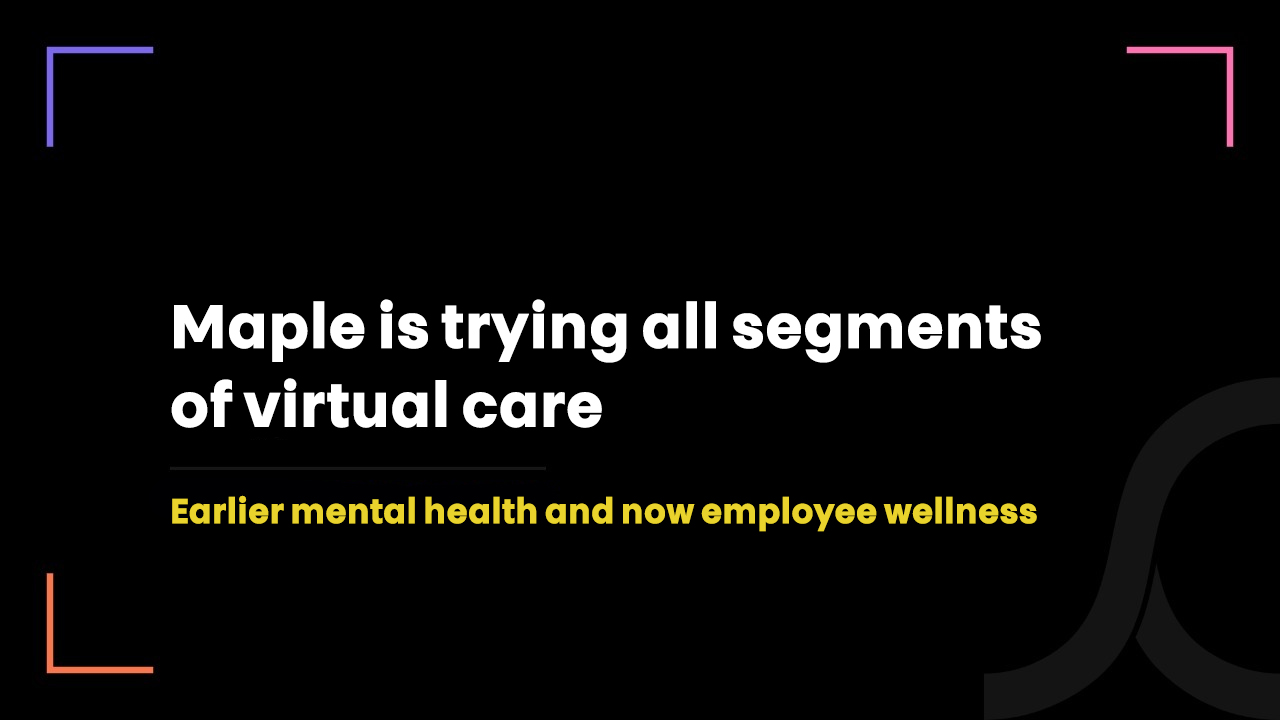 2 years ago
"A healthy organization starts with a healthy employee."
Workspace health and happiness are critical for the growth and development of organizations. Now, most organizations understand the fact that every investment in employee wellness gives the best returns to them– an increase in productivity, reduced absenteeism, and reduced healthcare cost. 
But the question is how can organizations safeguard their employees from health risks and promote health-focused culture?
With the advancement in digital healthcare services, organizations can easily provide employee wellness programs for remote and in-office employees to improve their work satisfaction and increase the organization's productivity.
Maple- An online doctor, virtual health, and prescription provider in Canada recognizes the growing demand for employee wellness among organizations. The company has recently acquired Wello - a Calgary-based company that provides virtual care for employees to expand its services in virtual wellness for employees. 
Well, the reason why I am sharing this with you is to make you understand how healthcare businesses are expanding in the market by turning employers' problems into opportunities, what is the market scope of employee wellness services,  its key features, and benefits. 
Let's first get a look into the services provided by Maple and Wello.
Role of Maple and Wello in the virtual care space
Maple is the Ontario-based virtual care provider company co-founded in 2015 by the CEO Brett Belchetz, a former emergency-room doctor.
The digital healthcare platform aims to deliver timely and convenient access to healthcare providers. It offers services for individual patients, employers, insurers, strategic planners, and care facilities.
Wello is a Calgary-based company with more than 40 years of healthcare experience. It offers virtual healthcare for employees that include services such as specialist referrals, filling/refilling prescriptions, and mental health guidance.
The company claims a customer base of over 350 companies. It supports the organization's high-risk population by enabling direct access to caring clinicians, who diagnose and treat, allowing for fast, efficient medical support for the employees in need.
Moreover, the team of clinicians at Wello provides 24/7 emergency support for the employees.
Maple's acquisition of Wello
Recently, Maple and Wello have joined forces to provide its clients and members access to enhanced technology and quality health services. It will result in a stronger combined company with an expanded suite of healthcare and mental health solutions.
Market scope and Dynamics: Virtual care services for employees
Virtual wellness services for employees also known as Corporates wellness services are gaining traction, especially after the pandemic.  
According to the Global forecast report the corporate wellness solution market is projected to reach USD 94.6 billion by 2026 from USD 61.2 billion in 2021, at a CAGR of 9.1%.
The growth is driven by the rising adoption of corporate wellness programs by employers, advancement in the digital healthcare solution, and a substantial rise in chronic lifestyle disease and mental health issues among individuals.
The corporate wellness market is segmented into North America, Europe, Asia Pacific, and the rest of the World. Among them, North America accounted for the largest share in corporate wellness.
The reason behind the large share of this region's wellness is due to the rising chronic disease, mental health issues, and increasing older population.
However, there are factors posing challenges to the implementation and success of such programs such as poor employee engagement with virtual wellness apps, low participation in wellness activities.
While offering virtual care is becoming the new norm, here are the top reasons why employers offer it as part of an employee benefits program.
Why it's critical to offer virtual healthcare for employees
The post-pandemic survey says nearly 63% of Canadian employers are investing in employee wellbeing. Top employers in the Canadian market are already embarrassing the new model of healthcare with virtual wellness services fostering a healthy and productive work environment.
But there are other reasons for employers that make it essential to offer virtual care for employees.
1. Support remote and in-office workforce
With work from home as a new normal, companies are now able to hire new talent from different regions. Virtual healthcare companies can support their remote workforce to stay healthy no matter where they are living.
On the other hand, in-office employees who are finding it difficult to schedule doctor appointments or have other issues with healthcare management can now get quick access to healthcare services with virtual wellness services.
2. Promote a healthy culture
An Employee can be a parent or a caregiver and for most of them, it's tough to make a work-life balance due to other responsibilities. A study shows that more than 5,00000 employees in Canada are not able to focus on their work due to some kind of stress and mental health-related issues.
Offering virtual access to mental health therapists, physicians, or counsellors helps employees to resolve their mental health issues with the personalize treatment
3. Improve employee satisfaction
An employee is more likely to stay with a company with great values, and healthcare is top among them. Also, satisfied employees recommend his company to his friends and acquaintances.
Providing access to virtual care services promotes a positive work culture, it boosts work-life balance and gives the employee a better experience with the company.
Well, as you know why it's vital to offer Virtual wellness services for employees, you might be curious about the key features of the virtual wellness app.
Key features of  virtual wellness app platform for employees
Having a clear idea about the key features of the virtual wellness application will help you to develop a similar application.  
Following are the key features of the virtual wellness app:
Employee portal
Medication management
On-demand doctor, physician support for diseases
Online mental health support
24/7 urgent support
Online care advice for infants, and elderly people (caregiver support)
Health awareness through coaching and education
Wellness program manager
Integration with other wellness apps and third-party APIs
Integration with mobile and wearable devices
Activity planner
Activity tracker
Report generator
Notification and reminders
Chatbot
Monetization strategy of virtual wellness apps for employees like Wello
The business model of Wello is highly consumer-centric. Organizations can easily integrate the service into the employer's health plans for employees. 
By offering services to employers, Wello is targeting a "premium user group" that ensures predictable cash flow and maximum revenue.
It ensures the reduction of healthcare spending on employees by helping organizations minimize employee absenteeism due to sickness.
Besides that Wello offers virtual wellness services to individuals and families.
Wello for family and individual
Wello offers different plans to the individual and family according to their requirements. Anyone can easily start using Wello just by creating a user account.
Find out how we can help you to build a virtual wellness app for employees
If you are planning to build a virtual wellness app to reduce employee burnout with the policies that protect employee work-life balance, we are here to help you at SyS Creations!
We are an Ontario-based healthcare-focused IT Company with 7+ years of experience in the healthcare sector. We have expertise in healthcare app development, consultation, analytics, cloud deployment, networking, and cybersecurity. 
Our team includes app developers, UI/UX designers, business analysts, compliance specialists, and QA engineers. 
You can count on us for any doubts in virtual wellness app development, planning, designing, or deployment. 
After all, in the hybrid workspace, keeping in-office and remote employees healthy and happy is vital for any organization to succeed.