Cost to Develop Your Own Medical Billing Software Like Dr. Bill for Doctors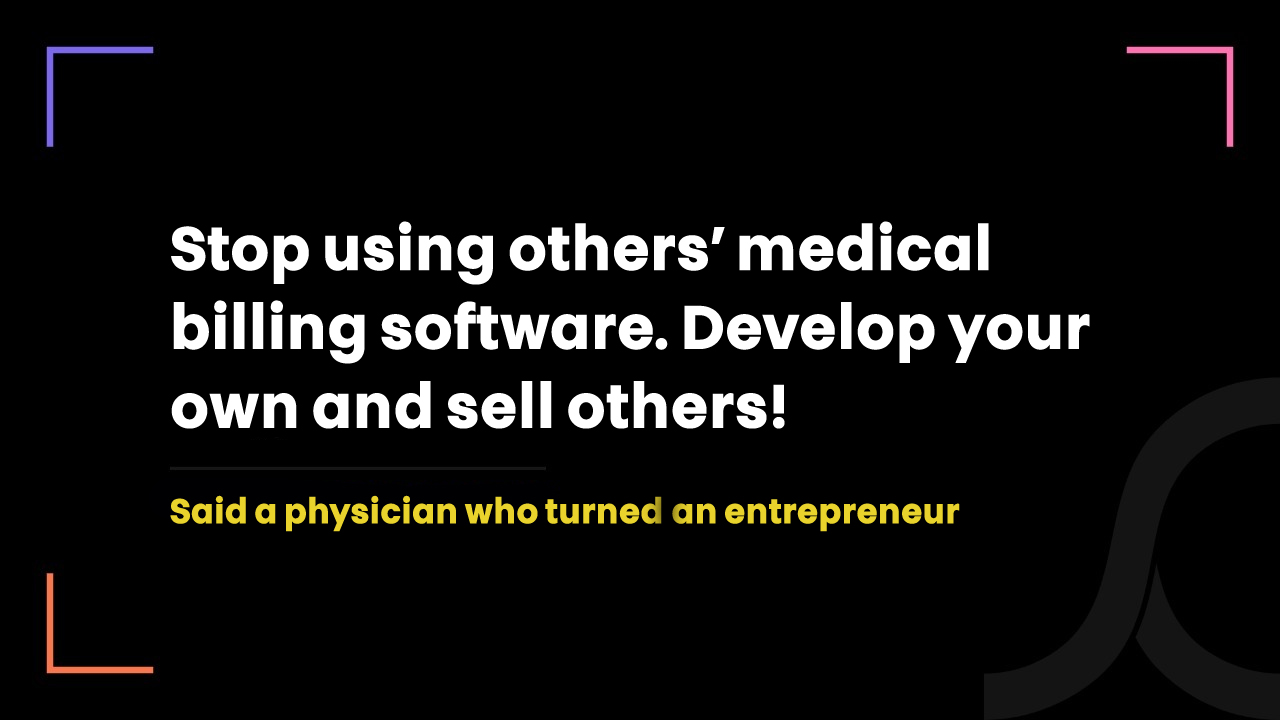 2 years ago
This blog is for all healthcare providers and healthcare providers who want to be entrepreneurs.
Canada has the universal healthcare system known as Medicare.
Under Medicare, patients are not supposed to pay the fee for the listed medical services they receive.
Instead, the provincial governments pay the medical fees on behalf of the patients to the healthcare providers.
So, to get reimbursement from the provincial governments, the healthcare providers should submit the claim to the healthcare ministry of a particular province.
And for easy submission and a higher claim success rate, they use 3rd party medical billing software.
And here is the problem. A very big financial problem!
Why should you develop your own medical billing software like Dr.Bill?
In Canada, there are many tech companies providing medical billing software.
But none of them are free.
They charge some percentage on every claim amount you receive from the government.
For instance, the most popular medical billing software in Canada is charging 1.95% on all paid claims.
So if you are a physician and $200,000 is your annual paid claim, you would end up paying the software $3900 every year.
This way, after 10 years of your practice, you would have paid them $39000.
But you know what … if you now invest $39000 or less than that, you can actually develop your own medical billing software like Dr.Bill.
And since you completely own it, it is free for you.
So, if you have an entrepreneur mindset - you can easily distinguish between spending $39000 and own nothing vs investing $39000 or less and own your own medical billing software which you can offer to others too under the SaaS model!
Here, $39000 is just an estimation and comparison with you using others' medical billing software.
If you are planning to develop medical billing software for your own practice, the final cost depends on the features you would like to add.
With purposeful features and not so fancy features, it costs very affordable!
How can you make $3 million annually with your own medical billing software?
I will talk straight and with on-ground data.
Provincial governments every day carry out transactions of millions of dollars to healthcare providers.
And each medical billing software is taking a huge bite out of it.
Because it acts as the only medium between provincial governments and healthcare providers when it comes to reimbursement.
Suppose, individual physicians of Ontario are submitting the average claim of $200,000 annually to the health ministry of the Ontario government.
And there are 15000 physicians in Ontario.
So, the overall claim in a year is the amount of $3000000000 - only in Ontario by just physicians.
Now think - if you develop your own medical billing software and make it available for physicians in Ontario at the fee of even 0.10% on a claim amount, you will end up making $3000000 or $3 million in a year.
And if you make your medical billing software available for all healthcare providers and in all provinces, your annual earning would easily surpass $10 million dollars!
So, by just charging 0.10% you will make millions of dollars!
A small number leads to a big number!
Now… you must be wondering,
Why would healthcare providers use your medical billing software?
Just because of the aggressive pricing!
All popular medical billing software here in Canada are charging at least 0.25% on every paid claim.
While you will be charging only 0.10%. That would be a great deal for healthcare providers!
And to be more aggressive and cover the entire market, you can even charge only 0.5%.
Since the market is huge with many healthcare providers, even with 0.5%, you will end up making millions of dollars!
(As per our previous calculation, with 0.5% only, it would be $1.5 million in just Ontario with just physicians.)
How can you build medical billing software if you don't have technical knowledge?
First of all, it is very clear that to build medical billing software along with an app like Dr. Bill, you would require the following resources and knowledge.
Resources required:
UI/UX designers
Software engineers
App developers
QA engineers
Business experts
Compliance consultants
Security experts
Knowledge required:
Working of the Canadian healthcare system
Physician payment models
Billing codes & diagnostic codes
MSP/OHIP/AHCIP and other health insurance plans
MCEDT integration
If you are not equipped with these resources and knowledge, we can help you.
We are an Ontario-based healthcare-focused IT company.
We work with healthcare providers and healthcare companies to develop game-changing software and apps using our technical and clinical knowledge.
We are armed with all the resources and knowledge required to develop billing software for healthcare.
We have been proactive in the Canadian healthcare system and helped a number of providers and healthcare companies.
You can check out our case studies to know our extraordinary skill set.
Case study 1: Developing telemedicine app
Case study 2: Helping long-term care homes during the pandemic
Case study 3: Making healthcare software compliant with privacy laws
Yes, we do have specific knowledge of a specific industry which is Canadian healthcare.
But because of our specific knowledge, we execute impossible healthcare projects very easily.
We do not leave anything for our clients as we can do everything for our clients!
Just say hi. We will respond to you within hours.
I promise we will have productive discussions and successful execution! (And we don't charge for knowledge sharing!)