How Medical Transcribing Software Helps Clinicians? The Medical Use Cases of Voice to Text Technology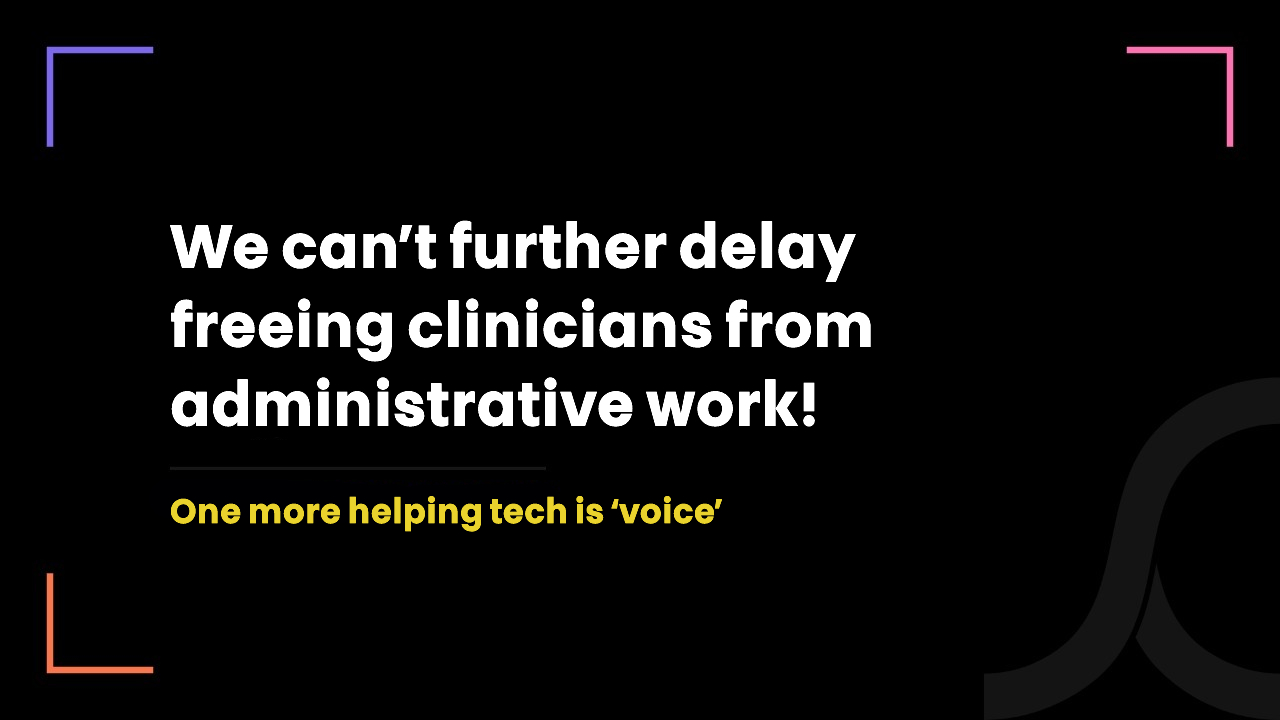 2 years ago
Medical transcription has a long history but the process became mainstream in the early 20th century when the standardization of "medical records" became critical for medical research. 
The growing demand for expert MT professionals and the advent of automated dictation technology accelerated the evolution of Medical Transcription.
Let's learn more about Medical Transcription, how it helps clinicians, its use case, and how it is evolving in the age of automated voice technology. 
What is medical transcription?
Maintaining accurate, clear, and contemporaneous medical documents such as patient records, treatment procedures is the prime responsibility of healthcare practitioners and providers. It is an indispensable part of a patient's medical history.
Medical transcriptionists don't have an active role in patient care but their work revolves around the healthcare delivery system, which involves transcribing voice-recorded medical reports, procedures, and notes that are dictated by physicians, nurses, and other healthcare practitioners to create medical records. 
Well-documented treatment and its outcome demonstrate the practitioner's performance, efficiency, and professional integrity. Therefore, Medical Transcription plays a crucial role in the efficient delivery of high-quality healthcare.
Evolution of medical transcription: A positive change for clinicians
From handwritten notes to audio recordings to speech recognition technology, this evolution in Medical Transcription has brought a positive change in the endless administrative task of clinicians.
Natural language processing, AI and automation have created multiple possibilities to make medical transcription more efficient. 
The new dictation technology-based software has embarrassed the traditional manual transcription by automating most of the transcription processes.
However, it doesn't mean that we do not need a professional transcriptionist. Now instead of tedious typists, we require expert MT professionals for proofreading, editing, and filtering extraneous words from the computer-generated healthcare report for better quality and accuracy. 
Medical transcribing software is now capable of capturing dictation that can be turned into an accurate medical report. Coding specialists or MT professionals must be trained to use this specialized software.
Advantages of medical transcribing softwares for clinicians
Medical transcribing software offers many advantages for medical practitioners and helps to improve the quality of healthcare services. A few of them are listed below:
Speech recognition capabilities
It enables accurate capturing of doctors' dictations. Doctors can submit their dictation via audio file or other means and make them available to the MT expert or coding specialist who can convert it into accurate medical records.
Medical terminology database
Medical terminologies and phrases are difficult to understand for MT professionals. Therefore software provides a database for medical terminology that contains medical terms definitions, meanings, references, synonyms, and abbreviations that can be used while transcribing.
Moreover, the medical spell check function in the transcription software helps to make the data capture process more accurate and saves time.
Once the document is created using speech recognition software, MT needs to go back and edit certain areas of the document for correctness. The software provides an easy interface with the editing tools that helps to reduce time spent on document editing.
Support for multiple media file formats
During the transcription process, the practitioner may share a variety of files( audio, video, or document) with the transcriptionist. Understanding this requirement, the software provides support for multiple audio, and video, and document file formats. 
Document sharing and distribution
After completing the documentation process, next comes in is distribution. The software simplifies the document distribution and sharing process.
Integration with electronic health records
Some medical transcription software that provides better integration with EHR  helps to ensure cohesive workflow and seamless collaboration among the different aspects of the healthcare management system.
Use cases of voice tech in medical transcription
Problem:
Canada's population is ageing with the average age increasing from 41.4 years on July 1, 2020, to 41.7 years on July 1, 2021. The need for care is increasing thus providers need more workforce. The fact hits hard for the administrative staff as it's already low. 
How will healthcare providers manage to decrease support for administration and at the same time offer medical care for more citizens?
Solution:
For the caregivers (doctors and nurses), it's critical to record the journey of patients from their appointment, following the treatment till discharge. These recorded documents work as an important asset for doctors to make quick decisions.
Capturing this data manually is time-consuming and may take hours to record accurately and also it is prone to human errors. Therefore, Medical transcribing software (with speech recognition techniques) is the best way to convert dictation into a document in seconds.
Voice to text-based Medical Transcription is idle for everyday administrative use cases to improve the efficiency and accuracy of healthcare records. The documents include:
Patient's Operative Reports 
Discharge Summaries
Patient's Medical History
Biomedical Science Drafts & Theses
Medical Research Interviews
Consultation & Administrative Letters
Increasing adoption of AI-powered Scribe
Medical transcription as a medical scribe: 
Al-powered scribes for medical transcription go beyond the traditional approach of medical dictation and summarization.
The software listens to the patient-physician conversation, parses medically relevant information,  and creates compliments notes that can be mapped back to the EHR.
Example:
Amazon Transcribe medical: Automatically converts Speech to text
The service can be used in,
Medical dictation application
Drug safety monitoring
Conversational voice scribes
The software provides the following benefits:
Provides accurate speech recognition service with is cost-effective and scalability
Easy to use 
Provides data security and privacy through HIPAA compliance
Improve your healthcare efficiency with automated medical transcription software
Emerging technologies in healthcare are slowly revolutionizing the medical sector. During this, we can't keep a close eye on voice recognition technologies.
With the integration of AI, their potential in providing efficient healthcare services and accurate recording or research data can not be underestimated.
If you have plans to build such software, our healthcare IT experts are here to help you.
We are a healthcare-focused IT Company with 7+ years of healthcare software development experience. Our team of experts includes software consultants, UI/UX designers, analysts, QA engineers, experienced developers, and compliance specialists.