Why Should You Build Your Own Nurse Scheduling App or Software? Let's Calculate ROI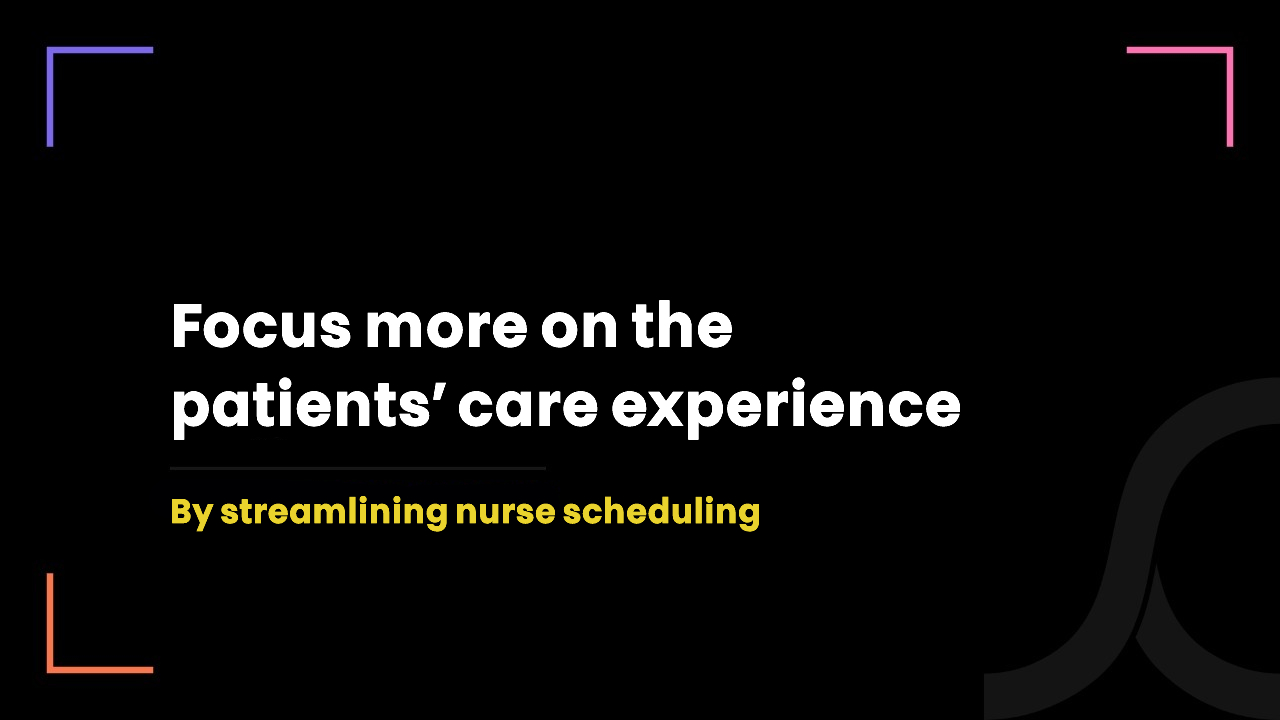 8 months ago
In healthcare, productive nurse scheduling is essential in order to meet care goals.
But, nurse shifting is a big headache for the healthcare organization.
A nurse scheduling app or software is the best option to address old-age scheduling approaches.
However, numerous healthcare entities are using third-party apps or software to streamline their nurse scheduling.
But they are unaware of how it can impact their overall ROI and operation efficiency in the long term.
And this blog is going to reveal all about it.
But why should you consider this blog?
We are healthcare IT professionals.
Means, we only work with the care providers.
We understand how poorly managed nurse scheduling can impact clinical outcomes and patient care experiences.
In fact, 45% of nurses leave their jobs due to insufficient scheduling.
So, we are here to change that with our extensive knowledge of the healthcare industry and 8+ years of hands-on healthcare IT experience.
Consequences of third-party nurse scheduling app or software
Undeniably, third-party apps offer a lot of specifications for nurse scheduling.
But it has more drawbacks on a long-term basis.
For instance,
You are not the complete owner of the app or software:
The pre-built or third-party software is developed by the individual organization which charges on a monthly or yearly basis for the app or software usage.
This means you have to use the nurse scheduling app as per their guidelines in order to sidestep the fines and other consequences.
Lack of customization options:
Pre-built software includes fewer customizable features as it is developed according to the common scheduling needs of the users.
Have to pay even for the small changes:
This is one of the major drawbacks of the third-party nurse scheduling app.
You need to pay extra money for using some of the important features or to upgrade the existing ones.
The third-party nurse scheduling software is not capable of performing together with the other healthcare IT systems.
Pre-built apps are frequently bombarded by malicious codes like ransomware and adware.
The reason is – they are not compliant with data privacy laws.
Thus, getting your own nurse scheduling app and software is more beneficial than using a third-party or pre-built solution.
Custom nurse scheduling app or software helps you avoid this entire mess
But how?
#1. Complete code ownership:
You are the complete owner of the nurse scheduling software.
It offers you complete control over the app so that you can effortlessly accomplish streamlined and efficient nurse scheduling management.
#2. Offers flexibility, scalability, and more transparency:
As it is constructed as per your scheduling and organizational needs, it delivers more flexibility in terms of usage, performance, and functionality.
#3. You can change or improve the specification at every time:
Unlike pre-built, custom development enables you to modify or optimize the features and functionality of the app without adding any costly barriers.
#4. No need to worry about data breaches:
Custom nurse scheduling app development offers comprehensive data protection compared to pre-built as it is fully compliant with data privacy laws.
#5. Seamless integration with other healthcare IT systems:
Custom development gives better compatibility with seamless integration as it is specifically designed to fulfill your scheduling needs.
Attention!!!!!!!!!
Numerous healthcare organizations have a misconception that pre-built nurse scheduling software gives more ROI than custom development.
But the reality is vastly different.
On a crucial note, ROI is not just about the money, it contains some other important factors as well.
So, let's explore it in more detail.
Calculation of the ROI in custom nurse scheduling app and software development
Let's start with the ROI on development.
The journey from "What to Wow" for a custom app or software development.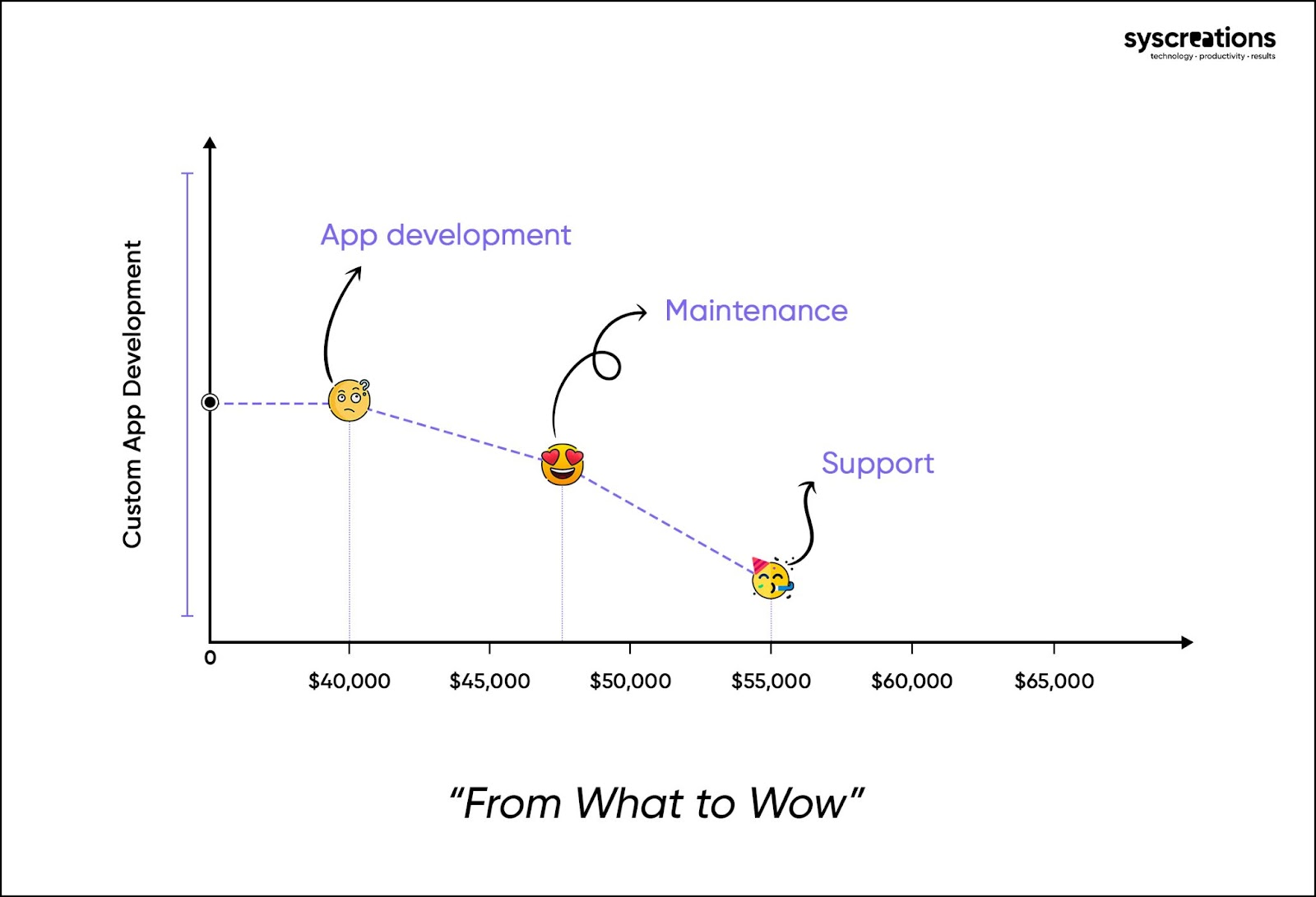 The journey from "Wow to What" for a pre-built app.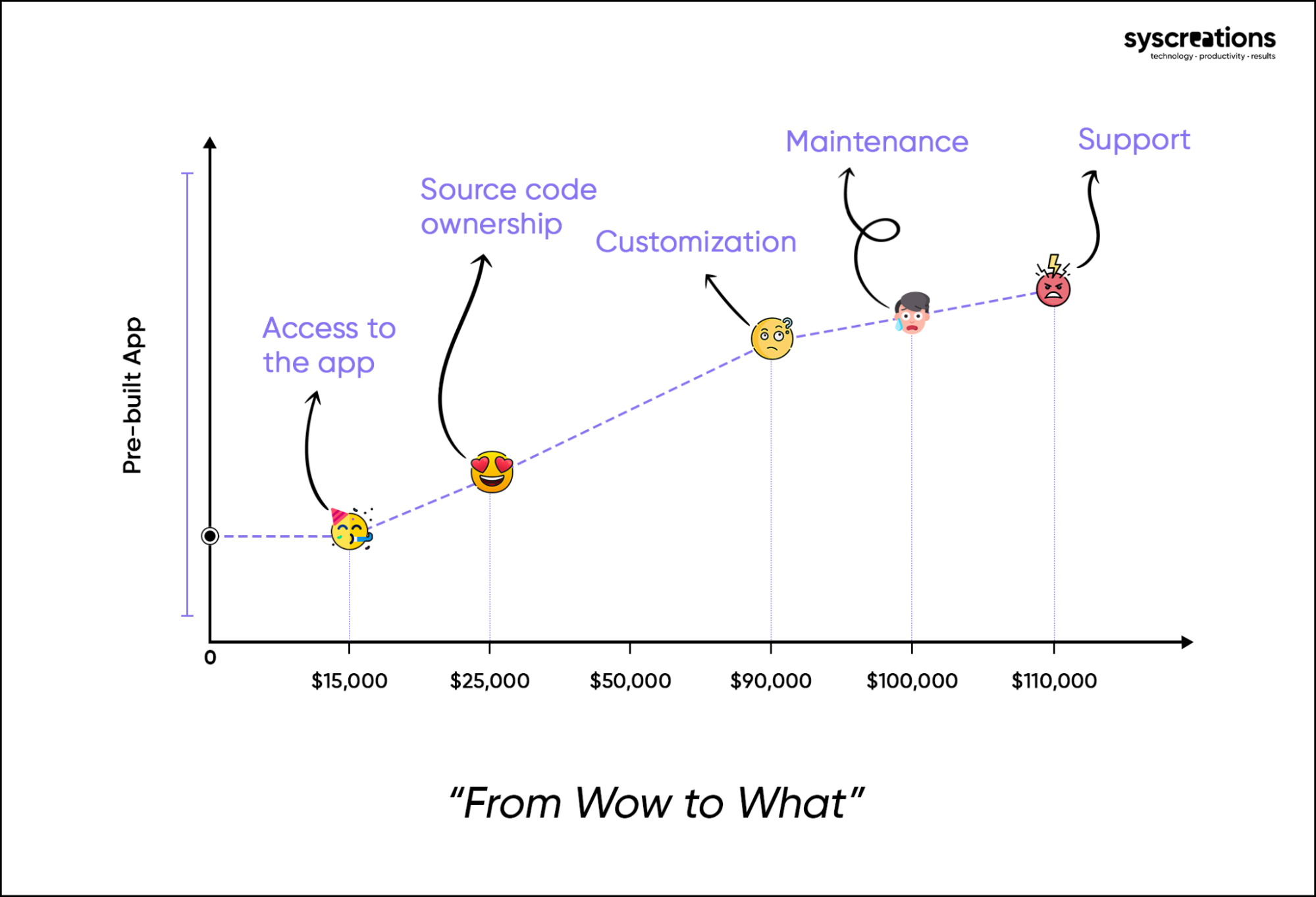 You can clearly see that a pre-built solution provides you with early-stage benefits but throws your investment capital out of pocket on a long-term basis.
Let's talk about some other ROI factors.
It helps the healthcare organization to enhance their operational efficiency with ease as of the high scalability and flexibility of the nurse scheduling solutions.
As a result, it facilitates the productivity of the ecosystem along with enriching the patient care experience.
Enhance the engagement of the nursing staff:
Poor scheduling results in burnout of the nurse which leads them to leave the job.
A nurse scheduling app or software enables healthcare entities to facilitate the allocation of the nursing staff hassle-free.
7 factors to consider when building a nurse scheduling app or software
1. Flexibility:
Nurses have varying work preferences and schedules, ensuring that your scheduling software or app is flexible to accommodate their needs.
2. Availability & Absence:
The nurse scheduling software or app should track the availability & absence of nurses. It should include vacations, sick days, and other leaves.
3. Communication:
The scheduling software or app allows easy communication between nurses, supervisors, and management for ensuring the accuracy of the schedules and keeping it updated.
4. Compliance:
Healthcare facilities are ought to comply with the working hours' regulations for the nurses. These regulations state the number of hours a nurse can work in a week, consecutive shifts number, and some other factors. You must ensure that your scheduling software or app is compliant with those.
5. Integration:
The scheduling software or app should have the feature of integrating with other systems like EMRs and payroll software.
6. Security:
The scheduling software or app should be secure enough to protect sensitive employee information and patient data.
7. Scalability:
The scheduling software or app should be able to accommodate the changing needs of the healthcare facility as it continues to evolve.
Features of the custom nurse scheduling app or software
Streamline the nurse staff scheduling with these outcome-driven features.
Rotate schedule automatically
Notifications to the nursing staff
Manage communication between the nurses and the administrator
Track skills and performance
We strengthen the care actions of the healthcare industry with our state-of-the-art health tech solutions
We are an Ontario-based healthcare IT company.
We never dream about success but work for it.
We don't work for the banknotes but perform for quality and class.
We aim to make better lives for the patients and their care providers.
We aid healthcare startups, enterprises, organizations, and individuals to bridge the gap between care experience to quality care experience.
In case you are wondering, the following is our result-driven approach to healthcare IT solutions.