How to Start Online Cognitive Behavioral Therapy in Canada with Your Own App?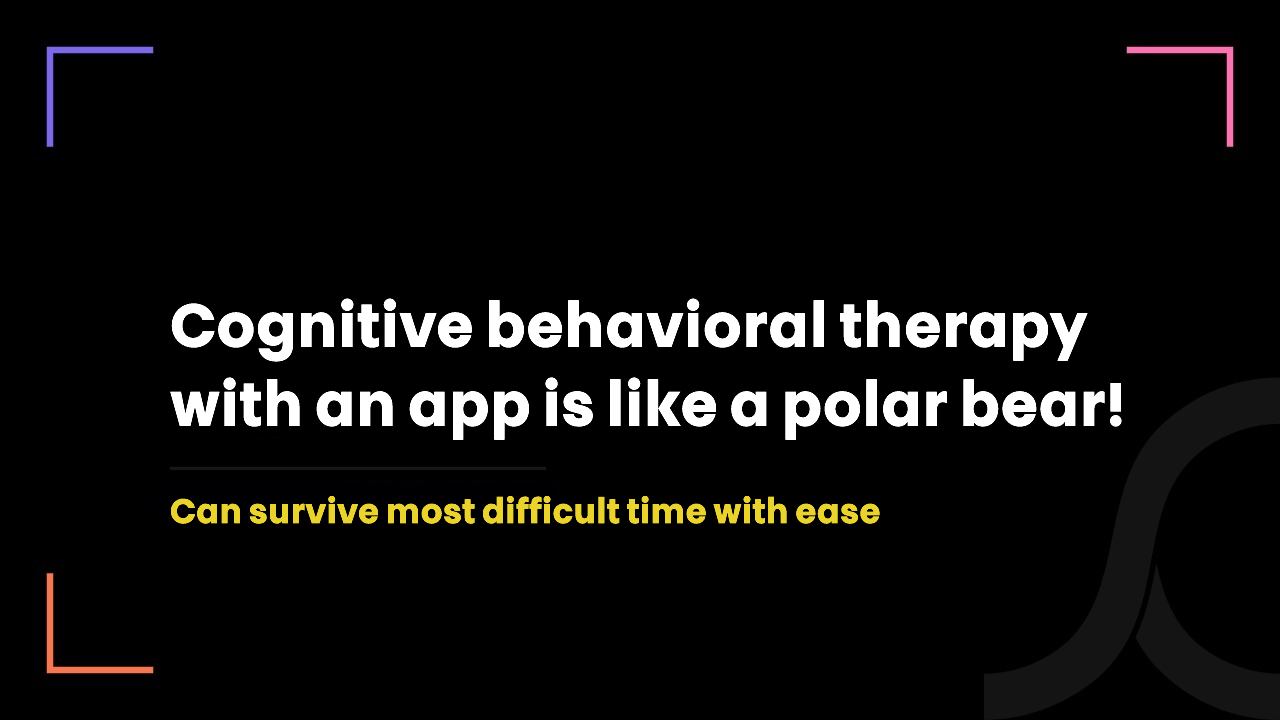 2 years ago
Online cognitive behavioral therapy is proven to be an effective approach to managing and treating a number of mental health challenges. Due to its clinical and economical benefits, the demand for CBT services is growing across the globe.
Let's take a quick look at what research says about the stats of mental illness in Canada:
"In a year, 1 in 5 Canadian experiences a mental health issue or addiction problem."- Toronto: RiskAnalytica
"When they reach the age of 40 years, 1 in 2 have or had mental illness" - Minister of Public Works and Government Services Canada.
A growing body of research supports the efficacy of Online CBT programs to combat depression, anxiety, and other psychiatric conditions.
In this article, we will discuss online CBT, its techniques, where its is used,  key features, and how you can start online cognitive behavioral therapy services in Canada with your own app.
What is online cognitive behavioral therapy?
Online CBT offers most of the advantages of in-person CBT with the added advantage of flexibility, accessibility, and security. It is the integration of information technology and psychological treatment that can be delivered under the supervision of a psychologist, therapist, or under self-guidance. 
Online CBT platforms that provide access to evidence-based psychological treatment are more efficient, safe, cost-effective, and consistent.
How do Online CBT services work?
Online CBT works differently from the traditional CBT approaches only in the terms of technology used such as internet-based, smartphone app delivered, self-guidance, and awareness programs (group educations) but the core principle focuses on the same cycle of thoughts, behavior, and emotions.
Here is a closer look at how thoughts and emotions can change your behavior:
Negative thoughts contribute to emotional stress and mental issues
Such thoughts and emotional distress often stimulate harmful or self-destructive behavior
Continuously engaging yourself in the self distinctive activities or behavior can result in the pattern that repeats itself.
Getting rid of such negative thoughts and learning techniques to change these patterns can help you to take care of your mental health and avoid future distress.
So, how can anyone break this cycle and work on improving its overall well-being?
CBT techniques
Online CBT can be delivered in conjunction with the different techniques. Your therapist will help you to find which technique can solve your problem. 
The goal of these techniques is to replace your irrelevant, destructive, and unuseful thoughts with relevant, encouraging, and realistic ones.
Here are some of the most popular CBT techniques:
Cognitive restructuring and reframing
Guided Discovery
Exposure therapy
Stress inoculation
Relaxing training
Mindful cognitive therapy
Activity scheduling and behavioral activation
Role-Playing
Successive approximation.
How does it help?
CBT help with a range of mental health conditions that include:
Depression, phobia, and anxiety
Behavioral disorders such as overeating, substance addictions
Post-traumatic stress disorder
Schizophrenia
Obsessive-compulsive disorder
Bipolar disorder
However, it is not mandatory to have any mental disorder to get the advantage of online CBT. It also helps to deal with the general stressful situations in life such as the loss of a loved one, suffering from chronic disease or cancer, insomnia, relationship issues, and other related similar issues. 
How can you provide evidence-based online CBT services through the mobile app?
Designing and developing an evidence-based online CBT program involves lots of research and planning, but it becomes easier if you precisely decide on the demographic area and the user persona. 
If you want to build a CBT application for the Canadian people, it's important to determine their needs and interests. Furter, get a clear idea about whether you are creating an entire CBT solution or want to build a mental health awareness application platform with counseling support as a part of the therapeutic process.
Essential factors to consider to maximize the clinical outcome in online CBT application:
Online CBT solution doesn't mean replacing a clinical caregiver. In fact, it empowers providers to reach and monitor maximum patients and deliver CBT therapy through effective tools.
To maximize the clinical outcome of your application, consider implementing the following things in your app:
Build Patient-provider relationships through maximum interactions
Set activities/ plans for tackling mental illness and track patient adherence
Set rewards for maximum adherence
Key features of Online CBT application (entire solution to deliver CBT therapies):
If you are building the entire CBT solution you need to add the following features.
User/ patient segmentation through profiling
Client/ provider segmentation and profiling
Self-assessment to determine your current health state
Gateway to find and choose your therapist
Client patient portal for interaction
Customizable therapy/ plan designer for therapist, counselor, or psychologist
Personalize storage for the patients and providers
Integration of real-time result tracking, analysis tools, and report generator with sharing option
HIPAA complicate storage for clients for patients confidentiality
Notification prompts and updates
Online content for patient awareness
Gamification of activities and rewards on maximum adherence to therapy
Emergency connect to therapist option
Chat, video calling, and session recording
These features may vary depending on the user persona you are targeting.
Highly ranked cognitive behavioral therapy apps
The app is tailored to deliver an experience like traditional therapy.
Rating: 3.6 K
Stars: 4.6
Features:
The largest network of licensed therapists and personalizes counselor matching features.
Secure one to one communication with your therapist
Flexible Live Session Scheduler for interaction with the therapist
Access to educational material and webinars to improve mental health awareness
It provides on-demand help for stress anxiety and depression.
Rating: 18.3K
Stars: 4.8
Features:
Free access to health plans
Provides guidance on self-care
Sanvello community support: Participate in the discussion board and chat group in the community.
Provides traditional Therapy online which matches your licensed clinician.
Online coaching gives you proper direction and motivation in your mental health journey.
Support apple health
It is a CBT app for anxiety relief.
Rating: 252
Stars: 4.3
Features:
CBT based tools
Assures quick relief
Community support
Thought Journal
Coping Cards
Get local Canadian tech, business and compliance help to take your therapy practice online with your branded app
Though Online CBT therapy is around for a while it found that only a few apps are finding their way to become successful. 
Hopefully, this article gives you a clear idea about online CBT, techniques it uses in mental health treatment, the way it works, and key features you need to include in the app to make it effective.
If you are fascinated by the idea of a CBT app, we are well-equipped with experts, expertise and experience to help you achieve your first app. 
Our team includes healthcare app developers, UI/UX designers, business analysts, compliance specialists and QA engineers who have on-hand experience building healthcare solutions. 
If you are looking for that only reason, we would like to tell you, we understand healthcare. It is in our DNA. Because we have only been dealing with healthcare projects for more than 7 years!