How to Integrate Oscar EMR with Any Healthcare App, Software, System?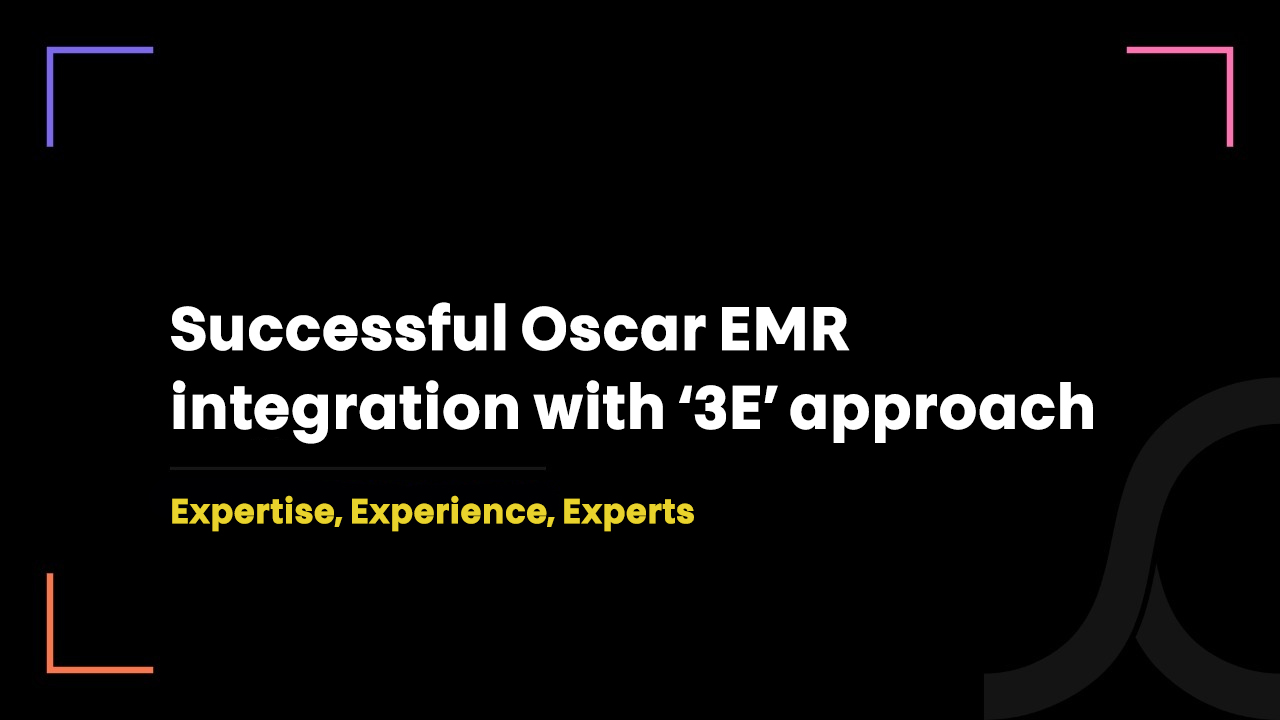 2 years ago
Well, let us start with the reality you must know.
Oscar EMR integration with any healthcare digital solution is not easy as running a candy store.  
It requires years of experience, a unique skill set and dedicated experts. 
And that's what we are. 
We are an Ontario-based healthcare-focused IT company.
We have 3E - Experience, Expertise and Experts -  needed to integrate any EMR successfully. 
We ensure 100% quality, no privacy issues and seamless interconnectivity between your digital solution and Oscar EMR. 
Let us now share our working methodology or Oscar integration process.
How do we carry out Oscar EMR integration successfully and professionally?
We are so confident about our expertise that we feel proud to share our working methodology which is one of the reasons behind successful EMR integration.
Step #1: We understand your exact requirements through a series of virtual calls. 
Step #2: We understand the technical architecture or components of your healthcare product with which you want to integrate Oscar EMR. 
Step #3: To solve all of your doubts, we provide you with an EMR technical consultation. 
Step #4: We allocate a dedicated technical team for your project execution. 
Step #5: The technical team integrates Oscar while addressing all compliance requirements. 
Step #6: The compliance and security team makes sure there are no privacy issues. 
Step #7: The QA team makes sure there are no interoperability issues. 
Step #8: When everything is checked and validated, we give you the working demo of how your healthcare solution is now able to fetch all data from Oscar EMR in real-time. 
Step #9: We form a support team that provides you post-implementation support. 
With which healthcare solutions we can integrate Oscar EMR?
We can link Oscar and any other EMR with all types of healthcare solutions such as healthcare mobile app, web app, software, a healthcare system or a platform. 
More specifically, we can integrate it with telemedicine solution, patient engagement solution, clinic management solution, chronic care management solution, billing solution, healthcare tracking solution, healthcare communication solution etc. 
Why and in which cases you should integrate Oscar EMR with your healthcare solution?
Well, EMR software is the most significant part of the Canadian healthcare system.
Deployed at clinics or hospitals or healthcare entities, it stores all personal, demographic and clinical data of patients - who belong to that specific healthcare entity only.
Meaning, every clinic has an EMR which saves data of its patients.
Without this data, any healthcare provider cannot provide quality care to patients.
Thus, when you build a healthcare solution such as telemedicine or a patient engagement solution, you have to integrate EMR with it to let healthcare providers access the patient data from your solution itself. 
Without such integration, the healthcare providers must rely on Oscar EMR to get patients' data - even when they are using your solution in their daily practice. 
This does not sound convenient for them - to switch between 2 different healthcare solutions!
Thus, in addition to easy access to data, convenience is the other reason for the integration of EMR with your healthcare solution. 
What can you achieve through Oscar integration with your healthcare solution?
Rather than telling you, let us show you!
Example 1: 
The following is the schedule screen of Oscar EMR for healthcare providers.
From here, they can manage their day and create appointments for their patients. 
So, if you link Oscar EMR with your patient engagement solution (for example), healthcare providers, who are your users, can get all data of their schedules and appointments - created on Oscar EMR - on your patient engagement solution in real-time & automatically.
Example 2: 
This is Oscar EMR's screen for patient records which contain contact details, demographic details, health insurance details, etc. 
If you link Oscar EMR with your healthcare solution, your users can access all of these patients' information stored on Oscar EMR directly from your healthcare solution.
And if any new data is added on Oscar, it gets synced with your solution automatically.
Example 3: 
The following screen is called the encounter screen in Oscar EMR.
The encounter screen shows all clinical records of patients.
Additionally, the healthcare providers write medical notes on this screen and also manage several forms.
So, if you integrate Oscar EMR with your healthcare solution, all records there on the encounter screen of Oscar EMR can be viewed and managed through your healthcare solution itself.
Why should you always hire experts to carry out Oscar EMR integration successfully?
It is because of two challenges associated with any EMR/EHR integration with any other healthcare digital platform.
These challenges are,
Interoperability is nothing but the ability of Oscar EMR and your healthcare solution to work together.
Since Oscar EMR and your healthcare solution aren't made for each other, it becomes a severe challenge to bring them together in such a way that they share data with each other securely, accurately and efficiently. 
Thus, to achieve interoperability, the technical team must integrate EMR with your healthcare solution according to the integration standards.
And integration standards are first difficult to understand and then more difficult to execute for anyone lacking expertise and experience! 
Compliance or data privacy 
When we integrate EMR with a healthcare solution, privacy vulnerabilities are most likely to appear.
If a technical team does not find and solve these privacy vulnerabilities, your healthcare solution becomes non-compliant with data privacy laws. 
Not only this, but it puts crucial patient data at risk.
And this is not what privacy commissioners would appreciate!
Thus, the technical team must have security experts and compliance specialists to make sure there is no privacy issue and the healthcare solution is still compliant with all data privacy laws. 
How much does Oscar integration cost?
We understand you must be eager to know the integration cost. But let us be totally honest with you. 
Without knowing your exact requirements, the type of healthcare solution with which you want to integrate Oscar and the architecture or workflows of your healthcare solution, we cannot estimate the cost. 
(By giving you the wrong number, we don't want to mislead you or give you a false promise.)
So, the win-win situation for both of us is your simple message telling your requirements. 
And don't worry. Privacy is in our DNA. We never share any of our clients' product information. We will in fact sign NDA with you.
Because we are Canadians. We only work with authenticity, honesty and quality!