Integrate Your Mobile/Web-based Healthcare Solution with Oscar Pro EMR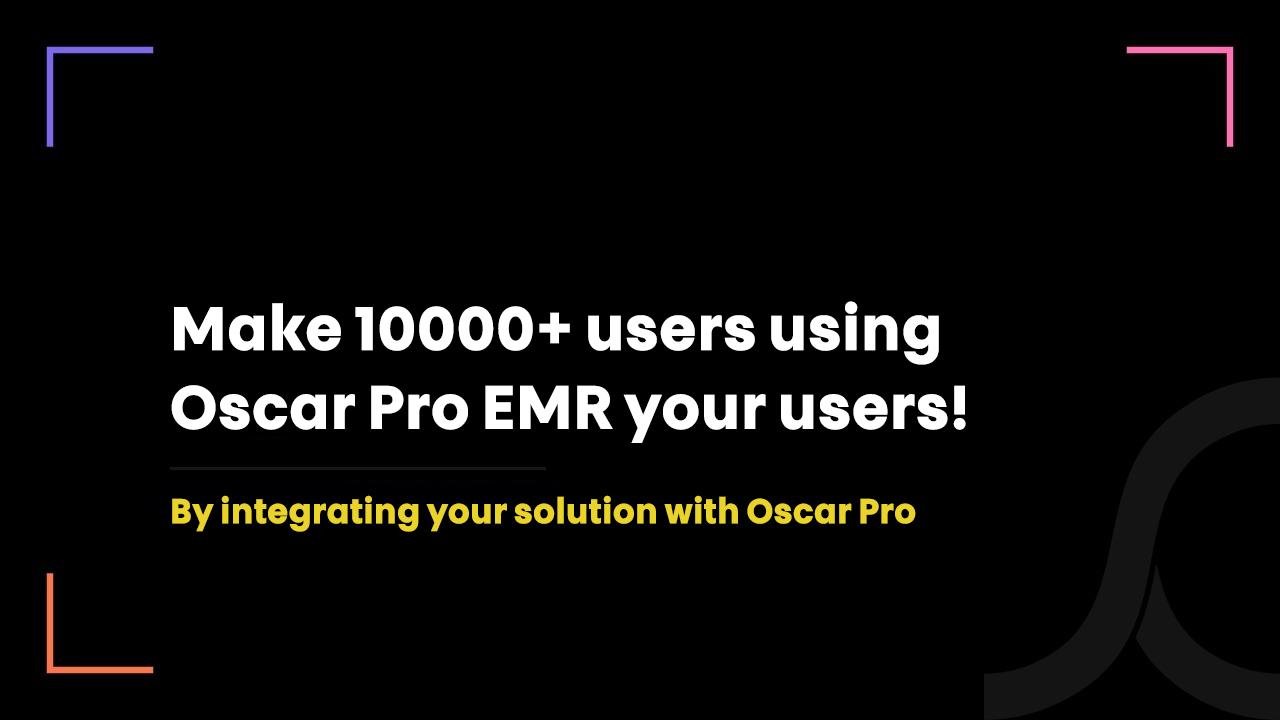 2 years ago
Don't skip the intro. Especially if you own any healthcare app or solution!
We are an Ontario-based healthcare-focused technology company.
We build several types of apps and software for the healthcare industry. But our specialization is not just limited to development. 
We also help healthcare app and software owners to dominate the market with their products. 
One most effective way to cover a large percentage of the market in a single shot is the integration of your healthcare app or solution with Oscar Pro EMR. 
Yes, Oscar Pro lets you integrate your healthcare solution with its EMR and allows its users to use integrated healthcare solutions!
Imagine, what if you integrate your app with Oscar Pro?
Many thousands of users of Oscar Pro can be your users! 
So, let's understand this in detail.
What is your healthcare solution integration with Oscar Pro EMR?
First and foremost, you need to understand this difference!
In the case of

Oscar EMR integration with your solution

, your solution fetches data from Oscar EMR and shows it to the users of your solution. 
But in the case of

your healthcare solution integration with Oscar Pro EMR

, users already using Oscar Pro EMR can use your solution as the integrated solution with their Oscar EMR to further enhance their patient care practice. 
Let us clear your all doubts.
There are more than 10000 clinicians in Canada who are using Oscar Professional McMaster Edition or Oscar Pro.
These clinicians require more than just an EMR solution to run the clinic efficiently. 
For instance, they require a telemedicine solution, an online booking system, a patient engagement solution etc.
To let clinicians get access to all these solutions which get synced with their Oscar Pro EMR, the team of Oscar Pro came up with the idea of an app marketplace. 
Clinicians can simply add any integrated healthcare app or solution into their Oscar Pro and start using it. 
So, if you own a healthcare solution that you think useful to clinicians, you can integrate it with Oscar Pro and enable clinicians or users of Oscar Pro to use it.
This way, your app or solution receives a good number of customers through the Oscar Pro platform and you make money. 
How to integrate your healthcare solution with Oscar Pro?
As discussed, you have to integrate your app or solution with Oscar Pro in order to let users of Oscar Pro use your app or solution as an integrated solution.
The integration is the technical process and it requires dedicated healthcare app developers with the knowledge of interoperability, integration standards and API. 
But before we commence the technical process of integration, your app or solution is peer-reviewed by the team of Oscar Pro.
You may find this challenging. But we will help you in each step and execute the Oscar Pro integration project successfully. 
The following is our working methodology.
Step #1: We understand your exact requirements through a series of virtual calls.
Step #2: We understand the technical architecture or components of your healthcare product that you want to integrate with Oscar Pro EMR.
Step #3: To solve all of your doubts, we provide you with an EMR integration technical consultation.
Step #4: We allocate a dedicated technical team for your project execution.
Step #5: The technical team integrates your solution while addressing all compliance requirements.
Step #6: The compliance and security team makes sure there are no privacy issues.
Step #7: The QA team makes sure there are no interoperability issues.
Step #8: We form a support team that provides you post-implementation support. 
Which type of healthcare solutions can you integrate with Oscar Pro EMR?
You can integrate any type of healthcare mobile and web-based solution which streamlines clinical practice.
But more specifically, you can integrate your healthcare solution if it falls under the below categories.
Online appointment scheduling and booking 

Virtual care or telemedicine 

Patient reminders and messaging 

Patient intake form 

Personal medical record

Dashboard 

Clinic reporting 

Labs 

Clinical workflows/administration 

Provincial service 
Why should you integrate your healthcare solution with Oscar Pro?
According to our senior healthcare business expert, Oscar Pro letting 3rd party healthcare solution integration is the rarest and outstanding business opportunity for healthcare solution owners. 
Oscar Pro is Canada's 3rd ranked most used and popular EMR platform among healthcare providers.
More than 2000 clinics and 10000 plus clinicians are using Oscar Pro for their daily patient care practice. 
The team of Oscar Pro brings regular updates to address the needs of the clinicians.
Looking at its current market value, it will soon lead the chart of Canada's top EMR.
By integrating your healthcare solution with such a popular EMR, you can expand your customer base dramatically. 
Because, as we discussed, all users of Oscar Pro can now be your users with this single integration!
And this does not even require any significant investment. 
Moreover, the users you will receive through Oscar Pro will be the genius ones.
Most importantly, you don't have to run any marketing campaigns. Instead, the fact that your solution is integrated with Oscar Pro can be your marketing asset! 
These healthcare solutions have already been integrated with Oscar Pro 
1. YourCare 
YourCare is the web portal that lets patients access their health information through Apple Health.
2. VirtualClinic+ 
This is a web-based telemedicine solution offering physicians and clinics the easiest way to add telemedicine capabilities in their medical practice.
Since VirtualClinic+ is integrated with Oscar Pro, physicians can manage and get access to their calendars, notes and more from the VirtualClinic+ itself.
3. Phelix 
Phelix is the AI-enabled clinical assistant tool that automates the repetitive tasks of the clinicians and saves 75% of their time.
It automates clinical workflows around fax and inbox intake, booking modules, and patient engagement.
4. Pillway 
Pillway is an online pharmacy. Integrated with Oscar Pro, it allows prescribers to easily write the ePrescription and share it with Pillway pharmacy. And then, it gets delivered to the doorstep of patients. Such a smooth process!
5. Cliniconex 
Cliniconex streamlines patient reminders and messaging workflows.
When an appointment is scheduled on Oscar Pro EMR, Cliniconex sends appropriate messages and reminders to patients.
It also uses appointment data to estimate the wait time.
Do you want to see your healthcare solution in this list of Oscar Pro integrated apps?
If yes, we would love to have a discussion with you regarding integrating your solution with Oscar Pro.
We are specialized healthcare IT professionals and the Canadian healthcare industry is where we have been making use of our brain for the past 7 years. 
We have 3E you must be looking for.
Experience, Expertise and Experts!