Get OTN Verification for Your Virtual Care Solution Through Ontario's Smartest Telemedicine Tech & Compliance Team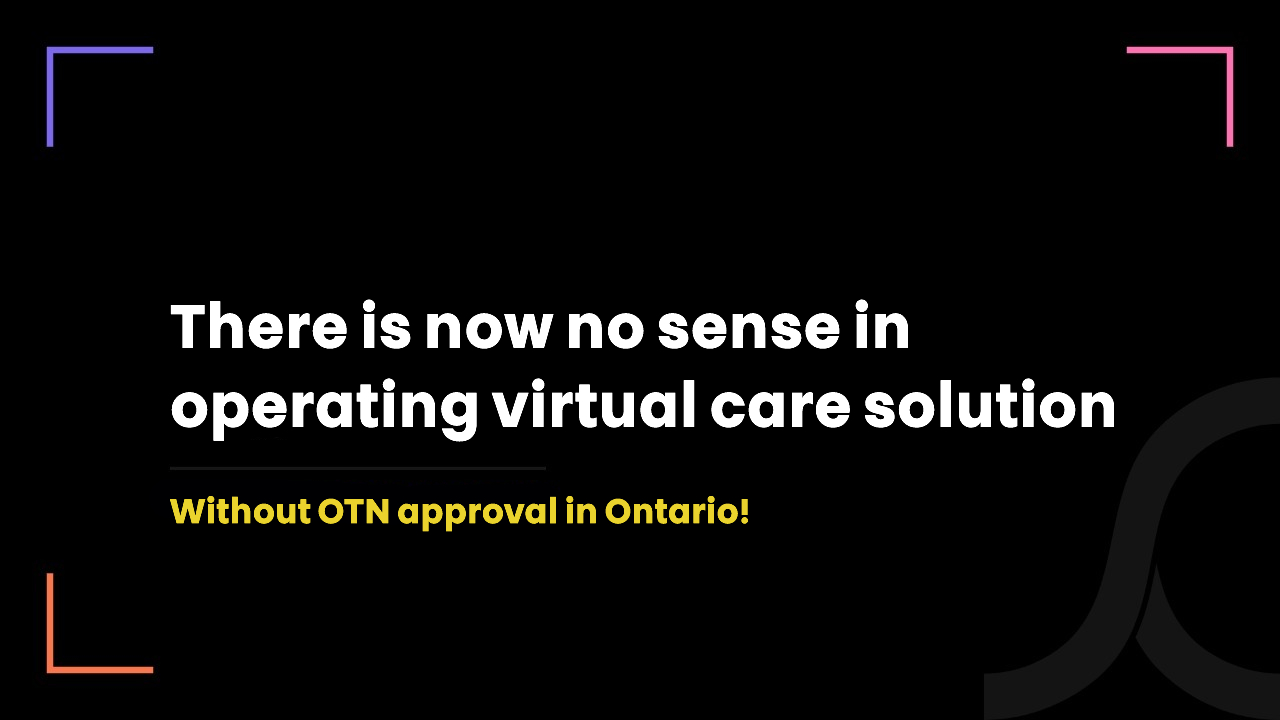 2 years ago
#ImportantLearning
Dear virtual care solution owners, things will not remain the same
The Ontario government will soon make it mandatory for virtual care solutions to be verified by OTN (Ontario Telemedicine Network).
Or, by the time you read this, the government might have already done so!
So, if you don't get OTN verification for your virtual care solutions, video visits performed via your platform will not be eligible for payment under provincial insurance or OHIP.
Some geographical conditions will also come into effect under which virtual care services will only be insured if both patients and providers are within the boundaries of Ontario.
How can we as Ontario's best telemedicine tech team make your virtual care solution OTN verified?
First of all, we have been doing it for a very long time.
We are an Ontario-based healthcare-focused IT company and have been dealing with telemedicine tech and compliance (PIA/TRA, PHIPA/PIPEDA, HIPAA) for more than 7+ years.
Being a healthcare-specific company, we own on-ground knowledge of how healthcare works in Canada, especially in Ontario.
Talking about OTN verification, we provide you with OTN consulting/execution-as-a-service and even development-as-a-service.
In case you're wondering, this is how we will help you.
We will assess your virtual care platform.
Document each and every factor affecting your OTN status
Compare your existing virtual care tech, compliance, and business with OTN verification checklist
Guide you to address every requirement to be OTN verified
If you lack resources, provide you with our telehealth tech, compliance, business experts to help you meet OTN standards
Carry out PIA/TRA to find privacy and security vulnerabilities (it is a requirement under OTN!)
Eliminate all found privacy and security vulnerabilities
Help you in submitting your request in the OTN verification process
This way, our virtual care tech, business, and compliance knowledge will be with you from assessment to verification!
#VeryImportantLearnings
What is OTN and what roles does it play in the virtual care ecosystem of Ontario?
OTN is one of the largest networks of telemedicine in the world. It is an independent organization funded by the Ontario government.
Also, OTN is part of Ontario Health which is an agency created by the government of Ontario. So, in unofficial ways, the government might have some level of control over OTN.
OTN is responsible for making sure that all virtual care solutions in Ontario are providing virtual care to Ontarians in the best possible way while ensuring privacy, security, and quality of care.
In other ways, OTN helps both providers and patients by improving access to care, reducing pressure on clinics & hospitals, and modernizing patient access to care.
What is the OTN verification process for virtual care solutions?
As of now, the application is open at OTN's front to be OTN verified.
You can submit the application through the official email id - verification@ontariohealth.ca.
The following are the mandatory things you must have while applying for OTN verification.
The CEO or an employee who has authority to bind the organization must submit a Self-Attestation that their virtual care platform is meeting all compulsory requirements listed by OTN.
You must submit the summary of PIA/TRA that showcases no outstanding privacy and security risks.
You must submit an agreement that says that you are ready to participate in additional risk-based verification within one year of the verification process.
And lastly, you must include the completion of legal terms and conditions that deal with becoming a verified virtual care vendor.
Case study: Executing PIA on a health tech project
Which are the mandatory requirements to be verified by OTN?: OTN verification checklist
OTN has listed out several technical and administrative requirements which your virtual care platform must adhere to.
They have listed out requirements into major 4 categories.
General virtual visit requirements
Video conferencing visits
Secure messaging virtual visits
Data requirements
The following are only a few requirements from all 4 categories.
The solution must not be set on default to ending a video visit. The patients and caregivers must also have the ability to end the video visit.
Your solution must capture clinical information such as messages, files, images, clinical documentation which are shared during the video visit.
You must provide technical support services to users using your solution.
Your solution must notify the users - either manually or automatically - when the service is unavailable.
You must have a privacy and security program in place which governs the collection, usage, and sharing of patient data.
You must use cryptography and hashing mechanisms to encrypt the data whether in transit or at rest.
You must execute periodic vulnerability assessment scans on your virtual care solution.
Users must have the ability to invite a guest user to a video event.
#UsefulResources 
#Let'sTalk 
With our expertise in compliance, PIA/TRA, healthcare privacy, and virtual care tech, we are ready to help you get OTN verification for your virtual care platform!