PACS Integration Solutions in Canada: For Accessing Patient Medical Imaging Data 10X Faster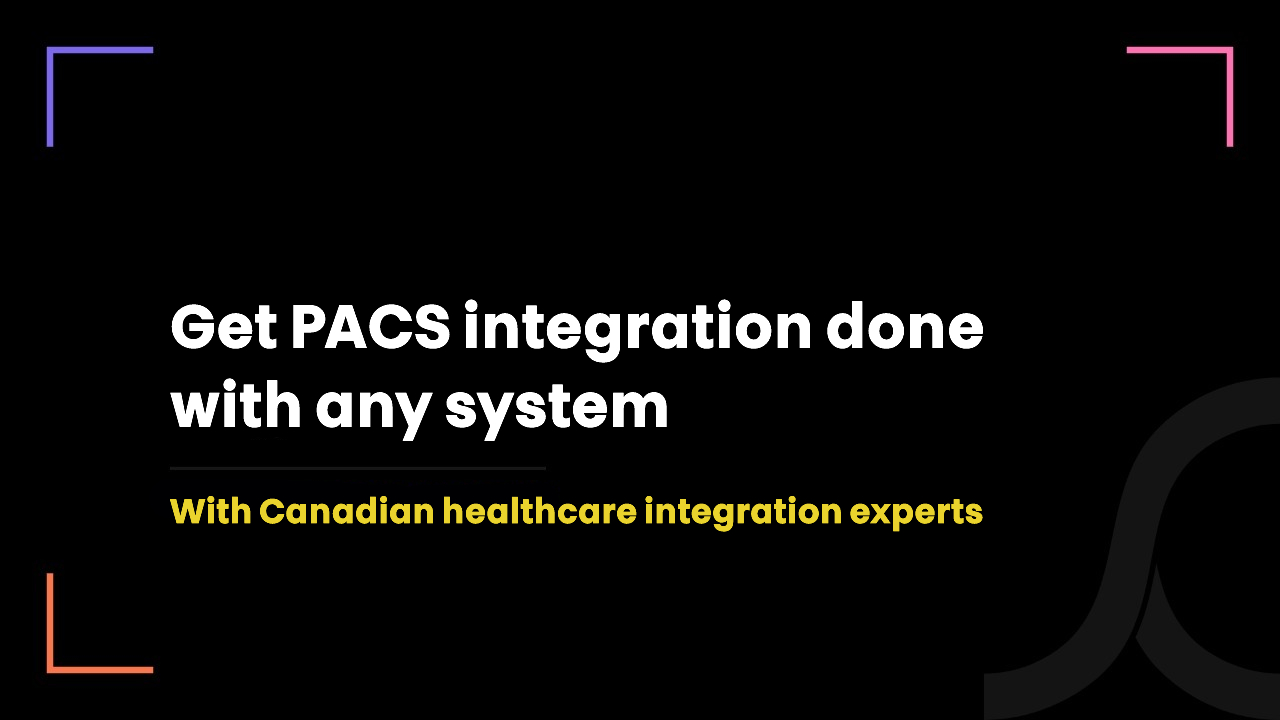 1 year ago
Needless to say, in the healthcare system, patient medical imaging data is the most important aspect.
Why? As it enables radiologists and other healthcare professionals to understand the health condition of the patient.
But periodically, accessing patient medical imaging data in real-time is a complex task for radiology and other departments.
To accomplish that, PACS comes into action!
So, in this blog, we will explain everything you need to know about PACS and its integration with the other digital healthcare systems such as RIS, HIS, telemedicine, EHR, EMR etc.
What is PACS?
PACS stands for – Picture Archiving and Communication System.
It is the system which enables medical images to store, share, retrieve, and display in various locations of the healthcare system.
To do so, DICOM is the universal format used by the PACS.
DICOM is the international standard for medical imaging information to store, transfer, retrieve, print, and display medical imaging information.
As a result, the radiology department and the healthcare system can easily access the patient's medical imaging data which simply allows them to focus more on the patient's medical condition.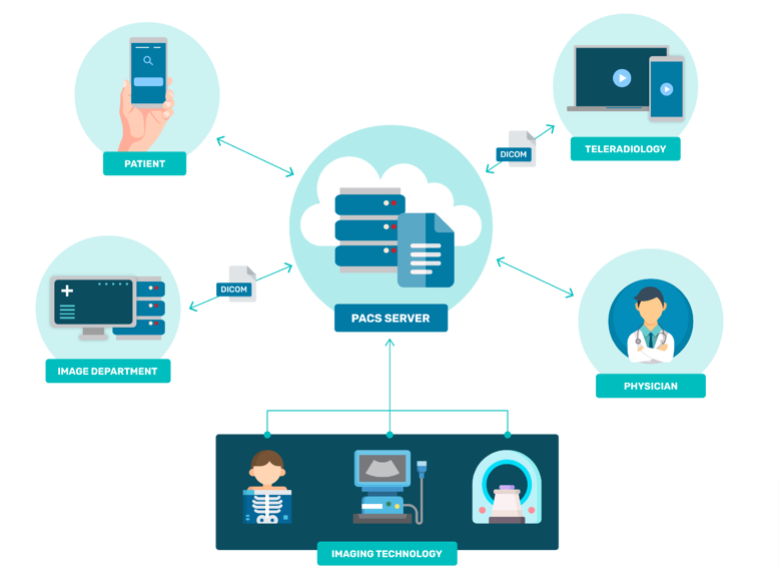 PACS gives endless benefits to the healthcare system and here are a few of them.
Efficient workflow management for the radiology department
Reduce workflow of the hospital administration
Shorter examination times for the patients
Even though it is beneficial for the healthcare system, the PACS still has a number of challenges that must be solved in order to improve the entire healthcare system workflow and overall patient outcomes.
What are the challenges in PACS?
Whether it's a PACS or other digital healthcare system, it can't fix all the concerns of healthcare organizations' workflows single-handedly.
In simple words, PACS integration with other healthcare solutions is required to manage and improve the healthcare system workflows.
Let's understand this with a quick example in which a hospital is using PACS and HIS without integration.
As we both are familiar with the purpose of the PACS.
On the other hand, HIS (Hospital Information System) contains all the data related to patient, operational, management, policies, and the list goes on and on.
Now, a patient comes into the hospital for an X-ray.
The radiologist does the X-ray of the patient and enters the medical imaging data of the patient into the PACS.
Without PACS integration with HIS, radiologists can't share the medical image of the patient with the HIS and so does the physiotherapist.
As there is no integration, a physiotherapist needs to operate both complex HIS and PACS at the same time during the patient examination.
With such a tedious procedure, physiotherapist workflow becomes more complex and time-consuming.
This way, healthcare professionals can't focus on the quality patient care experience.
For that reason, PACS integration with HIS is required to improve patient outcomes as well as reduce the healthcare institution workflows.
Same as HIS, there are multiple digital healthcare systems which need integration to help both patients and healthcare professionals in the same environment.
So, let's discover each of them in detail.
Explore our PACS integration solutions in Canada
PACS integration in healthcare organizations can provide several gains not only to the healthcare professionals but also to the patients and administration department.
Let's explore each of them in detail.
1. PACS integration with RIS
PACS enables nearly instant access to the patient's medical image data within the radiology department, other hospital clinical areas, and remotely users.
But, integrating PACS with RIS (Radiology Information System) can create a more streamlined workflow for radiology.
As a result, it significantly improves patient outcomes and makes referring easier.
Here are some of the benefits of PACS integration with RIS.
Improves clinical workflows
Reduce data inconsistency
Real-time access to the medical imaging data
Easy patient and physician referring
2. PACS integration with EMR/EHR:
PACS only gives access to the patients' medical imaging information. To access the patient's health records, healthcare professionals need to operate the EMR/EHR system at the same time.
But with PACS integration with EMR/EHR, healthcare providers can easily access the patient clinical records at the point of care without operating two complex systems.
Explore the benefits of PACS integration with EMR/EHR.
More efficient workflow for the care providers
Improves productivity of the healthcare professionals
Automatic medical image sharing with EMR/EHR
Automatic clinical data sharing with PACR
3. PACS integration with LIS:
Another useful integration is with LIS (Laboratory Information System).
LIS is a software-based solution that contains all the lab-related information of the healthcare institution.
The purpose of LIS is to store, manage, and share patient lab information for clinical processes and testing.
Despite its usefulness in radiology, sometimes accessing the patient lab data in real-time is a tedious process as radiologists have to operate two systems at the point of care.
To avoid that time-consuming process, PACS integration with LIS is the definitive solution.
It makes PACS and LIS communication more efficient and scalable so that physicians can provide a more suitable treatment for the patient's medical condition.
4. PACS integration with Telemedicine:
Integration is the key to providing a more quality care experience, especially for telemedicine services.
And PACS integration with telemedicine enables the virtual care providers to access the required medical imaging information so that they can easily take patient-centric medical decisions.
Let's understand this with a simple example.
A patient is suffering from a foot injury and is not physically able to visit the hospital.
But a patient has an X-ray of a foot injury. So, he conducts a virtual visit with the physiotherapist.
Step-1: Patient connects with physiotherapist via telemedicine app.
Step-2: A virtual care provider examines the X-ray of the patient's injury within the app.
Step-3: The physiotherapist gives an online prescription to the patient.
But what if the telemedicine app isn't integrated with the PACS?
The physiotherapist needs to call the radiologist regarding a patient's injury at the point of care which is time-consuming for both patient and physiotherapist.
Moreover, there is a high possibility of miscommunication between the physiotherapist and radiologist which can result in poor patient outcomes.
That's the reason why PACS integration with telemedicine is required to provide a patient-centric clinical approach.
Reminder:
PACS and other digital healthcare systems are different from each other in terms of functionality.
In simple words, PACS integration is a complex process as both systems aren't made for each other.
Moreover, a skillset and healthcare-specific IT professionals are must-required for PACS integration to overcome the integration challenges.
And if you are planning to integrate PACS with the above systems, we are the best in the league!

We simplify your workflows with our healthcare integration knowledge and team
We are an Ontario-based healthcare IT company.
It means, we only perform healthcare IT projects for healthcare start-ups, healthcare providers, and healthcare enterprises.
For over 7+ years, we understand the fact that improving the quality of care experience is the only thing that counts in the healthcare industry.
And if you have a similar vision, we can serve you with our healthcare integration solutions, passion, and knowledge on the same plate.
Talking about PACS integration, we have done it successfully many times in the past.
Not only PACS integration, but we are also masterminds in EMR/EHR integration, Kroll integration, and other healthcare integrations.
For that, we have a healthcare-specific IT team of – interoperability and integration experts, app developers, UI/UX designers, QA engineers, business analysts, and compliance specialists.
So, if you want a combination of experience, expertise, and experts at the same time, let's have a nice talk about your healthcare integration concerns!