Custom Patient Intake Software, Integrated with Your EMR/EHR (Result is happy faces of patients, providers & staff!)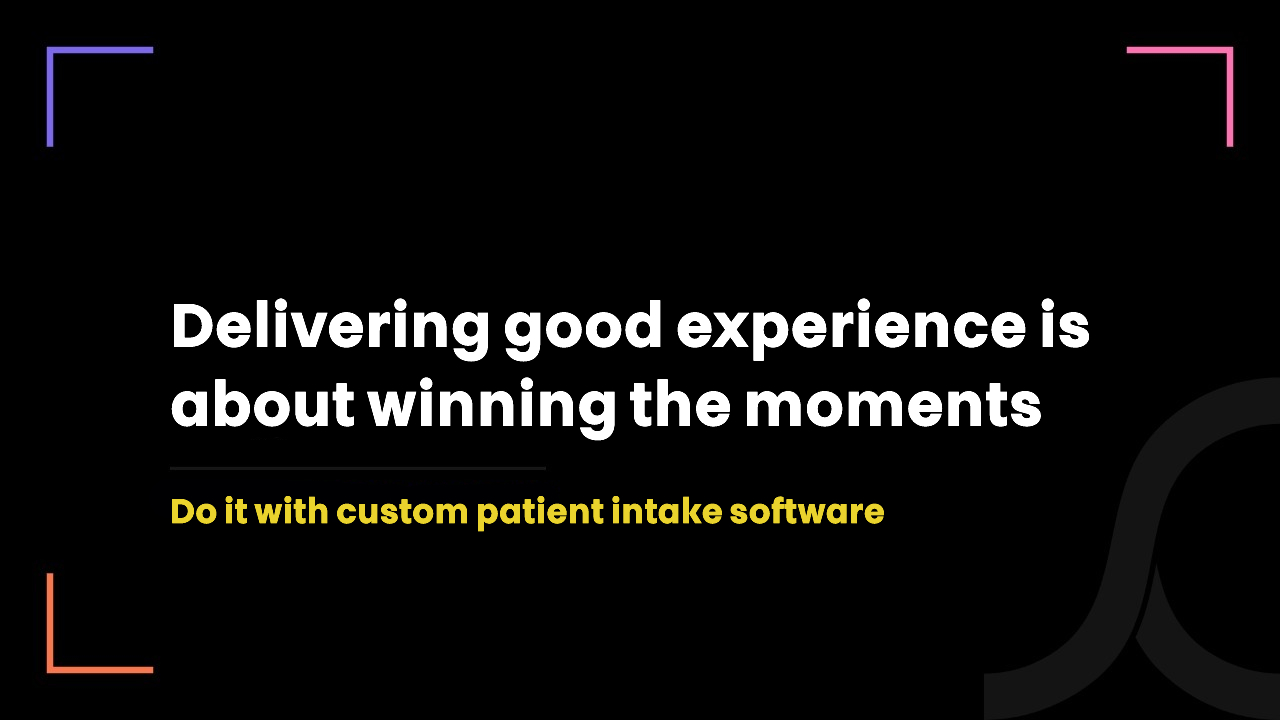 1 year ago
In 2010: A waiting room full of patients = A very popular and profitable healthcare setting
In 2022: A waiting room full of patients = A very outdated healthcare setting which does not give a damn about patient convenience!
A patient's perspective:
As per a recent study, 76% of the patients leave the office of providers with doubts and dissatisfaction in mind. 
In many cases, patients feel more confused about their health than before the doctor's visit. 
There are two major underlying problems causing this dissatisfaction.
Reason #1: Patients have to explain their situation to multiple persons when they visit the hospital, leading them to frustration.
Reason #2: Patients find less time per appointment and thus, they have to leave the office with several unanswered questions regarding their health.
A provider's perspective:
Every provider including physicians and nurses acknowledges the fact that their profession is ranked among the most trusted professions.
They always aim to deliver outstanding care to each patient. However, they are facing a significant challenge which is known to everyone but only a few can dare to solve that challenge. 
Problem: Providers are overburdened. Almost 67% of the providers aren't capable of handling the volume of patients they recieve.
Reason: Because they find themselves stuck between endless manual data entry and other administrative tasks to make sure of seamless information flow throughout the care journey. 
Tonight I've spent over an hour on the bijillionth therapy new patient intake form for J in the last yr. Always same core Qs, no matter the specialty - all surgeries with dates, conditions, hospitalizations. Triggering 🥲 There has to be a better to get this info to HCPs.

— Kristina Eliashevsky (@eliashevsky) July 5, 2022
The solution: Online patient intake
If we dig deep, the cause of problems both patients and providers are facing is manual patient intake.
Manual patient intake has always been frustrating as staff and patients engage in a very long conversation, providers share the forms, patients fill those paper-based intake forms and later staff add that data into the system. 
But if a hospital deploys online patient intake software, things will go very smoothly for all patients, providers and staff.
Here is how:
A patient adds his/her medical requirements through the link provided by the hospital staff from a phone, laptop or tablet.
Prior to the appointment, a patient automatically receives the e-forms on his/her device and email.
The patient fills out the required forms and other demographic information digitally and submits it.
The filled data is directly added to the doctor's EMR/EHR as it is integrated with patient intake software.
The patient can also virtually check-in from parking, from home or while on the way to see a doctor.
The patient receives a confirmation message with the exam room number. And he/she reaches there directly, skipping the waiting room!
The benefits:
Patients don't have to communicate their needs with anyone.
Patients don't have to wait in the waiting room.
Staff don't have to interact much with patients to collect their data. Rather, they can interact with patients to make them feel homely.
Providers don't have to go through multiple filled forms to find any specific information about a patient. They can find all details digitally from EMR/EHR.
There is no manual data entry required. Meaning, staff have the ultimate peace of mind.
Online patient intake software: Implementation
A patient intake software exists in either the mobile app or web app.
In case you don't know, a web app opens on web browsers and has similar features to mobile apps. Whereas, a mobile app needs to be installed from App Store or Play Store to access it. 
This mobile and web app needs to be integrated with your EMR/EHR or any other system you might be using to have a single dashboard for accessing the recorded data with ease.
You can have two different approaches to send e-forms to patients. One is manual and another is automated.
In a manual approach, your staff member sends relevant forms (in the form of links) to the patient from the admin panel after analyzing the patient's appointment type. 
And in the automated approach, the software itself figures out the relevant forms and sends them to patients. 
Whatever the details patients fill into those forms digitally are saved into the database and also shared automatically with the EMR/EHR.
Features of the online patient intake system
We can easily skip this. But the reason we are adding this topic is it highly influences the cost of development if you're planning to build a custom solution. 
So, here are the top features we recommend you add to your custom patient intake platform.
Patient profiles 
Appointment booking 
Access to e-forms 
Online check-in 
Consent management
Notification 
Payment 
You can consider adding telemedicine features as well if you are planning to make it more convenient for patients. 
3rd party or custom solution: What should you choose between?
It totally depends on your needs, scale and budget.
However, we always suggest choosing custom solutions as all 3rd party healthcare solutions are notorious for smartly fixed plans which cost you less in the short-term but in long term, it costs you more than the capital cost required for custom development. 
Not only this, you pay money for using their software which isn't exclusively built for you. And most importantly, you're just a user of that software as they don't have source code ownership and IP rights.
To clear all your confusion in a single shot, we have prepared an evaluation matrix. 
If the total you get is equal to or greater than 25, you must go for custom development.
And if the total you get is less than 25, you must go for pre-built software.
Pre-built apps can be dangerous - to your peace of mind! #appdevelopment pic.twitter.com/leFJok38Ya

— SyS Creations Inc. (@syscreations) July 8, 2022
We're a Canadian IT company that entertains only healthcare projects
Well, that's something you hear for the first time. Right?
You must be wondering why would an IT company only work on healthcare projects while killing other sales opportunities? 
The answer is, to create class, not mass! 
We have madness over healthcare. The only thing we understand is healthcare.
Our 50+ healthcare IT professionals that include developers, designers, business analysts, QA engineers and compliance specialists have only been working on healthcare IT projects since the first day of their professional careers. 
We have an on-ground understanding of how the healthcare industry works and how technologies can play a role.
Whatever the custom healthcare solution we build, we ensure to deliver the two rare things to our clients - peace of mind and clinical value! 
We hold a vision to invest our 8 hours every day for patients and providers while being specific to the healthcare industry.
So, if you feel connected to our vision, let's have a call and assess how we can help you with your healthcare IT needs with the fusion of our healthcare mindset, passion and IT knowledge.