Patient Meal Ordering App: Is the 'DoorDash for Patients' Healthcare App Idea of the Year?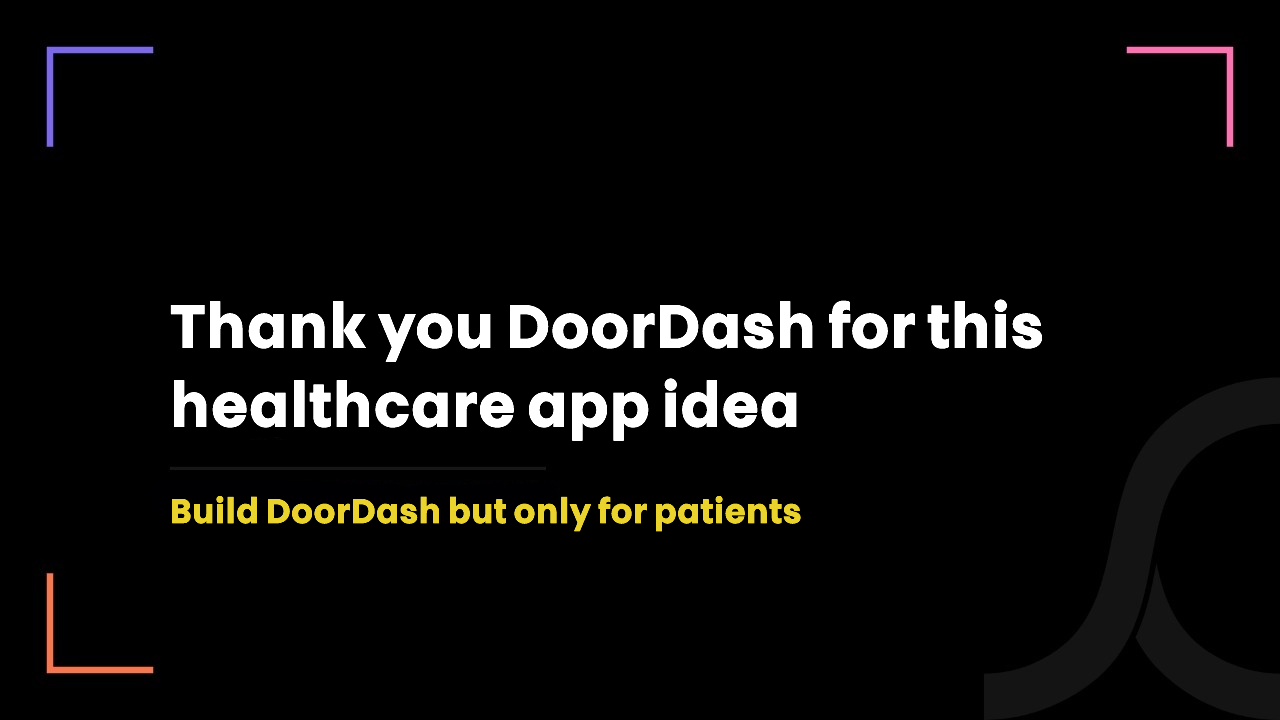 2 years ago
Everyone needs clean and healthy food to maintain good health, whether it is a normal person or a patient.
However, for people having no medical condition, there are numerous options like DoorDash, Uber Eats and Foodora. Also, it's easy for them to order food as they don't have any custom requirements in terms of nutritional values.
But, if we see - there are not so many patient meal ordering apps that can serve patients healthy meals as per their needs.
Besides, there are lots of problems when it comes to online patient meal ordering.
As a result, we have identified those problems and come up with a business idea for you.
A DoorDash for patients!
For that, we will assist you in creating your patient meal ordering app.
But first, let's look at the real issues patients face while ordering food online.
What problems have we found with the patient meal ordering app or other food services?
The most crucial factor about online food service is that - the standard food experience and quality.
However, for patient meal ordering apps or food services, this necessary aspect is missing.
When patients order food online, there are fewer possibilities of the food having the standard of nutrition as well as food quality they need.
We also noticed that online food services don't have personalized food options that can help patients to order meals as per their medical conditions.
And the last thing we pinpointed which is the most important for patients - is the on-demand food delivery option. There are very negligible patient meal ordering service providers that provide patients with the flexibility to order food at any time.
So, what are the solutions to these types of problems?
Let's discover.
How can an app improve the patient's food experience?
As we discussed, the standard food experience for the patient is a crucial aspect.
And to enhance the food experience, below are the key points for that.
1. Personalized search option
The food requirements of the patients vary according to the medical condition of the patients. Also, they always don't have an idea of which food suits their medical condition.
But by providing personalized food search options, patients can easily discover the list of appropriate food items with a good amount of nutrition that can help them to keep their health condition optimal.
2. Nutrition requirement
An app enables patients and their caretakers to find the nutritional value of every food item they find on the app. This is generally not possible with food delivery apps like Uber Eats and DoorDash.
3. On-demand food delivery
To deliver a notable food experience, you must facilitate patients to order food whenever they are in need. And delivering such an on-demand food delivery option is only possible with a mobile app.
4. Direct communication with the specialist
This is far away, one of the most supportive features for the patient.
Direct contact with a nutrition specialist can help them with the query regarding their health condition and which is the ideal food for them.
Who can benefit from a patient meal ordering app?
In a sentence - this app idea delivers value to every healthcare setting where a patient/individual is treated and looked after.
As an example,
Nursing homes
Long-term care homes
Individual patients
Hospitals
Transitional care unit (TCU)
Overall, if you enrich the healthcare foodservice experience, it will benefit even seniors.
So, coming to your major question, is it a good investment to create an online patient meal ordering app?
In one sentence - grab the opportunity!
But still, let's see how it can help you to make money.
DoorDash for patients, is it a healthcare app idea of the year?
Just think about it - how many patients daily suffer due to the lack of nutrient-rich food! The market is huge and the best way to cover it is through an app.
The following are some real reasons why you must invest in DoorDash for patients.
1. It's also useful for the normal people
If you offer nutrient-rich food as well as a certified nutrition specialist, it can also be helpful for people having no medical conditions.
2. The trend that never going to stop
Food is necessary for all of us whether it is patient or ordinary people.
And when it comes to food - if you have the quality, the people will stick to you.
3. There are fewer competitors in the market
The concept is new. Hence it is the right time to invest as an early bird.
4. More new features can help stay ahead of the competition
Right now, there are fewer features for the online patient ordering app.
If you offer a new feature that is more suitable and relevant to your customers, it will help you to stay ahead of the competition.
Personalized food options based on medical condition is one such example of the feature.
So, want to build a patient meal ordering app? Let us explain how we can help you.
We make ideas actionable, with our remarkable efforts and healthcare IT expertise
"Ideas pull the trigger, but instinct loads the gun"
We are an Ontario-based healthcare IT company.
When it comes to healthcare IT, we have been dominating it for more than 7+ years.
We have a passionate team of UI/UX designers, QA engineers, web and app developers, business analysts, compliance specialists and most importantly innovative mindset.
We help healthcare start-ups, healthcare professionals, hospitals and healthcare businesses to manage their time-consuming workflows and customer experience with cutting-edge technologies.
So, if you want to revolutionize the food industry while targeting patients, we are ready to help you with our healthcare tech expertise.