Pharma ERP Software Development: Leverage Your Enterprise with 10X Speed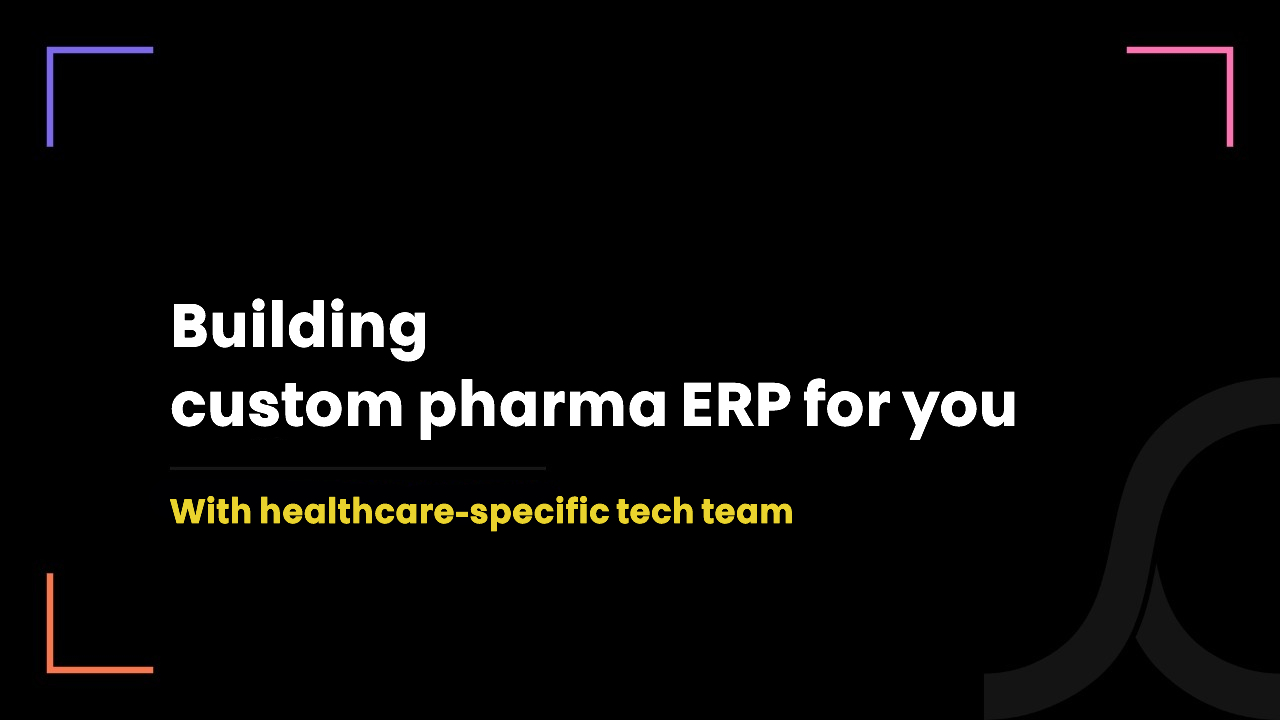 2 months ago
Once, there comes a moment when managing data becomes a major headache and costlier for large-scale pharmacies and pharmaceutical companies.
That's when pharma ERP (Enterprise Resource Planning) comes into the picture!
It holds a huge potential to save almost 25% of operational and 23% on administrative efforts.
In this blog, we are going to cover how pharmacy ERP software development can help you in several forms and how to build one exclusively for your practice or enterprise.
But first, let's examine the real-world hardships without pharma ERP development
ERP streamlines the flow of information in the pharmaceutical and pharmacy ecosystem.
Without ERP, one can confront a lot of consequences such as,
1. Lack of Real-Time Insights
Without a centralized system like Pharma ERP, obtaining clear and real-time insights into core business operations becomes a challenge.
Decision-makers often struggle with fragmented information sources, leading to delayed or uninformed decisions.
2. Decentralized Processes
Operating without ERP can result in decentralized processes, where each department manages its data.
This can lead to inefficiencies, data duplication, and difficulty in coordinating efforts across the organization.
3. Inefficient Decision-Making
Time-consuming and faulty decision-making processes are common without a unified ERP system.
Accessing accurate and up-to-date data becomes a hurdle, hindering strategic planning and execution.
4. Complex Tech Ecosystem
Operating multiple disconnected tech solutions complicates workflows and increases the likelihood of errors.
Integrating various systems becomes a daunting task, consuming valuable time and resources.
5. Supply Chain Delays
The lack of centralized information contributes to supply chain delays, affecting inventory management and leading to potential stockouts or overstock situations.
6. Increased Human Errors
Manual data entry and fragmented systems pave the way for human errors.
These errors can have far-reaching consequences, impacting everything from inventory records to financial data.
7. Inefficient Accounting and Inventory Management
Without a comprehensive ERP solution, accounting and inventory management become less efficient and error-prone.
This can result in financial discrepancies and hinder growth.
8. Compliance issues
Pharmaceutical companies must adhere to strict regulatory standards.
The absence of a dedicated ERP system can lead to compliance issues and potential legal complications.
Ultimately, a lack of ERP results in cut-rate efficiency and productivity which directly influences the operational, overhead, and administrative costs and time.
Thus, it is essential to develop pharma ERP software to streamline the flow of information, cut out unnecessary costs, and enrich productivity.
Pharma ERP development: A software solution to speed up the growth
A pharmacy ERP software development company can assist you in streamlining the information flow that initially gives your clear insights into the core business processes.
Here are the benefits of pharma ERP software development.
#1. Streamlines the flow of information:
You don't need to operate multiple tech solutions in your enterprise as pharma ERP contains everything you need in one place.
As a result, it ensures operational efficiency and reduces operating costs.
#2. Improves productivity:
Pharma ERP facilitates many operational tasks.
This helps your enterprise to save time and allows your employees to focus on other core responsibilities that generate revenue for your pharmaceutical business.
#3. Lowers the communication delays:
As pharma ERP contains all the business and operational-related information in one place, it simplifies the communication between the enterprise's various departments.
This approach reduces communication delays which positively influences the decision-making process.
#4. More transparency:
The availability of the core business information in one place lets enterprises make outcome-driven decisions.
#5. Boosts decision-making process:
Real-time, accurate, and insightful data boost business-driven decision approaches.
For instance, you can examine which workflow of the enterprise needs improvement.
#6. Faster and efficient supply chain management:
Pharma ERP development gives you real-time visibility of the supply chain.
This helps you optimize the inventory management and purchasing process along with reducing the cost associated with the supply chain operations and labor.
Features pharma ERP software that simplifies the enterprise actions
Ensure that the pharmacy ERP software development company gives you a feature-rich pharma ERP so that you can achieve your enterprise goals with ease.
#1. Finance and accounting:
Financial planning and analysis
Manage invoice and billing
Accounts payable and receivable tracking
General ledger management
#2. Human resource management:
Recruitment and onboarding process
Employee request management
#3. Production management:
Production planning, scheduling, and control
Product life cycle management
#4. Sales and marketing:
Plan a data-driven marketing strategy
Content management and marketing
#5. Supply chain management:
Analytics and forecasting
Logistic and shipping management
#6. Project management:
Project planning and monitoring
Tasks assignment and tracking
Budget and billing management
#7. Document management:
Document input, index, search, and processing
#8. CRM (Customer Relationship Management):
Customer management services
Third-party vendor management
Integration with existing software
Custom pharma ERP development Vs. pre-built solutions: What to choose?
It completely relies on your pharma enterprise's needs and investment.
However, as a healthcare IT company, we always suggest custom solutions over third-party ones.
But why? As with a pre-built solution,
You are not the owner of the software.
It is not built as per your specific needs.
It is costlier on a long-term basis.
Low flexibility and scalability
Data privacy and security issues
Have to compromise with the source code and IP ownership
Let's understand this evaluation matrix.
If the total you get is equal to or greater than 25, you must choose custom pharma ERP development.
And if the total you get is less than 25, you must go for a pre-built solution.
"The quality is remembered long after the price is forgotten." - Sir Henry Royce (Founder of Rolls-Royce)#MobileApp #CustomMobileApp #AppDevelopment pic.twitter.com/NBp3udR22T

— SyS Creations Inc. (@syscreations) July 14, 2022
How can we help you with pharma ERP development?
To scale up your business efforts, a powerful and business-driven ERP solution is most needed.
And here is how we can aid you with the same.
#1. Automation:
Automation reduces unnecessary workflows and saves business operational time, costs, and resources.
Means, it allows you to focus on the other essential responsibilities of enterprise improvement.
For instance,
Faster, efficient, and accurate process
#2. Data Analytics and Business Intelligence:
Data analysis can assist you to open a new door to make your enterprise thrive.
It uncovers important and core business information that allows you to get a clear sense of the area that needed improvement.
You must also read: Healthcare Business Intelligence
#3. Integration:
The pharma industry contains multiple operational departments.
Thus, it is essential to streamline the communication and flow of information between departments to improve operational efficiency, accurate data-driven decisions, and save time and cost.
ERP integration allows you to,
Automate repetitive tasks
More transparency and visibility
So, if you want to build a custom pharma ERP software or just want integration, automation, and business intelligence solutions, know how we can help you with our expertise and experience in the same.
A glimpse of our healthcare IT wisdom and vision
Based in Ontario, we are a healthcare-specific IT company.
For the past 7+ years, we have successfully delivered 250+ healthcare IT solutions for healthcare organizations, enterprises, and startups.
We understand every single inch of the healthcare industry!
Thus, we are the only one in North America that holds ultimate expertise in the healthcare business, technical, and compliance.
We believe in class rather than mass!
Hence, we have a 50+ team of healthcare-specific – app and web developers, UI/UX designers, compliance specialists, business analysts, QA engineers, and AI & ML specialists.
In case you're wondering, the following is our approach to creating ingenious healthcare IT solutions.