Efficient Billing Software for Pharmacy Success: Streamline Your Invoicing Process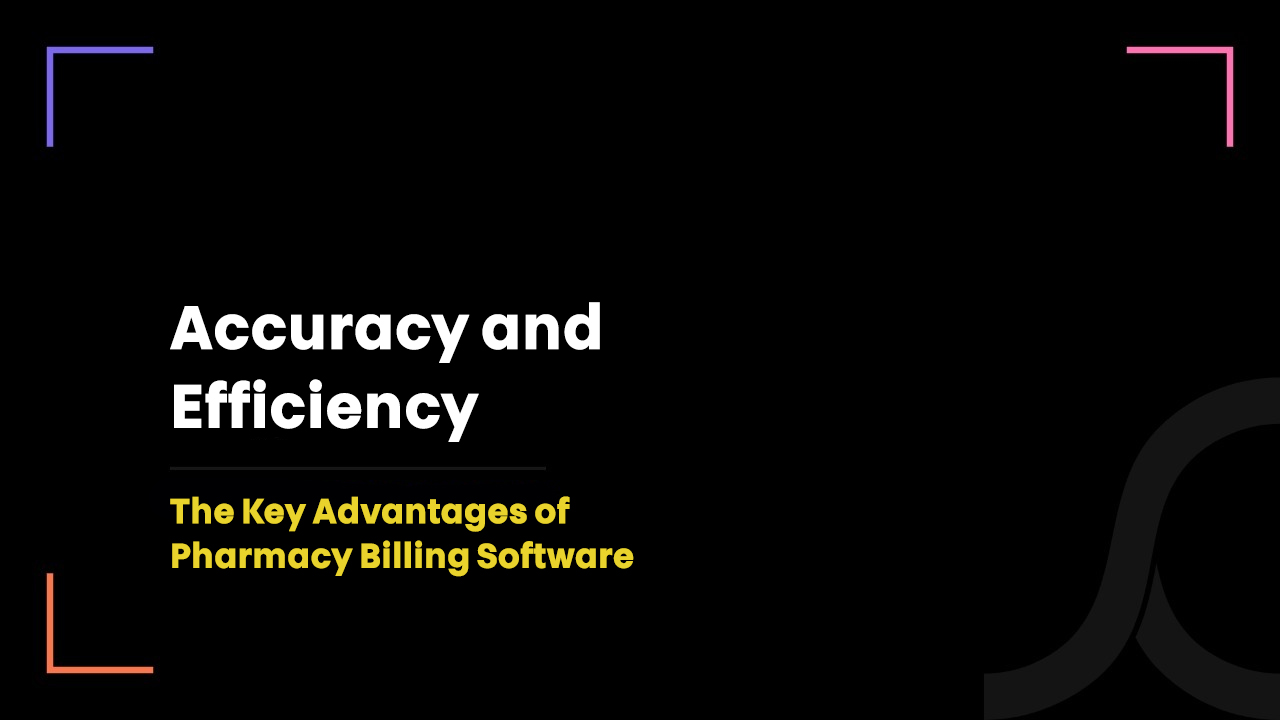 3 months ago
In the fast-paced world of business, efficient billing management is vital for smooth operations and financial stability. 
Manual billing methods can be
Time-consuming
Error-prone
Lead to payment delays
However, with the advent of pharmacy billing software, pharmacies now have access to streamlined solutions that automate and simplify their billing processes.
Streamline Your Operations with Pharmacy Billing Software for Success
Pharmacy billing software is a powerful tool that automates and simplifies the billing process for pharmacies of all sizes.
Pharmacy billing software provides a comprehensive solution to meet all your billing needs by
Utilizing customizable invoice templates
Automated calculations
Seamless integration with accounting systems
What is an e-invoice?
E-invoicing is the digital transformation of the traditional paper-based invoicing process. 
Pharmacies can generate, send, receive, and process invoices electronically.
Some advantages of e-invoices are 
Eliminates manual data entry
Reduces paper waste
Streamlines the entire invoicing process
Faster payment cycles
Increased accuracy
Improved cost-efficiency
What is e-invoicing software?
E-invoice software facilitates the generation and management of electronic invoices. 
It enables pharmacies to
Create standardized e-invoices
Validate invoice data
Ensure compliance
By integrating with accounting systems, e-invoice software allows for the seamless transfer of invoice data and automated reconciliation. 
Leveraging e-invoice software helps
Enhance efficiency
Reduce errors
Ensure compliance with evolving invoicing regulations
What is a Pharmacy Billing Software?
Pharmacy billing software caters specifically to the unique requirements of pharmacies and healthcare providers.
It encompasses features such as
Prescription management
Inventory tracking
Patient profiles
Billing functionalities
Pharmacy billing software streamlines the billing process for pharmacies by
Ensuring accurate medication dispensing
Efficient inventory management

Seamless integration

with insurance providers
With pharmacy billing software, pharmacists can focus more on patient experience while optimizing their billing operations.
The Benefits of a Pharmacy Billing Software
1. Time Efficiency
Employees can focus on other essential tasks instead of spending hours on manual billing processes.
Pharmacy billing software saves valuable time for your pharmacy staff by automating
Invoice generation
Calculation
Delivery
2. Error Reduction
Manual data entry and calculation are prone to errors.
It leads to billing disparity and potential financial losses.
Pharmacy billing software ensures accurate invoices every time.
The software eliminates these errors by providing validation mechanisms and automating calculations.
3. Improved Cash Flow
Pharmacy billing software quickens the invoicing cycle, resulting in faster payments from clients.
This improved cash flow is crucial for supporting business growth and maintaining financial stability.
4. Financial Insights
Pharmacy billing software solutions offer reporting and analytics features, providing pharmacies with valuable insights into their financial performance.
These reports provide real-time data and can help
Identify trends
Monitor outstanding payments
Make informed decisions
Factors to Consider When Choosing a Pharmacy Billing Software
1. Scalability
You must ensure that the pharmacy billing software can handle your current business volume and can scale as your pharmacy grows.
It should be flexible enough to accommodate an increasing number of
Clients
Invoices
Transactions
2. Integration 
If you already use accounting software or other pharmacy management tools, look for pharmacy billing software that can integrate seamlessly with your existing systems. It will
Simplify data transfer
Eliminate redundant manual entries
Promote data consistency
3. Security
As pharmacy billing software deals with sensitive financial data, security features need to be prioritized.
Look for software that offers
Encryption
Secure data storage
User access controls
Compliance with industry standards (like PCI-DSS)
4. Customer Support
Consider the level of customer support provided by your pharmacy billing software vendor.
Timely assistance and responsive support can be critical when encountering technical issues or needing guidance during the implementation process.
There are two crucial things to be considered when seeking guidance in the implementation process or facing any technical issues
1. Responsive support
2. Timely assistance
Streamline Pharmacy Operations with our All-in-one Pharmacy Software Solution
We offer an all-in-one pharmacy software solution that caters to the unique requirements of pharmacies.
Here are the features of our all-in-one pharmacy software solution:
Reminders for refill orders
Reminders for prescription renewals
Seamless integration with PBMS and international partner software
Automated order placement in partner software (domestic and international)
Real-time updates on tracking details
Controlled visibility of medication information
Automated email and notification alerts from your pharmacy
Order sets tailored to specific requirements
Reports on cost savings achieved
Unlimited number of partner pharmacies
Flexible discount rates for each partner pharmacy
And the most exciting aspect is that
The software can be fully customized to meet the unique needs of your pharmacy.
By integrating all these aspects into a single software solution, we aim to streamline pharmacy operations and optimize the billing process.
We are proud to offer timely assistance and responsive support, ensuring a smooth implementation process and addressing any technical issues that may arise.