Pharmacy Inventory Management Software: Everything You Need to Know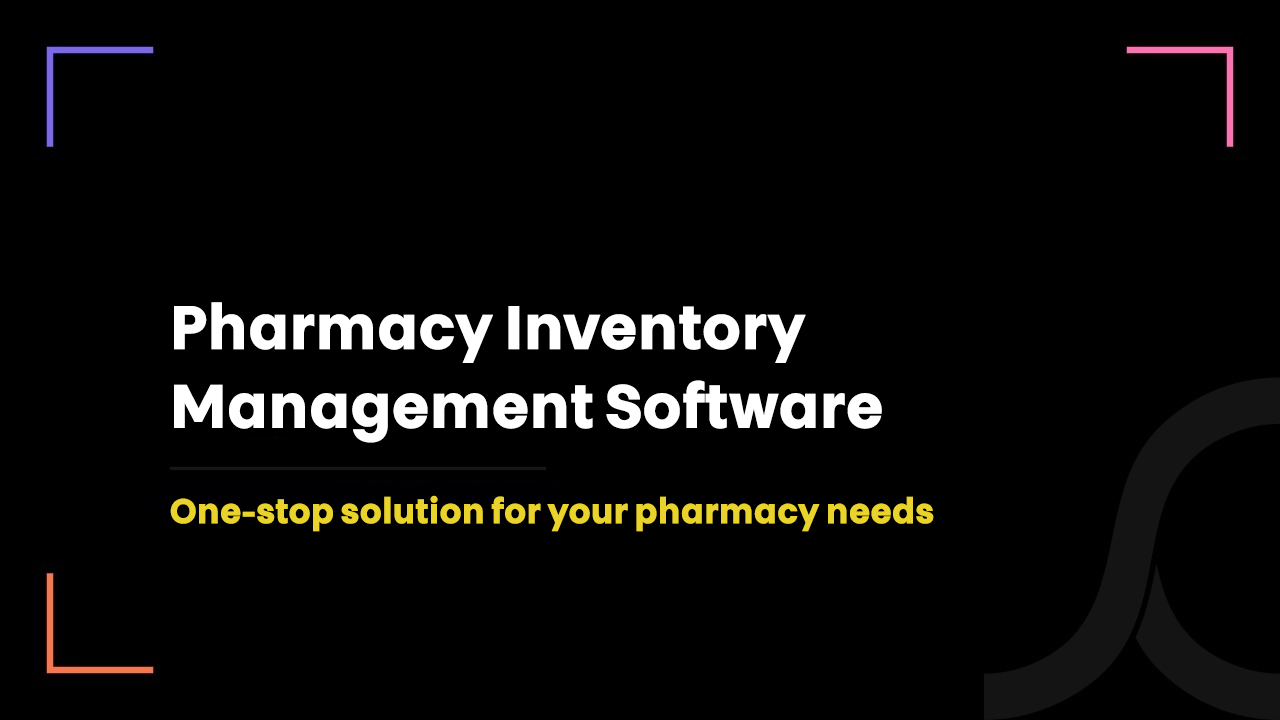 3 weeks ago
The sky is the limit for global pharmacy inventory management solutions and cabinets.
The global market is projected to reach $11.4 Billion by the year 2030 with a CAGR of 11.8%.
The Need for Pharmacy Inventory Management Software
Pharmacy inventory management software is a system that helps automate the pharmacy workflow.
With pharmacy inventory management software, you will be able to automate tasks such as,
Reviewing physician's orders
Preparing medications
Controlling inventory
Making drug orders
Providing counseling
Identify incompatibilities
Handling billing and insurance
Along with these tasks, you will be able to get more tasks automated if you opt for a customizable solution for your pharmacy inventory.
The Benefits of Pharmacy Inventory Management Software
● Improved efficiency of the pharmacists
Most of the pharmacists' time goes into dispensing the drugs.
They need to ensure that there are no drug interactions.
But is it necessary to do the whole process manually?
No.
With seamless system communication between your pharmacy inventory management software and the EMR, all prescription-related tasks can be easily overtaken by the software.
● Better patient health outcomes
The pharmacists can communicate online with the patients on the patient portal in the software.
They can integrate the pharmacy inventory management software with the hospital's EHR to access patients' medication history.
Patients can receive alerts and notifications about refilling prescriptions and managing their drugs.
● Eliminate the need of entering data in multiple software

● Data analytics tools
Data analytics is one of the most powerful tools to manage pharmacy inventory.
With the analysis of the following data, you can avoid stock-outs and reduce waste.
Product use
Order patterns
Patient demand
Additionally, you can even use the analytics tool to
Identify inventory patterns
Find areas for improvement
Make data-driven decisions
For example, analytics can identify high-demand products, forecast demand, and optimize stock levels. Additionally, analytics can be used to identify product trends, enabling pharmacists to proactively adjust their inventory and stay ahead of the curve.
Pharmacy Inventory Management Solution has different layers for different purposes and departments.
The Multi-Layer Architecture of Pharmacy Inventory Management Software
We have developed a pharmacy inventory management solution to meet your unique needs.
The architecture of our solution adds an extra layer of convenience for each user.
A separate web portal for each internal and external user.
View, perform, and manage tasks (any time, anywhere) from separate portals.
Enhanced operational efficiency and streamlined overall pharmacy inventory management workflows
For a better understanding, explore the image shown below.

Reasons Why Our Pharmacy Inventory Management Software is the Best for Pharmacy
Unlike other solutions – it is not just software.
It is an entire ecosystem.
That not just simplifies inventory management workflows but also allows you to take your pharmacy business beyond borders!
Imagine having an ecosystem for your pharmacy where
You have powerful drug inventory management software that you use to upload, track, and manage your pharmacy products & medications as inventory.
Whatever you upload on that inventory management software, you can select to show it on your website which is publicly available on the Internet. (Website fetches data automatically from inventory.)
Your customers visit your website, create either a Business or Personal account, and place orders that your team processes from the Order Management dashboard.
The best part about our solution is – it supports both B2B and B2C models.
In which, you can set different or individual prices for every product/medication.
You can customize our pharmacy inventory management solution – as per your unique needs!
The powerful base is already ready.
You just need to tell us your unique requirements.
Whether it's regarding – features, workflows, branding, functionalities, and compliance – you have all the freedom over customization.
For that, we have in-house development experts (who have built this product).
They will work as your extended team and code on top of the base as per your customization needs.
This way, we make sure you receive what you require to run your pharmacy business – within time and budget.
Fill out the form below and let's have a productive discussion.