The best COVID-19 tool in Ontario – PPE Supplies Tracker – to predict the admission of patients and required PPE to combat the healthcare crisis, safely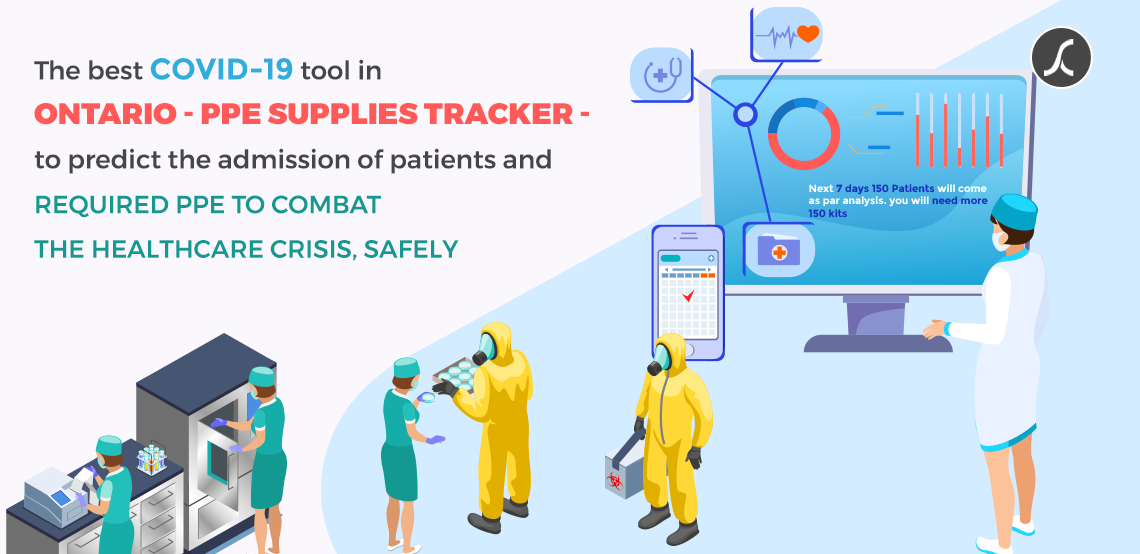 4 years ago
First of all, SyS Creations would like to appreciate the efforts our healthcare professionals and front line staff members are making to save thousands of lives and prevent Canada from being another Italy or USA.
However, when it comes to the life of healthcare professionals, countries and their one of the best healthcare systems are lacking resources which in the worst-case scenario costs the life of front line healthcare workers.
According to a news article published in Aljazeera, at least 2,629 health workers have been infected by the coronavirus in Italy. Recently, in the USA's New York City, two nurses died from the coronavirus and they are believed to be first known victims among the city's medical workers.
Talking about Canada, there is nothing to get excited about. According to a report published in Reuters, if the coronavirus cases in Canada will increase by 7.5 percent each day, Canada's most populous province, Ontario, will run out of ICU beds and ventilators within 37 days.
Thus, the most intricate question here is: how to keep healthcare professionals safe and prepare the healthcare system to cope with a sudden increase in cases?
And the most straightforward answer is: use existing technologies such as AI and predictive analytics to predict the future infusion of coronavirus patients in your hospital and PPE supplies you will need to tackle the sudden infusion of patients.
In this blog, we will discuss a game-changing tool in Ontario which is the PPE supplies tracker. It has the proficiency to predict the coronavirus patients and days until capacity is reached for medical-surgical, ICU care, and ventilators.
But before this, let's first understand the reasons for healthcare professionals becoming infected with novel coronavirus and why hospitals are struggling to cope up with COVID-19.
The Challenges - hospitals and healthcare workers are facing to deal with COVID-19
According to an article published in the Journal of Hospital Infection, there are major 4 reasons why hospitals and healthcare professionals can't combat COVID-19 safely. These 4 reasons are,
Inadequate personal protection of healthcare workers
Though hospitals and governments are providing personal protective equipment to front line workers, not all equipment meets the standard.
Long-time exposure to large numbers of infected patients
The number of coronavirus patients increases suddenly. Thus, healthcare professionals have to work on 'extended shifts' which keep them close to the large number of infected patients for a longer time.
Pressure of treatment, work intensity
Hospitals are overwhelmed and healthcare professionals are overburdened. They are treating more patients in a day than ever. Such work intensity affects their mental health. It also makes them neglect their own safety while working ceaselessly.
Shortage of personal protective equipment (PPE)
Almost all hospitals in highly affected countries face this challenge. They lack the personal protective equipment and cannot even estimate how many more they will require in upcoming days with rising coronavirus cases.
So, now when you know the challenges care units and healthcare professionals are facing, let's reveal a technologically advanced solution that decodes and solves each of these challenges.
The Solution - PPE Supplies Tracker - the best COVID-19 tool in Canada
What is the PPE Supplies Tracker?
PPE Supplies Tracker is the tool that works on the AI technology and predicts the number of estimated COVID-19 patients you will have in your hospital in the next 7 days and days until capacity is reached for Med-surg, ICU, and ventilators.
Here, it is worth mentioning that the PPE Supplies Tracker tool projects the number of PPE required in the future by projecting admission of patients. If the admission of patients is estimated to increase by 5% in the next 7 days, you need to pile up PPE at more than 5% to keep healthcare professionals safe!
The underlying purpose of this tool is to determine the impact of COVID-19 demand on critical resource capacities of each hospital. The accuracy of this tool is very high as it uses the HRR (Hospital Referral Regions) rather than counties to better find out care-seeking patients in a small region.
To make a prediction, the tool uses data such as the number of known COVID-19 cases, doubling time, population demographics, and incubation & recovery time.
How does PPE Supplies Tracker work?
Since PPE Supplies Tracker is the AI-enabled tool, it works genuinely with data. But the best part of this tool is that it gets all important data to run the model from the trusted government sources automatically. It also supports manual data entry. Because of the flexibility it has, the working of PPE Supplies Tracker is very straightforward.
Step 1: As soon as you select the hospital which you would like to model, the tool shows you the most recent case count, population, and growth rate of the cases in selected geographies.
Step 2: Later, the model assumes the market share of the selected hospital. This market share is very crucial as it determines the number of COVID-19 patients the model will estimate for the hospital relative to the market. It is assumed based on beds at the selected hospital divided by total beds available in HRR (Hospital Referral Regions).
Step 3: The tool shows you the bed counts and typical occupancy of non-COVID-19 patients at your selected hospital. It gets this data from definitive healthcare. You can also manually update bed counts. You can also even add the additional surge capacity.
Step 4: The tool asks you to input the current COVID-19 census if you have any.
Step 5: The tool runs the model and shows you the output.
The output - of PPE Supplies Tracker - the best COVID-19 tool in Canada
The PPE Supplies Tracker tool shows you the following key output -
Number of patients you will have in your hospital in next 7 days

Patients who will need Med-Surg

Patients who will need ICU care

Patients who will need ventilation

Days after hospital resources such as Med-Surg, ICU, ventilators run out

Total number of deaths in the next 45 days
Estimated PPE required over time
How can SyS Creations help you to deploy PPE Supplies Tracker?
SyS Creations is the Canada-based top IT solution, service, and consultation providing company. We accommodate teams of business experts, app developers, app designers, and data scientists who all work together to understand your requirements, customize the PPE Supplies Tracker tool to meet your unique needs, deliver it, and provide around-the-clock support service.
We have been serving our mastership in the telemedicine app and the virtual healthcare solution to many Ontario-based long-term care homes. We can even fully customize PPE Supplies Tracker for long-term care homes to help them to predict the future demand and arm clinicians working in long-term care homes with necessary equipment.
So, whether you are running a long-term care home or a hospital, we have groundbreaking solutions for all your challenges and well-versed teams to leverage the technology and customize the solutions.
To share your requirements and get an instant quote, feel free to schedule a one-on-one meeting with our expert.