What Challenges Can a Prescription App for Doctors Solve?: And Other Seven Inspiring Questions for Absolute Knowledge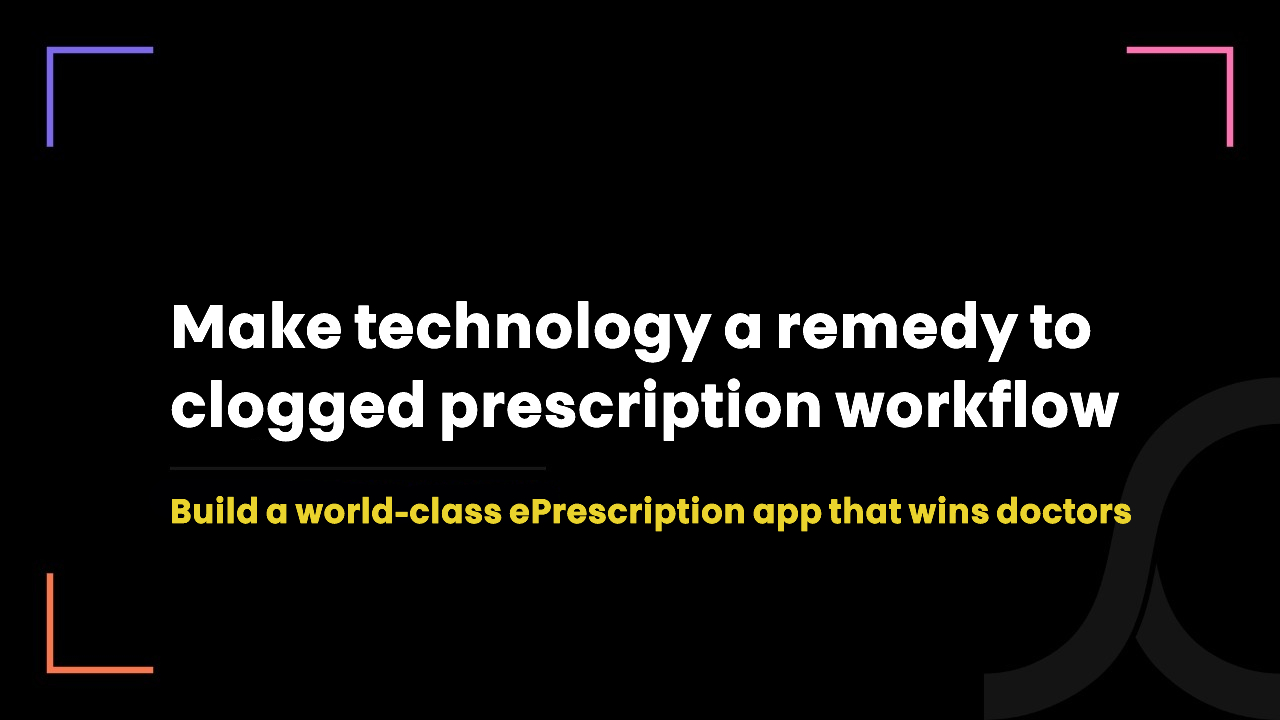 2 months ago
This blog is for those who,
Want to develop an ePrescription app from scratch
Want to choose the best prescription app for doctors
If you are one of them, you will get the most appropriate answers to your every question in the next 3 minutes.
Question 1: What Challenges Can a Prescription App for Doctors Solve?
The legacy prescription process is all about manual work, rather say – just paperwork.
And its impact is not just limited to one person.
It affects patients, healthcare professionals, and the entire organization – in the form of time, costs, and efforts.
And here is it an ePrescription app comes to the rescue. It eliminates the entire manual process by bringing patients, doctors, and pharmacies under the same roof.
The following are the top challenges that an ePrescription app solves.
1. It eliminates manual errors
It injures more than 1.3 million people every year in the USA.
The U.S. alone spends more than $40 billion each year on patients who have been affected by medication errors!
The above data clearly states that medication errors are life-threatening and costlier at the same time.
This is all because of manual processes.
But with the ePrescription app, you can easily cut down on those errors.
Because, unlike traditional prescriptions, here, there is no need to write a prescription on paper or communicate with the patient or pharmacist over a call, text, or email.
Using the app, doctors can easily write and send the prescription to the patient or pharmacy via text or email in the form of a PDF file.
2. It offers solid security
If we see, there is no verification method associated with the paper-based prescription.
This sometimes results in manual errors which might result in life-threatening situations for the patient.
But a prescription app for doctors comes up with safe verification along with a digital sign that ensures the reliability of the prescription – to the patient and the pharmacists.
3. A better patient-centric care approach
There is a range of factors that impact the choice of selecting the right prescription for the patient.
The medication app allows doctors or physicians to access and analyze all the patient's details such as – health conditions, allergies treatment, and prescription history.
With this data in hand, the healthcare professional can easily provide the most appropriate medication that completely suits the patient and results in enhanced patient outcomes.
4. It reduces time and costs
The prescription app for doctors automates manual tasks for healthcare organizations and pharmacies.
For example, there is no need to call or text patients about their prescription renewal.
Because the app automatically sends a reminder to patients via SMS, email, or in-app notification regarding their upcoming prescription refill.
This helps in reducing the operational time and overall cost associated with it.
5. It improves the patient care experience
A traditional prescription approach is full of waiting room hassles and pharmacy pickups.
However, with the ePrescription app, the patient can easily get the prescription services they need without leaving their comfort zone.
For that, the patient needs to follow just a few steps.
Conduct an online visit or answer a few questions regarding symptoms.
The certified physician will connect with you and provide a prescription along with an ideal care plan.
The care team sends your prescription directly to the pharmacy store as per your preference or you can do it on your own.
You will receive the prescription at your doorstep.
The following tweet depicts the entire story.
I kinda love the times we live in bc I can get my prescription online without having to actually talk to a doctor (I can't go to my beloved psychiatrist anymore and I'm too lazy to find a new one) ((I will find a new one if I get worse, so don't worry))

— ada ✨ (@a_nnacsillag) November 19, 2022
Question 2: Who Can Use the App for Prescriptions?
The ePrescription app brings everyone (who is involved in the prescription process) under the same roof.
For example,
Question 3: How Does an Online Prescription App for Doctors Work?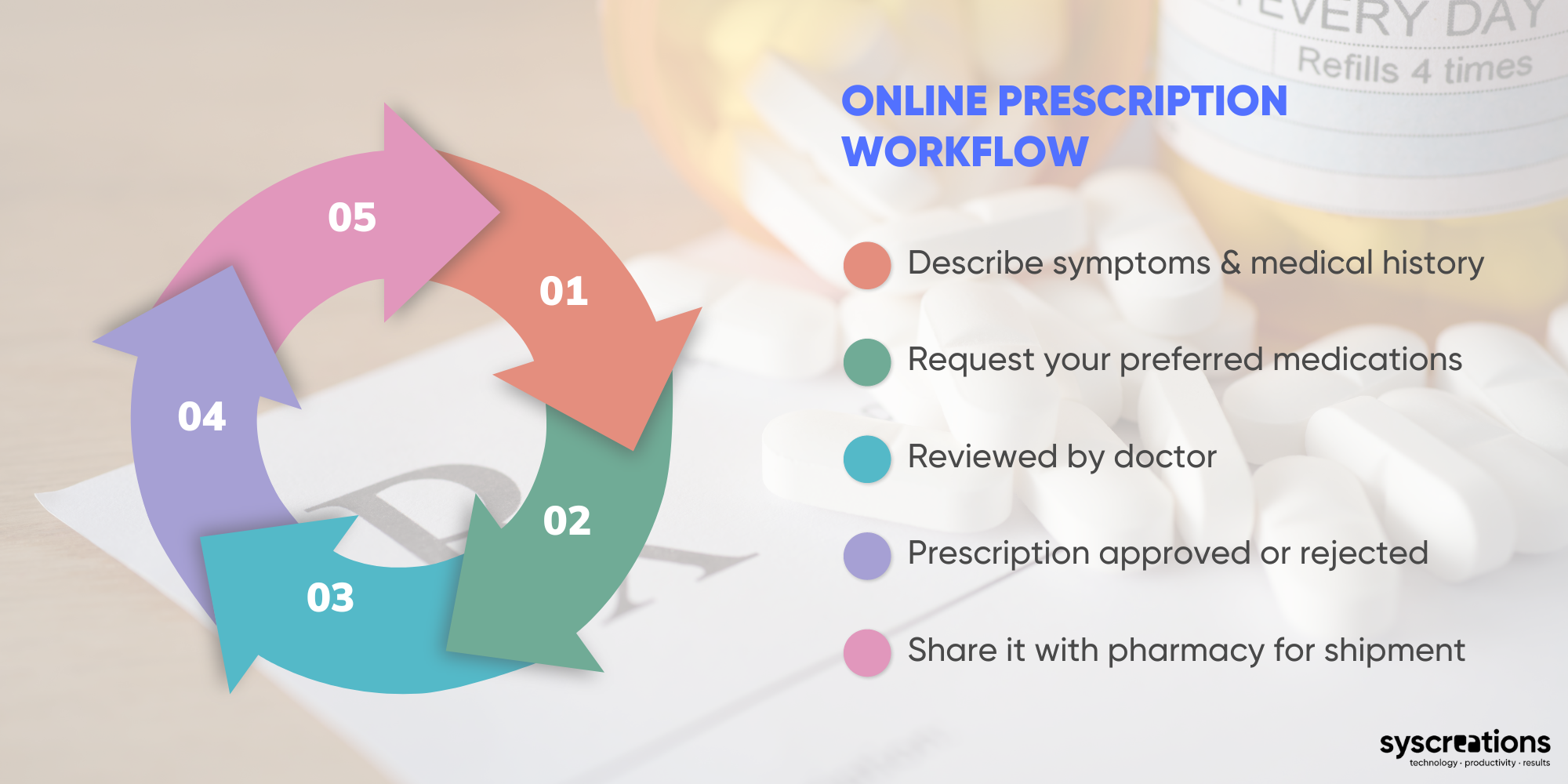 Question 4: When Should Physicians Prefer a Medication App for Doctors?
The benefits and opportunities are endless with the online prescription app for doctors.
So, if you have the below-mentioned requirements then the ePrescription app is the best option for you.
1. Want to make a faster and easier decision
The ePrescription allows easy access to patients' medical records.
Using that data, the doctors can easily make a faster and more accurate decision for selecting the most appropriate medication plan for the patient.
2. Want to remove handwritten prescription
Unreadable writing is the main cause of manual errors.
And those errors are time-consuming and costlier for organizations and life-threatening for patients.
But with a prescription app for doctors, you can easily eliminate the paper-based prescription which not only reduces medication errors but also helps the physicians to focus on the other key areas of the organization.
3. Want a rapid prescription process
An online prescription app cut down the time-consuming and error-prone communication between patient, doctor and pharmacist.
This speeds up the entire prescription process – at the same time lowers the chances of errors.
Question 5: Which Features Should I Prefer for the ePrescription App for Doctors?
To get a better understanding, let's divide its features into three segments.
For doctors:
Dashboard to manage prescription
Accept or cancel prescription request
Send prescriptions over SMS, email, or FAX – to patient and pharmacist
For patients:
For pharmacists:
Question 6: Why is it Important to Use or Develop a HIPAA-Compliant Prescription App for Doctors?
The app contains crucial medical, financial, and personal data of patients.
And it's necessary to protect that data against cyber attacks.
If the app is not compliant with the data privacy laws – the possibilities are higher of data breaches.
Thus, it's important to use or develop an ePrescription app that is compliant with data privacy and security laws such as HIPAA, PHIPA, PIPEDA, etc.
Question-7: What Should I Choose Between Custom App Development and Ready-to-use Apps?
It totally depends on your business goals.
For example,
Custom app development:
It is a perfect option if you have unique requirements, a long time-to-window, and high capital to invest.
Generally, startups prefer this method as they aim to bring innovation in through product development.
Ready-to-use prescription app:
It is a perfect option if you have low capital to invest and less time to window.
Healthcare entities and healthcare providers must opt-in for this option as they get what they want within their budget and time without going through technical complexities.
Question 8: How Much Time and Cost Does it Take to Develop a Prescription App for Doctors?
In one sentence, there is no fixed time and cost for it.
Because app development is not just about coding all the time.
Several other aspects play an important role in it.
It includes discovery, documentation, UI/UX, QA & usability testing, compliance audit, and maintenance.
Above all, your business, technical, and compliance needs also influence the app development time and cost.
Thus, without knowing your exact requirements, it's not feasible to tell you the time and costs it takes for the ePrescription app development.
And we don't want to give you any random number and mislead you.
So, just share your requirements with us and we will give you a personalized quote.
Who Are We and How Can We Help You Streamline the Prescription Process?
We are an Ontario-based healthcare-focused IT company.
For the past 8+ years, we have been performing only health tech projects for startups, enterprises, hospitals, clinics, entrepreneurs, government agencies, and individuals.
And we have a dedicated team of 50+ healthcare-specific IT professionals.
It includes web and app developers, UI/UX designers, compliance specialists, business analysts, QA engineers, integration experts, and RPA engineers.
And we recently created a HIPAA-compliant telemedicine app that comes with an in-built ePrescription feature.
Check out its live demo of the admin panel using this link 👉 Telehealth admin demo.
Username: admin@admin.com
Password: Admin@123
OTP (2-factor authorization code): 123456
And to log in as a patient and physician, use this link 👉 Telehealth patient/physician demo.
In which, username and password are auto-filled.
(Note: It is a telehealth product that we can easily customize to meet your online prescription workflow requirements. All we need to do is, remove the video consultation part and implement the patient onboarding workflow as per your needs. This way, we save you from reinventing the wheel!)