How to reduce coronavirus deaths in Ontario long-term care homes using technology?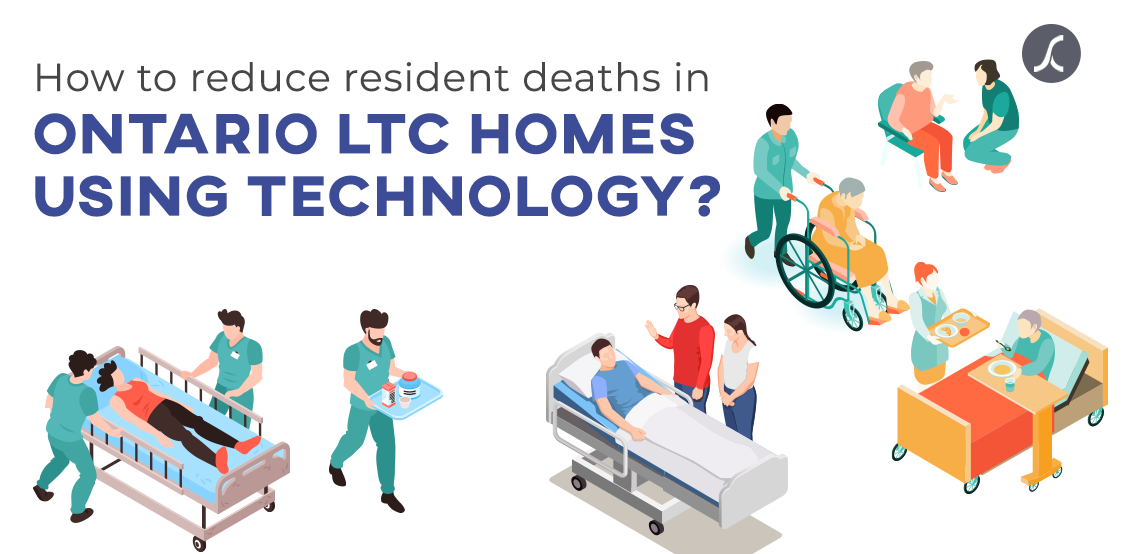 4 years ago
It is both devastating and heartbreaking. 
Our grandparents, seniors, residents are dying, all alone. 
According to the latest news published in TorontoSun, more than 700 long-term care residents have died during the COVID-19 pandemic in Ontario. For context, the entire Ontario province has reported 951 deaths due to COVID-19! 
One of the greatest challenges we are facing is protecting our long-term care homes. We've used every tool in our tool box and we will continue to work hard to find a solution. We need continued support from the federal government to ensure we protect our most vulnerable. pic.twitter.com/IQrxD1bkKr

— Doug Ford (@fordnation) April 25, 2020
While the future of Canadian long-term care homes seems uncertain, advanced yet affordable technologies are reducing the resident deaths in Ontario, long-term care homes successfully. 
What are the reasons for resident deaths in Long term care homes in Ontario? And what is the solution? 
Nearly half of all coronavirus-related deaths in Canada happen in long-term care homes, and the number is only expected to increase, chief public health officer Theresa Tam said Monday.
⮞ Reason/Problem 1: Visitors and staff members are bringing in the virus
Considering the possibility that visitors and staff members may bring in the coronavirus, the Canadian government has already banned the visitors visiting the LTC homes. But they cannot ban the entry of staff members. After all, they are caregivers and residents need them. 
🢚 Solution: 
An LTC home can continue offering effective resident care with only half of the staff being physically available in LTC homes while others are providing virtual care. 
However, virtual healthcare tools make LTC homes more productive with doctor and resident connectivity online, and we can help to make your internet uninterrupted and with a lot of other telemedicine ideas.
We at SyS Creations, 100% believe that a virtual care tool or telemedicine tool should be a PHIPA complaint to meet the data privacy laws of the Canadian and Ontario governments. 
⮞ Reason/Problem 2: Lack of social distancing between physicians and residents
Non-COVID-19 residents need regular health checkups and to carry out regular health checkups, physicians have to disobey the social distancing guideline for a while. 
But a direct contact between physicians and residents can easily transmit the virus if a physician carries it, even on his PPE. 
🢚 Solution: 
Physicians should avoid direct contact with residents without affecting their regular health checkups. 
LTC homes should not only accommodate a virtual care tool but also train the nursing staff to navigate new technology and schedule virtual meetings between physicians and residents. 
🢚 Advanced solution: 
LTC homes can deploy a remote patient monitoring system and integrate it with the virtual care tool to get real-time biometric information of residents remotely. 
If you want to know more about a remote patient monitoring system, read our dedicated blog.
⮞ Reason/Problem 3: Delayed and ineffective care 
Healthcare professionals working in LTC homes are overburdened due to COVID-19. Extensive paperwork and many manual senior care processes make their situation even worse. 
On top of this, many healthcare professionals now avoid visiting LTC homes as they are scared of getting the infection. As an upshot, both non-COVID-19 and COVID-19 residents aren't able to get timely access to care which sometimes results in deaths!  
🢚 Solution:
LTC homes should reduce the paperwork and other administrative burdens to free up hours for healthcare professionals. But to achieve so, LTC homes should deploy a virtual care tool and robust network infrastructure which actualizes uninterrupted Wi-Fi access. 
Using a virtual care tool with fast Internet access, healthcare professionals can digitally note down all critical updates within seconds and focus more on resident care. Fast Internet access matters the most, here! 
⮞ Reason/Problem 4: Awful mental health of residents due to loneliness
Almost all residents living in LTC homes in Canada are undergoing awful mental health conditions because of loneliness, their dying friends, and their helplessness.  They are seeking emotional support like never before. 
🢚 Solution: 
Since the government has banned visitors from visiting the LTC homes, family members of residents do not have any option to see their loved ones except virtual visits. 
Nurses can schedule virtual visits between residents and their family members. Such visits help residents to collect strength and be calm & mentally healthy during a crisis. 
How can we help to reduce resident deaths in Ontario long-term care homes? 
We are one of the top IT management and consulting service providers in Ontario. We have developed our virtual healthcare solution for LTC homes and have been working with many Ontario-based LTC homes. 
Our mastership in the Wi-Fi setup, virtual care tool deployment, staff training, and IT support will help you focus more on resident care which eventually reduces resident deaths. 
Due to COVID-19 situation, our working pattern has changed to remotely, but our confidence remains the same.
I will be happy to share our experience of building robust network infrastructure within 3 days in an Ontario-based LTC home remotely through AR technology during COVID-19.
Ontario's government is spending $243 million toward screening, personal protective equipment and infection control measures in affected nursing homes. 
Let's schedule a virtual meeting to leverage technology and your idea or thought toward LTC homes and figure out a fresh solution.