Use Cases Of Robotic Process Automation in Healthcare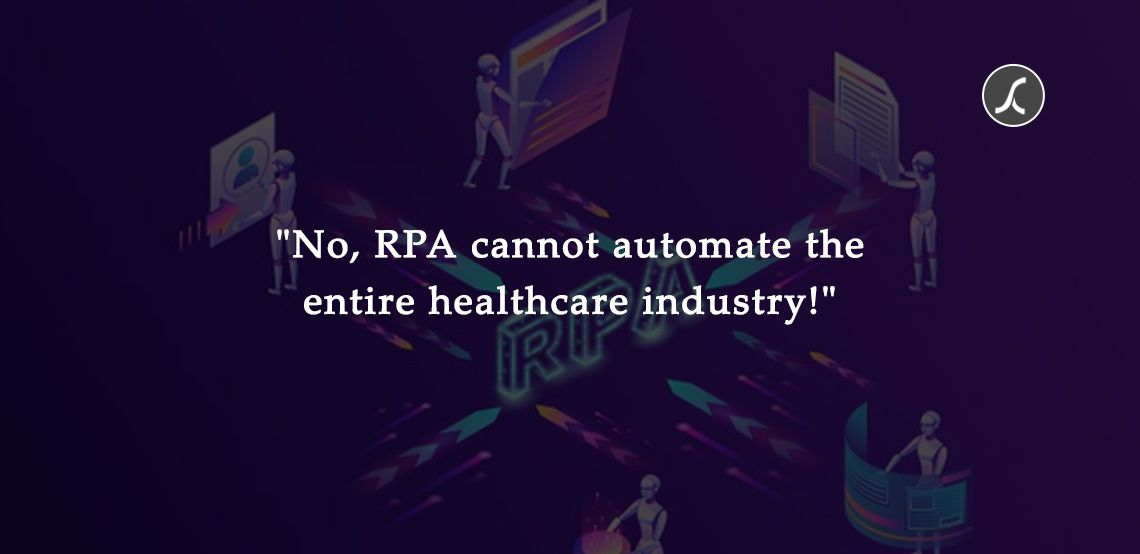 3 years ago
1) RPA Use Cases for Hospitals

RPA robots streamline the entire clinical workflow from appointment booking, patient onboarding, medication management to patient discharge and follow up appointments. 

I.e., a robot replaces call attendees that schedule appointments, direct it to the doctor (sometimes to the wrong doctor), and remind the doctor & patient of appointments.  

2) RPA Use Cases for Private Clinics

Unlike hospitals, private clinics can bypass RPA for clinical workflow due to less workload. However, an account settlement or billing is something where RPA reduces errors, time, and efforts for private clinics. 

3) RPA Use Cases for the Nutrition Centres/Dietitians

RPA bots can ensure the accuracy of dietary guidelines, send reminders to patients about supplement pick-ups, upcoming appointments & medical tests, and track & document the body composition of the patient. 

4) RPA Use Cases for Psychiatrists

RPA eases the documentation of counselling therapies in a progress report. It also documents the patient's current mental state followed up by different assistant doctors through different communication channels and reports patient progress to the patient's caretaker. 

5) RPA Use Cases for Physiotherapists

Software robots can replace the staff to handle the most tedious tasks like obtaining patients' informed consent, documenting patients' functional capacity, performing & documenting initial exams, managing medical records, and providing follow-up care. 

6) RPA Use Cases for Retail Pharmacy

Whether there are team-centric processes such as payroll, roster management or there are customer-centric processes such as invoices,  prescription processing, the RPA robots accomplish it hours before the staff can accomplish it. 

7) RPA Use Cases for Online Pharmacy

In addition to all team-centric and customer-centric processes, it most importantly streamlines the prescription or home healthcare products delivery and return cycle. 

For instance, in the case of the return, it documents the incident, regenerates and reprocesses the invoice, sends a confirmation mail to the customer & reports the team. 

8) RPA Use Cases for Long Term Care Pharmacy

Long-term care pharmacies can easily attain accuracy and productivity goals with RPA automating the dispensing workflow from receiving, validating, documenting to delivering, and billing the prescription. In the event of a medication incident, it reports to CMIRPS by itself. 

9) RPA Use Cases for Retirement Homes

RPA bots can take over staff responsibilities like seniors' admission, data management, account payable, vendor management & purchase order of essential items. It also automatically handles other internal tasks like generating admission & finance reports. 

 10) RPA Use Cases for Long Term Care Homes

LTC homes are notorious for overwhelmed staff. An RPA bot executing staff's tedious tasks such as prescription orders, billing, medical reports, and concern management of residents' family members can add up time for them. 

11) RPA Use Cases For Healthcare Insurers

Majorly, claims processing is a high volume and repetitive task of every insurer. With RPA, it becomes effortless to extract data, verify the claim, and collect claims processing information from multiple sources. 

 12) RPA Use Cases for Blood Banks

Managing data of blood donors, their consent, details of blood containers, and tracking & reporting of each blood container are a few most important and error-sensitive processes of the blood bank. An RPA bot automates all at once, very precisely. 

 13) RPA Use Cases for Dialysis Centres

Dialysis centers work collaboratively with blood banks. RPA bots actualize a rapid and accurate collaboration for blood container supply and reporting. Other common use cases include patient appointments, reminders & billing.  

 14) RPA Use Cases for Radiology Centers

RPA facilitates radiologists to automatically share reports containing medical images, test results, and future need for examinations with a patient's referring physician. The communication and job allocation between radiologists and radiologic technologists can also be automated and enhanced. 

 15) RPA Use Cases for Medical Laboratories

Lab test results documentation, extraction of particular data from documents, sending emails, invoices, and reporting - are some of the repetitive processes of the medical laboratories that RPA can make "We don't need human efforts" kind processes! 

 16) RPA Use Cases for Drug Manufacturers

Here, the work environment always remains intense due to the high cost of errors. Bots handling Bill of Materials (BOM), inventory, and reporting eliminate the scope of errors. It speeds up another crucial process - drug testing - by automating data migration and extraction.