How Should RV Parks Be Prepared to Grab More Business When Campers are Flooding Campsites?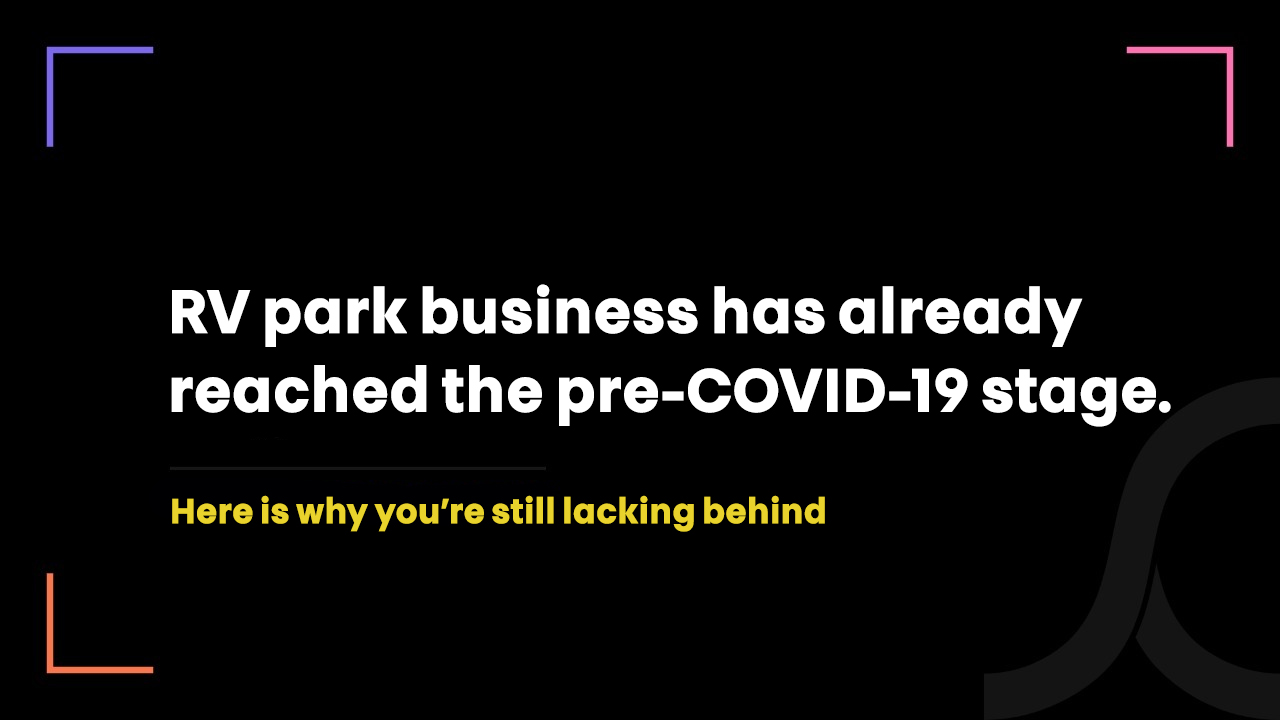 3 years ago
The worst has passed.
Canada is slowly recovering from the pandemic-effect. 
This is high time to be prepared for the next economic boom which is just around the corner.
If you own an RV campground anywhere in Canada and the USA, this blog is for you! 
We don't have to do anything with the RV park business. But we are the IT professionals who can guide RV park owners to double the customer footprints by investing a little.
"There is a sudden surge in people looking for campsites": Ontario Parks
This is a very welcoming statement.
Ontario Parks has announced that we have been experiencing sudden increases in bookings from 29,504 in the first few weeks of 2020 to 58,475 for the same period in 2021. 
Just in the first few weeks of 2021, campers have made 58,475 reservations, up from 29,504 reservations in the same period in 2020: https://t.co/lO06XEAQhZ pic.twitter.com/zNifozJ4ZE

— Ontario Parks (@OntarioParks) February 23, 2021
However, the sudden surge in campsite booking is only beneficial to site owners.
"But we always face challenges while booking spot in campsites": People
People who want to book the site to either park their RVs and spend a night under stars or to find a perfect getaway with friends and families every time find no availability. 
They also can't find the preferred spot in their preferred campsite.
Sometimes, they even have to pay extra.
This frustrates the customers - especially when they drive their RV all the way to the RV campground and find the park is full or it does not have all the required amenities! 
"We have a solution, always!": SyS Creations
Why don't you (RV park or campsite owners) develop an app for RV campgrounds that helps campers to,
Find all nearest RV parks 

Take a virtual tour of the RV park 

Book the preferred spot  

Talk to RV park staff over call & chat  

Make payment 

Manage booking (change date, time or cancel the booking) 

Rating and review 

Find RV service options 

Check real-time weather 
"This is not a new concept. There have already been many successful RV park finder apps": Our business experts
Check out these top RV apps to get ideas, inspiration or to find their cons!
1) Camp & RV: Tents to RV Park
Most popular app with lots of filter options to find the perfect RV parking spot. It is available both in Canada and the USA. It also works offline.
2) RV Parky
It is developed by a full-time RVer to help fellow RVers. It is equipped with 25,000+ listings of RV parks, Walmarts and truck stops in the USA, Canada and Mexico.
3) KOA App
KOA owns some of the most-liked campgrounds in the USA. To get higher customer footprints and ease the booking process, they have launched the KOA app.
It is armed with features such as,
Search 

Filter

Book 

Navigate 

Information 

Rewards 

Offline functionality 

Notifications 

Emergency alerts 
"What would be the benefits of developing an app for RV campgrounds?": Owner of campgrounds
This is the question we have been asked for the most time. And every time, we feel the same energy answering the question. 
Because, that's what we have been doing - letting businesses save costs and earn more with the mobile app!
The benefits of having an app for RV campgrounds are,
The app enables you to be visible to a large customer base who are searching for campgrounds using online resources.
Once they find your RV park online, the app features and usability make sure that you never lose a customer. 
The admin panel of the app is equipped with many useful features such as customer details, their booking, contact details, unbooked spots, etc. 
With these admin panel features, it would become so easy for you to run the RV park without putting in more effort and time.
Through all of your marketing channels such as Facebook, Instagram, emails, you can divert all of your prospective customers to the app only.
And since an app is the actionable outcome of the marketing efforts, your target audience will engage more with your RV park. 
Build a Loyal Customer Base
With an app, you can easily run the customer loyalty program and manage it from the admin panel itself which ensures a high turnaround of your customers.
You can even offer promo codes and discount offers to your customers to make them your loyal customers. 
"What is the max amount I should invest in RV park app development?": Owner of campgrounds
Developing an app and buying a car is the same thing. 
To get a feature-rich car, you need to pay more. Same way, to get the feature-rich app, you need to pay more.
Thus, the amount of money you have to invest in the mobile app highly depends on the type of features you would like to have in the app.
Because the development agency charges on an hourly basis and the app features influence the development hours greatly. 
Another thing you need to consider while fixing the budget for the app is the region where you should outsource your project.
Because in many Asian countries, the app development companies charge less than $25 per hour compared to $40+ in North America-based app agencies. 
However, many Asian app agencies offer poor quality of service in terms of UI, performance, post-app-launch support, compliance, business consultation and app scalability.
With such a bad app, you can never attract users to the app and dominate the market.
Thus, it is always advisable to hire a North America-based app agency that develops apps professionally and helps you with your business as well.  
"We are ready to take your RV park business to the next level with the RV parking finder app.": Our developers & designers
We are an Ontario-based new-age app development agency that practices crazy ideas and new technologies.
We are driven by a young yet experienced team of app developers, designers, business experts and executives. 
With our 16-step app development approach, we develop the best app for RV campgrounds that your customers would love to use.
This app will work as a business solution that will help you to get maximum business during the current and post-pandemic time. 
So, let's have a discussion about what you can do next for your RV park business!