Designing Shopify Website: 7 Actionable Steps to Achieve Best UI [with Examples]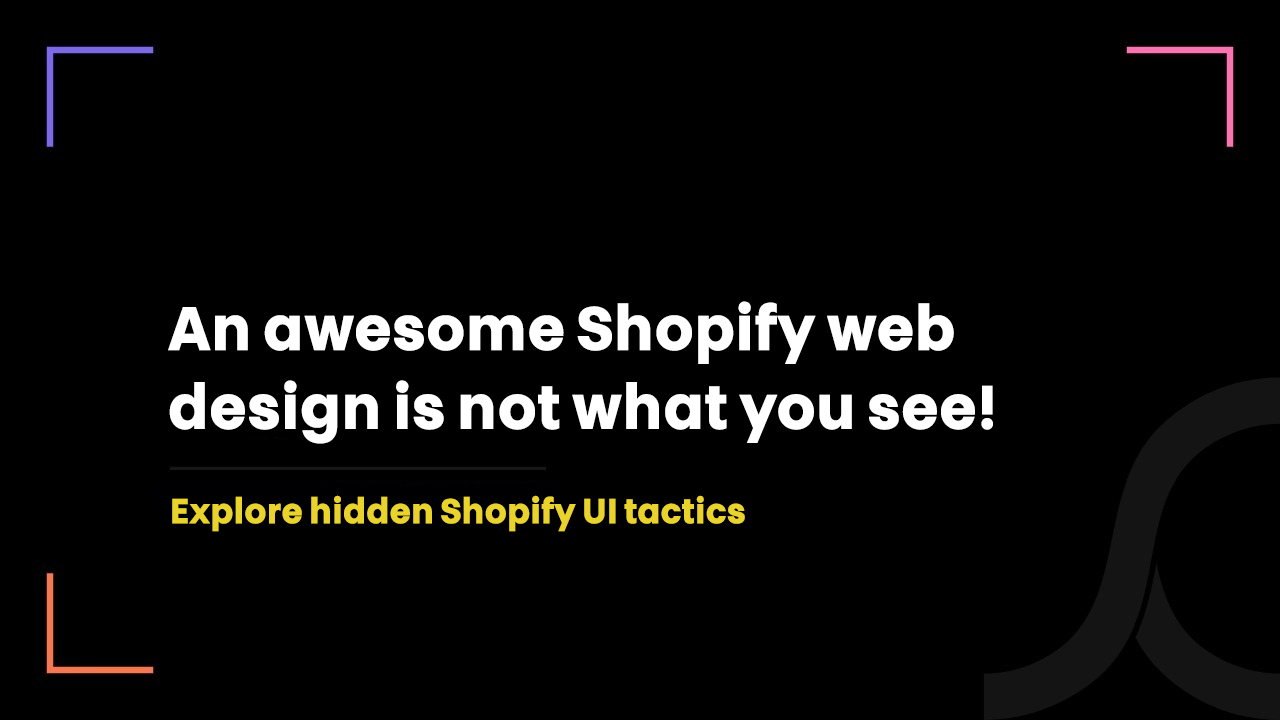 2 years ago
"Design is not how it looks like and feels like. Design is how it works!" - Steve Jobs 
One of the reasons why the first iPhone launched by Steve Jobs revolutionized the mobile industry is the way the design team has designed iOS.
It did not only look and feel great but it worked well.
You must be wondering, how would a design work well? 
Here is how.
Look at the following sign-in page design. How easy it would be for users to 'work' on this page!
Vs, check out the following bad sign-up page design. This not only looks and feels bad, but it also makes users bored while filling out the form. (This way, it does not 'work' well.) 
This is just one example of why you should have a perfect design or UI in your Shopify website.
But there are possibilities that you will end up designing a Shopify website in a poor way due to a lack of awareness around Shopify web design philosophy.  
So, with the help of our Shopify designers, we are here listing out 7 actionable steps to achieve remarkable UI for your Shopify website or app.
Designing Shopify Website? Make It Happen on These 7 Actionable Steps for Best Outcome
1) Don't Ever Use Design Templates Provided By Shopify
If you're serious about your Shopify store, don't ever use design templates provided by Shopify. 
Because of two reasons.
First, there are only limited themes - less than 80.
And second, there is an unmatched surety that the theme you will use has already been used by someone else.
Thus, try something new, fresh and from scratch. And take your Shopify website seriously. In future, it could surpass your revenue generated by your brick-and-mortar store! 
2) Use Lazy Sign Up/Sign In
A sign-up/sign-in page is annoying and people hate it most.
A poorly designed sign-up/sign-in page works like the wall which stops users on its track. 
Designers have implemented many ways to make a boring page a thrilling page. But they failed.
However, there is a new sign-up/sign-in page concept - seems like it is getting success.
It is known as lazy sign-up/sign-in. 
Here, website visitors have the freedom to explore the entire website, search items, read reviews, add items into the cart without signing up.
They only need to sign-up or sign-in while checking out.
This allows your users to explore your Shopify store as the guest and consume the value you provide without getting involved in boring tasks which are useless for users.
Here, it is also advisable to add social sign-up/sign-in buttons that let users sign-up and sign-in via Gmail, Facebook etc with just a single click. 
Image source: https://uxdesign.cc/
3) Easy and Smart Search Option(s)
Not all products you are selling through your website is discoverable from the home page and product page.
Users many times need to search items manually. And this time, if you haven't designed search features intelligently, users are never able to find the item they are looking for.
Meaning, you will lose business.
The best way to let users search products manually is the image and voice-based search in addition to text-based search. 
For instance, eBay allows users to search products by image as well.
Additionally, when a user clicks on the search button, the user should be able to see all trending searches and his search history. 
3) Minimalist Design With Low Colour Variation
Shifting UI colours cause focusing trouble to users. And when a user feels irritated, he will straightway close your Shopify store.

Thus, it is always advisable to use less than 3 colours on a single page. Talking about colours, use not-so-bright colours. 
This will look simple yet elegant - as the following example.
Image source: https://dribbble.com/anastasia-tino
Also, you should pick the colour based on your target audience. 
For instance, if your major target audience is women, you should use soft colours such as pink, and lighter shades of violet.
If your major target audience is men, you should use colours that represent royalness or luxury.
5) Multiple But Useful CTAs
A CTA (Call-to-Action) button plays a very important role in converting visitors into buyers.
It makes it easy for users to quickly buy a product.
However, all popular eCommerce sites use 3-4 different CTA buttons. 
For instance, eBay's website has 3 CTAs - 'Buy it now', 'Add to cart', and 'Add to watch list' in a single row.
Users can choose anyone based on their intent.
If they don't want to buy it, they can at least add it into the cart which keeps the hope for sale alive for the store owner.
Without these multiple CTAs, visitors who don't want to buy it now - but have a plan to buy in the future - cannot earn you business!
6) From Start to Finish - Keep Customer/User Journey Short
Every user visit on your website has a defined customer/user journey based on the user intent.
If a user has the intent to buy a product, his user journey would be like this - search products, read reviews, show similar products, compare price, add it to the cart and checkout.
Each and every website page is responsible for driving this user journey further.
Meaning, if you have more website pages, the user journey will automatically become a very long user journey. 
And everyone hates to be on a long path to reach the shortest destination.
Thus, you should design your Shopify website in such a way that it lets users reach the checkout page in the shortest time and with minimal effort.
For instance, the Apple website has been designed in such a way that it ensures the shortest ever customer journey. 
For that, the website asks all the important details on a single page.
This way, it is able to complete the user journey of users having the intent to buy the iPhone 12 in just 3 steps - the home page, the product page and checkout page.
7) Have Single-Page Checkout Page
Based on a number of different eCommerce studies, the average shopping cart abandonment rate is as high as 68%. 
Meaning, you are losing 68% of your potential customers. (This is a huge number by the way!)
Thus, it is vitally important to create a checkout page UI exceptionally well.
One way to not experience shopping cart abandonment is by designing a single-page checkout page. 
A single-page checkout page is less time-consuming and more engaging to the customers.
It lets them add shipping addresses and payment information on a single page.
However, designing such a jammed page without making it look like a jammed page is the biggest challenge. 
All major brands are shifting to a single-page checkout page as it is the only workable and proven solution to fight against the high shopping cart abandonment rate.
The following is the best example.
Hire Our Shopify Designers - Who Have Implemented These 7 + 40 More Shopify Web Design Techniques for 110+ Times
We're a Canada-based top Shopify app development company.
Last year - in 2020 - we entertained numerous queries and helped more than 40 store owners go online with Shopify apps and websites. 
We accommodate dedicated Shopify developers, designers, business experts and even compliance consultants.
Because of our most resourceful team, we help businesses not only with technical challenges but help them with compliance and business challenges.
Our compliance consultants ensure that your website handles data according to all government laws only. So that you won't be liable for any fine. 
So, if you just want to design the Shopify app /website UI or build the entire online store from scratch, we can lead it to success with Canadian standards and ethics.
Our business experts are ready to welcome you with a free consultation.