Choosing the Right Specialty Pharmacy Software: A Game-changer for Efficiency and Compliance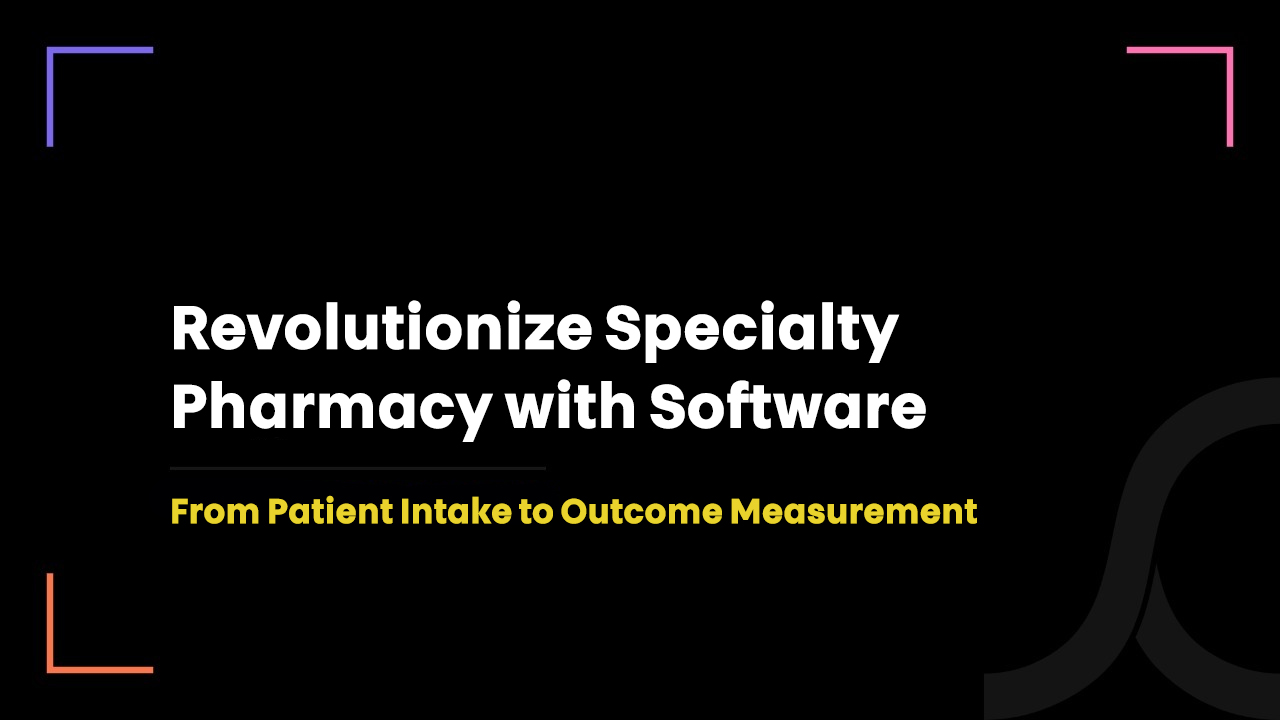 6 months ago
Managing a specialty pharmacy involves a lot of moving parts involving:
Patient intake
Care plan for each patient
Outcome measurement
Pharmacists, clinicians, administrative staff, and managers access the software to oversee and collaborate.
The software is also used by hundreds or thousands of patients to check their specialty medicine orders and refills.
Specialty pharmacy solutions must be functional, intuitive, and clear for users across all skill levels and technology experiences.
It ensures that the patients get the best possible care and the operations are streamlined.
Many platforms have started to integrate key functionalities to meet evolving user needs.
This results in fortifying and simplifying the operational process for specialty pharmacies.
We are enlisting the features that can enhance your user experience and proves to be beneficial for your specialty pharmacy.
Features that Boost Specialty Pharmacy Growth and User Experience
Dashboard Overview
Dashboard overview gives you the "bird's eye view" of your specialty pharmacy.
It can give powerful insights of
Specific information set
Real-time performance
Number of refills
Number of dispensed and pending orders
This feature provides a meaningful experience for all end users as it divides information into categories based on
Performed tasks
Pending tasks
Priority tasks
Progress of ongoing tasks
Automatic Updates and Reminders
When specialty pharmacies rely on traditional systems consisting of limited and manual data management, the chances of human error increases.
This feature ensures that patients never miss the refills while the tasks get completed before the deadlines.
These minimal inconsistencies are achieved by:
Dashboard and patient profile reminders
Automatic integrations
Visualized timelines
Customizable Workflows
Workflows and assessments are the pillars of daily operations.
Many pharmacies and hospitals find it difficult to maintain reliability and consistency across the raising requirements and tasks.
Specialty pharmacy platforms offer tools that assist you in building workflows that are of ideal industry standard.
Some of the healthcare IT companies provide the facility of software customization based on the stakeholder.
If you optimize the assessments, the workflow will be automated.
This results in all the users and channels being integrated seamlessly.
The team members can easily get their next assigned tasks without the need to manually assign them.
With this feature, specialty pharmacies have improved performance with quicker turnaround times and fewer errors.
Medication Adherence Monitoring Tools
The goal of specialty pharmacy is to provide the best possible outcomes to the patients.
Though constant efforts are made by the organizations, nonadherence still costs nearly $100 billion per year to the US.
Specialty pharmacy platforms have started to use tools for monitoring a patient's adherence by using:
Recurring refill assessments
Therapy discontinuation surveys
Built-in risk scoring
Outcome measurement capabilities
These tools help to identify the warning signs of patients that trigger clinical interventions.
These features are provided by many IT development companies but we observed a few issues in it.
Critical Issues in Software Solutions from Non-Healthcare Companies
1. Safety
Manual data entry and lack of automation lead to errors that often result in serious safety issues.
2. Lack of Visibility
The following would be the scenarios if you are not able to trace your pharmaceutical shipments.
Delivery to the wrong address
Failed shipments
Patient confusion
Poor temperature control
Late arrivals
According to the FDA's DSCSA compliance, you will need to track and trace your pharmaceutical shipments from dispensing to the point of patient care.
3. Compliance Problems
Your specialty pharmacy solution needs to comply with HIPAA, DSCSA, and state regulations.
If there are gaps in the accreditation then, you should add uncertainty to the compliance process.
If it is not compliant then, there are high chances for PHI exposure that often results in data breaches.
Choosing the Right Specialty Pharmacy Software can be the Real Game-changer!
Before you look for available software solutions, list the problems faced by your specialty pharmacy.
Are you finding it difficult to maintain accreditation standards?
Is your time consumed in tracking the shipments?
Are you struggling to cope with the high costs of the available or existing solutions?
Once your list is ready, look for a healthcare IT company that can solve your existing problems, as well as, make the processes of your specialty pharmacy more efficient.
We, at SyS Creations, would love to talk to you if our specialty pharmacy software solution would be right for your pharmacy.
It's the best and only software solution created for pharmacists by one of the healthcare industry experts.