Tech-enabled mental and physical health support for LTC homes in Canada during COVID-19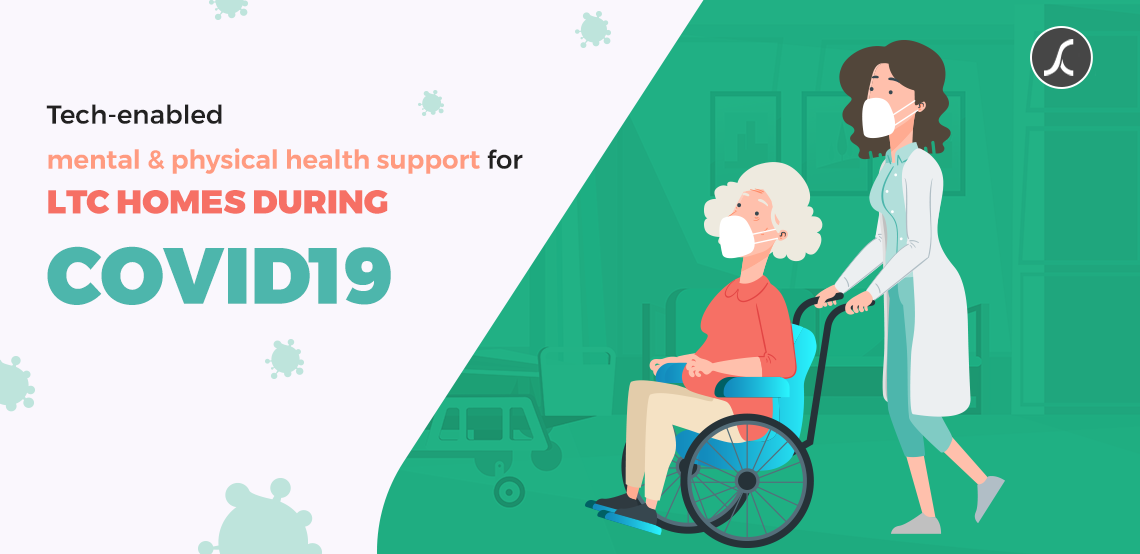 4 years ago
The unsettled situation created by the coronavirus which has claimed more than 54,000 lives globally and 173 lives in Canada is causing many mental, physical and financial troubles to almost everyone living on planet earth.
But it more severely affects elderly people and long-term care homes which accommodate the most vulnerable age group to coronavirus.
Though clinicians working in LTC facilities are working under increased pressure right now, residents living in long-term care facilities desperately need improved and quality senior care.
Conventional methods of senior care do not work effectively in a health crisis. Long-term care homes require more resources to train staff to support elderly people more productively.
However, it is very crucial that mental and physical health support for LTC homes during COVID-19 should be tech-enabled so that clinicians can save time and LTC homes can save money.
In this blog, we will put forth top tech-enabled resources available at an affordable cost or even at the free of cost for the mental and physical health support of LTC homes.
We will also disclose our feature-packed telehealth solution for long-term care homes which we are right now deploying in LTC homes in Canada at the affordable usage fee.
Mental and physical health support for long-term care homes
This is a challenging time, especially for those who live alone and do not have a healthy mind and body. Such people require both mental and physical health support.
However, here it is worth mentioning that healthcare professionals working in LTC homes also require mental support amid pandemic to carry out senior care with the same effectiveness.
The following are the top affordable and free resources long-term care homes can utilize to provide mental and physical health support to residents living in LTC homes and mental health support to clinicians working in LTC homes.
1) Resources for mental health support:
Mental health support from Homewood Health (For LTC home team members)
Homewood Health has tied up with Ontario CLRA to offer free access to their online resources to sustain mental health to all Ontario-based LTC homes. These online resources include a self-directed cognitive behavioural therapy program for anxiety and depression, useful articles, 20+ e-courses on stress & anxiety, and a health and wellness library. These resources were designed to support the mental health of clinicians and other staff members working in LTC homes.
Talking about Homewood Health, it is leading the chart when it comes to top mental health and addiction service providers. With over 130 years of experience and 4500 employees and clinical experts, they have achieved outstanding results. Whereas, Ontario CLRA (Centres for Learning, Research & Innovation in Long-term Care) is funded by the Government of Ontario. They provide programs of teaching to nursing homes to enrich the quality of care.
A free webinar on honouring grief and increasing resiliency (For LTC home team members)
This is another very purposeful resource for long-term care home team members. This webinar was exclusively designed for team members of LTC homes who work with the individual and families witnessing chronic illness and death. Through this webinar, leaders can build a resilient team.  This webinar enables team members to learn ways to find meaning in work by reinforcing self-awareness and self-kindness.
Boredom Busters (For residents)
During the challenging time, long-term care homes should minimize the loneliness of the residents. To help long-term care homes achieve so, the Ontario CLRI and iGen Ottawa have published the list of online resources.
Virtual Travel

Museums

Visit museums around the world. 

 -

Amusement parks 

Take virtual rides of top amusement parks 

Splash Mountain, Peter Pan's Flight, Kali River Rapids, Canada's Wonderland Virtual Roller coaster Ride 

Zoos and Aquariums 

Experience animals and marine life 

Virtual Reality Voyages

, Panda Cam, OrcaLab, Cincinnati Zoo, San Diego Zoo

 

 
Arts & Culture 

Books 

27 classic novels 

 -

Nostalgic Entertainment

A dive into past 

The Mary Tyler Moore Show

, The Dick Van Dyke Show

, Playlist from

1930s and 40s, 50s and 60s

, and

70s

. 

A Night at the Theatre 

Stratford Festival productions on

CBC Gem

, The National Arts Centre's

free online shows

, London's Royal Opera House's

free online content

Cognitive

 

 -

3300 Ted Talks 

Engage the brain

Physical 
 -

Free online Yoga

Relax brain and body

Spiritual 
 -

Daily broadcast or live services of various denominations

Find comfort in faith 

Christian World Media

,

Catholic Holy Masses

,

Islamic Institute of Toronto

,

Vision TV
2) 'Game-changing' resource for physical health support
Telehealth solution -Writi - at affordable usage fee from SyS Creations
We have developed Writi - a telehealth or virtual healthcare solution- with an ambition to address challenges LTC homes' healthcare professionals are facing. Writi creates digital space for collaboration between DOC, RN, RPN, physicians, and even pharmacies.
Writi automatically or manually saves every single data of the residents including their medical history. Before writing a prescription for a resident, a physician can study his medical history and write an effective prescription. DOC can validate the senior care tasks performed by the nurses to ensure quality senior care.
Writi supports virtual visits. Meaning, residents can anytime talk to physicians remotely and share their health concerns. Moreover, the virtual visit feature enables physicians to provide rapid care without contacting the residents.
To know the working of our telehealth solution or virtual healthcare solution and its features in the most easiest way, please refer to the following image.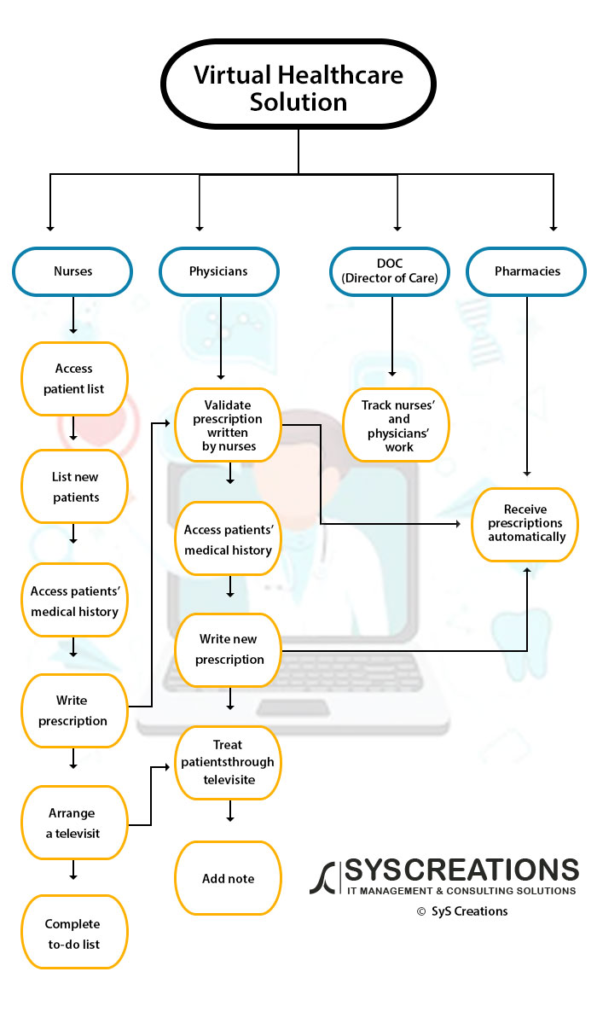 In the nutshell:
We have already identified the people who need the best care and our best attention. But to offer the best care, we have to ramp up efforts to train the staff members who spend most of their time with them. We need to train staff to enrich their mental health to support residents' mental as well as physical health during the health crisis.
In this blog, we have listed out different resources for both LTC home team members and residents. Talking specifically about our telehealth solution, it helps LTC homes to carry out all LTC operations very efficiently even in the challenging time.
Before deploying our telehealth solution at your long-term care home, we study your requirements and even customize the solution to meet your unique needs. After deployment, we provide a proactive round-the-clock support service to avoid downtime.
So, to share your requirements and get an instant quote, schedule a one-on-one meeting with our expert.