How a telehealth solution helps long-term care homes to carry out safe senior care during a coronavirus outbreak in Canada?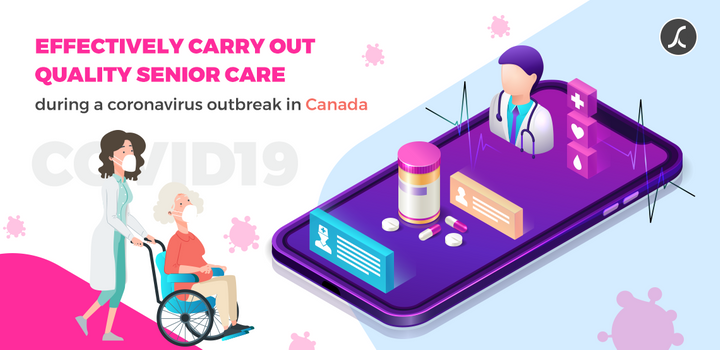 4 years ago
After a jump of 20 percent since 2011, a total of 5.9 million elderly people are living in Canada. Many of 5.9 million seniors are at risk for severe illness with COVID-19. Meaning, they have to ramp up the efforts to prevent being exposed to the deadly virus.
Senior care facilities should also look after them effectively as they are in the most vulnerable age group to coronavirus. Compared to 1.25% of those in their 50s and 0.3% of those in their 40s, Coronavirus kills 13.4% of patients 80 and older.
However, senior care facilities or long-term care homes in Canada face some real challenges to carry out senior care during a coronavirus outbreak. Seniors need regular health checkup which does not only put seniors at risk, but healthcare professionals performing regular checkups and other senior care operations are also at equal risk.
Sensing the urgency, we will discuss how long-term care homes can perform effective senior care during a coronavirus outbreak with the help of technology.
Senior care during a pandemic for long-term care homes
Every long-term care home in Canada can be a hotspot for coronavirus as they are accommodating the most vulnerable age group. The shortfall of caregivers makes the situation worse. Lack of precautionary steps in long-term care homes can also put many healthcare professionals' lives at risk.
To avoid such an unsettled situation, there is one straightforward and affordable solution which streamlines all senior care operations during coronavirus outbreak and even after this. Yes, we are talking about telehealth solutions.
➤ What is a telehealth solution?
Telehealth solution is nothing but the mobile app which runs on mobile phones, tablets, & computers, and enables physicians to treat residents of long-term care homes via video conferencing.
The telehealth solution can directly influence flattening the curve by slowing down the transmission. Considering its advantages to combat COVID-19, the Ontario government announced the expansion of telemedicine or telehealth provincial resources.
A feature-packed telehealth solution bridges the gap between different healthcare entities and let seniors access a centralized healthcare system. It accommodates some groundbreaking features which help all healthcare workers working in long-term care homes such as RN, RPN, physicians, DOC, and also the pharmacies.
You as the long-term care provider can deploy a telehealth solution at your facility within hours. You don't even have to add residents' details manually as the solution itself lists details of residents by using APIs.
You can read our dedicated blog on telehealth app development in Canada to know more about it.
➤ Usefulness of telehealth solution to carry out safe senior care during coronavirus outbreak
The following are the top advantages of deploying telehealth solutions at your senior care facility amid the coronavirus outbreak.
Social distancing between residents and healthcare professionals
Telehealth solutions facilitate nurses to arrange a virtual visit for residents with physicians. Through the virtual visit, physicians can treat the residents without visiting the senior care facility. This way, you can actualize the social distancing between residents and healthcare professionals.
Residents' medical history-based treatment
Telehealth solution saves every prescription of patients as well as their other medical history in digital bundles. Nurses and physicians can access this crucial data straight from their mobile phone to write an effective prescription and provide quality care.
Compared to in-person visits, a virtual visit conducted through telehealth solution enables physicians to treat more senior patients with the same effectiveness but in record-breaking time. And since physicians have easy access to patient's medical data, they can write potent prescriptions.
Easy surveillance of senior care operations carried out by physicians and nurses
Telehealth solution stores every senior care operation performed by the physicians and nurses with extensive details of operations. And because of this, the DOC (Director of Care) can verify whether sufficient senior care has been offered or not to each resident.
Human errors during the pandemic situation cost more lives than ever. Thus telehealth solution avoids human errors by fully or partially automating the healthcare operations, e.g., when a physician writes the prescription or verifies the prescription written by the nurses, the solution automatically sends prescriptions to pharmacy.
➤ How much is the usage fee of a telehealth solution?
Almost all telehealth solution providers in Canada charge long-term care homes based on per resident, per day. For instance, if there are 100 residents at your long-term care facility and you want to list them all on a telehealth solution, you have to pay somewhere between $0.10 to $0.20 per resident/per day. (Price varies from solution to solution.)
After reading so far, if you are thrilled to deploy a telehealth solution at your long-term care facility to carry out senior care during coronavirus outbreak, let's discuss the best telehealth solution - Writi.
The best telehealth solution for senior care during coronavirus outbreak in Canada
Writi which creates a digital space of collaboration between care institutions can streamline all LTC operations very productively and economically. It brings DOC, physicians, RN, RPN, and pharmacies under the same roof, virtually to actualize a connected care.
Writi stores each medical data of the residents under their profile and enables physicians and nurses to access this data anytime, anywhere. It also supports the virtual visit and sends verified prescriptions automatically to pharmacies.
Through Writi's web dashboard, the DOC (Director of Care) can view all remaining tasks or completed tasks of the nurses and physicians to ensure the continuity of care.
Writi is PHIPA and PIPEDA compliant. It accommodates many other features like two-factor authentication and modern encryption to ensure the privacy and security of patient data.
Get a free demo of the Writi and truly modernize the long-term care homes
SyS Creations has precisely engineered Writi, addressing the challenges all healthcare professionals working in senior-care homes are facing. 75+ physicians and 700+ users have already been registered on Writi. It has also processed 10K+ prescriptions. Top Canada-based pharmacies and other healthcare organizations have been using Writi.
We accommodate a team of developers and designers who can customize the Writi to meet your unique needs. We also provide proactive support service to avoid any downtime.
We do not only provide telehealth solutions, but our mastership in a cloud setup, networking, and data security also helps you completely digitize your long-term care home and combat COVID-19 while assuring the good health of both residents and healthcare professionals.
You can get a free demo of Writi by simply contacting us. To share your unique requirements and to get an instant quote, you can schedule a one-on-one meeting with our expert.