Telemedicine App Source Code [For Web/Mobile App with Full Source Code Ownership]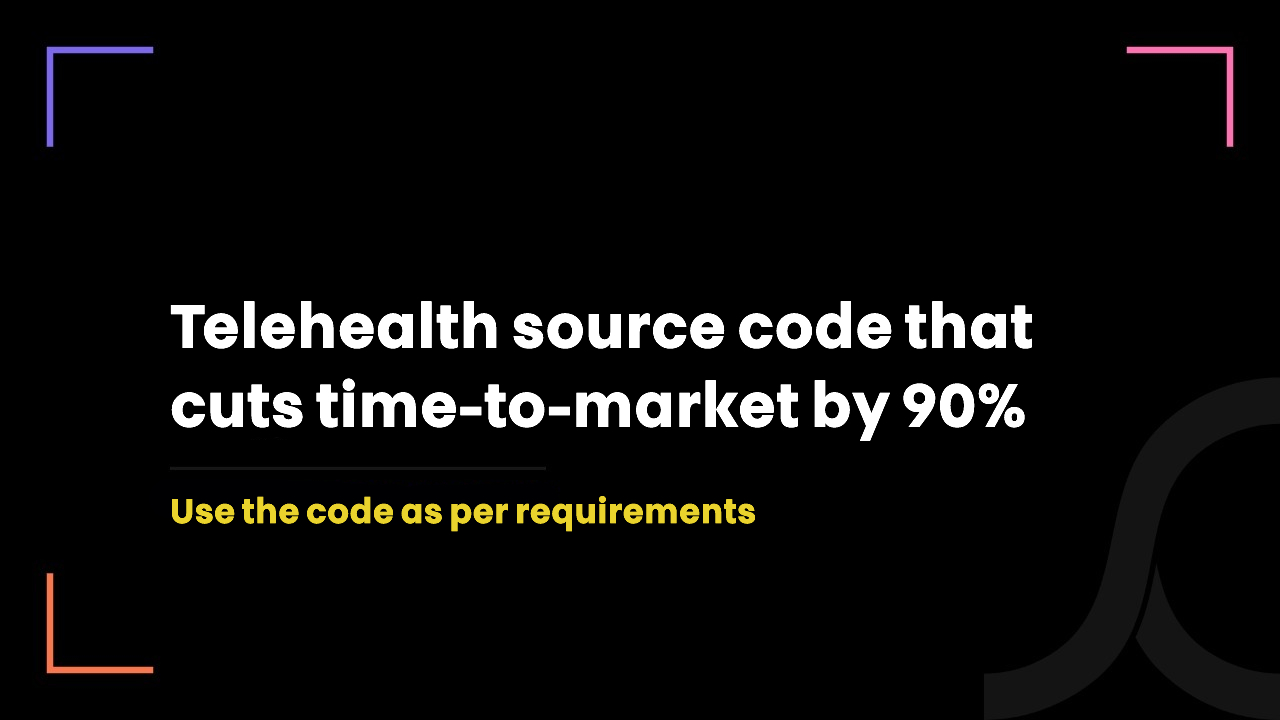 7 months ago
When it comes to telemedicine software (for web and mobile), we noticed that there is a lot of effort and time needed to complete a single project.
The reason is the custom app development.
We are not saying that creating a custom app is not a good practice but the thing is, it can cost you money, time and countless efforts.
As a result, we are providing a telemedicine app source code for both mobile and web applications.
That includes – new features, customization options and ideal integration to other software like EHR/EMR.
It can save you valuable time and money.
And we'll share everything in this blog linked to the telemedicine app source code.
What is the telemedicine app source code?
Telemedicine app source code is pre-written code.
It allows you to customize the code as per your needs or launch the telemedicine web/mobile app directly in the market by skipping the entire UI/UX, development and testing process.
The most important thing is, our telemedicine app source code is far better than the custom development code if you are looking for an affordable telehealth solution.
Why? Because it saves valuable time and money as it is pre-written and already tested.
In case you are wondering, this is a code for a native app. Meaning, you will receive different codes for the iOS app and Android app.
You can acquire this code with full code ownership without any restrictions on usage.
How many features are there in our telemedicine software source code?
"76% of US hospitals connect with patients and consulting practitioners at a distance through the use of video and other technology."
We are both aware that telemedicine is rapidly growing.
Noticing the opportunity, we have added some useful features for both patients and doctors.
Features for the medical professionals:
After a lot of market research and multiple interviews, we came up with the below feature that is easily accessible and relevant for medical professionals and hospitals.
Doctor profile
The multi-doctor or multi-hospital supports
Speech recognition
Mass messaging between doctor and patient
Easily access to the patient' data
Appointment management system
Appointment reminder
Medical notes
Analytics and reporting
Patient appointment history
Easy billing feature
Payment history
Technical support
Source code features that is ideal for the patients:
We are working on user features that give the best outcome from virtual care even in the post-pandemic world.
User profile
Patients can describe the problems
Direct messages to the medical professional
Share important information or documents with the doctor
Nearby doctor, hospital and pharmacist finder 
Symptom checker
Medication tracer and reminder
Appointment booking and reminding
Easy payment options
Review and feedback
Appointment history
Technical support
Who can use our telemedicine app source code?
Telemedicine is rapidly expanding and it's changing the healthcare industry with cutting-edge technology.
For that reason, we are providing a telemedicine app source code that is easily accessible for every healthcare professional.
That includes – doctors, clinics, hospitals and IT companies too.
The customization option can benefit other medical specialists such as:
Dentists
Nutrition professionals
Dermatologists
Vets
Dietitians
Psychiatrists
Physiotherapists
Cardiologist
Optometrists
Apart from that, we can use the telemedicine source code at multiple healthcare locations to simplify healthcare.
Let's look at those spaces.
Where can we use the telemedicine software source code?
The telemedicine app source code can assist medical professionals most beneficially due to its efficient features and ease of access.
The app source code can help – clinics, hospitals, medical management, pediatric treatment, medical emergency, ambulance treatment, virtual treatment and chronic diseases management.
In addition, integrating other software, such as EHR/EMR, with telemedicine app source code can easily expand the usage of the telemedicine source code.
Can we integrate other software with telemedicine software source code?
Why not?
We are developing the telemedicine app source code that can easily integrate with the EHR/EMR software.
The integration can make it easier for medical professionals to understand the patient's condition.
For example, if we integrate the PS Suite EMR with the telemedicine software source code, it can help the medical professional in the below way.
Easy billing submission
An efficient way to track the patient bill
No issues with multiple client billing
Quickly deal with government-insured
Third-party billing option
Patient data access
Overall, the integration of PS Suite EMR can ease the billing process of healthcare professionals.
Aside from the PS Suite EMR, the EMR/EHR software listed below can be integrated with the telemedicine app source code to provide additional benefits.
Oscar EMR
MED e-care
Cerner
Point Click Care
ACCURO
What are the advantages of using telemedicine app source code?
In a sentence, it's time, money and effort-saving.
To build a custom telemedicine app, you need a lot of time but app source code can reduce time-to-market by 90%.
You can customize the features as per your requirement.
The telemedicine source code is less expensive and takes less time to develop than custom app development.
The integration of EHR/EMR with the app source code expands the use cases.
We put healthcare ideas into action with our healthcare IT & business expertise
Whether you are a medical professional or a start-up with a unique idea related to telemedicine mobile or web app, we can help you in both spaces.
Want to know how?
Leading healthcare IT experts
We are an Ontario-based healthcare IT company.
We are a team of passionate healthcare IT consultants, web and app developers, business analysts, compliance professionals, QA engineers, and UI/UX designers.
Top-notch expertise
We have experience working with multiple healthcare IT projects which is why we can handle any type of healthcare IT projects with the help of cutting-edge technologies.
As a healthcare IT company, our expertise lies in managed IT services, cloud management, app development, web development, consulting services, cyber security, networking and telemedicine apps.
Proven experience
When it comes to healthcare IT, we have 7+ years of experience.
Our proven experience helps us to deliver fast, convenient and ideal healthcare IT solutions with reliable maintenance support.
With our enhanced medical IT solution, we work with medical professionals, start-ups, hospitals, clinics, and healthcare enterprises to optimize their workflow.
So, let us know your interest. We will help you with our experts, expertise and experience.
Please note: We are currently working on the source code of a telemedicine app and we are expecting to get it done in the next 3-4 months. Meanwhile, you can explore our white-label telemedicine app or custom healthcare solutions.