Telemedicine App Source Code for Web/Mobile App: Launch Your Own Telemedicnie App Within 60 Days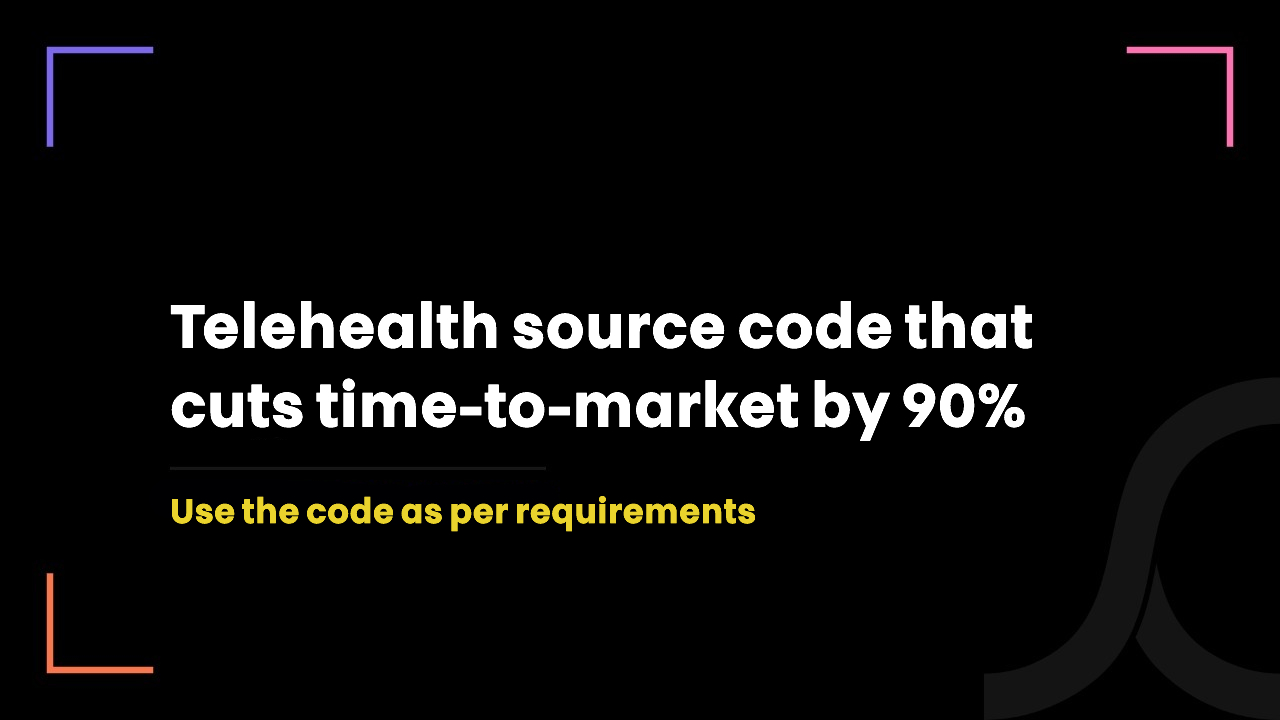 7 months ago
When it comes to telemedicine software (for web and mobile), we noticed that there is a lot of effort and time needed to complete a single project.
The reason is the custom app development.
We are not saying that creating a custom app is not a good practice but the thing is, it can cost you money, time and countless efforts.
As a result, we are providing a telemedicine app source code for both mobile and web applications.
It comes up with customization options and ideal integration to other software like EHR/EMR, HIS, LIS etc.
In fact, you can also perform remote patient monitoring by integrating it with IoT or wearable devices.
To get a better understanding, following are a real-screen images of it along with links to its live demo.
1. Super admin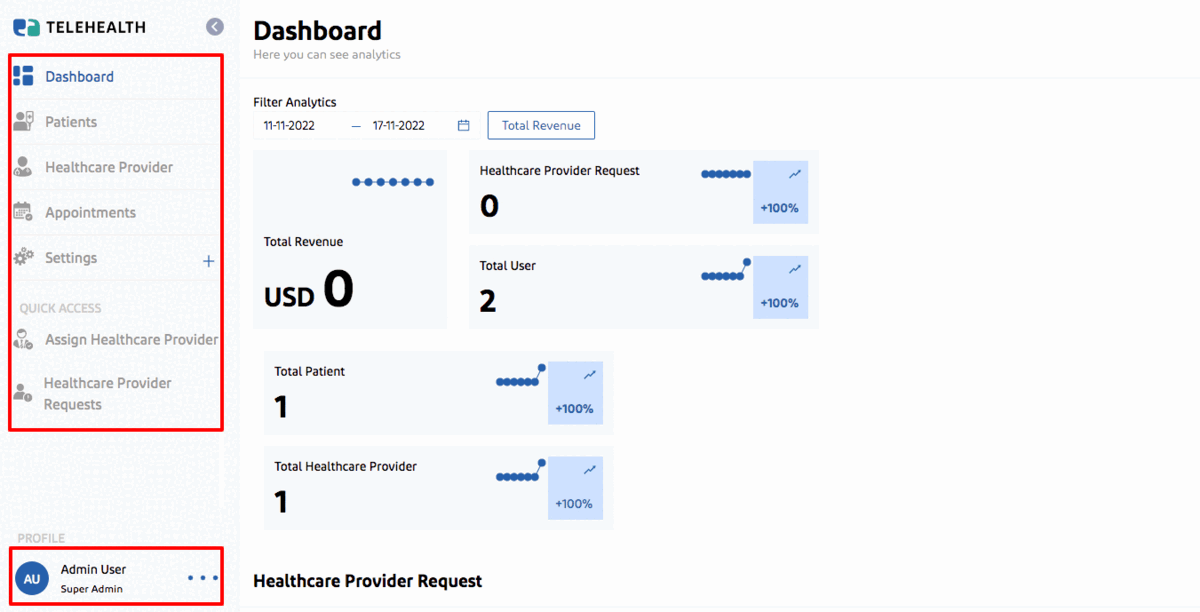 In which –
Username: admin@admin.com
Password: Admin@123
OTP (2-factor auth code): 123456
2. Healthcare professional
3. Patient

Here - username and password are auto-filled.
(Note: The demo we provided is a telemedicine web app. But we have also launched a mobile version of it. So, as per your need, you can either acquire both or individually.)
An overview of our telemedicine app source code
It is pre-written code which you can customize on top of the base as per your needs or launch directly in the market.
For both cases, one thing is common – you'll not need to reinvent the wheel.
In other words, you can skip the 80% of discovery, documentation, UI/UX and development process.
The most important thing about our telemedicine source code is, we have performed usability, QA and penetration testing on it. And we repeat those testing every year.
Besides, it is also compliant with the data privacy and security laws like HIPAA/PHIPA/PIPEDA.
How many features are there in our telemedicine app source code?
There is no doubt that telemedicine is rapidly growing.
And to build a competitive edge on the market, it's more important than ever to focus on futuristic approach.
So, by combining our healthcare-specific business, technical and compliance expertise, we came up with the below feature that will work beyond 2030!
Let's explore it with real-screen images.
Features for the healthcare provider:
Doctor profile
Easily access to the patient' data
ePrescription
Appointment management system
Appointment reminder
Medical and sick notes
Analytics and reporting
Patient appointment history
Easy billing feature
Payment history
Technical support
Telemedicine source code features for the patients:
User profile
Patients can describe the problems
Direct messages to the medical professional
Share important information or documents with the doctor
Medication tracker and reminder
Appointment booking and reminding
Easy payment options
Review and feedback
Appointment history
Technical support
Features for master admin:
Insightful dashboard
Manage patient profile
Manage healthcare providers profile
Appointment management
Analytics and reporting
Track earnings
Manage the availability of the platform
Add, view and manage virtual care services 
Set digital records
See all the feedback in order to improve the app and service quality
View all the transaction information
Who can use our telemedicine app source code?
Our telemedicine app source code comes up with full flexibility.
Meaning, you can use it as a doctor, nurse, clinician or for hospitals and large-scale healthcare organization.
Following are some of the healthcare area where you can use our telemedicine app source code.
Dentists
Nutrition professionals
Dermatologists
Vets
Dietitians
Psychiatrists
Physiotherapists
Cardiologist
Optometrist
Where can we use the telemedicine software source code?
The telemedicine app source code can assist medical professionals most beneficially due to its future-proof features and ease of access.
The app source code can help – clinics, hospitals, medical management, pediatric treatment, medical emergency, virtual treatment and chronic diseases management.
In addition, integrating other software, such as EHR/EMR, with telemedicine app source code can easily expand the usage of the telemedicine source code.
Can we integrate other software with telemedicine app source code?
Why not?
We have developed the telemedicine app source code that can easily integrate with the EHR/EMR software, LIS, HIS etc.
The integration can make it easier for medical professionals to understand the patient's condition.
For example, if we integrate the PS Suite EMR with the telemedicine software source code, it can help the medical professional in the below way.
Easy billing submission
An efficient way to track the patient bill
No issues with multiple client billing
Quickly deal with government-insured
Third-party billing option
Patient data access
Overall, the integration of PS Suite EMR can ease the billing process of healthcare professionals.
Aside from the PS Suite EMR, the EMR/EHR software listed below can be integrated with the telemedicine app source code to provide additional benefits.
Oscar EMR
MED e-care
Cerner
Point Click Care
ACCURO
What are the advantages of using telemedicine software source code?
In a sentence, it's time, money and effort-saving.
To build a custom telemedicine app, you need a large capital to invest and time-to-window but with our telemedicine app source code, you can reduce time-to-market and cost by up to 90%.
You can customize the features as per your requirement.
The integration of EHR/EMR with the app source code expands the use cases.
We put healthcare ideas into action with our healthcare IT & business expertise
Whether you are a medical professional or a start-up with a unique idea related to telemedicine mobile or web app, we can help you in both spaces.
Want to know how?
Leading healthcare IT experts
We are an Ontario-based healthcare IT company.
We are a team of passionate healthcare IT consultants, web and app developers, business analysts, compliance professionals, QA engineers, and UI/UX designers.
Top-notch expertise
We have experience working with multiple healthcare IT projects which is why we can handle any type of healthcare IT projects with the help of cutting-edge technologies.
As a healthcare IT company, our expertise lies in managed IT services, cloud management, app development, web development, consulting services, cyber security, networking and telemedicine apps.
Proven experience
When it comes to healthcare IT, we have 8+ years of experience.
Our proven experience helps us to deliver fast, convenient and ideal healthcare IT solutions with reliable maintenance support.
With our enhanced medical IT solution, we work with medical professionals, start-ups, hospitals, clinics, and healthcare enterprises to optimize their workflow.
So, let us know your interest. We will help you with our experts, expertise and experience.