Are You Business-Ready to Start a Telemedicine Business? Validate It With a Telemedicine Startup Checklist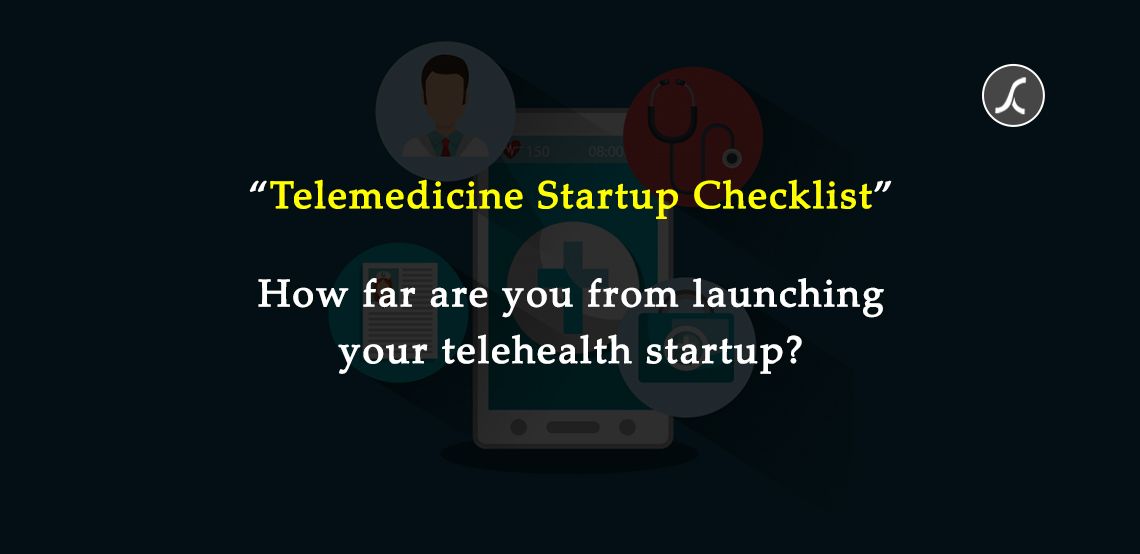 3 years ago
From your perspective, you are all set to launch the telemedicine startup.
But from an expert's perspective, you might be nowhere near to launch!
Why?
Because you don't consider other crucial factors apart from the app!
These crucial factors include government laws, privacy gaps, EHR integration, health card coverage, service agreement and many other things.
You must be finding this complex. So, let's put it on the checklist.
Through this checklist, you will be able to identify how far you are from launching a telemedicine startup in the USA and Canada.
The Ultimate Telemedicine Startup Checklist
There are major 2 steps involved in launching a telemedicine app, and each stage requires a different level of engagement.
Analysis (Your Engagement - High):
1. Market Analysis
❏ Identify town, province or country to offer telemedicine service.
❏ Identify user groups of your decided business location.
❏ Identify the problems people are facing and how you are going to solve it.
❏ Identify characteristics or expectations of the user groups.
❏ Know how your idea or app can fulfil their expectations.
2. Competitive Analysis
❏ Identify the already serving telehealth startups/apps in your decided business location.
❏ Research their products, sales, and marketing strategies.
❏ Create solid business strategies that improve upon your competitors'.
3. Finance (Business Model) Analysis
❏ Identify whether a health plan covers televisits in your decided location or not.
❏ Know the number of people without health coverage.
❏ Identify the buying power and intent of people not having any health coverage.
❏ Decide the fee to be charged for televisits.
❏ Find multiple revenue streams, i.e., partnership with employers.
❏ Calculate the capital cost and operating cost of a telemedicine app.
❏ Calculate the break-even time.
❏ Plan out the ways to reduce break-even time.
4. Compliance Analysis
❏ Identify whether there is any healthcare specific privacy law applicable to you.
❏ Identity applicable private sector privacy law at the state and federal levels.
❏ Know requirements to be compliant with applicable privacy laws.
Telehealth Compliance Full Checklist
5. Marketing Analysis
❏ List the value proposition for each user group.
❏ Identify strengths, weaknesses, opportunities, and threats.
❏ Identify the most efficient marketing channel.
❏ Fix the marketing budget and set the goal for the outcome.
❏ Determine how you will launch your app - MVP, Soft Launch or Hard Launch.
Telehealth Marketing Full Checklist
Implementation (Your Engagement - Medium):
1. App Development Agency Hiring
❏ Do they have healthcare app development expertise and experience?
❏ Do they have expertise with the latest technologies such as AI, ML, IoT, Blockchain?
❏ Do they have expertise in EHR integration?
❏ Do they have in-house healthcare compliance consultants?
❏ What will be the app delivery window?
❏ Who will own the code of the app?
❏ Does the cost include any free support?
❏ Which development tools, language, and third-party frameworks they will use for your app?
❏ Will they execute TRA (Treat & Risk Assessment) to find the vulnerabilities in the app?
❏ Will they carry out a gap analysis to make the app most secure?
2. Planning Your Telemedicine App
❏ Define the purpose of the mobile app and how it solves the problem.
❏ Are you going to develop an MVP or full-fledged app?
❏ Are you going to develop a native or hybrid app?
❏ Fix the feature set that includes crucial features, must-have features, and nice-to-have features.
❏ Do feature set include features for all user groups to satisfy their different needs?
❏ How easy is it to use all features for new users?
❏ Consider the user journey with respect to your decided feature set.
❏ Use an analytics program like Firebase to measure in-app user behaviour.
3. Design and Development
❏ Do developers follow all privacy laws to develop a privacy laws compliant app?
❏ Do you already have a design idea, or are you starting from scratch?
❏ Carry out user usability testing to find out how easy the user journey is.
❏ Which app delivery model the agency is following - waterfall or agile?
❏ How easy is it to scale up the app?
❏ How data-driven your app is?
❏ Does your app handle all data as per privacy laws?
❏ How often does the app need support once it is launched?
❏ Which are the APIs your app will be integrated with?
❏ Are those APIs privacy laws compliant?
4. Deployment and Maintenance
❏ Test app functionality and performance.
❏ Carry out a gap analysis to find security vulnerabilities.
❏ Check dedicatedly whether a developed app is compliant with all applicable privacy laws or not.
❏ Test the app on a wide selection of Android and iOS devices.
❏ Have a system for capturing and tracking any issues.
❏ Use tools that automate the running and reporting of unit tests.
❏ Does your app follow all policies of the Apple App Store and Google Play Store?
❏ Do you have an app description with keywords?
❏ Create some appealing screenshots, videos, and mockups for the app launch.
❏ Draft a plan to release frequent updates.
❏ Have a strategy to respond to app reviews on the App Store and Play Store.
We tick off all items on this checklist to ease your journey to a successful telemedicine app business.
We are not just an app development agency. We are beyond that.
Because we do not only develop telemedicine apps but provide compliance consulting, business automation, business consulting, technology consulting and workflow drafting.
In other words, we help you start a telehealth startup from scratch and will be with you till your journey beyond glory.
We do have some excellent and profitable news for you.
Get Free Telemedicine App Demo