Get Telus eClaims Integration Done with Any of Your Mobile/Web App and Software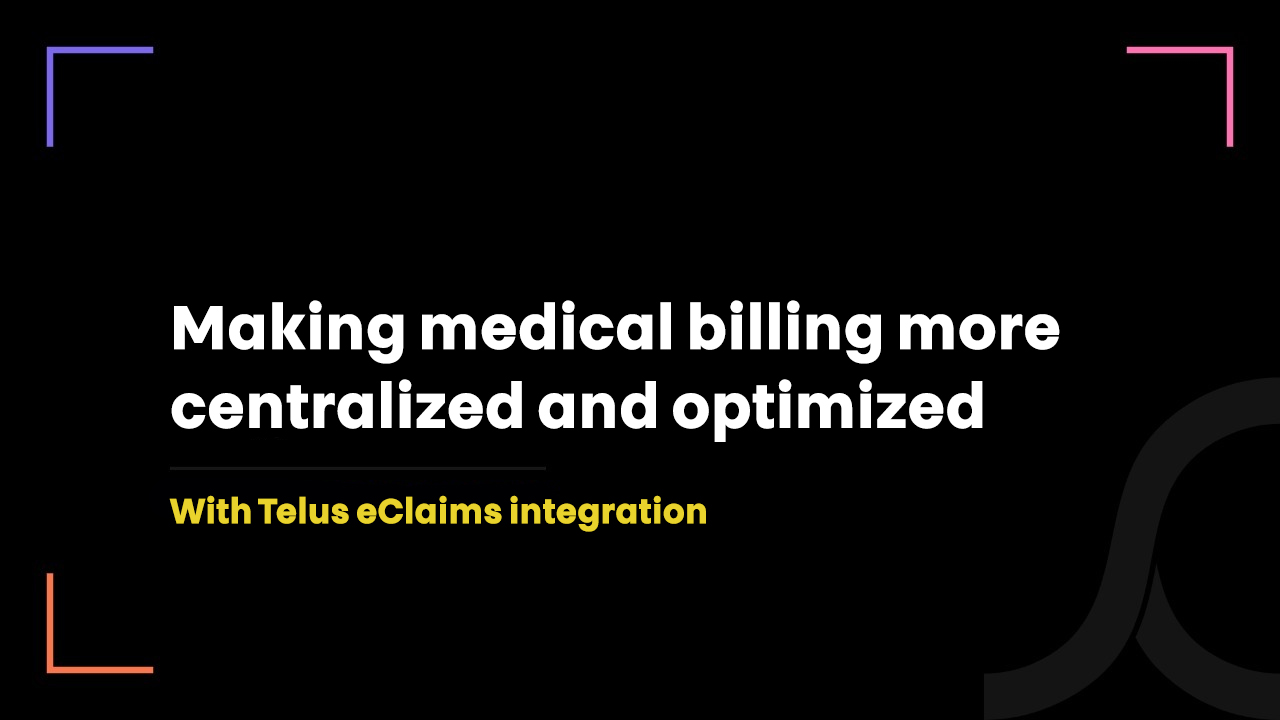 15 hours ago
Let us first justify the blog title.
We can help you to integrate Telus eClaims with any of your mobile or web apps and software.
We are an Ontario-based healthcare-focused IT company - easing technical pain areas of healthcare providers and startups with our tech expertise, experience, and experts. 
Be it healthcare digital product development EMR/EHR integration, Kroll integration, and insurance billing integrations, we are called the most reliable and local tech partner. 
What are Telus eClaims? How Do They Work?
Telus eClaims is a free direct billing service provided by Telus.
It allows healthcare providers to easily submit claims online on behalf of their patients using the web app Telus eClaims. 
It is majorly used for capturing and submitting claims of patients to private healthcare insurance companies.
It stores electronic health and insurance records of patients and that makes it easy for healthcare providers to directly submit the claims to insurers.
Here, healthcare providers are supposed to add all patients' details. In many cases, the solution itself fills most of the patients' details and saves time for providers.
Healthcare providers are also required to add the service code or billing code.
They can either add it manually or search it from the list of government-approved service codes.
After filling in all of these claim processing details, when they submit the claim, the patient's insurance company receives it directly on their system.
And when the insurer processes the claim and makes payment to the healthcare provider, he gets notified or he can see all payment transactions from the Telus eClaims home page.
What Can You Deliver To Your Users with Telus eClaims Integration?  
Billing is the major step of every clinical cycle.
Thus, you have to integrate a billing module in any of your healthcare mobile apps or web apps. 
Your billing module may have two major components - billing for patients having public health coverage and billing for patients having private health coverage.
For billing of patients having public health coverage, we integrate billing software like Dr. Bill for direct claim submission to MOH.
But for billing of patients having private health coverage, the best choice we have is Telus eClaims.
By integrating it with your healthcare app or software, your users can directly submit the claim to private insurers from your app or software itself.
Your users don't have to switch between the Telus eClaims window and your app window to submit and track the claims. 
And this is the ultimate convenience and freedom from time-consuming tasks for them.
So, in that sense, you can deliver convenience and ease to your users by integrating Telus eClaims.
And that's something that matters most for any healthcare digital solution!
Does Telus eClaims support all major insurers of Canada?
Yes.
What are the Benefits of Telus eClaims? 
Insurance billing integrations streamline and optimize the billing process at the provider front.
But it always depends on which insurance billing service you are integrating your healthcare product. 
The following are the top pros of considering Telus eClaims for insurance billing integration.
Direct bill to many insurers
With its easy-to-use UI, providers can submit claims within seconds directly to a particular insurance company on behalf of patients.
It actualizes significant savings on credit card fees by charging only the portion of fees that are not covered by patients' insurers.
Telus eClaims is meeting Canada Health Infoway's HL7 messaging standards for the secure exchange of electronic health information.
It also provides only role-based access to claims and other important data of patients and documents.
For instance, insurance companies can only read claim copies.
Which expertise do we have to execute your insurance billing integration project successfully?
We have Canadian healthcare-specific knowledge and experts who understand the Canadian healthcare system, providers, market, people thoroughly.
In the past 7 years, we've executed numerous healthcare IT projects and upgraded our skillset.
Be it long-term care homes or individual healthcare providers, we always become their tech, business and compliance partner and deliver beyond expectations.
Talking about any sort of successful integration with healthcare apps, the expertise one should have are interoperability and compliance.
Interoperability is nothing but the capabilities of 2 different computer systems of mobile apps to share data in real-time and work together.
Since your healthcare solution and Telus eClaims are not developed for each other, they by default have several interoperability issues which affect reliable sharing of data.
To solve this challenge, you have to carry out integration while addressing healthcare integration standards.
And not every developer is trained or experienced around these standards.
When you integrate any 3rd party solution, it is most likely that a few privacy vulnerabilities will emerge within your healthcare app or software.
Thus, you have to identify those privacy vulnerabilities and then solve them in order to make your healthcare solution secure and compliant with data privacy laws.
We have in-house security and compliance experts who work parallel to the development team and guide them to technically find and solve privacy issues.
Our Skill-Set is Not Just Limited to eClaims Integration. We Can Build the Healthcare Insurance App Too! 
Government-run healthcare insurance plans are the best choice for Canadians.
But when it comes to coverage, it does not cover some of the most expensive medical care such as dental and oral care.
This is the reason why many Canadians, travellers, seniors, parents and international students opt-in for private medical insurance providers for expanded coverage.
The mobile app is the easiest way for them to purchase medical policies, update them, submit claims, etc. 
Almost all major insurance providers in Canada offer mobile apps for remarkable user experience and high user engagement.
We can also help you to develop your own medical insurance app with Telus eClaims integration!
Let's have a brief discussion on your requirements and how our expertise and local Canadian experts are a perfect match for your requirements!